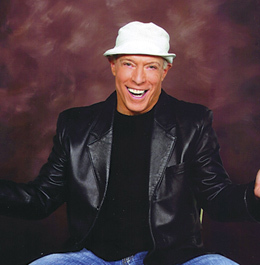 15 Minutes: Jerry Blavat
It's not officially summer until the Geator returns to Margate to kick off the season of oldies dance parties at his nightclub, Memories. The Rock 'n' Roll Hall of Famer, disc jockey extraordinaire and former best man to Sammy Davis Jr. not only knows how to start a party, but he has a story or two up his sleeve as well.
The biggest risk I ever took: Betting in a craps game in 1960 that I could do a radio show if I made a six. If I hadn't, I probably wouldn't be writing these answers right now.
Favorite album: Too many to choose, but one of my favorite albums is The Temptations' In a Mellow Mood.
Typical day off: I don't ever have a day off.
I never leave home without: Knowing what I'm going to accomplish that particular day.
Probable star of my biopic: James Franco.
My proudest moment: Being inducted into the Rock 'n' Roll Hall of Fame in 1998, and receiving the Congressional Horizon Award in 2002.
I'd like to have dinner with: Humphrey Bogart (dinner) or Crazy Horse (powwow).
My little-known talent: I'm a pretty good cook—my specialty is Italian food.
Favorite thing about summer down the Shore: Entertaining folks of all different ages who come in from all different parts of the country.
What first attracted me to this career: When I was 13 years of age and the head of the Committee on Bob Horn's Bandstand, one of my duties was to take care of the performers. It was my first taste of show business.
I hope to be remembered for: My honesty, my love of the music, and for making people happy.
Published (and copyrighted) in South Jersey Magazine, Volume 8, Issue 3 (June, 2011).
For more info on South Jersey Magazine, click here.
To subscribe to South Jersey Magazine, click here.
To advertise in South Jersey Magazine, click here.