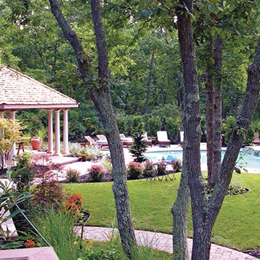 Summer Retreat
Create the ultimate stay-cation destination in your own backyard.
Industry insiders know that the backyard is actually the biggest room in your home. It can have a variety of uses, from athletic endeavors like swimming, tennis or golf, to entertainment, including audio/video systems and impressive outdoor kitchens, to relaxation in comfortable seating surrounded by serene gardens. Whether you have a large empty space or an existing patio and gardens in need of an upgrade, it's relatively easy to turn your yard into a customized oasis—not to mention the perfect summer stay-cation destination.
When picturing the ideal backyard, there's one thing just about everyone imagines: vibrant green grass that's easy to maintain. However, that can be difficult to achieve in areas where grass doesn't grow well.
"An alternative for such sections of the landscape can be the installation of synthetic yard surfaces, which offer a beauty and lushness year round," says Henry Weedeman, landscape designer for Young's Landscape Management, whose Y-Turf division offers such products. "For those who prefer an option that is virtually maintenance free, the synthetic yard surfaces are just that."
If you're looking for the real thing, proper lawn and garden care is essential. "For those whose yard may be small, one of the keys is careful plant selection," says Weedeman, who also offers organic lawn and garden care, and tree and shrub maintenance programs. "There are a number of beautiful plantings that will retain their shape and size nicely."
And if your short game needs work, make your backyard into a personal practice space. Young's, for one, offers customized putting greens or short-game practice areas designed to your specifications.
Another great way to transform your backyard into a summertime destination is with a unique swimming pool. The current trend is toward organic-looking materials and styles, according to Mike McCool, general manager of Swim-Mor Pools & Spas.
"Most people are going for the natural feel in their backyard, and incorporating more landscaping to turn it into more of a lagoon," McCool says. "They're only putting decking on one side of the pool and putting landscaping on the backside with things like shrubbery and river-bottom stone. People have really turned their backyards into a place for the family to stay and enjoy."
Even existing pools can be brought up to date with refinishing using natural-looking tile designs or stonework. But creating a new pool offers the opportunity to design the perfect swimming hole for your yard.
"It used to be that 90 percent of people were going with the same 10 or 12 shapes, and now we do all kinds of customizing," McCool says. "We can work around what already exists in the yard, or what you might be planning to have, like a patio, pool house or swing set."
Once their pools are installed, many people are building outdoor entertainment lounges and kitchens to complete their new outdoor living spaces. "People are taking fire pits or fireplaces and building open-air rooms around them, where they'll put in flat screen TVs and audio systems to really enjoy being outdoors and around their pool," says Gary Cop, vice president and general manager of Jersey Pools and Spas in Medford.
The trend of natural-looking materials is also carried over into these elements as well. "With outdoor kitchens and outdoor seating areas, people lean toward things that are permanent in nature, but sustainable and durable," Cop says. "For example, tables that look like a big slice of a tree but are actually made of concrete, so they never require any maintenance."
With finishing touches like waterfalls, lighting, planters, pool houses and changing areas, the options are endless. Now, all you need to do is invite a few friends and head out to the backyard to celebrate.
Summer Stay-cations
…Special Advertising Section from the pages of South Jersey Magazine…
These local companies can transform your landscape into an inviting outdoor destination.
Botanical Lighting Thoughtfully designing, installing and maintaining enduring, energy-efficient architectural lighting since 1993, Botanical Lighting is also accepts requests for the repair and refinement of existing lighting solutions. View their photo gallery online.
Medford | (609) 953-5334 | BotanicalLighting.com
Eaise Design & Landscaping, Inc. Eaise has more than 25 years of experience helping you plan, design and install the outdoor living space of your dreams. They are a reliable, family-owned company dedicated to providing excellence.
Serving all of Southern New Jersey | (856) 428-7769 | Eaise.com
Ferguson Bath, Kitchen & Lighting Gallery Ferguson showrooms offer the largest range of plumbing fixtures, lighting and appliances from quality names, including the latest trends and cutting-edge styles. Their Showroom Consultants offer the best expertise in the business, as they understand design, the building process and budget planning.
Cherry Hill | (856) 489-5620 | Ferguson.com
Jersey Pools & Spas Jersey Pools & Spas is known for distinctive pools and award-winning designs, along with exceptional service and knowledge. Call now for a complimentary quote and get started!
Medford | (609) 654-4886 | JerseyPoolsAndSpas.com
Matteo Family Kitchens & Flooring Matteo's Kitchens & Flooring specializes in expert kitchen construction and redecoration. They're a one-stop shop, offering in-house custom countertops, cabinets, and professional flooring work. Matteo's expert designers work closely with customers to ensure they get exactly what they want, at a price they can afford.
Woodstown | (856) 769-2490 | www.MatteoKitchens.com
Swim-Mor Pools & Spas Swim-Mor is Southern and Central New Jersey's premier custom in-ground swimming pool builder since 1967. Their focus is to make the whole process as care free and painless as possible.
Serving South Jersey | (800) SWIM-MOR | SwimMor.com
Young's Landscape Management – Y-Turf Division At Young's Landscape Management, the Y-Turf division specializes in fun with the installation of revolutionary synthetic turf to create an entertainment or sporting environment right in the backyard. Consider a putting green, short-game practice area or ultimate playground. Today's synthetic yard surfaces offer a beautiful, vibrant alternative to lawns with a fresh-cut appearance and soft, pleasing feel. Virtually maintenance free, these surfaces require no water, fertilizers, mowing or weeding to retain their pristine appearance.
Moorestown & Lumberton | (609) 654-5247 | Y-Turf.com
Published (and copyrighted) in South Jersey Magazine, Volume 8, Issue 3 (June, 2011).
For more info on South Jersey Magazine, click here.
To subscribe to South Jersey Magazine, click here.
To advertise in South Jersey Magazine, click here.