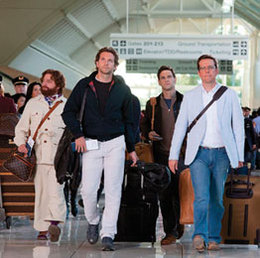 A Hot Summer
…From the pages of South Jersey Magazine…
KYW Film Critic and Cherry Hill Native Bill Wine Previews the Season's Biggest Movies.
On the peculiar Hollywood calendar, summer begins the first week in May. From then until late August, moviegoers are treated to, and sometimes plagued by, a lineup that invariably includes explosive thrillers, familiar sequels and prequels, and colorful comic book adaptations—sometimes all three at once. This summer looks no different, which is why the geeks around you are indeed smiling.
In addition, look for 3-D attractions popping up—or is it out?—all over the place, given that, for now, the public doesn't seem to mind paying a few extra bucks for that va-va-voom visual wrinkle.
Whether you'll be wearing those goofy glasses in the theater or not, here are 30 of the biggest and most anticipated movies due to open this season. A healthy smattering of them are potential blockbusters that studio execs hope will yank the industry out of its early-in-the-year box-office slump and cinephiles hope will be a lot more compelling and attractive than the 2011 offerings thus far.
May
Thor
Marvel comics kicks off the summer movie season with this adaptation, featuring Aussie Chris Hemsworth as the hammer-wielding Norse god of thunder, cast down to Earth to live among humans. Supporting Hemsworth are Oscar winners Anthony Hopkins and Natalie Portman, directed by Kenneth Branagh, who's a long way from his prior specialty: Shakespeare. (May 6)
Something Borrowed
A single woman falls for her best friend's fiancé in this romantic comedy starring Kate Hudson, Ginnifer Goodwin and John Krasinski, and directed by Luke Greenfield (The Girl Next Door). Based on the novel by Emily Giffin and backed by producers including Hilary Swank, the romcom finds Goodwin waking up in bed with the man who's about to marry Hudson. That's one secret. Krasinski, as a platonic friend of Hudson's, has another. (May 6)
Priest
Paul Bettany stars as a warrior priest in a science fiction thriller set in an alternate world ravaged by centuries of war between humans and vampires. He sets out on an obsessive quest to track down the murderous vampires who have kidnapped his niece, intent on finding her before they turn her into one of them. If the plot sounds vaguely familiar, it should: it's an homage to the classic John Ford western starring John Wayne, The Searchers. (May 13)
Bridesmaids
Saturday Night Live's Kristen Wiig gets a well-deserved leading role in an R-rated comedy that she co-wrote—and that comedy honcho Judd Apatow helped produce. Wiig plays a maid of honor battling best friend and fellow bridesmaid Maya Rudolph to plan their mutual friend's wedding party. The supporting cast includes Rose Byrne, Jon Hamm and the recently deceased Jill Clayburgh in her final on-screen appearance. (May 13)
The Tree of Life
Acclaimed writer-director Terence Malick (Days of Heaven, Badlands, The New World) presents a surreal science fiction drama set in 1950s Texas. Sean Penn and Brad Pitt star in this journey from childhood innocence to disillusioned adulthood. The story involves a lost soul in the modern world. Unsurprisingly, a typical summer movie this is not. (May 18)
Pirates of the Caribbean: On Stranger Tides
Johnny Depp returns as the popular swashbuckler, Captain Jack Sparrow, in this fourth entry in the hit Pirates of the Caribbean franchise, with Rob Marshall (Chicago) taking over the directorial reins. Oscar winner Penelope Cruz comes aboard as a con artist romantically involved with Sparrow. In search of the fabled fountain of youth, she forces Sparrow aboard the Queen Anne's Revenge, the ship of the legendary pirate Blackbeard played by Ian McShane. (May 20)
The Hangover 2
The inevitable sequel to the 2009 blockbuster, the highest-grossing R-rated comedy in movie history, reunites stars Bradley Cooper as Phil, Ed Helms as Stu, Zach Galifianakis as Alan, and Justin Bartha as Doug—joined by Nick Cassavetes—along with writer-direc­tor Todd Phillips. The boys get into even more trouble this trip—in Bangkok, no less. This time, Stu's the one getting hitched and, rather than a wild bachelor party, it's supposed to be a subdued pre-wedding brunch. Guess whether it remains subdued. (May 26)
Kung Fu Panda: The Kaboom of Doom
The sequel to the fast, fierce and funny animated 2008 kid flick, with an original subtitle of Pandamonium, combines energetic martial arts sequences with rollicking animated comedy, bringing back a voice cast that includes Jack Black as Po, as well as Angelina Jolie, Dustin Hoffman, Jackie Chan, Lucy Liu, Seth Rogen and David Cross. This time Po and the Furious Five oppose the threat posed by a new villain, voiced by Gary Oldman. We'll see if the follow-up, like the delightful original, refuses to panda to the small fry. (May 26)
June
X-Men: First Class
It looks to be a Marvel-ous summer: this second Marvel comics adaptation is a prequel to the first three X-Men movies. Matthew Vaughn, who brought us Kick-Ass, takes the directorial reins and tells us how it all started in the 1960s with a cast that includes Oscar nominee Jennifer Lawrence and Kevin Bacon. It also features James McAvoy and Michael Fassbender as Professor X and Magneto, whose feuding first triggered the eternal war between the Brotherhood and the X-Men. (June 3)
Green Lantern
Ryan Reynolds goes the superhero route, starring in this action-adventure thriller directed by Martin Campbell (Casino Royale) and based on the DC comic. He plays Hal Jordan, a test pilot granted a mystical green ring that bestows him with otherworldly powers that he, as the first human recruited by the Green Lantern Corps, uses to keep peace as his titular alter ego, especially against an enemy known as Parallax. Mark Strong, Blake Lively, Peter Sarsgaard, Angela Bassett and Tim Robbins offer support. (June 10)
Super 8
Writer-director J.J. Abrams (Star Trek, Mission Impossible III, TV's Lost), with Steven Spielberg serving as a producer, conjures this science fiction tale with a cast led by Elle Fanning, Kyle Chandler and Amanda Michalka. It's set in 1979 in Ohio, where a group of children, using a camera to shoot a zombie movie one night, witness an incendiary collision between a train and a truck, and discover that something being transported from Area 51 to a secure facility in Ohio may not be human. (June 10)
Mr. Popper's Penguins
A house painter played by Jim Carrey dreams of Arctic exploration, so he writes to real explorers and receives a penguin as a gift. When a litter of 12 penguins presents itself to him, he turns his apartment into a winter wonderland and forms Mr. Popper's Performing Penguins, a touring stage act. Carla Gugino and Angela Lansbury co-star in this family comedy based on the popular children's book. (June 17)
Cars 2
Cars hummed along splendidly five years ago. The animated 3-D follow-up, with John Lasseter back in the director's seat, again features the voices of Owen Wilson as star racecar Lightning McQueen and Larry the Cable Guy as the tow truck Mater. They're headed overseas to compete in the first-ever World Grand Prix, to determine the world's fastest car. International espionage enters into the plot this time and Michael Caine brings the age and wisdom that the late Paul Newman contributed to the original. (June 24)
Bad Teacher
This Jake Kasdan-directed comedy (Walk Hard: The Dewey Cox Story, Orange County) stars Cameron Diaz as a foul-mouthed and recently single junior high school educator who couldn't care less about teaching. She who woos a colleague—a rich, handsome substitute teacher played by Justin Timberlake—while fighting off the advances of a gym teacher played by Jason Segel. Molly Shannon, Lucy Punch and John Michael Higgins offer support. Tabloid angle: Diaz and Timberlake used to be a real-life couple. (June 24)
July
Larry Crowne
Tom Hanks returns to the feature-film director's chair for the first time since 1996 (That Thing You Do) and reunites on-screen with his Charlie Wilson's War co-star, Julia Roberts, in this comedy-drama. Hanks plays the title character, a middle-aged guy downsized out of a job who goes back to college and falls for a public speaking professor played by Roberts. Hanks co-wrote the script with Nia Vardalos, who's also in the supporting cast, along with Bryan Cranston, Cedric the Entertainer and Taraji P. Henson. (July 1)
Monte Carlo
Based on the Jules Bass novel Headhunters, this romantic comedy centers on three young women—played by Selena Gomez, Leighton Meester and Katie Cassidy—who use their life savings for a dream vacation to Paris. When they steal away from the disappointing tour and sneak into the lobby of a five-star hotel, one of them is mistaken for a British heiress. Before you can say "paparazzi," they've flown to Monaco for a charity ball, posing as wealthy socialites and looking for romance. (July 1)
Transformers: Dark of the Moon
In the wake of sci-fi thrillers Transformers (2002) and Transformers: Revenge of the Fallen (2009) comes a second sequel, with Shia LaBeouf, Josh Duhamel, Tyrese Gibson and John Turturro reprising their roles—and Megan Fox nowhere to be found. This time, the Autobots race against the Decepticons to reach a Cybertronian spacecraft on the moon and learn its secrets. If that last sentence makes any sense to you, you're already a fan. If not, consider yourself warned. (July 1)
Zookeeper
Kevin James stars as the overweight title character in a romantic comedy about the animals at a zoo who break their code of silence and reveal their secret—that they have the gift of gab—in order to help their shy human caretaker gain the attention of the woman of his dreams, played by Rosario Dawson. Among the recognizable voices in the anthropomorphic romp are Sylvester Stallone, Cher, Adam Sandler, Maya Rudolph, Billy Crystal, Kiefer Sutherland, Don Rickles and David Spade. (July 8)
Horrible Bosses
Jennifer Aniston and Jason Bateman, who co-starred last summer in the smartly entertaining comedy, The Switch, team up again in this comedy about workers (Bateman, Jason Sudeikis and Charlie Day) who decide that it's their overbearing employers (Aniston, Colin Farrell and Kevin Spacey) who are keeping them from getting what they want out of life. So they conspire and dream up a foolproof plan to kill them. The supporting ensemble working for director Seth Gordon (Four Christmases) also includes Jamie Foxx, Donald Sutherland and Julie Bowen. (July 8)
Harry Potter and the Deathly Hallows: Part 2
So here we finally are, 10 years and eight movies later, as the boy wizard and his friends conclude the fantasy adventure based on the second half of the seventh book by J.K. Rowling. David Yates directs his fourth straight installment, which focuses on an all-out war with the dreaded Lord Voldemort, as Harry attempts to find and destroy his secret to immortality. (July 15)
Winnie the Pooh
A.A. Milne's classic "bear of very little brain" from Hundred Acre Wood gets the feature film treatment, in this hand-drawn animated tale for the little ones. Owl sends the gang—Tigger, Rabbit, Piglet, Kanga, Roo and Eeyore—on a wild quest to save Christopher Robin from an imaginary culprit. Disney has released featurettes with these characters, but this is the first full-length Winnie the Pooh feature, and a musical one at that. (July 15)
Friends with Benefits
Mila Kunis and Justin Timberlake co-star in a romantic comedy about two friends who are too busy to find mates, so they decide to have a physically intimate relationship with no romance. Yep, same plot as this year's No Strings Attached, with Natalie Portman and Ashton Kutcher. The crowded supporting cast, boasting Patricia Clarkson, Woody Harrelson, Emma Stone, Rashida Jones, Richard Jenkins, Jenna Elfman and Andy Samberg, has director Will Gluck (Easy A) at the helm. (July 22)
Captain America: The First Avenger
Chris Evans, supported by Tommy Lee Jones and Hugo Weaving, stars as the red, white and blue super soldier in yet another Marvel Comics feature. Directed by Joe Johnston (The Wolfman), the big-screen thriller finds the frail title character, initially named Steve Rogers, declared unfit for U.S. Army service during World War II. So he volunteers to take part in an experimental program called Operation Rebirth that turns him into a muscular Nazi-fighting super-soldier. (July 22)
Cowboys & Aliens
Daniel Craig and Harrison Ford co-star, along with Olivia Wilde, for director Jon Favreau (Iron Man) and executive producer Steven Spielberg in hybrid of comedy, western and science fiction thriller. Base on a graphic novel, the film is set in a town called Absolution, in Arizona Territory in 1873. Aliens attack from the sky, pitting a posse of vigilante warriors against a spaceship, as former enemies must band together to battle this mysterious force. Sam Rockwell and Paul Dano offer support. (July 29)
Crazy, Stupid, Love
In this comedy directed by Glenn Ficarra and John Requa (I Love You Phillip Morris), Steve Carell stars as a father whose life and relationship with his kids unravel as he deals with a marital crisis: his wife, Julianne Moore, has cheated on him and asked for a divorce. Back in the world of singles for the first time in decades, he turns to his friends for help with his dating mojo. Providing additional co­me­dic support are Emma Stone, Marisa Tomei, Ryan Gosling and one degree of Kevin Bacon. (July 29)
The Smurfs
With a voice cast that includes Neil Patrick Harris, Alan Cumming, Sofia Vergara, Katy Perry, George Lopez, Jonathan Winters, Paul Reubens, and Kenan Thompson, this live action/CGI-animated family fantasy brings the tiny blue characters to the big screen. The story is set in the Middle Ages—until villainous wizard Hank Azaria chases the smurfs from their village and into the woods, where they're magically transported to present-day Central Park in New York City, to take shelter and try to return home. (July 29)
August
The Change-Up
Ryan Reynolds, Jason Bateman, Olivia Wilde and Leslie Mann co-star in a body-swapping romantic romp. Married, overworked lawyer Bateman switches places with his single, essentially unemployed and irresponsible best friend Reynolds so that he can win the love of legal associate Wilde. Each gets a "grass is greener" lesson. David Dobkin (Wedding Crashers) directs the fantasy-comedy. Look for Alan Arkin in support and former Atlanta Brave John Smoltz pitching a cameo. (Aug. 5)
The Help
Kathryn Stockett's best-selling 2009 novel explored civil rights and the complex relationship between white women and their black maids in the South in the 1960s. The film version includes Viola Davis, Sissy Spacek, Emma Stone, Octavia Spencer, Bryce Dallas Howard and Allison Janney. Debuting writer-director Tate Taylor intertwines three stories about the way of life in Jackson, Miss., revolving around the household servants and their sometimes fraught relationships with their employers. (Aug. 12)
Conan the Barbarian
Way back in 1982, before he was the Governator, Arnold Schwarzenegger starred as the title character in the original version of this sword-and-sorcery thriller. The new version of the action-adventure fantasy stars Jason Momoa in the lead role as the thief/pirate/warrior seeking revenge for his father's death. Rose McGowan, Stephen Lang, Ron Perlman and Rachel Nichols offer support under the direction of Marcus Nispel, who has, curiously, directed remakes of Friday the 13th and The Texas Chainsaw Massacre. (Aug. 19)
Photo: The boys are back:?The gang returns in Hangover 2.
Published (and copyrighted) in South Jersey Magazine, Volume 8, Issue 2 (May, 2011).
For more info on South Jersey Magazine, click here.
To subscribe to South Jersey Magazine, click here.
To advertise in South Jersey Magazine, click here.