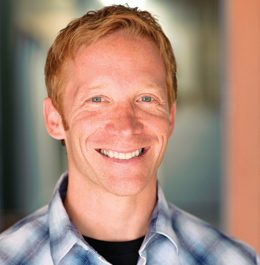 As Seen on TV
A passion for entertaining propelled reality TV producer and The Biggest Loser creator JD Roth from Cherry Hill to Hollywood—and he hasn't looked back since.
The year was 1978, the place a child actor showcase in Manhattan, featuring future stars including Sarah Jessica Parker, Ricky Schroder, Ricki Lake—and a 10-year-old Cherry Hill kid named JD Weinroth.
At the studio, the other star-struck kids were "very well-prepared and trained," recalls the South Jersey native, now known just as JD Roth. "It looked like every kid but me had sheet music." What Roth did have was a boom box and a naïve confidence that allowed him to boldly belt out Billy Joel's then-hit "Honesty" without cracking under the strain.
Unlikely as it may sound, it was the start of an epic Hollywood career that would make Roth a pioneer in reality television programming. The co-founder of 3Ball Productions—which employs 250 workers at its Manhattan Beach, Calif., production center, and another 400 working in the field—has helmed productions including Beauty and the Geek, Age of Love, Unan1mous, Breaking Bonaduce, The Pick-Up Artist, I Used to be Fat and The OCD Project. A new series—one that Roth is especially excited about—debuts on ABC on May 30: Extreme Makeover: Weight Loss Edition. But Roth's biggest success is a show that, 11 seasons in, remains a cornerstone of NBC's programming: The Biggest Loser.
"This is probably the greatest thing professionally I'll ever do," Roth, 43, says of the show, which has inspired offshoots in more than 20 countries. "It's tremendously inspiring and life-changing for people, which is very personally rewarding for me. And professionally, it's what I call a 'category-killer,' meaning that any show that comes out now with that type of theme is a copycat. The Biggest Loser is the prototype."
Roth's passion for TV started when he was a child: he recalls imitating talk show hosts for fun, and fantasizing about "how I could get into that little box" and entertain the masses.
"Looking back, I can't really remember a time when I didn't want to be on TV," Roth says.
Soon, school plays weren't enough. Young JD, stuck at home and recuperating from pneumonia, spotted an ad for the actor showcase and called the phone number, pretending to be his father. "I'm sure they weren't the least bit fooled, but it worked," he says. His parents agreed to take him to an audition for the showcase, "thinking and probably hoping that this would be the end of it," as Roth recalls.
On the contrary, from that one performance, opportunities mounted. In his first year alone, Roth filmed 22 national TV commercials, hawking everything from candy bars to sloppy joe mix. Before long, Roth was leaving school early several times a week to catch a bus from Mount Laurel to Manhattan to film commercials, after-school specials and small parts in soap operas. "I knew the drivers so well, they'd sometimes let me ride for free," Roth recalls. He was a novelty to the daily commuters, some of whom would help him with his homework on the ride. All told, Roth had appeared in more than 200 commercials by the time he graduated from Cherry Hill High School East in 1986.
But Roth also had to make tough choices—giving up his spot on East's JV basketball team so he could move to Los Angeles and compete on Star Search. "As soon as I got to L.A., I felt like this would be my home," he says, adding that during high school he also spent three months in Africa filming a movie. ("I always had tutors on the set," he notes). Roth made it to the Star Search finals, and decided after graduation to attend the University of Southern California, to major in acting.
He wasn't there long before landing his big break on the syndicated children's game show, Fun House, which debuted in 1988. The show—with 19-year-old Roth as its host—quickly grew into a mega-hit. Roth came up with the idea to take Fun House on the road as a live event designed to complement the taped TV episodes; he would go on to produce and host a four-year tour to more than 70 cities across America. Roth hired as tour manager Todd Nelson, who would become his closest friend and, later, his partner in 3Ball Productions.
"At the time we went on the road on Fun House, I had to have a limo take me everywhere because I wasn't old enough to rent a car," Roth says. But his age didn't hold him back. With Nelson, he went on to create the kids' competition show Zooventure for the launch of Discovery Networks' Animal Planet channel. In addition to producing the series, the two produced an even bigger live tour for the show, visiting more than 100 cities around the world. They also created and produced for Fox Kids the hit show Moolah Beach, (which Roth also hosted), and the popular series Endurance for Discovery Kids.
In 2003, 3Ball had its first primetime hit, For Love or Money, a dating series that lasted four seasons and became NBC's No. 1 show in the key adults 18-to-49 demographic. All told, the company has produced 40 reality shows, including 16 currently in production. "What all our shows have in common is that every one of them is about transformation and inspiring people," Roth says.
For all that, though, Roth himself hasn't changed that much since his Cherry Hill days. A married father of two sons, Roth—whose beachfront home is only six doors away from Nelson's—says that, while he's lived on the West Coast for 25 years, he's still a Jersey Boy at heart. "It created who I am," he says. "I wear my South Jersey background as a badge of honor. There's a certain sensibility about that part of the world; a genuineness and a little bit of swagger."
Each July, he and his family travel to the Jersey Shore for a much-anticipated vacation with East Coast friends and family. "I've been all over the world, but in the summer all my kids want to do is go down to the Shore for a week," Roth adds. "We've made a lot of memories there."
While Roth loves to visit home, since that first trip to Manhattan he's never looked back. "I didn't have a master plan; I just followed my passion," Roth says of his career. "My dad said to me early on, 'Either you're in the game 100 percent or not at all—there's no halfway.' And I've found that to be totally true."
Published (and copyrighted) in South Jersey Magazine, Volume 8, Issue 2 (May, 2011).
For more info on South Jersey Magazine, click here.
To subscribe to South Jersey Magazine, click here.
To advertise in South Jersey Magazine, click here.