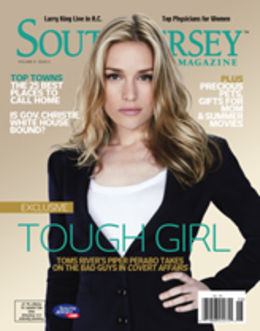 Southern Exposure: May, 2011
no. 9: Rank of Cape May on the list of the world's best beaches, as voted by users of TripAdvisor.
$100: Amount Charlie Sheen gave a heckler who had demanded a refund during his widely panned appearance at the Trump Taj Mahal in Atlantic City, as part of his "Violent Torpedo of Truth/Defeat Is Not An Option" tour.
five: Age of Jesse Koczon, who was made honorary governor-for-a-day by Gov. Chris Christie after a video of his sobbing lament that he can't be governor because he's "too small" went viral on YouTube. On receiving the honor, he cried, "I can't be here. I'm just a little kid."
58.29 lbs.: Weight of a striped bass caught by South Jersey 14-year-old Juliana Merighi. The catch was recently certified as the junior female world record.
4,162: Miles of state and interstate highway, out of a total of 8,402 miles examined, deemed "deficient" in a recent Department of Transportation report. Only 20 percent were considered to be in "good" condition.
$284 million: Amount allocated for road repairs in the first year of Gov. Chris Christie's five-year, $8 billion transportation plan.
$20,000: Amount Haddonfield had budgeted for pothole repairs this spring.
$33,000: The lowest bid to repair the holes.
five-10 minutes: Expected reduction in commute times for users of NJ Transit's proposed fast bus offerings linking South Jersey to Camden and Philadelphia.
57%: The proposed municipal property tax increase in Medford that went to a referendum on April 27. That, combined with freshly reassessed property values, could spell big tax increases in the Burlington County town.
$32,000: Fee Rutgers University paid Jersey Shore star Snooki for a speaking engagement.
$30,000: Amount Nobel Prize-winning author Toni Morrison will take home for this year's Rutgers commencement address.
Justin Bieber Kim Jong Un Hung Huang Blake Lively Barack Obama Patti Smith Mark Zuckerberg: A sampling of Gov. Chris Christie's companions on the 2011 world's most influential people list, as decided by TIME.
76 : Local and state gov­­ernment workers per square mile in New Jersey. That compares to 16 in Pennsylvania and 29 in New York state.
15 Minutes: Rick Williams
The 6ABC anchor and Moorestown resident has been serving up local news since 1988. Known as much for his charitable work as for his on-the-ground reporting, (not to mention his popular Moorestown Theater Company appearances), this South Jersey transplant has become a vital part of the local community. Here, he answers our queries about life off camera.
On my iPod … vintage jazz: Miles Davis, John Coltrane, Stanley Turrentine.
My typical day off is … working out, walking the dogs, playing with my 9-year-old son, and trying to find some quality time with the wife.
The probable star of my biopic would be … not sure, but my wife says actor Morris Chestnut.
Guilty pleasure … red velvet cupcakes.
Favorite thing about South Jersey … great homes and great neighborhoods.
The secret to my success is … hard work, and preparation—and a willingness to make sacrifices.
My little-known talent is … I can imitate certain celebrities.
Preferred Shore spot … any place on the Boardwalk that serves fries.
The biggest risk I ever took was … moving to Huntington, W. Va., for my first TV job. I didn't know anyone, and knew even less about the area—but they were offering a job.
My proudest moment was … becoming a father on Valentine's Day 2002 When I get up in the morning I look forward to … having breakfast with my son before dropping him off at school.
Favorite charitable cause … Juvenile Diabetes Research Foundation, and education and mentoring [through] White-Williams Scholars.
I hope to be remembered for … helping to inform and inspire others through my work.
Tweet Feed
It's been seven weeks (as of press time) since the NFL lockout began. Based on their Twitter posts, the Eagles stars are getting a little bored.
@BrentCelek
R there any good movies out right now?
@MikeVick
If all u out there aren't voting for [me] for the Madden cover stop following me.
@LeonardWeaver
Yo, what's up tweeters! I'm chillin here at the house watching "law and order"
@DeseanJackson10
Jus chillin u kno me relaxin @ Tha crib watchin ESPN
@CutonDime25 (LeSean McCoy)
Yo Burger King breakfast menu still up. what time it change??
@jmac_18 (Jeremy Maclin)
I'm bored as hell
Soccer Dad
After years of chauffeuring his athletic daughters to their various sporting events, Haddonfield's Robert Strauss has more than a few war stories. So, the veteran journalist for Sports Illustrated and the Philadelphia Daily News among other publications, offers up Daddy's Little Goalie, (Andrew McMeel, $19.99), a collection of alternately funny and touching anecdotes on the topic of parenting, girls' sports and relationships—all set against the backdrop of our own backyard. He'll be reading from the book May 22, 3 p.m. at Barnes & Noble, 911 Haddonfield Road, Cherry Hill.
Home Grown
When Marlton's Colleen Corcoran was in second grade, she received her first-ever handkerchief courtesy of her mother. "She told me handkerchiefs were meant to dry happy tears and hold memories," Corcoran says. "I always carried one, and I thought everyone did." Sadly, she was wrong. And when she went to buy hankies for her bridal party a few years back, she found the options were nonexistent. So, the visual merchandising pro launched Happy Hanky, a line of stylish handkerchiefs including casual retro designs, elegant custom designs for bridal parties and even a fashionably eco-friendly "I'm Not a Tissue" motif. They start at $6, and each one is handmade locally and comes with a poem by Corcoran's mother written on the back. Pick them up at More Than Gifts, 401 Taunton Lake Road, Marlton, or order online at HappyHanky.com
Street Level
Collingswood
A couple who are both achondroplastic dwarfs is suing E!, Comcast and TV host Joel McHale after an Associated Press stock photo of the couple was used on The Soup with the caption: "Fertile Little Tattooed Pageant Parents Who Enjoy Baking."
Berlin
Twenty-three teenage boys participated in the South Jersey Beautillion, something like a debutante ball for young men, run by the Burlington-Camden Kappa Alpha Psi Scholarship Foundation.
Haddonfield
A couple was charged with stealing donation cans for the Woodbury charity Furrever Friends from three stores in town. The three cans' total capacity: around $225.
Mount Laurel
A confused (and mathematically challenged) Dunkin' Donuts employee gave a scammer $193 after he requested change for multiple different bills following his purchase of a single donut.
Medford
Resident Carl Lewis, nine-time Olympic gold medalist, is hoping to win one more race: for the New Jersey Senate.
Ticket to Ride
Bike shares—long-term bicycle rental programs—are popping up in cities around the world. But no place does it quite like Collingswood, which, for a $25 annual fee, essentially gives each member a bike to keep for the year, or to change out as needed.
Need a tune-up or a little tire pressure? That's also part of the deal.
The program, which kicks off its fourth season this month with the opening of the Collingswood Farmers' Market on May 7, is in fact so radical that it has inspired Camden County to follow suit. "We're looking to establish one or two bike shares this year," says Jack Sworaski, director of the county's Division of Environmental Affairs.
They're considering sites in Camden, Voorhees or Gibbsboro, to complement the bike trails that will soon connect the county thanks to a $5.8 million grant from the U.S. Department of Transportation. They've collected more than 100 unclaimed or donated bikes, and are seeking local partners to take over the program once it's up and running.
In the meantime, Collingswood had more than 150 participants last year and the program is growing, says Township Commissioner Joan Leonard. She dreamed up the idea at her kitchen table and continues to helm the effort, which includes keeping volunteer mechanics on hand every Saturday morning and Tuesday evening. "You're not just renting a bike; it's like a club you're part of," Leonard says. When parents join, they often get kids' bikes for free, too. "We feel we've benefited the community, but hopefully also changed lifestyles." For more information, visit collingswood.com.
5 great bike rides in South Jersey
Batsto to the Pine Barrens. Tour the Pinelands starting from Batsto Village. Visit Pinelands­Alliance.org for directions.
Cooper River Park. Follow the easy 5.8-mile trail from Cherry Hill to Camden. CamdenCounty.com/Parks
Monroe Township Bikepath. This Gloucester County trail stretches 6.36 miles starting at Route 47, near Grove Street, in Glassboro.
Blackwood Rail Trail. Start at Brown and East Atlantic avenues for this scenic 2.67-mile detour.
Burlington County Bikeways. Try a Mount Holly loop stretching clear to the Burlington City riverfront. Visit NJDOT.nj.gov/commuter/bike for maps.
How to … train your dog
In honor of our Top Pets contest, we figured it's a perfect time to seek guidance on coping with animal behavior issues. So, we asked Shamong's Christine Nolan of Your Dog and You for help. Nolan began studying Cesar Millan-style dog whispering to help pooches at the Voorhees Animal Orphanage, where she volunteers, become more adoptable. Now, resolving behavior problems is also her business. Here are her tips:
Focus on respect: More than just an Aretha Franklin song, this is a vital first step, Nolan says. "Once we're in a position of respect, then we're in a position to teach our dogs how we expect them to act."
Earn respect one "event" at a time: Feeding, walking and petting are what Nolan calls "structured events." A dog must understand each event has to happen the owner's way. "The dog should walk beside you or behind you on a nice loose leash, because the name of the game is follow the leader," she says. As well, "the dog should sit politely and give us eye contact before they go over to the bowl to eat."
Give affection wisely: Nolan's mantra is "you get what you pet." That is, petting, pleasant talk, eye contact and treats during negative behavior only encourage that behavior. "If I pet a dog that is jumping on me, I will get a dog that jumps," she concludes. "If I pet a dog that's barking at me, I will get a dog that barks."
Teach in a controlled environment: If your dog tends to bark or jump on guests, the fix is to wait until the dog is calm before opening the door—and be prepared to stop and wait if the dog jumps up. So, when your spouse or kids come home, says Nolan, "have them knock on the door so you can practice." That way, when a real surprise visitor arrives, the dog can remain calm.
Socialize dogs wisely: If you're bringing a second dog into the house, Nolan suggests letting the two meet on a leash in neutral territory, first walking together and then finally having the chance to socialize. Then, let them play on a leash—if there's a fight, you can grab the leashes—before eventually letting them interact unleashed.
Invest time to do it right: Even a simple walk may require determination. If a dog is jumping upon sight of the leash, wait until the dog sits calmly before putting the leash on. "From that point on, I'm in charge. I put on the leash on my terms, and on my terms the dog needs to be calm," she says. And if the dog bounds ahead, she turns and walks in the other direction. "I did this with a husky that had been pulling his owner like a sled dog. After maybe 10 times, the dog was walking nicely beside me."
Dog Days
When she adopted her first pitbull in 1996, Collingswood resident and part-time pinup model Deirdre "Little Darling" Franklin didn't think much about the challenges facing the breed, which has a reputation for aggression. But when cities nationwide began enforcing laws that ban pitbulls and even require euthanization, Franklin was disturbed. Then, when she went to New Orleans as an animal rescue volunteer after Hurricane Katrina, "80 percent of the dogs we pulled off the streets were pitbull-type dogs," she says. "It made me wonder if people just cared less about them."
So Franklin decided to take a stand, launching Pinups for Pitbulls, a nonprofit devoted to restoring the image of the breed. She and a friend put together a dog-friendly pinup calendar, and it became an instant hit.
Now, through sales of flirty, retro-inspired calendars and other merchandise, the group has distributed more than $80,000 in grant money to animal welfare organizations. More than that, Franklin has started a movement, with more than 100 volunteers nationwide—and at least that many applying for a coveted slot in the annual calendar. She appears at events across the country—catch her on an episode of Animal Planet's Pit Boss in June—and she's hoping a series of educational workshops about dog ownership will follow.
Alliteration aside, pinups and pitbulls might seem an unlikely combination. But Franklin says it makes perfect sense: "Pitbulls were first popular in the military in World War I and II. They were America's No.1 dog, called the hero dog," she says. "We're trying to pull that back together, to get back to those times." For information, visit PinupsForPitbulls.com.
Pet Project
After his second tour in Iraq in 2005, Medford Lakes resident and 21-year Marine Corps veteran Kevin Ellicott was diagnosed with post-traumatic stress disorder and a mild traumatic brain injury. He would become frightened in crowded rooms, or wake up in terror from recurring nightmares. But one thing helped: his black lab, Sierra. "She's my link to reality," Ellicott says.
He began training the dog at K-9 Basics Dog Training in Marlton. There, co-owners Lisa and Brian Berg, both retired Medford police officers, asked him to help them start a nonprofit to train companion dogs for service members and veterans with similar disorders and injuries.
This January, the three launched Semper Fido, a nonprofit that is one of just five such organizations in the country. The organization is working to rescue and train dogs that are desperately in need of homes from shelters and rescue groups, and then teach the dog and adoptive owner together at K-9 Basics over a course of 30 days. The first Semper Fido client starts training this month, with more coming in over the course of the summer.
"My anxiety level has dropped dramatically, especially when I have Sierra with me," Ellicott says. Now he's looking forward to sharing that peace of mind with fellow veterans. For more information, visit SemperFido.org. —Michelle Spevak
Names to Know
Cherry Hill mother of five Haleh Resnick authored and published a book titled, Little Patient Big Doctor, after disputing her son's diagnosis of hearing loss. Resnick, who has become a proponent of patient advocacy and alternative medicine, appeared with her son Alex on CNN.com.
Dr. Kathleen Greatrex of Our Lady of Lourdes Medical Center and Dr. Albert Talone of the Lourdes Medical Center of Burlington County were given the Healing Spirit Award for embodying Lourdes' core values of compassion, commitment, integrity, excellence and stewardship.
Cherry Hill resident Amanda Squillace, a senior at Rutgers-Camden, and Cherry Hill's Rebecca Lomas, a graduate student at Rutgers University, along with fellow grad student Matthew Robinson and professor Sean Duffy, co-founded Raise Up Japan, an organization devoted to raising funds for the Japanese Red Cross.
Medford's Ida Petkus single-handedly founded the Domestic Violence Advocacy Center in Mount Holly in October 2009, with the mission of combating domestic violence in the region. She has helped victims with legal advocacy services, education, a hotline and online support, and she has launched the first online chat room in New Jersey devoted to those coping with the effects of domestic violence.
The Respond, Inc. New Worker Job Development Center in North Camden was named The Sayre Training Complex for Rev. Charles A. Sayre, retired senior pastor of the Haddonfield United Methodist Church, in honor of his contributions to the organization. Sayre, a Haddonfield resident, co-founded the not-for-profit organization, which promotes economic independence for city residents, in 1967.
Lt. Mike Taylor, a 1989 Deptford High School graduate, was inducted with 13 others into the Gloucester County Sports Hall of Fame. Taylor played in the farm system for the Cleveland Indians and Florida Marlins for four years, and was a catcher on the Deptford High School baseball team. Recently, Taylor was promoted to lieutenant in the Deptford Township Police Department.
Cherry Hill father of four and now personal chef Stuart Davis took first place and the $25,000 prize package at the fifth annual Man-O-Manischewitz Cook-Off in New York City. Out of more than 3,000 applicants, Davis was selected by online voters to compete in the finals, where he cooked Chicken and Egg Donburi, a recipe he learned while teaching English in Japan and adapted to include Manischewitz ingredients.
Marlton resident Edward O'Malley, a senior management consultant for Trion, was the recipient of the Lawrence D. Epstein Volunteer of the Year Award, the most prestigious award given by the United Way of Burlington County. Dedicating more than 10 years to the organization, O'Malley helped raise more than $2 million for area charities.
Do you know a local person who is doing great things and should be on our radar? Let us know by e-mailing Michelle@SouthJersey.com.
Published (and copyrighted) in South Jersey Magazine, Volume 8, Issue 2 (May, 2011).
For more info on South Jersey Magazine, click here.
To subscribe to South Jersey Magazine, click here.
To advertise in South Jersey Magazine, click here.