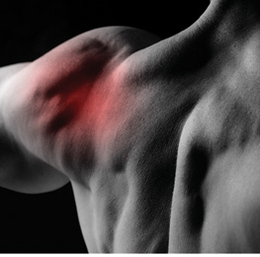 Pain, Pain, Go Away
Medical innovations are transforming the science of pain management.
Many South Jersey sports fans remember several years back to when former Flyer Simon Gagne was benched mid-season due to severe post-concussion symptoms, including debilitating head, neck and shoulder pain. Gagne, his coaches and the fans all wondered if he would ever return to the ice.
Dr. Scott Greenberg of the Magaziner Center for Wellness and Anti-Aging in Cherry Hill had also suffered from severe head and neck pain for more than a decade. None of modern medicine's advanced treatments worked—until he discovered prolotherapy, a nonsurgical, holistic procedure that Greenberg says stimulates the body's own ability to heal.
Greenberg cured himself by injecting an irritant directly into the affected area, causing his immune system to react and heal the damaged tissue or tendon. Then, he went to work on Gagne—who eventually went on to play in the 2010 Stanley Cup Finals—and many other professional athletes and South Jersey residents of all ages.
Chronic pain is a condition that affects many people. Many hope at most to merely manage that pain, whether with over-the-counter painkillers like Motrin or Tylenol or narcotics like oxycodone. But pain-management specialists in South Jersey say there are better ways. These include everything from plasma injections to tiny needle-pricks to attack muscle spasms, to interdisciplinary treatments that target psychosomatic symptoms. The results, say local doctors, have been entirely revolutionary revolutionary.
"Chronic use of anti-inflammatory medications can actually make joint problems worse," Greenberg says. "It's well documented that they accelerate arthritis, they're not good for kidneys and liver, they can cause ulcers. They block the healing processes that happen in the body. Instead of masking pain, we want to cure the pain."
Greenberg does this by seeking out the source: damaged tissue, joints, muscles, nerves, ligaments or tendons. In many cases, he says, prolotherapy can be the solution. "Patients that have tried chiropractic, epidural steroids, nerve blocks and even surgery, can be cured by prolotherapy and platelet-rich plasma treatments," Greenberg says. Greenberg makes several injections to the damaged area with either a prolotherapy solution or platelet-rich plasma taken directly from the patient's own bloodstream. Treatment can be effective in as little as a few months or up to a year, depending on the extent of the problem. These therapies can even treat post-concussion symptoms such as dizziness and loss of balance, for which there is no traditional medical remedy. Greenberg says he's also found success treating cumulative pain problems, too, such as arthritis, tendinitis and carpal tunnel syndrome.
One of the more unique pain management treatments currently available is biopuncture, in which patients are injected with natural, FDA-regulated homeopathic products that stimulate the immune system to promote natural healing. This practice, popularized in Europe, is gaining steam in the United States.
Locally, Dr. Polina Karmazin and Dr. Robert Davis of Integrated Family Medicine in Voorhees are among just a handful of physicians in the country trained to administer the treatment, which can help with everything from localized pain and arthritis to bronchitis and the flu. After a consultation and evaluation, each patient receives a customized treatment targeted to their specific condition.
Thanks to the positive response from South Jersey patients, including 610-WIP radio personality Angelo Cataldi, biopuncture is surging in popularity. "This year, we have been seeing a number of new patients with a serious interest in biopuncture," says Davis.
Adds Karmazin: "With biopuncture, the healing effect comes from within your body, as opposed to some conventional drugs that tend to simply suppress the symptoms or potentially cause significant side effects."
As interest in the treatment grows, Davis warns that biopuncture is not the cure-all some may be looking for, but it certainly has a place in pain management.
It has also been indicated for a broad range of other purposes. For one, he notes, "Biopuncture is a great, natural way to prevent and treat colds. Of course, nothing can truly replace the flu shot, but biopuncture is a safe and gentle therapy that can modify a patient's illness and shorten its duration and intensity."
However, as people age and cope with life-threatening diseases like cancer, the nature of pain management changes focus. Dr. Stephen Goldfine, chief medical officer for Samaritan Hospice in Marlton, must often address the chronic pain associated with end-of-life care, and his approach is more than physical.
"What I try to bring to the table is looking at the whole person," Goldfine says. "I really look at who that person is and then try to handle the physical pain as well as the spiritual and emotional side. I even engage with chaplains, who will come in and help me hold spiritual counseling."
Goldfine finds that, in his patients, physical pain is often compounded by depression. "Looking at a life-threatening illness, the depression can be overwhelming, which turns up the volume on the pain," he says.
So, he partners with specialists including psychologists, psychiatrists and social workers, to work with clients on things like setting goals for the future. "This is a way we create hope," Goldfine says. As well, he notes, anti-depressants can also be helpful, taken along with traditional counseling.
Treating both physical and emotional pain is the key to truly improving quality of life for patients—both in palliative care and elsewhere. "We don't focus on death," Goldfine concludes. "We focus on our patients living their life."
Easing the Pain: Local experts in pain management
A Special Advertising Section from the pages of South Jersey Magazine
Cooper Pain Management Center (CPMC)
Cooper Pain Management Center offers a wide variety of state-of-the-art diagnostic and treatment options to patients. The Center is uniquely equipped to aid patients in dealing with acute, chronic or post-operative pain. Through early diagnosis and treatment, Cooper's pain management physicians can often prevent acute pain from becoming chronic. As a result, patients are able to resume a normal lifestyle without experiencing the adverse effects often associated with prolonged pain.
Voorhees
Camden
1 (800) 826-6737
CooperHealth.org
Integrated Family Medicine
The doctors at Integrated Family Medicine combine traditional medicine with effective alternative approaches, such as acupuncture and homeopathy, to treat a wide range of conditions with a special emphasis on pain management. They were one of the first to offer Biopuncture, a steroid-free treatment for pain, sport injuries, tendinitis and arthritis.
Voorhees
(856) 783-5000
SJIFM.com
Magaziner Center for Wellness
The Magaziner Center for Wellness has been a nationally recognized leader in complementary and integrative medicine for almost 25 years. Their board-certified physicians help patients achieve optimum wellness through innovative natural and minimally invasive solutions to complex medical issues, as well as non-surgical cosmetic procedures.
Cherry Hill
(856) 424-8222
DrMagaziner.com
Samaritan Healthcare & Hospice
Samaritan Healthcare & Hospice—a not-for-profit organization—offers healthcare services to support patients and families throughout the course of serious illness. Samaritan's palliative specialists work with patients' physicians to treat pain, symptoms and stress of serious illness, help families navigate care options and reach treatment goals. Their services are covered by Medicare and most commercial insurers.
Marlton
1 (800) 229-8183
SamaritanHealthcareNJ.org
Published (and copyrighted) in South Jersey Magazine, Volume 8, Issue 2 (May, 2011).
For more info on South Jersey Magazine, click here.
To subscribe to South Jersey Magazine, click here.
To advertise in South Jersey Magazine, click here.