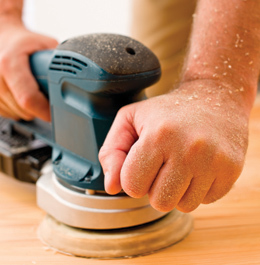 This Bold House
Homeowners planning to stay in their houses longer—as well as those preparing to sell—are finding these improvement investments can yield strong returns.
While the real estate market has recently shown signs of an approaching recovery, the housing slump is hardly over. But, while home values continue to fluctuate, now can be a good time for homeowners to consider upgrading their properties. Whether you're looking to post a "For Sale" sign on the front lawn or thinking of a home makeover as a way to postpone selling, the right renovations can improve your quality of life and be a sound investment as well.
But before hiring a contractor or (gasp) breaking out the hammer and nails yourself, it pays to do a little research and to consider the cost of the project and the typical return on your investment. New flooring, lighting fixtures, home theaters and bathroom upgrades are just some of the ways South Jersey residents are turning their houses into homes.
Lay it down
Flooring is one of the most popular choices when it comes to home renovation, simply because what's underfoot takes the most abuse. Heavy foot traffic from large families, guests and pets means flooring needs to be durable as well as beautiful.
Hardwood floors provide a timeless look—and the greatest boost to a home's resale value, according to Steve Matteo, owner of Matteo Family Kitchens and Flooring Inc. in Woodstown. But another increasingly popular alternative is luxury vinyl tile, which looks like ceramic tile but costs a fraction of the price, at $4 to $5 per square foot. It also has a softer feel than ceramic, and requires no grouting. Matteo says about 70 percent of his customers are opting for these cost-effective tiles in bathrooms, laundry rooms and finished basements.
As well, choosing flooring that holds up under wear and tear is key. Matteo suggests variegated, patterned and textured tiles for the cleanest look. "The higher the gloss, the more dirt it will show," he says.
Clean up the bathroom
While bathrooms are among the smallest rooms in the house, they can present significant renovation challenges. After all, replacing your outdated sink could create a new problem in that the colors of today won't match your older tub or toilet.
The solution, says Mike Brindisi, owner of Brindisi Builders in Marlton: "People right now are replacing everything. Something that is more than 25 years old, it is more or less taking everything out, including the walls—starting fresh and updating everything including wiring, lighting, wall finishes and windows."
As a result, more and more bathrooms are getting modern touches. Brindisi has seen increased interest in vessel sinks—in which the bowl is freestanding, not recessed into the countertop, and the faucet comes directly out of the wall—in varying materials, colors, shapes and sizes, as just one example of the trend. Also, it seems that the days of long baths are over. "A lot of people are pulling out whirlpool tubs and putting in a giant two-person shower," says Brindisi.
Entertainment hub
Basements can become great in-home escapes, because they can take on an entirely different look and feel than the rest of the home. Home theaters, game rooms, fully equipped gyms, wine cellars and mini bars are all welcome departures from the more traditional layouts found in the rest of the house.
Kyle Baptiste, a consultant with Woodbury's Cipriani Remodeling Solutions, says many times people opt for these seemingly extravagant amenities out of convenience. "A lot more people are adding these because they are working so much more, so they are staying in [a lot more]," says Baptiste. So, after a long day at the office, adults can come home and exercise in their basement gym, and their kids can entertain friends at a birthday party while viewing the latest Disney flick on the projection screen. "You can utilize [the basement] with family and friends and you don't have to go out like you did in the past."
Light it up
Lighting may seem like an afterthought, but the right fixture can transform the atmosphere of a room. "It's the jewelry of your house," says Lisa Davis of Ferguson Bath, Kitchen and Lighting Gallery in Cherry Hill.
Trends in the dining room include brushed nickel chandeliers with limited crystals, which translates into less cleaning. Hanging lively, colored pendant lamps over the breakfast area makes for a more informal and fun atmosphere, and Davis adds that these are items that are very easy to upgrade and give the kitchen a more modern look.
Switching over to fluorescent or LED lights is also a good way to conserve both money and energy. "One bulb can last 20 to 25 years, so you don't have to worry about replacing it," says Davis.
Save energy
Installing environmentally friendly lighting isn't the only way to conserve of course. Those who really want to go green are converting their homes to meet Energy Star standards. The government-backed program helps homeowners make more energy-efficient decisions. Changing air filters regularly, improving insulation and purchasing efficient systems and appliances can all reduce energy bills and improve quality of life.
"The approach isn't about sealing around doors and windows," says Fred Hutchinson, president of Hutchinson Plumbing Heating Cooling in Cherry Hill. "Hot air rises, [so we] go into the attic and reduce the leakage about 20 to 25 percent by going up and sealing the access panels, where pipes and wires penetrate in the attic."
By examining and improving upon the entire house—insulation, heating and air conditioning systems and appliances—energy saving initiatives can not only save residents money, (eventually even paying for themselves), but they can make living in the house much more comfortable throughout the year. And that, after all, is what today's home improvement trends are all about.
Make Room
These pros can transform your home
A Special Advertising Section from the pages of South Jersey Magazine
Botanical Lighting
Thoughtfully designing, installing and maintaining enduring energy efficient architectural lighting since 1993. Accepting requests for the repair and refinement of your existing lighting. View a photo gallery of their work online.
Medford | (609) 953-5334
BotanicalLighting.com
Brindisi Builders
The remodeling industry's preferred provider of quality products and personalized services. Whether it be a new addition, kitchen or bathroom our family of highly trained craftsmen are committed to exceeding our clients' expectations. Their commitment will be reflected in workmanship, professionalism, ethics, swiftness and courteousness.
Marlton | 1 (877) 284-5353
BrindisiBuilders.com
Cipriani Remodeling Solutions
Cipriani Remodeling Solutions puts its customers first, delivering a high quality renovation and an efficient and friendly experience. Jay Cipriani's philosophy is to "do what we say and make our customers our priority." With Cipriani, you get the expert you want, the craftsman you need and the partner you expect.
Woodbury | (856) 853-8398
CiprianiRemodelingSolutions.com
Eddie B Plumbing
Your full service, premier plumbing contractor. From kitchen remodeling to leaky faucets … they do it all!
Cinnaminson | (856) 273-0099
EddieBPlumbing.com
Ferguson Bath, Kitchen & Lighting Gallery
Ferguson showrooms offer you the largest range of plumbing fixtures, lighting and appliances from quality names, and the latest trends and cutting-edge styles. Their showroom consultants offer the best expertise in the business, as they understand design, the building process and budget planning.
Cherry Hill | (856) 489-5620
Ferguson.com
Hutchinson Plumbing Heating Cooling
A blissful spring means intolerable moments to 35 million people like you, who suffer from pollutant-inducing allergies. Stop suffering this spring. A whole home approach using an air purification system connected to your furnace or air conditioning system destroys or captures pollutants that leave you wheezing and sneezing—and eliminates unwanted odors, too. The EPA maintains that "pollutants commonly found in indoor air are responsible for many harmful effects." Stop breath?ing unhealthy air and start breathing real fresh air.
Cherry Hill | (877) 488-2410
HutchBiz.com
Matteo Family Kitchens & Flooring
Matteo's Kitchens & Flooring specializes in expert kitchen construction and redecoration. A one-stop shop, offering in-house custom counter tops, cabinets, and professional flooring work, Matteo's expert designers work closely with customers to ensure they get exactly what they want, at a price they can afford.
Woodstown | (856) 769-2490
www.MatteoKitchens.com
Published (and copyrighted) in South Jersey Magazine, Volume 8, Issue 2 (May, 2011).
For more info on South Jersey Magazine, click here.
To subscribe to South Jersey Magazine, click here.
To advertise in South Jersey Magazine, click here.