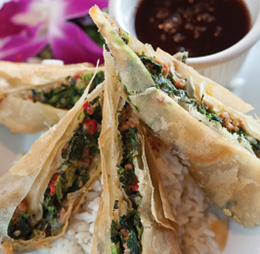 La Posata: Classic, Creative Italian
La Posata
892 N. Route 73
Greentree Square
Marlton
(856) 596-6885
LaPosataRistorante.com
four forks
When it comes to South Jersey food personalities, you don't get much closer to a household name than Shamong's Joey Vento, owner of Geno's Steaks in South Philadelphia. And at La Posata, the restaurant owned and run by Vento's nephew Joe, pictures of the famous (or infamous) cheesesteak slinger appear on the vestibule walls among plaque-bound articles and glowing reviews, all of which make extensive mention of Vento's lineage.
I, however, am not going to say another word about Joey here: after all, dinner at La Posata, a longtime local favorite, offers more than enough to talk about.
The BYOB positively buzzed late into the evening on the weeknight I first visited. Couples and families filled the dining room, feasting on mountains of fruits de mer and practically acting out the quotes, like, "Life is too short for bad wine," that are hand-stenciled on the faux-finished walls. Take-out customers browse the contents of a bank of pastry cases just inside the restaurant's entrance: great pans of tiramisu, three-layer cakes with matte chocolate frosting, dozens of styles of pasta. The majority of those pastas are made fresh on the premises by Vento, who could be seen that night, cooking every dish in the expansive open kitchen just beyond the counter.
Vento, the chef here for more than 10 years and owner (with part­ner/stepfather Mark Mungello) since 2005, does outsource the cannelloni and gnocchi, gently sauced in a barely blushed po­mo­doro. But the sheet pastas are all made here, and you can taste the freshness in the al dente linguini, in how it bites back a little. That linguini was the un­ex­pected yet undeniable star in a bowl of pasta with unevenly seared scallops in a soupy lemon sauce; the extra effort and attention Vento puts into his pasta was, in fact, the salvation of an otherwise ordinary dish.
But pasta isn't the only thing La Posata does well. I'll admit, I or­dered the shrimp dumplings just be­­cause they sounded ridiculously misguided: "pan-seared in garlic and oil with sun-dried tomatoes, pine nuts and baby shrimp, tossed with arugula, served with an Asian dipping sauce." I was not ex­pect­ing hand-knitted dump­lings this soft and delicate, seared like gyoza until golden. I was not expecting the dipping sauce this finessed, bright and spicy, with a deft balance of chilies, garlic and ginger. And I was definitely not expecting the two to go together. But they did, creating an interest­ing, unusual culture clash that was in­stan­tly addicting. Call it fusion. Call it Italiasian. Just call the waitress over and order it right now.
And speaking of the waitress, her name was Honey—somehow so fitting—and she's worth mentioning. As a server, she had all the right businessy, been-doing-this-forever ability, but with none of the brusque, jaded attitude it usually chaperones. We had everything we needed when we needed it, including the sense of being cared for, genuinely.
Soup or salad comes complimentary, but I'd pay for the homey pasta fagiole speckled with tiny ditalini. It made a fine prelude to the chicken Vento, a signature cutlet of peerless crispness topped with provolone, roasted peppers and broccoli rabe. The golden breadcrumb crust was so crunchy that people two tables over could hear my knife saw into it, with all the crackle of tearing apart a brown paper bag. Sweet, smoky, tangy, garlicky, this cutlet would be phenomenal on a Sarcone's roll.
The chocolate cake inside the pastry case had been on my mind since I spotted it on my way in, and this layered delight lived up to the anticipation: moist, fudgy and (best of all) not too sweet. Ditto for a ladyfingers-bordered mousse cake spiked with Baileys. Two empty plates were soon all that remained.
Vento, and his charming terracotta-colored restaurant tucked away in the Greentree Square shopping center, may keep a lower profile than his flashy uncle with his neon-lined cheesesteak shop. But this under-the-radar destination is worthy of plenty of attention all on its own.
E-mail us at edit@southjersey.com.
Photo: shrimp dumplings with arugula, pine nuts and sun-dried tomatoes may seem out of place on La Posata's menu, but they work extremely well.
Published (and copyrighted) in South Jersey Magazine, Volume 8, Issue 2 (May, 2011).
For more info on South Jersey Magazine, click here.
To subscribe to South Jersey Magazine, click here.
To advertise in South Jersey Magazine, click here.