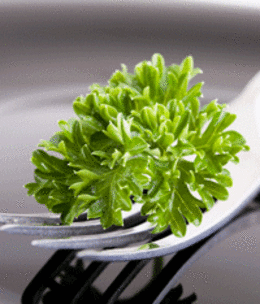 Lillian's Cafe
Lillian's Café
34 W. Merchant St.
Audubon
(856) 547-1902
LilliansCafe.com
3 forks
As Walt Disney would say, it all started with a mouse. Restaurant School grad Jacqueline Holt, chef at Lillian's Cafe in Audubon, cut her teeth in the internationally inspired kitchens of Disney's Epcot Center—cooking the cuisines of Norway, Canada, Germany and more. But at Lillian's, though there's the occasional exotic flourish on Holt's menu, her cooking is squarely American, and reminiscent of the straightforward recipes that appear at many a family dinner table.
The dining room, however, is relatively sophisticated. Alphabet Soup (and the subsequent Alphabet Soup Cafe) lived in this space for a while, and former owner Jayson Grossberg put sweat equity into the building—interesting lighting, slick black-tiled bathrooms, a wall of French doors that overlook Merchant Street—that Lillian's current pa­trons still enjoy. Owners Jim and Joyce Holt, Jacqueline's parents, were smart to leave the dining room, as cool and gray as a winter drizzle, alone.
They don't leave the dining room alone physically, though; they roam the tables, stopping by each and every one to offer a personal greeting and genuine gratitude to those patronizing their restaurant. Owning a restaurant has been Jim Holt's dream for 20 years (one finally realized with an inheritance from his Aunt Lillian, the restaurant's namesake), and it shows in his hands-on approach, a refreshing change from the chain restaurants nearby.
The Holts are first-time restaurateurs, though, still feeling their way after nearly a year in business, and much of Jacqueline's cooking is promising. I loved the yin-yang of smoky chipotle aioli and sprightly ginger-lemon yogurt opposing panko-crusted crab cakes stacked between briny black and red pepper relish. Also outstanding was the roasted red pepper soup, pureed to a velvet texture, and resonating with cinnamon, nutmeg and chipotle against a backdrop of mellow flame-kissed earthiness.
I was less impressed with the plate of scallops I sampled. Though the ivory mollusks clocked a pearly me­­dium-rare in the middle, their surfaces were unevenly browned and, without that caramelization, came off texturally one-note. There were a lot of them, however, for $11.50, scattered over an enormous spinach salad tossed with roasted garlic-balsamic vinaigrette.
Entrees brought the reappearance of cinnamon, here in a sweet, smoky, apple-cranberry chutney bejeweling a grilled pork chop that proved Holt's talent with protein.
The chop was cooked exquisitely, streaked with food stylist-approved grill marks and glistening in the middle. Under a sheath of crispy golden skin, the pan-roasted airline chicken breast was equally juicy, and the lean, herb-rubbed rack of lamb was treated tenderly, to very desirable results.
It was too bad two of these entrees needed some assistance in the sides department; the goat cheese-enriched risotto accompanying the chicken was pasty, while the sauteed snow peas alongside the pork hadn't had their stems or strings removed, making eating them something like chewing a mouthful of dental floss. No complaints about the lamb's mates, though: the softly wilted spinach still had some bite—too many chefs cook the leaves until disintegration—and the ping-pong ball-size tricolor potatoes were fork-tender.
Thick, caramel-laced apple pie and ganache-filled lava cake were satisfying and executed well—which is a fair assessment for Lillian's Cafe in general. This sweet ending reconfirmed that the Holts, and their ambitious little café, are off to a strong start.
E-mail us at edit@southjersey.com.
Published (and copyrighted) in South Jersey Magazine, Volume 8, Issue 2 (May, 2011).
For more info on South Jersey Magazine, click here.
To subscribe to South Jersey Magazine, click here.
To advertise in South Jersey Magazine, click here.