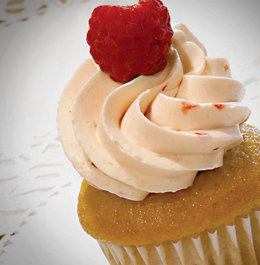 Cravings: Clever Cupcakes
5 Spot
The cupcake craze is officially here to stay. And South Jersey is just fine with that. Just take a look at all the specialty options available in our area bakeries and you'll see all the evidence you need. We love a vanilla and chocolate cupcake just as much as the next person, but what excites us are the more unique offerings making their way to parties ranging from Sweet 16s to wedding receptions. Here are five ways to tantalize your tastebuds.
1. Indulgence Cupcakery
Raspberry lemonade. Pastry chef Theresa Hrivnak fills vanilla cake with lemon curd and coats it with a buttercream icing studded with little raspberry pieces. Forget the cherry, this cake is topped with (what else?) a raspberry. 43 Kings Highway E., Haddonfield, (856) 354-0400
2. Crescent Moon Coffee & Tea
Cherry pistachio. For years, loyal followers have flocked to Crescent Moon for their coffee. Now they also come for tasty treats like this cake filled with pistachios and dried cherries. 508 Hurffville Cross Keys Road, Sewell, (856) 582-0617
3. Trendy Sweets
Banana chip. We make special trips to the Moorestown Mall just for the chance to nosh on this banana cake covered in bittersweet chocolate chips and a vanilla bean cream cheese frosting. 400 Route 38, Moorestown, (856) 779-9400
4. Pretty Sweet Bakery
Peanut butter and jelly. Baker Krista Walker takes the ordinary and makes it extraordinary. Witness vanilla bean cupcakes filled with raspberry jam and topped with peanut butter cream. 427 Haddon Ave., Haddonfield, (856) 429-0063
5. Jilly's Cupcake Café
Sweet pea. Jillian Boschetti is based in Mount Laurel, but there's only one way to get her cupcakes: Order them online by the dozen. We like the green tea-infused cupcake topped with sweet honey buttercream frosting. (Limited delivery available.) JillysCupcakeCafe.com
Matter of Taste
Three local chefs share their favorite pizza in South Jersey
"My favorite pizza is from Tony Soprano's in Maple Shade. They have great specialty pizzas with lots of toppings."
—Chef Aaron Fleisch of Fleming's Prime Steakhouse & Wine Bar in Marlton
"My place is East Ridge Pizza in Willingboro. That's where I grew up and I've been going there since high school. Anyone from Willingboro will tell you [it's all about the] thin crust and the best blend of cheeses."
—Chef Joe Brown of Melange @Haddonfield in Haddonfield
"I like Mack & Manco's in Ocean City. It's a great product … always good, always consistent, always fresh and always delicious."
—Chef Jack Connor of Café Madison in Riverside
BrunchBites
Brunch at Mount Holly's Robin's Nest includes a series of ways to start your day. Here you'll find attention-worthy Sunday offerings like the Mount Holly Melt (fresh chicken salad seasoned with dill and served on a toasted English muffin) and the veggie-friendly Garden Burger (a patty consisting of nuts, mushrooms and other grains combined with caramelized onions and Monterey jack cheese, served on a roll baked in-house). Bring the little ones: there's also a kid's menu. And don't leave without sampling the homemade scones.
Fantasy Feast
One day. Three meals. Total satisfaction.
Breakfast: Mikey Likes It Omelette from Westmont Bagel in Westmont. Chicken steak, spinach, broccoli, mushrooms, tomatoes, onions, peppers and cheese are a filling way to start the day.
Lunch: Lunch Box Special from The Apron in Haddonfield. Here, pick one of the three soups of the day and a half sandwich (we like the ham with green apples and brie) or wrap, a slice of quiche or a salad.
Appetizer: Crab cake from the Marlton Tavern in Marlton. We prefer the homemade cocktail sauce with this locally renowned starter. It's a favorite of NBC 10's Vai Sikahema, and of ours, too.
Entrée: Tandoori salmon from Coriander Indian Bistro in Voorhees. This commonplace fish gets a real boost from the complex flavors found in Indian cooking. After being marinated in yogurt and fresh spices, it is finished off in the clay oven, giving it an ideal crispiness.
Dessert: Tiramisu from Carlucci's Waterfront in Mount Laurel. There are other desserts on the menu here, but those who know ask for this homemade specialty every time.
Fast Food
Culinary news to chew on
• After recovering from the wrath of Gordon Ramsay last year, former Hell's Kitchen contestant and Edgewater Park culinary instructor Ed Battaglia will be the new chef at Ralic's Steakhouse, a BYOB in Haddonfield. The restaurant, in the former Veronica's space, is slated to open this month.
• Dublin Square, the Irish gastropub mini-chain with locations in Bordentown and Cherry Hill, will open its third location in Washington Township on Egg Harbor Road, replacing the recently shuttered Jack's Bar and Grille, which in turn had replaced Blue Eyes.
• Morning sports talk host Angelo Cataldi was so sure the Phillies would win more than 97 games this season, he placed a bet down in Vegas. Well, Ponzio's in Cherry Hill is sticking by the Medford resident, and will give away 97 potpies should the Phils reach the 97-win mark. Visit Ponzios.com to enter your name for a chance to be one of the lucky diners.
• Cherry Hill's Miel Patisserie welcomes Krystal Weaver, formerly of Philadelphia's Sonata, as their new executive chef. The Blackwood resident will be rolling out plenty of new menu items from homemade soups and salads (think grilled flank steak salad with pickled mushrooms and gorgonzola cheese) to hot pressed sandwiches, and even a quiche du jour. Weaver stresses that the new focus on food will not diminish their lauded pastries.
• The 2011 Taste of Evesham event will take place on Main Street on May 22 from 1 to 4 p.m., featuring samples of fare from the township's eateries. Find ticket information at TasteOfEvesham.org.
Photo: Indulgence Cupcakery
Published (and copyrighted) in South Jersey Magazine, Volume 8, Issue 2 (May, 2011).
For more info on South Jersey Magazine, click here.
To subscribe to South Jersey Magazine, click here.
To advertise in South Jersey Magazine, click here.