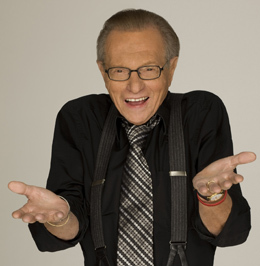 King's Court
The semi-retired Larry King is ready for his next venture—into the world of comedy.
For more than two decades, Larry King served as one of the faces of CNN, via his iconic nightly interview show, Larry King Live. Earlier this year, King yielded his time¬slot to Piers Morgan—but the 77-year-old is far from retired. Currently, he's working on several projects for his old network, and taking a hand in diverse new ventures ranging from a stake in a Beverly Hills bagel shop to what will be a recurring guest spot on The Daily Show on Comedy Central. The few free days on his calendar are reserved for family life, which includes coaching his two sons in Little League Baseball. And, in the middle of all of this, he is getting ready to embark on a 45-city comedy (yes, comedy) tour, which kicks off May 14 at the Borgata.
SOUTH JERSEY MAGAZINE: You're not exactly retired, but what was the hardest thing about stepping down from your job at CNN after all these years?
LARRY KING: It was a twofold thing. The last contract [CNN] offered me was a one-year contract…. I thought the writing was on the wall. [But] I'm going through mixed emotions. When Japan happened, I wanted to be there. When [former Egyptian President Hosni] Mubarak left, I wanted to be there…. [Libyan leader Muammar] Gaddafi… I've interviewed these people. But when they boo the Kardashians, I don't care; I'm not into the tabloid stuff.
SJM: How has TV changed since you first made the transition from radio?
LK: You get more information fast, and certainly the technological revolution is incredible, but sometimes it gets it wrong. The Internet makes everyone a journalist. I don't know if we are better served now with 600 anchormen than we were in the days of Edward R. Murrow and [David] Brinkley.
SJM: Are you enjoying spending more time with your wife and kids?
LK: I'm coaching my sons' Little League team and getting thrown out of games.
SJM: Don't tell me Larry King got bounced by an umpire for arguing balls and strikes?
LK: One was a play at second base, one was a weird call. My son hit a double and threw the bat as he ran and the bat hits the catcher. In Little League [when that happens] you're automatically out, so I discovered. I asked [the umpire], "Is he supposed to place the bat down gently and tell the catcher to have a good day?"
SJM: So, at 77, you decide it's a good time to tour the country. How did that idea come about?
LK: I loved doing comedy for a long time. My nephew is a top Broadway producer and he said, "Why don't we put together a real act?" So I'm telling funny stories, childhood jokes, taking questions from the audience … it's sort of like Billy Crystal's 700 Sundays, but nothing really sad occurs. The debut of the tour is at the Borgata. I've been to the Borgata and love it there, but I never thought I would be doing comedy there.
SJM: You got some practice getting in a few comic jabs during the Donald Trump Roast on Comedy Central. Do you consider Trump to be a legitimate presidential candidate?
LK: In the past he's fooled us.… Three times he was going to run, then he backs off. I have the theory that he does it to boost ratings of his TV show. He wouldn't run because he can't take defeat. I've got a great ticket: Donald Trump and Charlie Sheen. They can get every wacko vote. The wackos can make a difference.
SJM: When did you decide that those famous suspenders would become your personal signature look?
LK: After my heart surgery [in 1987], my ex-wife said, "You look good, you lost weight, have you ever tried braces?" So, I wore a pair, a couple people said I looked good [on the show]. That was it.
SJM: Have you ever thought about a line of Larry King suspenders?
LK: Donna Karan wanted to do one a couple of years ago. It didn't work out.
SJM: What kind of reaction have you been getting to your shift into comedy? Do fans get what you're trying to accomplish?
LK: A guy in Vegas called the Mirage and he wanted to buy 10 tickets. But he wanted to know who I was interviewing first, [King laughs]. You have to keep selling it.
If I started over today, I think I would have done comedy. I'm proud of what I've done: I set a special place in American television, I am aware of that. But I would have liked to have a life of making people laugh. You can do a lot of good things when you make people laugh.
Published (and copyrighted) in South Jersey Magazine, Volume 8, Issue 2 (May, 2011).
For more info on South Jersey Magazine, click here.
To subscribe to South Jersey Magazine, click here.
To advertise in South Jersey Magazine, click here.