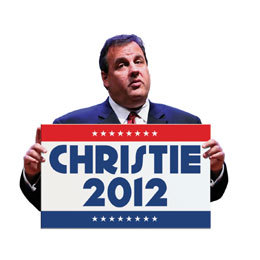 Christie 2012
Why the country's most talked-about governor might—despite his denials—be on the fast track for the GOP nomination.
It's time for another episode of the Chris Christie Show.
The plainspoken governor, increasingly known for his witty one-liners—some of which have made him a YouTube star—is presiding over a packed town hall meeting in Hammonton. With a sly smile and a self-assured air, New Jersey's leader strides to the center of the room. "And now," Christie says with a dramatic pause, "comes the fun part of our program."
After a speech about the need to reform both the state's beleaguered pension system and its health benefits offerings, it is time to take questions from the audience. Christie, seemingly gearing up for a fight, takes off his suit jacket and tosses it aside. His reputation for sometimes-heated public exchanges with detractors has clearly preceded him. The audience is already snickering. "Here's the thing," Christie warns, only half joking. "You're disrespectful to me? I'm disrespectful back. Because we're from New Jersey, and you shouldn't expect anything less."
The crowd cheers—and after the first question from the audience—the volume is turned up even higher. "I want to know," says Anthony DeStasio of Hammonton, "how we can help get you to the White House."
Christie demurs. "For the 850th time, I am not running for president of the United States," he tells the crowd. "I'm the governor of the state of New Jersey … and why would I ever want a job that's less powerful?"
And yet, in just over a year in office, Christie has gained a national following and a penchant for spending his Sunday mornings in Washington, D.C., TV studios. He may downplay their veracity, but the rumors and rampant speculation that the new Republican darling might be gearing up for a presidential run are not going away. In fact, the buzz is only intensifying.
"His words say one thing, and his actions say another," says Brigid Harrison, a political science professor at Montclair State University. "When you look at what he has said, the typical line is, 'I'm not ready.' So that is not saying I'm not going to be ready in 2012."
Harrison points to Christie's recent public schedule and television appearances—including a recent appearance on NBC Nightly News. He's become a headliner at campaign events for conservative candidates, and recently headlined a fundraiser in Washington for the National Republican Congressional Committee that raised $10 million. For a guy with no Pennsylvania Avenue ambitions, Christie sure seems to put a lot of work into raising his national profile.
"All of these things bespeak someone who is courting a national constituency," Harrison says. "If you're really not interested … why would you be spending time in Iowa? These are not the actions of someone exclusively concerned with Trenton politics."
But Peter J. Woolley, a politics professor and polling director at Fairleigh Dickinson University, says, not so fast. Christie has, after all, made his bones as a tough-talking truth teller. So if he says he's not interested in a presidential run, he's not. "I think everyone knows well enough at this point to take Christie at his word," Woolley says.
"That's part of what makes him appealing to people."
Among local Republicans, Christie's professed reluctance to hit the nationwide campaign trail has been a source of some disappointment.
"I don't think he will run," says William F. Layton, chairman of the Burlington County Republican Committee. "I always hold out hope, because I think he's our best chance as a party candidate. But he's focused on the job he needs to do in New Jersey … and Iowa is only six months away. So to start building [a campaign] now is hard."
Still, even Christie might be tempted by his polling numbers—which indicate his candidacy could be very viable. A nationwide Fairleigh Dickinson-PublicMind Poll, conducted at the end of March, shows that Obama polls only 6 percentage points higher than Christie in a head-to-head match-up.
Only former Arkansas Gov. Mike Huckabee and former Massachusetts Gov. Mitt Romney poll better, and both are running about even with President Barack Obama. Huckabee and Romney both have already run for president, and make no secret of the possibility that they may run again in 2012.
Then there is Christie: tough-talking new guy, seen in viral online video clips taking on the teacher's union and delivering zingers to questioners at town hall meetings.
"And that's what makes Christie so unusual," Woolley says. "He's only been on the scene a short time. He's in the spotlight, even though New Jersey is in the fiscal dumper. So that's an anomaly."
Equally unusual are Christie's poll numbers, which suggest that the governor not only is acceptable to Republicans, but also appeals to independents. Sarah Palin and Newt Gingrich certainly can't say the same—and the GOP knows it. "That's why people talk about him being president," Woolley says. "They say, 'Hey, there's a guy who excites the party, and has an appeal outside the party.' That's the type of candidate [Republicans] want."
"People find his brand of politics charming and refreshing," Harrison agrees.
Christie has been "enormously sophisticated" in his strategy, Harrison says, in laying claim to a traditionally conservative agenda, making bold moves like cancelling the most expensive public works project in the country (the Hudson River tunnel project) and going toe-to-toe with the teacher's union—all things that appeal to a conservative base. "He is probably the best political strategist in the state of New Jersey," Harrison says. "I can count on one hand the number of mistakes that he has made. I may not agree with everything he does … but I also understand 99 percent of what he does through an ideological prism."
Local GOP faithfuls tend to agree. "I think he would make a great president," Layton says. "The way he's worked to clean up New Jersey would be great on the national stage.... His style of leadership is what the country needs."
Still, even if Christie were to run, Woolley says, he faces major obstacles, the biggest one being financial.
"Running for the modern presidency is an incredibly complex and protracted organizational chore," Woolley says. "You like to think you can jump into a race, but you really can't. The water is moving too fast, that media stream is moving. It takes a huge, personal organization around you."
It also takes an enormous commitment of personal time—and Christie hints that the idea of a 2012 run may not be popular on the home front. "The good news is Mrs. Christie is not here today," Christie told the questioner at the town hall meeting when asked about running. "The bad news is that her mother is."
So what will Christie's next move really be?
"I'm not saying that the governor is lying [about his reluctance to run], but there is a certain element of coyness," Harrison says. "I don't think that he went into the gubernatorial administration thinking, 'I'm going to use this for the presidency.' But, it would be a very remarkable individual who could look at those [poll] numbers … and not even consider [a run]. He would be silly not to."
Published (and copyrighted) in South Jersey Magazine, Volume 8, Issue 2 (May, 2011).
For more info on South Jersey Magazine, click here.
To subscribe to South Jersey Magazine, click here.
To advertise in South Jersey Magazine, click here.