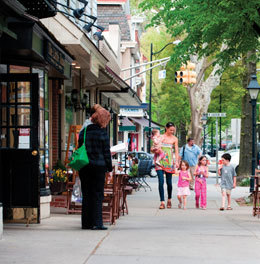 Top Towns 2011
Our annual ranking of South Jersey's best places to call home
Recent decades have brought wave after wave of change to South Jersey's landscape: First, the inevitable creep of urban sprawl seeped in; then, the housing boom washed over the suburbs, leaving scatterings of developments in its wake. Lately, though, the mantra of "smart growth"—combined with the slowing influence of the recession—has guided municipalities toward a cautious development philosophy that preserves historic neighborhoods and open spaces, while strengthening commercial corridors, rehabilitating post-industrial sites and creating what will one day be vibrant new town centers. Our list of Top Towns this year not only covers perennial favorites—leafy and walkable Haddonfield, affluent Moorestown and bustling Marlton—but it also captures a moment of change, as once-sleepy farming villages and company towns begin to come into their own as truly great places to live.
There were seven newcomers to this year's list: Florence, Mansfield, East Greenwich, Waterford, Riverside, Bellmawr and Gloucester Township. Medford and Woolwich joined Haddonfield as the only towns whose ranking remains unchanged. Harrison in Gloucester County was the biggest gainer, jumping up six spots to No. 2, while Lumberton suffered the biggest drop, sliding 14 slots to No. 23.
We turned to Niranjan Pati, dean of the Rohrer College of Business at Rowan University, to make sense of the numbers. Pati utilized a statistical method known as the analytic hierarchy process, assigning weights relative to each criterion by completing pair-wise comparisons, and keeping things in check with index and ratio calculations that ascertain consistency. For the first time, Pati added the growth rate of the towns as a criterion.
The data used to determine these rankings—which incorporate townships with populations of 8,000 residents or more in Burlington, Camden and Gloucester counties—include average residential property value, low residential taxes per average residential value, crime incidents reported per 1,000 people and high school performance (SAT scores, proportion of college-bound graduates and rate at which students passed the statewide proficiency test). Also, we've included similar numbers for a subset ranking of the area's Top 10 Small Towns, (with fewer than 8,000 residents).
In analyzing the data, Pati encountered some interesting results. "The consistency of Haddonfield to maintain its No. 1 rank came out loud and clear," he says. "Burlington County has the largest number of Top Towns (13), and Camden and Gloucester counties equally split at six each." Also, six of the seven new entrants ranked very low in crime; the top five based on school performance remained unchanged this year, and 20 of the 25 were repeats from 2010. Keep in mind, though, that this is just one way to crunch the numbers. "As in any rankings, the result should be digested and used with caution," Pati says. "It is a difficult task to distill the criteria down to one numerical score. The intent of this exercise was to make sure that people get unbiased results so that they can further delve into the details by visiting the towns, talking to their residents and meeting public officials."
Read on to see where your hometown ranks, and to hear from mayors of up-and-coming communities about what's driving their towns' continued growth.
1. Haddonfield 2. Harrison 3. Florence 4. Medford 5. Moorestown 6. Mansfield 7. Woolwich 8. Marlton 9. East Greenwich 10. Bordentown Township 11. Southampton 12. Delran 13. Voorhees 14. Mount Laurel 15. Burlington Township 16. Cinnaminson 17. Pitman 18. Waterford 19. Mantua 20. Riverside 21. Monroe 22. Bellmawr 23. Lumberton 24. Haddon Township 25. Gloucester Township
Harrison Township
This year's rank: 2
Last year's rank: 8
Say the name "Mullica Hill" and you might think of a strip of dusty antiques shops. But Harrison Township, which encompasses Mullica Hill along with several other neighborhoods and some broad stretches of farmland, has far more to offer. This Gloucester County township won't be flying under the radar for long though, what with a string of sweeping developments, a new plan to upgrade and update its historic corridor and a strong residential base. "Fifteen years ago, this township was mainly farmland, and in the last 15 years we've had an explosion of growth," says Mayor Louis Manzo.
"There's a real family feel here. Most of the people who moved here in the last 15 years moved here to get out of the city and the more congested areas like Cherry Hill and Voorhees."
Notable developments: South Jersey Healthcare's Tomlin Station Park medical center on Route 322, and the Tomlin Station Commerce Center next door, are both set to open this year. But the largest initiative is the Richwood Village development of a 350-acre plot of farmland along Route 322. "The idea here is to plan it right from ground zero, and over the next 15 years there will be the emergence of a town," Manzo explains. The Madison Marquette/ Canuse Communities project will include 1,200 to 1,500 residential rooftops, including single-family and multi-family structures, as well as up to one million square feet of commercial space. Plans include big-box and small retail and offices—and, potentially, a school and a movie theater—in short, a new, mixed-use downtown.
Downtown reimagined: The recession hit Mullica Hill's antiques retailers fairly hard, Manzo says, but it gave the township an opportunity to rethink this historic district. They invested in beautification efforts like decorative streetlights and benches, but also rezoned the northern end of Main Street to invite more professional offices, like doctors and lawyers.
Further south, the township is hoping to fill vacancies with a cluster of B.Y.O.B. restaurants, to create a more vibrant retail and dining corridor. And, yet another development is set to back up onto Main Street, with new walking paths to make this a true pedestrian destination.
Best perk: "We have one of the best wineries in the entire state of New Jersey, which not too many people know," Manzo says. Heritage Vineyards has been racking up wine awards, while the wine festival, which they launched last summer, has already become one of the biggest in the state.
Top Burlington County Towns
1. Florence
2. Medford
3. Moorestown
4. Mansfield
5. Evesham
6. Bordentown Township
7. Southampton
8. Delran
9. Mount Laurel
10. Burlington Township
Top Camden County Towns
1. Haddonfield
2. Voorhees
3. Waterford
4. Bellmawr
5. Haddon Township
6. Gloucester Township
7. Cherry Hill
8. Pine Hill
9. Audubon
10. Winslow Township
Top Gloucester County Towns
1. Harrison
2. Woolwich
3. East Greenwich
4. Pitman
5. Mantua
6. Monroe
7. West Deptford
8. Washington Township
9. Franklin Township
10. Clayton
Florence
From its place in a scenic crook of the Delaware River, Florence Township earned a place in history for the miles and miles of steel cable that issued forth from its Roebling Steel Co., to suspend the Golden Gate Bridge, and the elevators at the the Empire State Building and the Eiffel Tower. Today, this quiet community is an up-and-comer for its prime riverside location; its mix of old working class housing stock (including the core of the old Roebling company town) and gleaming new developments; its sleepy, blink-and-you'll-miss-it main drag; and its residents' commitment to old fashioned values. "We're a small blue-collar town, and people who move here from other towns seem to adapt and embrace our lifestyle, and many of them choose never to leave," says Mayor Bill Berry. "We're still a small town that gets excited about Friday night football games."
Notable developments: Florence's greatest potential is also, for now, its largest burden. That's the old Roebling mill land, which is the site of a $5 million Environmental Protection Agency Superfund cleanup effort. Florence is working with an as-yet unnamed company that will, if a deal is finalized, move its world headquarters to the site, occupying a total of 2.2 million square feet of warehouse space and 50,000 square feet of office space. Elsewhere, Ryan Homes' over-55 community, Legacy at Meadowcroft, is more than 80 percent sold, while PulteGroup is starting work on another 85-house development.
Best perk: The waterfront parks offer an idyllic escape. As well, the township has been working to develop bikeways to connect its various parks and recreational areas, and recently won a $203,000 grant from the Department of Transportation to do just that.
Historic moment: The Roebling Museum, housed in the guardhouse to the old steel plant, opened last year offering a window into the company's historic work. (The newest exhibition is the General John S. Pustay Gallery, all about life in the company town.) So far, Berry says, it has been a significant tourism boon.
Outlook for the future: "Economically, a lot of it is going to hinge on the success of the development of the Roebling Steel mill property," says Berry, who's not seeking a second term in office. "That's pretty much what I dedicated my four years of being mayor to: putting that steel mill property back on the tax rolls."
Top Property Values (population over 8,000)
1. Moorestown
2. Haddonfield
3. Harrison
4. Florence
5. Gloucester Township
6. Mansfield
7. Voorhees
8. Lumberton
9. Pine Hill
10. Bordentown Township
11. Cinnaminson
12. Willingboro
13. Marlton
14. Burlington Township
15. Delran
16. Collingswood
17. Monroe
18. Audubon
19. Maple Shade
20. Medford
21. Woolwich
22. East Greenwich
23. Bellmawr
24. Riverside
25. Westampton
Top Property Values (population under 8,000)
1. South Harrison
2. Medford Lakes
3. Chesterfield
4. Barrington
5. Wenonah
6. Springfield Township
7. Washington Township (Burlington County)
8. Tabernacle
9. Haddon Heights
10. Riverton
Bordentown
This year's rank: 10
Last year's rank: 14
"They call Bordentown the crossroads of the state," says Mayor Michael Dauber, and with its proximity to the Turnpike, I-295 and Delaware River, (not to mention its perch high up in the northern reaches of Burlington County, almost halfway between Philadelphia and New York City), it's easy to see why. "It has the feel of the small community," says Dauber, but with the convenience of shared services with its big sister, Bordentown City. "Our overall property taxes are still relatively low, the residents get good services for their money, crime's low. You take everything together, and it just makes it a really nice place to live."
Notable developments: Already underway is a 228,000-square-foot Team Campus Bordentown, including the Team85 fitness center being developed by former NFL player Kevin Johnson, and a St. Francis Outpatient Healthcare Center. And even bigger is a $100 million Princewood Properties waterfront community development project that will include a new Riverline stop; residential, retail and commercial spaces, a Lutheran Ministries senior community and new waterfront access, all on more than 100 acres. There are also a Holiday Inn Express and a Home2 Suites both expected to break ground this year. "Hopefully, these four development projects will help kickstart other development within the township," Dauber says.
Vision for the future: Smart growth initiatives undertaken early on have given developments in town a unique character, Dauber says. Now the plan is to continue "reusing existing properties and redevelop Bordentown to make it more of a destination, especially along the waterfront."
Best perk: The waterfront isn't the only draw; another attraction is being part of what locals call "the Bordentowns." That is, while residents of the Township enjoy the low-key vibe, they don't have to go far to enjoy Bordentown City's restaurants, cafes, bars and even concerts at the Record Collector, a local store-turned-music venue.
Driving growth: While closer suburbs may be pricey, Bordentown is attracting a growing number of commuters to Trenton, Philadelphia and even New York City, Dauber says. "Our population definitely went up," he says, "while still retaining our small-town character.
Lowest Residential Taxes Per Average Residential Value (population over 8,000)
1. Moorestown
2. Mansfield
3. Lumberton
4. Bordentown Township
5. Florence
6. Cinnaminson
9. Marlton
10. Haddonfield
11. Harrison
12. Voorhees
13. Audubon
14. Monroe
15. Delran
16. Collingswood
17. Riverside
18. Bellmawr
19. Gloucester Township
20. Willingboro
21. Westampton
22. Pine Hill
23. Southampton
24. Pemberton
25. Mount Laurel
Lowest Residential Taxes Per Average Residential Value (population under 8,000)
1. Washington Township (Burlington County)
2. Bass River Township
3. Woodland Township
4. Chesterfield
5. South Harrison
6. Delanco
7. Springfield Township
8. Tabernacle
9. New Hanover
10. Elk Township
Top 10 Small Towns
1. Chesterfield
2. South Harrison
3. Medford Lakes
4. Wenonah
5. Tabernacle
6. Barrington
7. Shamong
8. Springfield
9. Haddon Heights
10. Swedesboro
Haddon Heights
This year's rank: 9
Last year's rank: N/A
At just 1.6 square miles and with fewer than 7,500 residents, Haddon Heights is a compact little village tucked into the shadow of its better-known neighbor, (and perpetual Top Towns power player), Haddonfield. But this tiny borough is garnering increasing attention with new public improvement projects and significant tax decreases at a time when taxes elsewhere are on the rise. Named a Classic Town by the Delaware Valley Regional Planning Commission, Haddon Heights retains its friendly, small-town charm, a bustling main street corridor and preserved historic landmarks. "The people in Haddon Heights are a really friendly group," says Mayor Scott Alexander. "I hear it every day: people come up to me and say they just love this town and they don't want to live anywhere else."
Notable developments: On the site of the old Haddon Heights Public Works property, Bob Meyer Communities recently signed on to build Glover Mill Village: 28 single-family houses on 6.3 acres. That same development site, termed Project Garnet, has also included a new community center and a cabin (both completed last year) that can be rented for private events, bringing fresh revenue into town. And, the community center also now hosts fitness classes, senior programs and youth offerings. "These are all low-cost programs that generate revenue for the borough, but also provide quality of life for the residents," Alexander says.
Tax break: This year's budget included plans to drop municipal property taxes by 6 percent. That could make 2011 the third consecutive year of blended (school, municipal and county) tax decreases for residents, the first such three-year decline in more than six decades.
Best perk: "We have a 30-acre county park in the middle of town that has a walking trail from Station Avenue all the way to Kings Highway," Alexander says, "and in the summertime, at the Norcross McLaughlin Dell we have concerts and events"—run by Camden County—"so we have entertainment our residents can walk to."
Historic moment: The Glover Fulling Mill, built in town around 1776, was said to have processed the wool for Betsy Ross' first flag. Plans for the housing development include a one-acre park and picnic grove centered around what's left of the old mill's foundation.
Open spaces: The borough is looking to develop four acres of recreational fields off Devon Avenue, and recently cleared a half-mile walking trail in the woods nearby, paralleling Little Timber Creek. In addition, they're planning to break ground this year on a pedestrian and bicycle enhancement project that will send sidewalks and decorative streetlights down Atlantic Avenue.
Lowest Crime Incidence Per 1,000 People (population over 8,000)
1. Florence – 9.2
2. Woolwich – 11.3
3. Southampton – 11.7
4. Riverside – 12.3
5. Medford – 12.6
6. Harrison – 13.3
7. Marlton – 14.4
8. Waterford – 14.5
9. Pitman – 14.6
10. Bordentown Township –14.7
11. Delran – 15.1
12. Haddonfield – 15.6
13. East Greenwich – 16.4
14. Mansfield – 17.4
15. Mantua - 19
16. Mount Laurel – 19.7
17. Franklin Township - 21
18. Bellmawr – 21.5
19. Burlington Township – 21.9
20. Willingboro – 22.6
21. Washington Township – 22.7
22. Pemberton – 22.7
23. Burlington City - 23
24. Westampton – 23.6
25. Winslow – 23.9
Lowest Crime Incidence Per 1,000 People (population under 8,000)
1. New Hanover – 0.9
2. Chesterfield – 3.4
3. Shamong – 5.7
4. Wenonah – 8.1
5. South Harrison – 8.9
6. Fieldsboro – 8.9
7. Tabernacle – 10.3
8. Bordentown City – 11.5
9. Newfield - 12
10. North Hanover – 13.9
Rankings by High School Performance (population over 8,000)
1. Haddonfield
2. Moorestown
3. Cherry Hill
4. Medford
5. Voorhees
6. Mount Laurel
7. Harrison
8. Mantua
9. Marlton
10. Cinnaminson
11. Haddon Township
12. Southampton
13. West Deptford
14. Washington Township
15. Mansfield
16. East Greenwich
17. Woolwich
18. Pitman
19. Burlington Township
20. Waterford
21. Delran
22. Lumberton
23. Westampton
24. Mount Holly
25. Audubon
Rankings by High School Performance (population under 8,000)
1. Medford Lakes
2. Gibbsboro
3. Berlin
4. Woodland Township
5. Tabernacle
6. Shamong
7. Chesterfield
8. Springfield Township
9. South Harrison
10. Logan
Data used for the ranking was gleaned from the New Jersey Department of Education, the state's Division of Local Government Services and the New Jersey State Police Uniform Crime Report.
Photo: A stroll along Kings Highway in Haddonfield
Published (and copyrighted) in South Jersey Magazine, Volume 8, Issue 2 (May, 2011).
For more info on South Jersey Magazine, click here.
To subscribe to South Jersey Magazine, click here.
To advertise in South Jersey Magazine, click here.