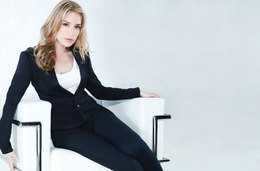 Ready For Action
Covert Affairs star Piper Perabo may play a globe-trotting spy but she's still a Jersey girl at heart.
Piper Perabo burst onto the acting scene in the late '90s, but it wasn't until her starring role in 2000's Coyote Ugly that Hollywood sat up and took notice of the Toms River native. Since then, she has appeared in a range of small- and big-budget films, starring alongside every­one from Steve Martin to an animated Rocky and Bullwinkle. Today Perabo has reinvented herself as one of TV's most riveting action stars, thanks to her lead role as a C.I.A. agent on the acclaimed USA Network drama, Covert Affairs, which debuts its second season on June 7. We caught up with Perabo on the set to talk about making the transition to the small screen and how she likes being television's newest heroine.
SOUTH JERSEY MAGAZINE: Tell us about growing up in Toms River, on the?Jersey Shore.
PIPER PERABO: I loved growing up in New Jersey. The Jersey Shore in autumn is one of the best beaches in the world. I love the sand dunes and high grass. Even in the snow I think it's beautiful. In the summer, I used to love to walk up and down the boardwalk in the evening. Families, salt water taffy, fireworks—it was dreamy.
SJM: Did you spend much time away from the beach in South Jersey?
PP: Our family camping trips were often in Bass River State [Forest, in Tuckerton].
SJM: You were pretty active on stage in high school theater productions. Did you catch the acting bug early?
PP: I was lucky my high school had a big auditorium, with a wide stage, which meant lots of kids could be in the play. My freshman year, I was in the background, and didn't have a single line. I wasn't athletic as a kid, and so the theater was a place I could fit in.
SJM: What was it like making your Broadway debut recently, in the play Reasons to be Pretty?
PP: Being in a play on Broadway was a dream come true. Going to school in New Jersey, we would do fund raisers and our class would go into the city and see a musical. When I got that play, walking into the theater through the stage door for work, I had to pinch myself. There was a church near our theater, and at 7:45 each night, as people were going into theaters all over Times Square, the church bells would chime "Give my Regards to Broadway." The first preview night, I heard those bells through the fire escape window of my dressing room. I thought, "Wow. This is really it." I could not believe I really was there.
SJM: How does it feel to be going into the new season of your show on USA?
PP: I am so excited for season two of Covert Affairs. In the first season, you spend a lot of time getting to know all the characters and setting up the world of the show. And in the world of the C.I.A., there are loyalties and protocol that need to be laid out, so the audience knows how we really operate. Now we can really put the adventure into high gear.
SJM: What attracted you to this role?
PP: I love female heroes: they are fun and exciting to play. Annie is impulsive and trusts her instincts, and I like people like that. She also has a personal moral code, despite any directive from her work, and that comes into conflict. I like to play people with strong convictions.
SJM: It's notably different from some of your past roles. Did you envision yourself as the powerful leading woman type?
PP: I don't envision myself in any one way. I don't think I could do this job if I did. One of my favorite New Jersey-ites Walt Whitman once wrote: "Do I contradict myself? Very well, then I contradict myself, I am large, I contain multitudes." I strive for that.
SJM: What's been the biggest challenge of working on Covert Affairs?
PP: The biggest challenge of working on this show is being away from my family. Cell phones and Skype are great, but they are no replacement for backyard barbecues. SJM: Coyote Ugly kind of put you on the map, but what has this success on the small screen meant to you? PP: The success of Covert Affairs has been really encouraging both professionally and personally. I wasn't sure if I could do an action-based part. So far, so good!
SJM: As opposed to in movies, a TV character really gets to develop over the course of a series. Do you like getting that chance to play a role that gets to evolve and grow?
PP: In some ways TV is very challenging, and the character development is one of them. I never know more than a couple episodes ahead. So I don't know where we're going, and it can be hard to pace myself. It's kinda like life in that way.
SJM: Last year you received a Golden Globe nomination for the role, against some pretty stiff competition. Why do you think audiences respond so well to Annie?
PP: I was really honored to be nominated. I responded to the character of Annie because I am also a hard working, young woman trying to balance family, career and social life. It's a juggling act, and I don't always succeed. I think the show is honest about how challenging that can be, and people respond to that. Plus we race sports cars through exotic locales, jump out of planes, and the music is awesome!
SJM: What does working with direct­or/ producer Doug Liman (The Bourne Identity, Swingers, Mr. & Mrs. Smith) do for the show?
PP: One of the major reasons I wanted to do this show was Doug Liman. I love the visual way he tells a story, and the frenetic and kinetic way he shoots a fight. You watch his fight scenes and you remember those feelings of being off balance, scared and full of adrenaline. He is inspired by obstacles, always thinking outside the box, endlessly creative and a really kind human being. There is no other film director I would rather have in my corner to make an action sequence than Doug.
SJM: What can fans expect this season?
PP: This season fans can expect big action. We are aiming for the fences. I read an early episode and called my producer and asked, "How are we even going to do that?" "Well," he said, "we've got a big cargo ship and the helicopter. Let's just hope the lake doesn't freeze." I had to smile.
Published (and copyrighted) in South Jersey Magazine, Volume 8, Issue 2 (May, 2011).
For more info on South Jersey Magazine, click here.
To subscribe to South Jersey Magazine, click here.
To advertise in South Jersey Magazine, click here.