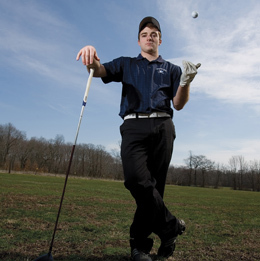 Good Sports
Meet eight outstanding high school athletes poised to lead the pack this season.
The high school spring sports season may have a lower profile than fall, but don't tell that to these competitors. Some have national profiles—not to mention interest from college and even professional recruiters—while others are highly competitive on the local level. They play a broad range of sports, but they share one common trait: an unending desire to improve and achieve ever more challenging goals. South Jersey Magazine caught up with a few of the outstanding competitors, (and, admittedly, got a bit out of breath doing so), to find out what drives them to greatness, and what they're working toward in the future.
Zach Arsenault
Shawnee High School Junior | Golf
Among the state's top golfers, Arsenault (pictured) finished first in the South Jersey/Central Jersey Group III championship with a two-over-par 74, and helped Shawnee win the title. He took sixth place last year at the Arena/Rifkin tournament, which attracts South Jersey's top performers, and was a Courier Post first-team all-South Jersey selection. Not surprisingly, he hopes to play golf in college.
Is it too early to begin thinking of college choices? I have taken the SAT and written my resume and sent it to colleges, but I haven't narrowed my choices. I want a warm weather school. I like all four seasons, but for golf it kills me. Also I am considering being a business major.
Do you have golf withdrawal in the winter? You better believe it. Especially with the snow, it was brutal. I do have a net in my basement and I get swings in there, but it is not the same as being outdoors.
How about your goals for this season? Last year our team was impressive in winning the sectionals, and getting our team to the states is the main goal.
You started playing golf late. What was your inspiration? It was my eighth-grade summer and my dad, who is my role model, got me involved. He taught me everything. I played one time and was hooked.
When was the first time you beat your dad, and how did he take it? It happened this summer for the first time. He said he was sick. We both played well, and I shot a 73 and he had a 75. He said he had a cold.
Did you buy his explanation? (laughing) I won. He's a competitor and doesn't like to lose.
Tell me about your first ever hole-in-one this summer. It was 138 yards at a father-and-son tournament in Pennsylvania. What's interesting is that my dad was grabbing a club and he didn't see it. I can't describe in words what it felt to achieve this. Everybody was screaming and in shock.
Do you ever think of playing one day in the PGA? Every kid has that dream. As of now I just want to have fun and improve, and hope to one day get there.
Megan Venables
Highland Regional High School Senior | Cross Country/Track
Venables is considered the best distance runner in the state. Last spring, she won the Meet of Champions 3,200-meter race. She was the Meet of Champions cross country winner in the fall and also earned the 3,200 crown during winter track. In addition, she competed in Foot Locker national cross country championships last December in San Diego and placed fifth, earning All-American honors. Venables, who is in contention to be her school's valedictorian, has accepted a cross country/track scholarship to Villanova, the two-time defending NCAA cross country champion.
There are a lot of good schools for track out there. Why did you choose Villanova? Because it's close and they have an amazing running program. And the academics are good, and I think I fit in well with the team and coach.
You started running in middle school. Were you always this good or did it take time? (Laughing) I wasn't that great in middle school. The longest race we had was a mile and I pretty much did that.
Have you thought about what you want to major in at Villanova? I am looking at physical therapy, but it might change.
What is the most you will run in a week? My longest is about 70 miles, usually in the summer getting ready for cross country. My long runs are usually 12 to 13 miles.
Have you ever done a marathon? It's something I would like to try after college.
Besides running, any other talents we should know about? I like painting and take private lessons.
What has been the best part about competing at Highland? My coaches. They have helped me so much, and I got really lucky where I went to school. I don't think I would have been as successful in another school.
Is there ever a day where you don't feel like training? It's rare, but sometimes if it is not a nice day and I am tired. But then I think, "If I take off, somebody else is working hard," and I use that to motivate me. Usually I am pretty excited to run.
Mike Humes
Lenape High School Senior | Tennis
As a junior, Humes was a first-team all-South Jersey selection by the South Jersey Tennis Coaches' Association. He played at No. 2 for Lenape, behind South Jersey player of the year Nikola Kocovic. Humes was 38-2 as a junior and helped Lenape win the South Jersey Group IV title. Humes entered this season with 94 career wins. He will attend Chestnut Hill College on a combination tennis and academic scholarship.
Last year you could have been the No. 1 player on probably 99.9 percent of the teams in South Jersey. Are you looking forward to playing No. 1 singles? I am looking forward to it. I always wanted to be No. 1. Last year I got to play a lot of No. 1's in tournaments and did fine, but I'm happy to lead our team at No. 1.
What made you choose Chestnut Hill? It is relatively close and I stayed a couple of nights to get a feel for the campus, the school and tennis team. I really liked it. And even though it is 45 minutes away I was still homesick, so I knew I didn't want to go a few hours away.
What's your favorite way to get away from tennis? If I am not playing tennis, doing school work or hanging out with friends, I enjoy fishing. If I have a rough match, I get a quick shower and go fishing in a canoe with all my buddies. It's so relaxing and I always have a good time.
How long have you been playing the sport? I started playing at 10 but got serious at 13. My dad got me started. He has been a tennis instructor for 30 years.
Do you remember the first time you beat your father in a match? Probably when I was 14. I used to try so hard to beat him and he would win, and I would get so upset. When I won he said it was good that I beat him, and he told me that I was becoming a good player—but he said he was bummed that he couldn't beat me.
What is the best part about being on Lenape's team? Tennis is about individual accomplishment in a tournament, [but being on a team] brings you close, like a family. We have created such a bond with the team and coaches, and that will really help me in college.
Kevin Comer
Seneca High School Senior | Baseball
A consensus first-team all-South Jersey selection, Comer went 6-3 with a 1.46 ERA as a junior. He struck out 100 in 52 2/3 innings. Comer has accepted a baseball scholarship to Vanderbilt University, but he could have another decision to make, since the righthander is considered South Jersey's top Major League prospect from the senior class.
Even though you committed to college, is the draft still an option? Yes, it's a definite option.
What made you choose Vanderbilt? They have an exceptional team, the pitching program is amazing and overall the school is exceptional. I chose Vanderbilt over UCLA.
As a Major League prospect, you had to fill out questionnaires for virtually every team. How many teams have you been in contact with? We met with almost every team in our house.
Some say that all the attention given from Major League teams puts pressure on a prospect like you. Is it a lot of pressure or do you consider the entire process pretty cool? I would say it's pretty cool. There isn't much to worry about.
If you don't sign with a Major League team, what would be your major at Vanderbilt? It looks like the business area. I think I'm going into human organizational development.
Lenape graduate Christina Foggie was a freshman basketball player at Vanderbilt. Have the two of you talked? We got in contact because she found out I was headed down there. It's great to have somebody from the area there.
Lauren Gaskill
Rancocas Valley Regional High School Senior | Softball
As a junior, Gaskill was named the New Jersey Gatorade Player of the year after hitting 10 home runs and batting .692. She plays shortstop in high school, but will be a centerfielder in college, having accepted a softball scholarship to Virginia Tech. A top student, Gaskill was a starting guard on Rancocas Valley's state Group IV championship basketball team this winter.
What factored into your decision to attend Virginia Tech next year? It was not too far from home. They have a great program, their school is beautiful and Virginia Tech has a great softball team and great coaches. The combination of school and academics was a great fit.
Have you picked out a major yet? Health, nutrition, food and exercise. I want to be around sports and be a professional trainer at a university, and later train NFL and NBA athletes. I want to stay around sports as much as possible.
Sterling's Kylie McGoldrick is also headed to Virginia Tech to play softball. Are you looking forward to being around a fellow South Jersey student? It's really neat. We also play on the same travel team (Newton Rock in Pennsylvania), so I am really excited to be going down with her.
You enter the season with 144 career hits. Is 200 possible? That is one of my goals.
How long have you been playing softball? Since I was 10, and before that I played baseball where I was a pitcher and infielder.
We're told you were an all-star in baseball. When did you switch sports? When they told me I couldn't play baseball my entire life and that I would have to eventually switch over—that is when I went to softball. I wasn't happy at first. I didn't like the idea of playing with girls, but now I love it.
What is the best part of being a two-sport athlete? Just being part of winning programs. The expectations with the coaches and players are high coming in, and we always try to push for a state championship. It's not like some high school teams where everybody is just looking to have some fun playing. Everybody here wants to win so badly.
Taylor Foussadier
Washington Township High School Senior | Lacrosse
A consensus all-South Jersey defender, Foussadier has been a four-year varsity player and starter on Washington Township's 2009 South Jersey Group IV title team. A top student, she will continue her education and lacrosse career at the University of Pennsylvania, a perennial NCAA power.
Why did you choose Penn? When getting recruited, (coach) Karin (Bower) was honest with me and wasn't afraid to tell me what I needed to work on. I respected her so much. And they are renowned for defense, and it's close to my family and the school is fantastic. I feel very lucky.
What are you looking at in terms of course of study? Ideally I would like to go to pre-med, but with lacrosse I can't do that. I'm looking at being a health and society major or environmental biology, and I will try to attend nursing school or go into pre-med after that.
What are some of your favorite ways to unwind away from lacrosse? I love to read and hang out with my family. I love watching college football and basketball.
You have been playing lacrosse since sixth grade. What got you involved? My sister Brooke, who is a senior at Johns Hopkins, was playing and that got me involved. I tried it and hated it at first. I was so focused on being a soccer player, but I soon grew to love lacrosse.
How has your sister's influence helped you? I look up to her. She is five years older, and I have always tried to follow in her footsteps. It's been a healthy competition, and it has helped me get better.
Kayla Herbs
Moorestown High School Senior | Track
As a junior, Herbs was a first-team all-conference and first-team all-Group III choice in the pole vault, in addition to team MVP. She has vaulted a personal best of 10 feet. Also a four-year soccer player at Moorestown, Herbs will continue her education and her track career at Muhlenberg College.
How did you decide on Muhlenberg? The campus is gorgeous. They have an amazing pre-med program, and coach Brad Hackett and girls on the team are great, and I am really looking forward to going.
I'm guessing that since you have your eye on medical school, that science would be your favorite subject? Without a doubt. My honors anatomy is such an interesting class. We dissected a cow heart recently. There is so much I have learned in that class.
I'm sure you get asked this a lot, but isn't pole-vaulting a little on the dangerous side? (laughing) My friends tell me I'm crazy and ask if it is terrifying, and it really isn't. It's like flying through the air, and not scary at all. I have had my falls, and you get back on your feet and can never be afraid.
I could imagine how difficult it was when you first began vaulting as a freshman. It's pretty rough for just about anybody. Once you get the muscle memory going, it's not bad, and once you clear the height it's the greatest feeling.
Aside from school and athletics, what else do you have a passion for? I love to sing and have sung the national anthem for home soccer games. I might audition for American Idol next summer. Singing is really my passion, and I have been doing it forever. I also play the piano and am trying to teach myself the guitar.
Have you ever forgotten the words when signing the national anthem? (laughing) No, I don't want to be like Christina Aguilera. I felt so bad for her. It must have been awful.
Eric Zaun
Cherry Hill High School East Senior | Volleyball
As a junior, Zaun was named South Jersey Player of the Year by the Courier Post. He helped East set a school record for wins in a 23-3 season, that included an Olympic Conference title. East advanced to the South Jersey final before losing a 2-1 decision to Southern Regional. Zaun recorded an astounding 308 kills for the season, along with 52 aces and 52 blocks.
Any update on your college plans? I want to go to college and play volleyball, but there are only about 80 schools on any level that field a program. I want to do athletic training, and that cuts my choices to about eight schools so at this point I'm not sure what I will do.
How did it feel to be named Player of the Year, especially as a junior? It was pretty awesome. I didn't really think there was any way when I went into the season, but things went well and it was really cool to get it.
You've only been playing volleyball since your freshman year. What got you involved in the sport? My brother Brian is two years older. He played and I followed him, and I'm glad I made the choice. I was going to play lacrosse.
It seems like you have developed rapidly for somebody who just started playing competitively as a freshman. Freshman and sophomore year weren't that good, and I was like any other player. I was on the JV as a freshman, and just an average player as a sophomore on the varsity.
So what happened? I worked incredibly hard in the offseason after my sophomore year. I got my vertical up 10 inches and played all the time on the beach.
What do you enjoy most about competing for East, annually one of the top programs in South Jersey? Last year for East it was crazy fun because our whole team was really close. We were all really good friends. The whole season was really fun and always a good time. There was incredibly good team chemistry.
You graduated so many key seniors. Are you looking to take up the leadership role? Definitely. Last year I was a leader, but this is a whole new role.
You play for one of the legendary coaches, Karl Moehlmann. What's that experience been like for you? He is a really good coach and is 16 wins away from 300 in his career, and I really want to get him that 300. That is my main goal. He cares about his players.
Do you think that volleyball is an underrated sport? Yes. So many people underestimate the physicality of the sport and how athletic you have to be. Just because you play in gym class, doesn't mean you can compete at this level. If you can't jump high, you are not going to be good at the sport, and if you are not willing to train hard, you won't succeed.
Star Watch
A look at some of the other players to watch this season from the tri-county area.
BURLINGTON COUNTY
Bridget Bianco, Moorestown High School senior, lacrosse. She was the consensus South Jersey player of the year as a junior and considered one of the top goalies in the country. She has accepted a scholarship to Northwestern.
Mark Zagunis, Holy Cross High School senior, baseball. An all-South Jersey catcher, Zagunis has accepted a scholarship to Virginia Tech.
Stefan Kancylarz, Lenape High School senior, baseball. Kancylarz is a fine athlete, the starting quarterback and one of the best shortstops in South Jersey. He will play baseball at St. Joseph's.
Melissa Arthur, Cherokee High School senior, lacrosse. One of the top scorers in the area, she has earned a scholarship to Rutgers.
Jeff McGarry, Lenape High School senior, baseball. A pitcher-first baseman for last year's team, which finished ranked No. 1 in The Philadelphia Inquirer. He will continue his education and baseball career at the University of Pennsylvania.
Kristin Kocher, Shawnee High School, lacrosse. An all-south Jersey selection with 51 goals. She has earned a scholarship to Rutgers.
Ed Royds, Shawnee High School senior, baseball. A talented centerfielder and one of the fastest players in South Jersey. He will attend the Naval Academy and play football.
Taylor Donahue, Seneca High School senior, lacrosse. A top scorer, she has accepted a scholarship to Ohio State University.
CAMDEN COUNTY
Caitlyn Brostrand, Camden Catholic High School senior, lacrosse. A three-sport standout who has scored 200 career goals in lacrosse, she has accepted a lacrosse scholarship to LaSalle.
Damiere Byrd, Timber Creek Regional High School senior, track. Won three state titles in the 100-, 200- and 400-meter races, and was second in the Meet of Champions 100-meter dash. He has accepted a football scholarship to South Carolina.
Cody Brown, Gloucester Catholic High School senior, baseball. A returning all-South Jersey pitcher who will be the leader of what should be a nationally ranked baseball team. He has accepted a scholarship to Central Connecticut State.
Pierce Phillips, Highland Regional High School senior, baseball. Among the most amazing student-athletes in the area, Phillips, who is deaf, is one of the top sluggers in South Jersey.
Chris Davis, Haddonfield Memorial High School senior, baseball. This three-sports performer was an all-conference shortstop.
Lauren Messina, Camden Catholic High School senior, softball. As a junior she was 18-5 with 53 strikeouts and batted .533.
GLOUCESTER COUNTY
Josie Quaile, Clearview Regional High School senior, lacrosse. Among the top defensive players in the area, Quaile has earned a scholarship to Drexel.
Jess Loizeaux, Clearview Regional High School senior, lacrosse. Loizeaux is among the best players in South Jersey but missed her junior year due to a knee injury. She has earned a scholarship to University of Virginia.
Kristen Knorr, Delsea Regional High School senior, softball. This all-South Jersey catcher batted .481 and allowed just one stolen base all season.
Taylor Johnson, Kingsway Regional High School senior, track. She was the state Group III champion in the javelin and is also accomplished at the shot put.
Published (and copyrighted) in South Jersey Magazine, Volume 8, Issue 1 (April, 2011).
For more info on South Jersey Magazine, click here.
To subscribe to South Jersey Magazine, click here.
To advertise in South Jersey Magazine, click here.