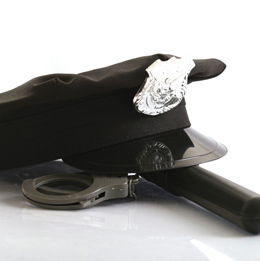 Police Blues
Layoffs statewide are sending ripple effects across South Jersey's suburbs.
Corporal Dean Rutkowski turns his patrol car off Cemetery Road. The million dollar homes outside its passenger window give way to passing trees and fields, which morph into bright commercial signage and, eventually, into the sight of a motel parking lot dotted with out-of-state license plates. For a span of less than five miles and about as many minutes, it's a startlingly diverse cross-section.
"Mount Laurel really is mix of a town," Rutkowski says. "Different types of neighborhoods, a strong commercial presence and also a lot of hotels and access to major highways. It's a great town for families. But when you have problems, you have problems."
A Middlesex County native and resident, Rutkowski admittedly knew nothing about Mount Laurel when he was offered a job on the force in 2001. "I was looking north of Middlesex County on the map, searching for Mount Laurel," he remembers with a laugh.
With a decade under his belt, though, he knows every foot of Mount Laurel's back roads. En route to check on a reported threat by a customer at an East Gate Square retail store, I ask Rutkowski whether he likes his job. From behind the wheel, his serious demeanor gives way to a smile.
"It's the greatest job on earth."
Great, perhaps, but also at great risk—and not just at crime scenes. Like most of New Jersey's public-sector employees, Rutkowski has grown accustomed to the reality that, more than at any time in recent state history, the future of his job is perpetually in question thanks to the ongoing statewide budget crisis. His post came close to the chopping block last year: he was one of 15 among the force slated for elimination to close Mount Laurel's budget deficit. In all, more than 2,500 New Jersey police jobs were eliminated in 2009 and 2010, leaving many to wonder whether our safety now hangs in the balance.
In Rutkowski's case, ultimately the layoffs were averted—not by any windfall of state aid, but by concessions from the township's two police unions, which voluntarily opened existing contracts and made financial sacrifices that allowed the force to retain the entirety of its already-lean staff.
"To stand up and surrender what was contractually due to them for the sake of the force speaks volumes about the level of dedication and integrity among our officers," Mount Laurel Chief of Police Dennis Cribben says.
While Rutkowski isn't directly facing elimination this year, five of his fellow officers could be, unless taxpayers agree to a 16 percent tax increase via a referendum that will appear on an April 27 ballot. If passed, the $3.2 million measure will enable the township to sidestep the recently imposed 2 percent cap on tax hikes and balance its budget.
"Officers made great sacrifices in 2010," Cribben says. "This year, it's on the community's shoulders to decide whether they're willing to pay to maintain the existing level of service."
The magnitude of the prospective cuts in Mount Laurel is tame compared to Camden, which, in a move that made national headlines, eliminated almost half of its police force in January. But for a force already short on manpower like Mount Laurel, layoffs could spell increased response times, decreases in the number of police responders and a reduced ability to proactively prevent, rather than just respond to, incidents. That could prove particularly ominous if the region starts to feel ripple effects of Camden's force reductions.
Camden Fraternal Order of Police president John Williamson is certain that consequences of police layoffs in the notoriously crime-ridden city will become apparent in time. "Surrounding suburban towns will absolutely feel the effects of Camden's cuts," he says.
A suburban colleague, Cherry Hill Lieutenant William Kushina, agrees. "How can the cuts to Camden's force not affect surrounding towns?" he asks. "Cherry Hill's crime rate has picked up recently; I can't say for sure that it's related, but I'm certain that in the long run there will be a trickle-down effect. Sometimes Camden only has eight officers patrolling the entire city, which is just crazy."
This reality has also put hundreds of local people out of work at a time when the state's unemployment rate stubbornly hovers above 9 percent. Tya Miles, 20, was "shocked" when she was laid off from Camden's police force on Jan. 18, exactly a year and a week after she'd been hired. The lifetime Camden resident quit her pharmacy studies at University of Pittsburgh in 2009 upon learning that she was accepted to the police academy. Newly jobless, Miles is now enrolled at Camden County College, studying the very thing she'd been implementing for a year in Camden's tough's streets: criminal law. She keeps an eye out for openings in local forces, but is aware of the realities of the law enforcement landscape.
"I'd do anything to get my job back," she says. "I love my city, and I loved working for it. I'm willing to go elsewhere, but jobs in any town are hard to come by now."
While Miles scrambles for work, Rutkowski and the remainder of Mount Laurel's police force have no shortage of it. Through attrition, the force has dwindled from 74 to 52 officers in the span of Rutkowski's tenure; that has eroded their proactive enforcement measures. Throughout the night, sights and calls prompt memories of what the force used to be:
"Ramblewood Parkway has a 25-mile-per-hour speed limit, but there's constantly speeding. We like to have guys out here with radars, but with fewer officers on each shift, you can't spare one to sit with a radar gun."
"A few years ago, we would've gone on that EMT call, but now, if there's a physician already at the house, we only go if there's evidence of injury as the result of a crime." "We get narcotics calls all the time, but to really get to the bottom of them, you need to go undercover. It requires manpower and resources that aren't always readily available. You can't just knock on a door and ask, 'Are you doing drugs?'"
On this Friday night, a rare opportunity to set up a sting operation quickly results in the arrest of a prostitute. The fast turnaround speaks to the prevalence of such seedy realities, even in towns as upscale as Mount Laurel.
"People say, 'Really? Prostitution in Mount Laurel?'" Detective Ed Pincus says. "Yes, in Mount Laurel."
And in moments when each of the six on-duty patrolmen are reporting to an incident—one to a 911 call in which someone claimed respiratory distress and then dropped the phone, another to a car broken down in traffic, and several to a residential burglary—Rutkowski is reminded of the fragility of it all. "We're not the state police; there isn't an endless supply of officers to send out," he says. "One call can deplete everyone. We've only got who we've got."
Published (and copyrighted) in South Jersey Magazine, Volume 8, Issue 1 (April, 2011).
For more info on South Jersey Magazine, click here.
To subscribe to South Jersey Magazine, click here.
To advertise in South Jersey Magazine, click here.