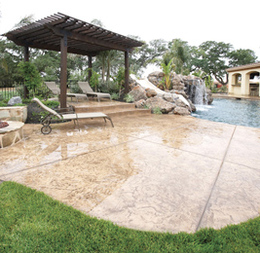 The Great Escape
The season is right for transforming your outdoor living space.
With spring already here and summer rapidly approaching, it's hard not to think about escaping from your everyday routine for a well-deserved break. Close your eyes for a moment and you can envision the soothing sound of cascading waterfalls as you dine al fresco or taking a dip in a crystal blue swimming pool. This season, lots of South Jersey residents will be heading out on these picturesque getaways, but rather than travel thousands of miles to an all-inclusive resort, they are opting for a locale a little closer to home—their own backyard.
And we're not talking a game of horseshoes while burgers and dogs cook on the grill. These days, there are plenty of inventive ways to give your backyard the makeover it needs to become the go-to spot for family and friends. From well-manicured landscaping to impressive outdoor kitchens, more than ever, the backyard has become an extension of the house.
Do The Research
Before you can fully transform your backyard, you'll naturally need to do some homework. Just because your neighbor hires a contractor and proudly displays their signage on their front lawn doesn't mean that they did a thorough background check. "It would save people a lot of aggravation and time if people did their legwork," says Richard Van Osten, executive vice president of the Builders League of South Jersey.
An ideal approach when seeking out contractors is to get at least three different estimates to compare not only cost, but level of service and, perhaps most importantly, that they are accredited. "Whoever the contractor is you're looking at, make sure they have the proper licensing and insurance," urges Van Osten. For convenience, the Builders League website contains a link to the New Jersey Division of Consumer Affairs, which provides other helpful tips and potential questions you should ask during your consultation.
In the case of new homes being constructed, enhancing the backyard experience is a trend that doesn't appear to be going anywhere anytime soon. "Because of what's happening with the economy, houses are getting smaller now," Van Osten says. "In order to get the sales prices down, the house is shrinking and I think because of that, people are looking to use the outdoors more [as] the extension of the living room and the kitchen."
Keep On The Grass
If there's one thing Old Man Winter is good for, it's that he sure knows how to mess up a beautiful lawn. Routine maintenance during the year provides some reprieve, but the overall process of bringing your grass back from the dead need not feel like a daunting task. In order to start the revitalization process, you'll first need to remove thatch and dead grass. Adding top soil and integrating organic materials can help foster germination and help to alleviate those dead patches. "If needed, new grass seed can be added and mixed with soil, noting that soil temperature must be 50° F for the seeds to germinate," adds Steve Katz, licensed landscape architect/designer for Young's Landscape Management of Moorestown and Lumberton.
Of course, winter is not the only season that can wreak havoc on your lawn. Summer's warmer temperatures coupled with heavy bouts of rain can cause its own kind of problems. To combat this, Katz suggests mowing your lawn every five-to-six days in the spring and about every seven-to-10 days from June through August. Keep in mind that you should never cut more than 1/3 blade of grass and keep a cutting height of three inches, according to Katz.
Even a great looking lawn needs a boost, however. Adding color and height to your background helps give your backyard a whole new look and feel and can easily be accomplished with the addition of multi-hued flowers. Daffodils and hyacinths are just some of the popular ways to let your guests know that spring is here.
Your Very Own Oasis
If that pool you installed two decades ago is looking a little worse for the wear, it may be time to make a new splash. "You can turn your old aged pool and make it look brand new," with a few simple steps says Mike McCool, general manager of Swim-Mor Pools and Spas in Mount Ephraim. Since remodeling is more about aesthetics, McCool says customers will see marked improvements just by replastering the pool and replacing the coping and tiling. There are several new cutting-edge options available when it comes to tiles, and the outdated shiny blue look has been replaced in favor of more earthy, natural tones. When it comes to coping, McCool is seeing more and more people opting for Travertine, a natural stone that sits on top of the gunite shell and covers the top 12 inches of the pool, resulting in not only a new finish, but a welcoming new look.
Waterfall or deck jets—small jets installed into your deck that spout water into your pool—are one of the more unique ways to liven up your pool area. And if you are looking to cut down on your energy costs, McCool points to replacing the halogen bulbs in your pool with LED lights. Not only are they more energy efficient, but they come in fun colors, further enhancing swimming at night.
Additional Amenities
So you've got a healthy lawn, beautiful landscaping and your own oasis, what more do you need for your backyard paradise? Well, if you want to take the stay-cation experience to the next level you can add a bit of elegance. Both functional and impressive, outdoor kitchens are a popular way to entertain without feeling the need to sacrifice any amenities from inside the house. Granite countertops and stainless steel cooking stations not only add to the outdoor cooking experience, but they help anchor your backyard's overall look.
"Outdoor kitchens and terrace areas are always at the top of the list," Katz says. And because Young's also specializes in hardscaping, Katz has seen an increase in popularity when it comes to concrete and clay brick pavers. "Certain manufacturers, such as Techo-Bloc, have expanded the options with a great variety of exquisite colors and styles."
Installing a natural gas line from your house can pay multiple dividends for homeowners. Whether for your barbecue grill or for fireplaces and heat lamps on those chilly nights, a gas line can provide great convenience, says Michael Shiles, service division manager of Hutchinson Plumbing Heating Cooling in Cherry Hill. "More people are [installing gas lines] because of the convenience of not having to go fill the propane bottle," Shiles says. Not to mention: "The cost of natural gas is cheap" in comparison of propane costs.
All in all, the leisurely lifestyle that comes with maximizing your outdoor space can be rewarding for years to come. The opportunity to customize your backyard not only adds to the utility and value of your home, but your new resort-like atmosphere will create memories that last a lifetime.
A Special Advertising Section from the pages of South Jersey Magazine
Outdoor Décor Your guide to local experts in the field
Botanical Lighting
Thoughtfully designing, installing and maintaining enduring energy efficient architectural lighting since 1993. Accepting requests for the repair and refinement of your existing lighting. View our photo gallery online. Medford | (609) 953-5334 BotanicalLighting.com
Eaise Design & Landscaping, Inc
Eaise has more than 20 years of experience helping you plan, design and install the outdoor living space of your dreams. They are a reliable, family owned company dedicated to providing excellence.
Serving all of Southern NJ | (856) 428-7769
Eaise.com
Hutchinson Plumbing Heating Cooling
You've planned the perfect barbecue and just as you place the filet mignon on the grill, the flame extinguishes…you're out of propane. You can ensure permanent, safe and environmentally-friendly natural gas by installing a gas line for gas grills, lamps and fireplaces. Natural gas is cheaper than propane. It burns cleaner and has less exhaust, eliminating the smell associated with propane and helping our environment. And it never runs out.
Cherry Hill | (877) 488-2410
HutchBiz.com
Jersey Pools & Spas
Known for distinctive pools and award-winning designs, Jersey Pools & Spas offers exceptional service and knowledge. Call now for a complimentary quote and get started!
Medford | (609) 654-4886
JerseyPoolsAndSpas.com
Swim-Mor Pools & Spas
Southern and Central New Jersey's premier custom in-ground swimming pool builder since 1967. Making the whole process as care free and painless as possible!
Serving South Jersey | (800) SWIM-MOR
SwimMor.com
Young's Landscape Management
An outdoor kitchen with dual-burning grill. Oversized tiered terrace for conversation and fetes. High quality, authentic putting greens right in the backyard. Outdoor living environments are natural extensions of a home. For nearly 20 years, Young's high quality craftsmen and professional design team has been creating landscapes blending lush, colorful plantings with manmade hardscapes, synthetic turf sporting areas, accent lighting and water features. The result—a beautiful and comfortable living space without walls.
Moorestown & Lumberton | (609) 654-5441
YoungsLandscape.com
Published (and copyrighted) in South Jersey Magazine, Volume 8, Issue 1 (April, 2011).
For more info on South Jersey Magazine, click here.
To subscribe to South Jersey Magazine, click here.
To advertise in South Jersey Magazine, click here.