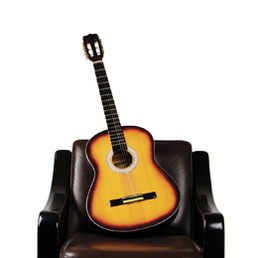 Bringing Down the House
Intimate concerts are sidestepping the traditional club scene to bring top independent musicians to a living room near you.
"Come on, join me," Garland Jeffreys beckons his audience from behind his guitar. Some 50 voices croon along softly to his repeating chorus.
"New York … skyline …
New York … skyline …"
New York. It's the hometown and stomping ground of the singer-songwriter who, in a career spanning more than 40 years, has released 12 albums, played to crowds of 350,000 (in Europe, where his single Matador hit No. 1 on the charts in the late '70s), and—most recently—performed on stage with Bruce Springsteen at the Meadowlands. But tonight, the living room of Dave Khanlian and Jen Hilinski's Moorestown bungalow serves as Jeffreys' stage. Instead of a traditional bar, granite kitchen countertops offer up snacks and personal coolers of beer. Small spotlights hang from a dividing wall that separates the living room from the dining room.
Tonight's show is a house concert, one of a growing number of home-based shows popping up through the region. Khanlian, 36, and Hilinski, 34, host four or five of them annually, each time clearing out their furniture in favor of 50 or so folding chairs that hold paying guests.
The idea of holding shows in their home came to the now-married couple after they attended a few house concerts themselves 10 years ago. Since 2002, they've hosted almost 50 acts, from Soul Coughing's Mike Doughty to John Wesley Harding, a singer-songwriter whose work appeared in the film High Fidelity. Occasionally, artists even spend the night in the couple's house before traveling to their next gig, leading Khanlian and Hilinski's 4-year-old son, Stanley, to assume all of his parents' favorite artists are similarly accessible.
"Stanley wants us to book the Beatles," Khanlian laughs.
This is Jeffreys' first time at Khanlian's and Hilinski's home, but house concerts have become a somewhat regular occurrence for the artist, whose musical style fuses rock 'n' roll, reggae, blues and soul. And yet, he was initially resistant to the notion when he first received an invitation to play a house concert five years ago.
"I can't lie; house concerts didn't ring my bell when I first heard about them," Jeffreys laughs. "I thought, 'How will I play such a small crowd? How will the sound work?' And sometimes, frankly, the acoustics really aren't all that great. But it doesn't matter, because the intimacy wins out. House concerts really are a burgeoning trend."
Burgeoning, indeed. Websites like ConcertsInYourHome.com have sprung up solely to connect interested artists with homeowners willing to host them. Many of the site's 700-plus artists have industry accolades under their belts, but aren't necessarily household names.
Tim Gleeson is one of them. A Moorestown resident, Gleeson played guitar for Sister Sledge for 15 years, and co-wrote a track on last year's Grammy-nominated spoken word children's album, Healthy Food for Thought: Good Enough to Eat. The $50 he shells out annually to post himself on ConcertsInYourHome.com is worth it, he feels, for the chance to book more house-based shows.
"I've only done two house concerts—one in Allentown, one in Somers Point. But I want to do more," he says. "They're great; you walk away with a few hundred dollars, and revenue generated from selling CDs and merchandise."
Khanlian and Hilinski typically charge $20 apiece for tickets, and every dollar goes to the artist. "We don't make money, but we don't spend money, either," Khanlian says, adding that he guarantees each artist a flat rate, and is responsible for selling the number of tickets necessary to cover that cost.
Equally alluring to artists is the chance to perform free of barroom chatter, and to an attentive crowd. "The people who come to see you at house concerts are either fans, or people interested in becoming fans," Jeffreys says.
Likewise, those organizing the shows are more like fans than booking agents. Creating and curating their concert series' lineup has become a hobby in and of itself for Khanlian and his wife. "Whenever I hear a new artist I like, I immediately think, 'Can we get this person?'" Khanlian says. "Dozens of artists contact us each year, wanting to play here, but mainly we book performers we already know and like."
Still, they don't always know the guests at these concerts. Back in 2002, it was mostly the couple's friends that attended the shows. But as the lineup gained popularity—due in part to their website, JDHouseConcerts.org, which accepts PayPal—so did the percentage of unfamiliar faces walking through their kitchen door.
"At some point, we started seeing strangers here in addition to people we know. It's never been a problem," Khanlian says. "The worst that ever happened is that our shower curtain was ripped after one show; it looked like an accident." Parking and noise aren't issues either, since the live performances aren't audible from neighbors' homes.
In Williamstown, Alan Dodd, 35, shares a few things in common with Khanlian and Hilinski: He began hosting house concerts in 2002, and has never encountered problems with neighbors—a surprising fact considering Dodd's shows are aimed toward teens and young adults. Dodd says the difference is that his venue bans the ingredient that could lead to trouble: alcohol.
The decision to keep shows alcohol-free wasn't mere damage control on the part of Dodd, a teachers' assistant who owns the home and lives there with roommates. He aims to create a setting where young people can do more than loiter and drink. "When I was young, what would've kept me out of trouble? Music would have," Dodd says.
So, about twice a month, he opens his doors to the 40 or so bodies that can fit into his living room. The crowd might be young, but the musical lineup's nothing to sneeze at: His home, known as the 1619 House, primarily hosts touring bands, and has welcomed groups from 30 different states including Alaska, as well as from Canada and the U.K. "It's exciting how quickly word gets out about this place," Dodd says. "We host a lot of bands going from, say, Boston to D.C., and with nowhere to play in between."
Plus, groups often earn more at the 1619 House than they'd make at a bar—even though Dodd only charges between $3 and $5 a head. "Bars don't necessarily promote their musical acts, so you have a bunch of patrons waiting for the jukebox to come back on. A 17-year-old kid here is far more likely than a bar patron to buy a band's CD."
Richard James Goose, member of Brooklyn-based electronic pop band Menya, has played at the 1619 House about five times. Like so many bands navigating offers from different types of venues, he's drawn to opportunities to play for crowds eager to hear new artists—and house concerts, particularly the ones at 1619 House, usually fit that bill.
"At so many venues, people come just to drink. At 1619 House, people come to hear us," Goose says. "What more could a band ask for?"
Published (and copyrighted) in South Jersey Magazine, Volume 8, Issue 1 (April, 2011).
For more info on South Jersey Magazine, click here.
To subscribe to South Jersey Magazine, click here.
To advertise in South Jersey Magazine, click here.