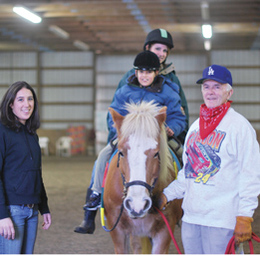 Taking the Reins
For local kids with special needs, a therapeutic horseback riding program opens the gates to a world of possibilities.
Off a leafy stretch of Mount Laurel Road, the click of hooves and the quiet commands of riders fill the hushed air inside the barn at Ally-Mel Farm. Sturdy horses with sleek coats make their slow laps around the space below self-assured young riders, who look like old hands at this sport.
But this isn't some privileged summer camp or dressage training program. Rather, Mount Laurel's Kaleidoscope Therapeutic Horseback Riding Program is designed specifically for children with special needs, ranging from Down syndrome to cerebral palsy to autism spectrum disorders.
The most spectacular aspect of the program, says co-founder Kelly Adams, is how it changes its students. "It has given kids independence, that's a huge thing. We have a couple students who, when they first started riding, weren't even walking—and after developing their strength in their core and the strength in their legs from [riding], they were able to walk. It really helps with self esteem and making the kids feel motivated up there with the horses," she says.
Adams, a longtime rider and special education teacher at Haines Sixth Grade Center in Medford, and her friend Kim Tamney, who has two nephews with special needs, started riding together five years ago and had visions of opening up a therapeutic program. When the Carousel Riding Program in Moorestown, where Adams was a volunteer, shut down in late 2008, the two decided to adopt it. In January 2009, the women opened the Kaleidoscope Therapeutic Horseback Riding Program in Mount Laurel, inheriting Carousel's horses and equipment.
An accredited member of NARHA, a national organization for therapeutic horseback riding, the program rents space from Ally-Mel Farm, a private residence. It's open to children ages 12 or younger with special needs, as well as older students with special needs who can ride independently. The classes are offered one day a week after school and on Saturdays, in half-hour sessions. Two students ride at a time, each on their own horse, sharing one instructor and a group of six supportive volunteers.
Currently, 25 students are enrolled in the program, which melds physical therapy, occupational therapy and emotional and cognitive therapies with horseback riding. The class starts with yoga stretches on top of the horse and then goes into games such as shooting beanbags into a basketball net and weaving in and out of cones, all of it requiring a lot of steering, starting and stopping. The students work on leg strength, practice their jump position, stand up in the stirrups and balance. The two horses, Lulu and Mondo, are Haflingers, a gentle, sturdy, stocky breed known to be an outstanding therapy horse.
For Sebastian Meosky, 10, of Mount Laurel, the riding has been transformative. Due to an autism-related disorder, he was not able to sit up until he was 10 months old and was unable to walk before he started therapeutic horseback riding, at the direction of his physical therapist, at 18 months old.
"It was hard for him at first to [ride] because he'd have to hold himself up there, and there were many sessions where we cried and cried," says Sebastian's mother Danielle Meosky. "And now he cries [when he has] to get off the horse."
Under Adams' guidance, he has made strides that were never possible before: summoning the strength to pull himself up into two-point position (partly standing in the stirrups) for a long period of time, as well as learning to post (riding up and down with the horse's stride). And, where he was previously able to make only some of the sounds for horse commands, now Sebastian is able to direct his horse independently by speaking commands. "His physical therapist came out to watch him on the horse and was amazed and blown away. Overall it has just given him so much strength and confidence that he didn't have before," says Meosky.
Best of all, the benefits of equestrian therapy carry over to daily life. In Sebastian's case, he's now able to run, while before he could just walk.
Published (and copyrighted) in South Jersey Magazine, Volume 8, Issue 1 (April, 2011).
For more info on South Jersey Magazine, click here.
To subscribe to South Jersey Magazine, click here.
To advertise in South Jersey Magazine, click here.