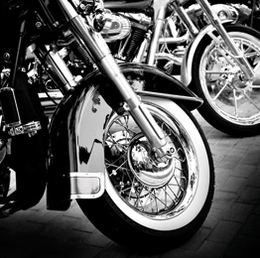 Hell on Wheels
Outlaw motorcycle gangs, long a presence in the area, are on the rise. South Jersey is shaping up to be the center of a turf war, and the fallout could hit close to home.
Armed with homemade hand grenades and orders to kill, members of the Pagan outlaw motorcycle gang planned to roar into Wildwood's annual biker rally last September, looking for blood. Members were ordered to be "prepared to die or go to prison," during their planned attack on rival Hells Angels, according to federal officials.
Luckily, federal prosecutors, already neck deep in a 21-month investigation, were a step ahead of the notorious motorcycle gang. They rounded up 17 high-ranking Pagans from across New Jersey and New York, and the Roar to the Shore biker rally ended with little more than a whimper.
Nonetheless, the message was clear: Pagans have cemented themselves in New Jersey, and they are willing to defend their turf with deadly force.
"They are called one-percenters for a reason," says Gloucester City Police Chief George Berglund. (The reason being that, according to lore, the America Motorcyclist Association once insisted that 99 percent of bikers were decent law-abiding citizens.) "They are outlaws and they are proud of it. They are very dangerous."
Pagans were the fourth most prevalent gang in the state, behind the Latin Kings and two Bloods offshoots?(Sex Money Murder and 9-3), in a 2010 New Jersey State Police report.
In South Jersey, the outlook was grim. More than 20 municipalities, including Lindenwold, Cinnaminson and Deptford Township, reported Pagan populations within their borders within the last five years. The state police listed three South Jersey counties—Gloucester, Burlington and Cape May—as witnessing an increase of Pagan-related activity of nearly 40 percent between 2004 and 2007.
More recent reports zero in on specific towns like Berlin, where law enforcement officials listed Pagans as the town's most serious problem in 2010. Wildwood, Buena Vista Township and Little Egg Harbor Township reported similar problems. Meanwhile, other outlaw motorcycle gangs made the state police's 2010 report, with Franklin Township reporting serious problems with the Warlocks and Cherry Hill reporting the outlaw gang Wheels of Soul as most heavily recruiting within their township.
The impact is significant. "We are seeing a spike in membership here in Gloucester City," Berglund says. "We are seeing Pagans show up with Gloucester City patches." Four motorcycle gangs — the Hells Angels, the Pagans, the Warlocks and the Breed — were identified as having a significant presence in New Jersey by a New Jersey State Police report on gang activity. "They are growing in ranks and numbers and that is a concern," Berglund says.
Under the Radar
The thwarted attack at Wildwood illustrates just how dangerous this undercurrent can be, even to those far removed from motorcycle culture. The annual Roar to the Shore event attracted an estimated 100,000 revelers to the seaside resort town, packing the boulevards and stucco motels with bikers, motorcycle enthusiasts and more than a few outlaws.
Yet, what event-goers experienced instead of a violent attack far more closely reflected the average South Jerseyan's regular experience with biker gangs. That is, on the surface, not much happened at all.
That weekend, Wildwood police reported few disturbances. The department actively reaches out to motorcycle gang leaders, taking note of where gangs are sleeping and whether rival outlaw bikers are staying nearby. "We know where the major clubs stay," says Capt. Robert Regalbuto, of the Wildwood Police Department. "We try to keep an eye on them."
Rival motorcycle gangs tend to keep to themselves, Regalbuto says. "They don't bother anyone unless someone bothers them," he adds. "You're going to Wildwood to hang with your friends."
Locally, Pagans have a history of keeping a low profile. For example, in Washington Township—where Steven "Gorilla" Mondevergine, a former president of the Pagan's Philadelphia chapter, was after reportedly shooting the chapter's new president at the Pagans' Philadelphia headquarters—police say they have noted few Pagan-related incidents. "We haven't really had a major problem with them," says Capt. Kenneth Condit, of the Washington Township Police Department. "They pop up occasionally at different places all over South Jersey."
In Gloucester City, subordinate outlaw biker gangs—made up of Pagans hopefuls—often cause most of the problems, Berglund says. "Recruits are the most dangerous," he says. "They are more apt to start a fight or a confrontation. You don't have it as much with ranking members because, let's face it; no one wants to go to jail."
That's in stark contrast to other area gangs, like Bloods, who sometimes make their way into the suburbs from downtown Camden. "Occasionally you see some Bloods come in," Berglund says.
"They are obviously a huge concern, because they are shooting up a storm."
Criminal Interests
All this doesn't mean that motorcycle gang members are, as they might call it, 99 percenters. Rather, they find keeping a low profile conducive to making money through other illicit behaviors, Berglund says.
According to the Camden County Prosecutor's Office High Intensity Drug Trafficking Area, Pagans (and other outlaw bikers) are involved in the distribution and sale of nearly every narcotic, from cocaine to prescription pills. The 2010 New Jersey police report on gang behaviors found that the most common drug Pagans were involved in trafficking was methamphetamine, which they distributed at both the wholesale and retail level.
In our area, Pagans are often associated with prostitution and extortion, in addition to the narcotics trade. "They don't want the attention because they already had the attention," Berglund says. "They are notorious, so they don't want any more attention."
Still, the gang's propensity for violence is enough to keep law enforcement officials interested in the Pagans' activities.
In the U.S. Attorney's Office sweep of Pagans members, four members' homes were searched in New Jersey, including one home in Gloucester City. "It is a concern when you are reading guys up in New York have hand grenades in their possession," Berglund says. "They are all in connection with each other."
But not all motorcycle clubs are stocked with criminals. Many clubs, like the Blue Nights or the Defenders Law Enforcement Motorcycle Club, are social organizations founded by retired police officers.
The Defenders ride for charity and often accompany soldiers coming home from overseas, riding their bikes in formation around the soldier's car. "That is very meaningful," says William Landell, president of the Defenders SJ One club.
Landell is a retired police officer from Boca Raton, Fla., and a Marlton resident. He admits that bikers' bad reputation can sometimes follow the Defenders on a ride, but Landell and his crew try to combat that preconception with politeness.
"When we walk into a restaurant we hold the door for people," Landell says. "Some people look at us and are intimidated, but once they talk to us they are fine."
Published (and copyrighted) in South Jersey Magazine, Volume 8, Issue 1 (April, 2011).
For more info on South Jersey Magazine, click here.
To subscribe to South Jersey Magazine, click here.
To advertise in South Jersey Magazine, click here.