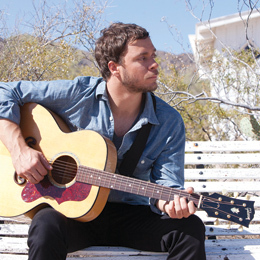 Reason To Sing
On the heels of his chart-topping album Mission Bell, Cherry Hill native Amos Lee launches the next level of his career.
In the midst of a two-week West Coast tour to promote his fourth album, Mission Bell, Amos Lee was more than homesick on the day he made music history. Lee was under the weather and laid up in a Salt Lake City hotel room, when the phone rang with encouraging news that his latest release was likely to rank in the top 10 on the Billboard chart. Then, another call had it somewhere in the top five. As the day wore on, Lee got one final call, letting him know that his record was going to chart at No. 1. Not bad for a former schoolteacher from Cherry Hill.
"It was super exciting just to have that sort of thing that people value very heavily," Lee says. The 40,000 units moved in Mission Bell's first week made the album the lowest-selling new release ever to top the charts. Some would say it's a grim symptom of the state of the recording industry. Lee chooses a sunnier outlook: "I never placed in the top 25 before," he says.
In fact, since Lee caught the ear of Grammy-winner Norah Jones—who produced his self-titled debut in 2005—Lee has sold fewer records with each release, but gained a more and more loyal following, thanks to his folksy yet soulful musical stylings. His songs have turned up on primetime TV dramas like House and Grey's Anatomy and as background noise on AT&T commercials. This month, he returns to the area for an April 5 show at the Merriam Theater in Philadelphia, and later this summer he'll take the stage at Bonnaroo, the three-day music festival in Tennessee.
A Cherry Hill High School East graduate, Lee now makes his home across the bridge in Philly, while his mom and stepfather still live in South Jersey. It wasn't until Lee left home to attend college in South Carolina that he took up the guitar and discovered his desire to write and play music. After obtaining his degree, Lee returned to the area to teach elementary school. With his newfound passion, he began moonlighting as a singer-songwriter, penning his first songs and showcasing them to local audiences. As things progressed, he wasn't long for the classroom.
"It really came down to getting out there and getting in front of people … doing open mics and things like that," he recalls. "I didn't know it was a possibility. I didn't have anyone in my family who pursued art as a profession and a career. I just kind of went for it. If I failed, I['ve] failed before." His students took the news in stride. "They were probably just happy to be done school for the summer," he jokes.
Lee has never looked back. His voice, a powerful instrument on its own, and his well-rounded sound have earned him fans that range from Jones to Bob Dylan to Willie Nelson. On Mission Bell, Lee got the chance to record with both Nelson and Lucinda Williams, two artists that have greatly inspired him. The chance to share the studio with his idols was more gratifying than intimidating. Now, armed with a hit record, Lee is excited to perform for his hometown crowd.
"I'm just kind of lucky to be able to play music these days. I have a lot of incredible fans here," Lee says.
Still, Lee isn't interested in defining his success by record sales—or even defining himself as a folk singer. "I'm just following the songs. That's kind of what it comes down to. I never considered genre, never have. I'm moved by a lot of different music," he says.
Like any musician, Lee strives to make the next song he writes his best, and he refuses to compromise artistic integrity just because he's achieved some success in the industry. He's still evolving, and to him that journey is what it's all about. "I'm still in that place where I am trying to keep my mind and heart open. There's a ton of musicians that are incredible players and musical thinkers. The opportunities are just kind of boundless. I just try to keep my head up and keep going forward," says Lee.
Of course, Lee's not going to ignore his recent triumphs either. He's taking full advantage of his current moment in the spotlight. Since the album's release, his phone is ringing a lot more: USA Today on line one, David Letterman's people on line two. That's the life of a chart-topping music star.
"I went from doing nothing for a year and a half to being super busy all of a sudden," Lee says. "I appreciate the opportunity."
Published (and copyrighted) in South Jersey Magazine, Volume 8, Issue 1 (April, 2011).
For more info on South Jersey Magazine, click here.
To subscribe to South Jersey Magazine, click here.
To advertise in South Jersey Magazine, click here.