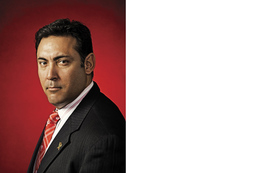 A League of His Own
Philadelphia Phillies General Manager Ruben Amaro Jr. has assembled the most talented team in franchise history. And he's just getting started.
Last December, Ruben Amaro Jr. was sitting in an Arizona restaurant alongside colleague Pat Gillick and Phillies outfielder Ben Francisco, enjoying a leisurely offseason dinner, when the inevitable happened. His cell phone buzzed: business was calling. Most people would ignore the intrusion, but the always-on-the-job general manager of the Philadelphia Phillies doesn't have that luxury. So he politely excused himself from the table and stepped outside to take the call. By the time he returned to his seat, his napkin had been refolded, his water glass had been refilled and a guy named Cliff Lee was a Phillie once again.
Amaro, who was criticized intensely when he traded away the ace after his standout 2009 season to make room for another star pitcher, Roy Halladay, had done the unthinkable.
While the New York Yankees and Texas Rangers were in hot pursuit of Lee—the most-sought-after free agent in baseball—Amaro silently swooped in and shocked the baseball world at the 11th hour. Add Lee to previous Amaro pitching recruits Halladay and Roy Oswalt, and suddenly the Phillies' starting rotation was looking nearly unbeatable.
From Cherry Hill to Cape May, the news spread like wildfire: the most popular front office executive in Philadelphia sports had outdone himself yet again. "There were a lot of people in this community that were freaked out," Amaro says. "They had heard some rumors during the night, and the next morning—bang!"
However, Lee's return wasn't exactly the last-minute deal that it appeared to be. Though Amaro never admitted it publicly, there were some regrets after trading Lee away to the Seattle Mariners with a year left on his contract. He defended the move to the media and the fans repeatedly and vigorously. But when the Mariners decided to trade Lee at the July 2010 trading deadline, Amaro saw an opportunity to right his wrong.
"We tried to get him at the deadline, but [Seattle] wanted [Dominic] Brown and I wasn't going to give him up," Amaro recalls. Then, the Yankees stepped in, though a reported deal fell apart at the last minute to Amaro's relief. "If that would have happened, there would have been no chance because they would have signed him [to a long-term deal]. But fortunately for us, he went to Texas."
So, Amaro says matter of factly, "I got [Roy] Oswalt [from the Houston Astros] and gave up less. Now we have all of them."
Still, no one saw Lee's return coming. Not the media, not the fans and, for that matter, not Amaro. But then Lee expressed an interest in wearing the red pinstripes again. Amaro, cautious not to become a mere bargaining chip in negotiations with other teams, attempted to call his bluff. "We said, listen, if you are really interested in being a Phillie, two things have to happen. One, no one on this planet can know it…. Two, he was going to have to take less money," says Amaro. "When it became more and more apparent that we were still kind of in it, it never came out. The fact that it never came out from their side showed they were serious about coming back."
It was the latest of many exultant moments since Amaro assumed the role of Phillies GM in 2008, taking over a team coming off its first World Series win in 28 years. (It was also part of why he was just awarded a four-year contract extension.) Though he's been a fixture in the front office for more than a decade, Amaro's connection with the team runs far deeper. His father flashed the leather as an infielder for the team in the early '60s. Later when his father returned to the team as first base coach, the younger Amaro served as the team's batboy, handing out Louisville Sluggers to the likes of Mike Schmidt and Pete Rose. A decade afterward, Amaro followed in his father's footsteps and made his Major League Baseball debut. Over the span of his nearly eight-year career, Amaro had two stints with the Phillies and was a member of the popular 1993 World Series team.
As I sat inside the Hall of Fame Club at Citizens Bank Park, Amaro appeared ready to answer my questions, but not before asking one of his own: "Which tie?" He held up a couple options in preparation for our photo shoot. Ultimately, it was a unanimous decision to go with Phillies red. The 46-year-old father of two daughters is well groomed in a stylish pinstripe suit, and his bold personality is matched by the 103 diamonds that make up the World Series ring consuming his right hand. He is engaging, friendly and very much looks like he could still play the game.
As we enter the most anticipated season in Phillies history, I sat down with Amaro to get to know the man responsible for assembling this dream team. He spoke about the pressures of following a World Series championship, his aggressive nature and why he is already thinking about 2012.
SOUTH JERSEY MAGAZINE: Before becoming GM here, you had interviewed for the position with some other clubs, and were passed over. Are you happy it worked out this way?
RUBEN AMARO: Well, it was a great experience to get that opportunity to interview with some teams. When I first interviewed for this job, when Ed [Wade] was let go, in retrospect I think about it now and I realize I wouldn't have had the same skill set had I not had the opportunity to be around Pat Gillick for three years [as assistant manager to Gillick's GM role]. And frankly, I wasn't ready for the job.
Having the combination of Ed's experience and his integrity and what he did to turn our organization around, building from the bottom up and then having Pat's ingenuity, you couldn't ask for two better mentors. I owe a great deal to both of them.
SJM: You grew up here, then got the chance to play for the organization, and now you work behind the scenes. Having seen all aspects of this franchise, what makes it the kind of place you want to be?
RA: More than anything else, I have an acute understanding of the passion of the fan and at the same time I understand the business side of what we are able to do and what we aren't able to do. But having that perspective of playing in the field and now being in the front office, I think all those experiences help drive some of the decisions that we make. The most important part of that is understanding you can't do it alone.
SJM: Part of the job is making the tough, sometimes unpopular decisions. Does that ever stick with you? Is it hard to leave work at work?
RA: (Laughs) It's hard, it's pretty much 24-7. You think about trying to make your club better or things you've done. You have this unending feeling of having missed something. That's one of the things that helps drive what we do. We are trying to make our organization better every day. Dallas [Green, the longtime Phillies executive,] used to come into the office when I was assistant GM and say, "Ruben, what have you done to make the Phillies better today?"
We're striving to improve every single day. There's 29 other teams trying to be the best club in baseball. There's an innate competitiveness in that.
SJM: Given that level of competition, do you consider yourself to be an aggressive GM?
RA: I think I'm a pretty aggressive person by nature. I'd consider myself more of a doer than a pacifist. But, I'm trying to learn the art of patience, too, and that's hard when you are a Type A personality. But, you need a certain level of patience and allow things to develop. There's an importance in that. I try to slow myself down.
SJM: How intense was the pressure in 2008 taking your first job as a general manager for a team that just won their first World Series title in 28 years?
RA: When you are thrown into the fire, what can you do but get back and try to win it again? Like our players say, no one can put more pressure on me than I do on myself. We strive to be excellent and we have an expectation that we are doing our jobs to the best of our ability to continue to allow ourselves to be champions. I had a lot of friends and family say, "You couldn't have taken over this team when they were not on top?" But that's also a great challenge.
SJM: When the team is winning, it becomes attractive to star players. But, in some cases, being the pretty girl at the dance must make your job harder, too.
RA: That's very fair. We've moved a lot of talent out of our system. We took calculated risks in, not only were we buying talent, but we were buying personality and character. And at the end of the day when you focus on more than just the talent, it makes a difference. Even if a guy, talent-wise, starts to lose some of his ability, what else he can bring to the table to help make your club a championship contender becomes much more important. I think we've invested in guys who are championship-caliber people.
SJM: So, when you heard from Cliff and his wife that they would like to come back to Philly, what was that negotiating session like?
RA: It's interesting because it was a mutual thing. Obviously, this doesn't happen unless Cliff and Kristen wanted to come back. Once they kind of went through the process of dealing with New York and Texas, I think they went home and just decided, "We want to be in Philadelphia." And, that's a great feeling for your organization. You feel very good that in the short amount of time they were with us, you had that type of impact. And the people that get credit for that are everyone from the people who work in the family lounge to the fan base, to people in the organization, to the trainers, to the clubhouse people. We've created what I believe is one of the better atmospheres in baseball. This is a place where people like to play. The trick is to keep it going.
SJM: How does it feel to have closed this deal with Cliff Lee?
RA: There are a lot of emotions that run through when you get deals done. It's really gratifying … we've gone through a lot of nights where we thanked our lucky stars for the position we are in. There are times at night when I think to myself, "Wow, I can't believe where we've come from where we started."
SJM: Because you've been here for so long, you've seen the winning and the losing.
RA: Oh yeah. I've seen both sides. It makes it that much more gratifying. People have to understand, even though we have the pieces to be a championship club, it's still extremely difficult to win. You have to have a lot of luck, a lot of karma … the baseball gods have been good to us. [Manager] Charlie [Manuel] and I talk about it all the time. It's not easy to win. We are in this era right now that is a pretty big deal for us and the fans.
SJM: You and your father are the only father/son combo to play for the Phillies. How does it feel to carry on his legacy?
RA: What's neat about it is that my dad actually worked in the front office as well. He was assistant farm director and then Latin American scouting coordinator, working with Dallas Green very closely.
SJM: Did he give you any good advice?
RA: The biggest gift he gave me was my ability to be around it all.
SJM: Tell me about the work you do in the community as a founding board member of the Richie Ashburn Harry Kalas Foundation and other charitable organizations.
RA: It's something we feel really strongly about. That "P" doesn't just represent this organization; it represents the Philadelphia region. You feel the responsibility of giving back to the community in a certain way. And me personally, I'm all about the kids. Anytime I can get involved with something that affects the kids, the future of our community and country, I think that's the most important thing for me to invest in. It's an important element of what we do, and part of being a family-oriented organization.
SJM: You have said, 'We're in the business of winning.' I think on the surface everyone feels that way, but does everyone walk in here with that confidence?
RA: There are some guys who throw swagger around more readily than others. But more than anything else, I think it's a quiet confidence. We're not there to show people up; that's not how we go about our business. They believe in their talent and abilities and they believe in each other.
SJM: The season is so long, and even longer when you go deep into the playoffs. But unlike the players, for you there is no real offseason. How soon do you start getting ready for next year?
RA: We've started already thinking about 2012. We have a whole slew of guys who are going to be free agents and we have to replace them or keep them. We have to make those decisions and are already assessing: Do we want to go long term on some guys? We have key guys—[Ryan] Madson, [Brad] Lidge, Jimmy Rollins, Raul Ibañez are all potential free agents. It creeps up on you fast.
SJM: I'm sure you are just as excited about this team as the fans, but really it means nothing until the guys take the field. What are you looking for specifically from this team in order to get back to and win the World Series?
RA: It's a day to day thing. Charlie's always stressed, "Play every game like it means something." It's hard to do. It's hard to stay focused for 162 games. That's the biggest challenge. When you've had success, there's a school of thought, "Well, they're hungry to get another one," and there's a school of thought that says, "Well, we've already got one." This group is by and large a group that doesn't like to lose. They are excited about the opportunity.
Some of the guys don't have rings. You talk about Oswalt, Halladay and Lee. None of them have rings. I know they are going to do their damnedest. [If we don't win], it won't be for a lack of effort, I'll tell you that.
Rating Ruben We polled Ruben Amaro Jr.'s former boss and Phillie teammates regarding his transition from the playing field to the front office. Here's what they had to say:
"Ruben brought a wealth of talents to the job when I hired him as my assistant in 1998. He's a local guy, a Phillie through and through, Stanford graduated and former big league player. He rolled up his sleeves and was a huge help to me. I'd like to think that I provided him with a lot of opportunities to grow, and he took full advantage of the chance to show what he could do. I'm proud of him."
—Ed Wade, Houston Astros General Manager
"Ruben is a teammate I didn't get a chance to play with for that long but he was a guy who played the game extremely hard and knows what it takes to win and compete at this level. As far as what he's done as a general manager, everybody always knew he was an intelligent guy and I think he was very well groomed by Pat Gillick and it's carried over. Everything Ruben does, no one hears a thing about. I think he's tremendous about keeping anything the Phillies are going to do in-house. If a trade is going to happen, you won't hear about it until it happens, and that's one thing that's really impressed me. I think he's done a tremendous job and I think he's just going to continue to get better."
—Mitch Williams, MLB Network analyst and Medford resident
"It speaks more to me that you have two Cy Young winners and another guy in [Roy] Oswalt… three guys that had a choice to come here. [Former Atlanta Braves pitcher and TV analyst John] Smoltz said the Phillies would never get a pitcher to come here because of the ballpark, and they all had a choice. To me that speaks volumes and it's really a reflection on Ruben and the organization. He's been terrific in listening to everybody around him and trusting what they are telling him. Some guys have egos and push everybody aside, but there are some great baseball people in this organization. He listened and learned and is building his own legacy."
—Larry Andersen, Phillies radio analyst
Published (and copyrighted) in South Jersey Magazine, Volume 8, Issue 1 (April, 2011).
For more info on South Jersey Magazine, click here.
To subscribe to South Jersey Magazine, click here.
To advertise in South Jersey Magazine, click here.