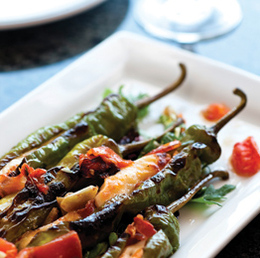 Illiano Cucina Mediterranea
A Full Plate
Illiano Cucina Mediterranea
200 Tuckerton Road, Medford
(856) 985-2721
IllianoCucina.com
four forks
I've always considered myself a pretty good eater; despite my size (5-foot-7, 140 pounds), I often out-consume far more imposing diners. Waiters may laud their kitchen's generosity and warn against ordering too much, but that's never been a problem for me. I'll polish off the meal, forking a few bits from my companions' plates, and probably enjoy a few pretzels at home on the couch an hour later for good measure.
In short, I'm not often defeated by a restaurant's portion sizes—yet, I was brought to my knees recently at Iliano Cucina Mediterranea.
What's even more remarkable is the fact that the food here wasn't only served in beyond-generous portions, but it was, as well, all so consistently well prepared, so compulsively enjoyable. In a world where serving size and quality are often opposing forces, their harmony here was a thing of beauty.
Things start off right even before you order, with a basket of garlicky pizza-dough sticks with sweet tomato topping. It's a great nosh while you're reading through the Tolstoy-length menu, and an indication of the style of food you can expect: familiar, comforting and thoughtful.
Mussels in white wine sauce mined the sweeter side of this standard dish. As opposed to most, the focus here wasn't the broth—though it was excellent, only gently kissed with garlic—but the mussels themselves: perfectly cooked, plump, sweet treats that exuded meaty-buttery flavor.
That kind of execution, of balance, was even more apparent in the special prosciutto- and sharp provolone-stuffed long-hot peppers. Conceptually, these demon­strated a level of consideration that is often missing from a kitchen dealing with a menu this large. Everything worked; everything was balanced. The heat of the peppers themselves—split lengthwise and charred along the seam—was attenuated by the tongue-draping fattiness of the cheese, which itself cut into the animal heft of the ham. This dish alone justifies bringing along a bottle of slightly off-dry Prosecco.
Veal parmesan was textbook, a massive portion nearly the size of a baseball mitt. And despite the abundance of tomato sauce on the plate, the protective layer of melted mozzarella did its job beautifully, helping to maintain the meat's seasoned breadcrumb crust.
Pastas, however, are where you'll really eat yourself into a food coma. Linguine puttanesca, with unabashedly briny notes from the capers and olives, is the pasta equivalent of a bar snack. The laser-beam savoriness of it will result in your going through much of whatever red you've brought along, alternating between forkfuls of pasta and slugs of vino.
Cappelini aragosta, however, was a real surprise. I had expected this dish, at $20.99, to feature just enough lobster meat to get by, the knobs of crustacean meat interspersed like planets in a particularly lonely galaxy. On the contrary, it included massive chunks of lobster meat, enough to cover plenty of pasta territory despite the massive size of the dish. And while the heat rendered some of the lobster a bit tough by the time I'd worked my way through the half of the dish I could eat in that one sitting, it was otherwise stellar, and easily one of the top pasta bargains in South Jersey. The creamy pink brandy sauce, the punch of sun-dried tomatoes, the silky, thin-sliced shiitake mushrooms—it's no wonder I needed a stiff glass of grappa an hour later when I got home.
Dessert was the only mixed bag: chocolate mousse was half a step too sweet, the sugariness cutting into the flavor of the chocolate itself. Cannoli, however, with its ambrosial ricotta filling and chocolate-lined shell, was one of the best I've had in years.
Service was not only friendly and honest, but pitched perfectly to each individual table's needs. We enjoyed a leisurely meal that lasted well over two hours, whereas nearby groups that wanted a faster pace received just that.
Iliano Cucina Mediterannea, then, is the complete package. And though my ego took a bit of a bruising—it's rare that I leave with so many to-go boxes—my palate was totally satisfied.
Photo: prosciutto- and sharp provolone-stuffed long-hot peppers at illiano cucina mediterranea
E-mail us at edit@southjersey.com.
Published (and copyrighted) in South Jersey Magazine, Volume 8, Issue 1 (April, 2011).
For more info on South Jersey Magazine, click here.
To subscribe to South Jersey Magazine, click here.
To advertise in South Jersey Magazine, click here.