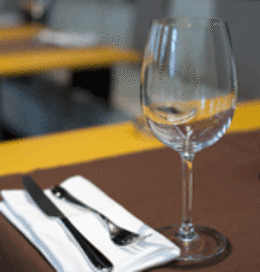 Barnsboro Inn
Refining the Classics
Barnsboro Inn 699 Main St., Sewell
(856) 468-3557
BarnsboroInn.com
3 forks
Classical American cuisine. The term alone carries with it all sorts of baggage. With our blissful embrace of foods from all over the world, what even constitutes "American cuisine" anymore? Given changing times, it may seem antiquated to delve into the merits of the old-fashioned standards that for so long were the backbone of this country's collective dinner table. And yet, when American classics are done right, the effect can be both deeply comforting and utterly revelatory.
An illustration of this principle is Sewell's Barnsboro Inn, where the food is firmly rooted in our region's culinary history. At first glance, the menu may appear a bit antiquated. But there's a difference between classic and old, and the food at the Inn is most definitely the former. The difference between the two, and the way the Inn ultimately wins you over, is the quality of the preparations and the honesty underpinning them.
On a recent visit, we were charmed by this authenticity, as well as the warmth of the service and the space itself, set as it is in a rambling log cabin whose origins date to 1720. It's decorated in a style that's as much English countryside as classic American. From the tiles surrounding the electric fireplace, to the walls painted with scenes of pastoral hunts, I felt as if I'd stepped into a Charlotte Bronte novel.
It was a fitting setting for dishes like prime rib, which was just as standard and as comforting as you'd hope. There was nothing terribly groundbreaking about it—just a well-cooked slab of flesh seasoned deeply and considerately, accompanied by two cups of sauce: the classic horseradish cream and "au jus" accompaniments. The dish is only offered Fridays, Saturdays and Sundays, however, so make sure to reserve a table accordingly.
Crab imperial, too, peddled in the straightforward, and as such was just as big a gamble: With little potential lily-gilding to cover up flaws in preparation, any shortcoming would have been thrown into sharp relief. But this was a deliciously crafted take on the dish, the mayonnaise, egg and dry mustard all appropriate as bit players to the featured crab, crisped on top and terrifically moist inside.
Clams casino, while it could have used a bit more time in the oven, was a sizzling, savory reminder of what makes this preparation such a timeless treat. The saltiness of the bacon and ham interplayed with the brininess of the clams to result in excellent balance and depth, all of it lifted by the sweet snap of finely chopped onions and peppers.
Snapper soup, homemade and richly meaty, possessed the color of burnt umber and the thickness of porridge. You may need more sherry vinegar than usual to cut through it, but on a cold night, or paired with a bright wine like the Trivento Torrontes from Barnsboro's list, it's pitch-perfect.
Not everything was as good. Identical sides of steamed vegetables with both entrees were overcooked, gummably soft and devoid of flavor. Housemade sun-dried tomato vinaigrette was a nice addition, but it would have been better mixed into the salad rather than ladled over it.
In general, however, those fumbles are rare. Chef Joshua Reeves, who has helmed the kitchen since last May, is an ambitious talent, and he has even more plans in the works to make the inn a top dining destination. There are even a few surprises already: Many restaurants with more elaborate drinks programs don't offer Lagunitas IPA on draught like they do here. And given the classicism of the food, that Torrontes was a pleasant surprise.
Desserts, too, are well considered and well executed. Tiramisu, made in-house, played in the fluffier, creamier end of the continuum. Kahlua cheesecake (prepared elsewhere), though dense and difficult to finish after such a hearty meal, was also excellent.
With so many dining options, it's good to occasionally get back to on the roots of American cooking. Such an endeavor, when done as well as it is here, is about more than a hot meal; it also offers happiness and a sense of home.
E-mail us at edit@southjersey.com.
Published (and copyrighted) in South Jersey Magazine, Volume 8, Issue 1 (April, 2011).
For more info on South Jersey Magazine, click here.
To subscribe to South Jersey Magazine, click here.
To advertise in South Jersey Magazine, click here.