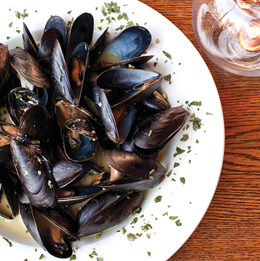 Cravings
5 spot: Shell Game
South Jersey diners in search of mussels used to have only one decision to make: tomato-based or white-wine stock. These days, there are plenty more sophisticated options making their way out of area kitchens. With inventive offerings like these, you'll have no problem breaking away from tradition. Well, for the most part—you'll still need that bread for dipping purposes.
1. Max's Seafood Café . Steamed Maine Mussels. Lemongrass, ginger, curry, sun-dried tomatoes, baby spinach, basil pesto cream and coconut broth help elevate this dish to another level. 34 N. Burlington St., Gloucester City, (856) 456-9774
2. El Sitio. Mussels in Peruvian Pisco and White Wine Sauce. In a nod to their South American roots, the folks at El Sitio use a brandy-like, grape-based liquor to give this dish a lift. 729 Haddon Ave., Collingswood, (856) 240-1217
3. Ritz Seafood. New Zealand Mussels. Ritz helps these oversize mussels stand out even more, by serving them with black bean and garlic sauce. 910 Haddonfield-Berlin Road, Voorhees, (856) 566-6650
4. Andreotti's Viennese Café. Prince Edward Island Mussels. The addition of fresh fennel and chopped tomatoes helps add flavor to this appetizer, but the unexpected star of the show is the mascarpone cheese. 1142 Route 70, Cherry Hill, (856) 795-2233
5. Iron Hill Brewery. Cochon Mussels. Beer is a popular base for mussel recipes, but here, Belgian brew is accented with blue cheese, bacon, garlic and leeks. 124 E. Kings Highway, Maple Shade, (856) 273-0300
Matter of Taste
Three local chefs share their favorite sandwich in South Jersey
"As of late, I've been going to see one of my former employees, George, at his new location, Tino's Deli in Wenonah. He has the best muffuletta around!"
—Chef Jim Malaby of Blueplate in Mullica Hill
"The White House Sub Shop [in Atlantic City] for the Italian special."
—Chef Tim Eliason of Braddock's in Medford
"The Sicilian hoagie with sharp provolone at Primo's."
—Chef Dane Scott of Seasons 52 in Cherry Hill
Brunch Bites
There's plenty of French toast to go around during Sunday brunch at Due Amici in Cinnaminson, but you'll want to try items like the chicken and broccoli crepes and seafood involtini. At $9.99 including an entree and the buffet, the menu available from 10 a.m. to 2 p.m. is one of the better values in the area.
Fast Food
Culinary news to chew on
• Sick of the gourmet hamburger trend? Well, get ready for gourmet hot dogs. Cherry Hill will soon welcome Cool Dog Café along Route 70, a new venture from two locals. The menu will feature exotic ways to dress your dog (think Thai peanut sauce). They will also be serving up sliders in varieties ranging from pulled pork to brie with caramelized onions and raspberry sauce. The menu includes vegetarian options and Belgian frites.
• Atlantic City hideaway Chef Vola's has long been recognized by those in the know as one of South Jersey's finest restaurants. Well, now the folks at the James Beard Foundation have taken notice, too, honoring Vola's with the America's Classics award.
• Rajbhog, the casual Indian eatery on Greentree Road has maximized its space by turning half of the location into Chillie N Spice, an Asian-Indian grocery store selling exotic spices, rice, flours, grains and more. Prepared meals and other specialties will fill the shelves.
• Keep an eye out in Collingswood for an exciting new neighbor coming to town. Joey Baldino has worked in some of the most respected kitchens in Philadelphia alongside culinary master Marc Vetri, and now he is branching out on his own with a small Italian establishment on Collings Avenue at the former home of IndeBlue.
Fantasy Feast
One day. Three meals. Total satisfaction.
Breakfast: Chocolate hazelnut dream waffle from The Bistro at Haddonfield. What beats starting the day than with a Belgian waffle? Try topping it with Nutella, sliced bananas and graham cracker crumbs.
Lunch: Coriander-spiced chicken pita sandwich from Skewers in Marlton. This pocket of flavorful chicken is garnished with julienned vegetable salad, fresh hummus and an addictive sesame paste.
Appetizer: Stuffed mushroom at Lillian's Café in Audubon. Sauteed mushrooms topped with spinach, roasted red pepper, onion, Parmesan cheese and crabmeat are nestled in the cap of a portabella before being finished with a brandy cream sauce.
Entrée: Spiedini di vitello from Sapori in Collingswood. Grass-fed veal gets the sweet and salty treatment. After being rolled with pine nuts, raisins, breadcrumbs, pancetta, onion and cheese, it's placed on a skewer, grilled and finished with a lemon olive oil and almond butter sauce.
Dessert: Amaretto cheesecake from Antonietta's in Runnemede. You can taste the authenticity in each bite of this homemade treat.
Published (and copyrighted) in South Jersey Magazine, Volume 8, Issue 1 (April, 2011).
For more info on South Jersey Magazine, click here.
To subscribe to South Jersey Magazine, click here.
To advertise in South Jersey Magazine, click here.