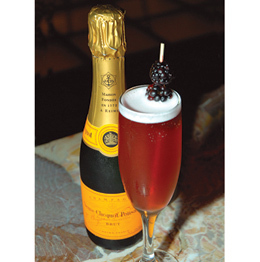 Wine & Spirits
Mixology Monthly
As the seasons change, it's time to set aside your Manhattans and Old Fashioneds for cocktails that fit the start of spring. Ori Geshury, head of development, training and research for Cherry Hill's Mixology Wine Institute, has the solution: the Champagne cocktail.
Normally just sugar and bitters muddled together and topped off with Champagne, this version is inspired by the fresh blackberries that are coming into season. While sugar and fresh jam create a tart base, the addition of elderflower liqueur and fresh lemon juice add a balancing dose of sweetness.
Champagne Cocktail
Blackberry jam
Spoonful of sugar
Dash of Angostura bitters
1 oz. Chambord
1 oz. St. Germain Elderflower Liqueur
1/2 oz. Lemon Juice
Champagne
Muddle the first three ingredients with the back of a wooden spoon or a muddler in the bottom of the glass. Add Chambord and St. Germain, top with Champagne and garnish with a blackberry.
Last Call
• Heritage Vineyards in Mullica Hill will host the seventh annual Spring Wine and Cheese event April 16 and 17. Guests can enjoy plenty of samples, live music and guided winery tours every hour. Admission is $10 per person, and an additional $5 per person for the tour. Visit HeritageStationWine.com or call (856) 589-4474 for more information.
• High Street Grill welcomes the third annual Spring Beer Fest, dubbed "Beer and the Big House," on April 30 at the historic Burlington County Prison Museum. From 11:30 a.m. to 1 p.m., festival-goers can sample plenty of craft beer and food, and even take a tour of the prison. Tickets are $35 in advance and $40 at the door. For more information, visit HighStreetGrill.com or call (609) 265-9199.
Drink Up
Ever felt intimidated by the hefty wine list at an upscale restaurant? With somewhere in the neighborhood of 800 bottles on his wine list, we asked Caffe Aldo Lamberti Wine Director George Katsikis for advice on how to choose.
"The best way to navigate a large wine list would be to narrow down the options. The first would be to choose between red or white. Second, choose a specific region that might interest you (Italy, California, France, etc.). Third, choose a grape varietal, such as pinot noir or cabernet sauvignon. Fourth, select what type of body you prefer, [light or medium]. Finally, narrow down your remaining selections by the price point you have in mind."
Happy Hour
Those bellied up to the bar at Terra Nova in Sewell should take advantage of the 3-to-6 p.m. happy hour, which includes $6 specialty martinis, $4 house wines and $4 beer specials every day. Each day, there are also additional specialty cocktail offerings, plus a menu of half-price sushi. The best part? The deals are also available on Saturdays for weekend warriors. 590 Delsea Drive, Sewell, (856) 589-8883, TerraNovaWineAndDine.com.
Published (and copyrighted) in South Jersey Magazine, Volume 8, Issue 1 (April, 2011).
For more info on South Jersey Magazine, click here.
To subscribe to South Jersey Magazine, click here.
To advertise in South Jersey Magazine, click here.