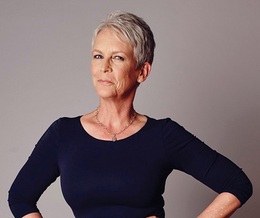 Full Speed Ahead
Oscar winner Jamie Lee Curtis has been entertaining film audiences for more than four decades, and her latest movie, Haunted Mansion, shows that she has no plans on slowing down just yet.
A horror movie star who doesn't watch horror movies? Perhaps it is such splicing of non-conformity into a career that has flourished in the mainstream that has seen Jamie Lee Curtis remain a top talent in demand.
With the recent release of Haunted Mansion, the 64-year-old actress continues to build on an immaculate career that finally bore Oscar fruit earlier this year, as she scooped up the Academy Award for Everything Everywhere All at Once.
Throughout her four decades on the big screen in movies like the Halloween franchise, Trading Places, True Lies and A Fish Called Wanda, the California-born icon has rarely gone away, yet at the same time has never assumed her place on the A-list with anything other than grace and humility.
She spoke with South Jersey Magazine about her new movie—based on the famous Disney World ride—her views on aging in Hollywood, and her love for her two children with husband Christopher Guest.
A lot has been said about the production effects on Haunted Mansion. Is it true this was the first time you'd done motion capture and used advanced green screen technology on a shoot?
Well, I had done green and blue screen stuff in the past, but this motion capture was the first occasion that I had experienced what it was actually like in front of my own eyes.
It wasn't the full package because they only needed to use it for my face, so I didn't wear the motion capture suit like I've seen other actors use in previous films, though I was required to wear a neck brace in order for me to stay straight and upright. It was a new experience, and a lot of fun.
This film has everything the famous Disney World ride does—twisting walls, pitch-black corridors and every fright imaginable.
I think the Haunted Mansion theme-park ride must have offered a fair amount of inspiration for all those involved. It really encapsulates everything this movie is about, and the idea was always to bring that real, lived, theme-park experience to the big screen.
It's usually the other way round isn't it—the ride is the tribute to the film?
That's right. And if I'm honest, I like the flipped appeal of the movie. I didn't feel I was stepping out into unfamiliar or uncomfortable territory, because essentially everyone is!
Gabbie, played by the wonderful Rosario Dawson, and her son Travis [Chase Dillon], move into a huge mansion and they're soon to find out that it might not just be them living there. There are more than a few ghosts present.
Gabbie calls upon the help of some real characters, some spiritual experts, to try to contact the spirits and force them to leave.
My role as Madame Leota involves me trying to contact the spirits on behalf of the mother and son. It was a lot of fun, as was being able to wear some absolutely to-die-for clothes made by Jeffrey Kurland, the costume designer.
So you like horror movies?
Hell no. There is no way that I would sit down and watch a horror movie, regardless of the fact that I might be in it! No way. It's different on set because you know what's coming. I'm not one to watch them at all.
I would rather write more books. I enjoy that process a lot. It's such a totally different spec to acting and it's a tranquil and peaceful way to spend my time.
We saw a comedy version of the Haunted Mansion concept back in 2003, starring Eddie Murphy, but this is something quite different, right?
It is. There's no messing about with this one. It's a bit of a diversion for Disney and I think that works in its favor.
How do you view AI and its growing influence on the film market?
AI will never exceed humans as actors because it will never be capable of injecting the real-life emotion needed for a true acting role to be performed.
Of course, the visual effects it can produce are incredible, but I don't subscribe to the panic.
As with all technologies, if we use it to supplement and complement, we shouldn't be afraid of it. AI is not going to render a human's existence in the industry as futile.
Your decision to take this movie really encapsulates the daring place you're at as far as your career goes. Would you agree?
Definitely. I feel so alive and probably more alive than I ever have before. The years aren't holding me back—I have all the vim, vigor [and] energy from my earlier career, and a bit more besides; and I want to make sure I keep that grace and intelligence in everything I do, the things I say, and the way I act—not just in movies, but in life. I'm never one to hide from anything, and especially not age!
And this is a message you're putting out there for everyone, right?
Of course. I've learned it's better to embrace life and the years that pass—stay healthy and enjoy it. I don't deny it's a challenging time for all of us. We live in a society that is somewhat fake, and I think we need to take back a sense of purity.
On that note, you've spoken a lot about cosmetic surgery…
Well, I am appalled to see such young and beautiful people being persuaded by someone—or something—to literally disfigure themselves with plastic surgery, Botox and all kinds of surgical 'enhancements.' They're not enhancements, and for God's sake, they make those gorgeous and once totally natural people feel like they should be changing their appearance to suit some sort of demand by society—or more likely, the grotesque industry that is playing a huge part in it.
As we see across all demographics, the calls to look or act or talk in a certain way are intense, and we're all susceptible.
You tried it and regretted it, right?
Correct, I did, and I realized it was wrong pretty soon. Of course, the wrinkles did disappear, but I looked like a plastic doll and that's not natural. I've told my daughters to stay away from any of this plastic and surgical rubbish and to learn from my mistakes. It's absolutely no good for the body and it did not work for me in the long run. It's poison.
It's not just cosmetic surgery, though; there are so many other ills. For me personally, being sober is certainly something of a legacy, especially as I was ceasing something that's been a generational problem in my biological family. Yet then there is drug addiction, and other vices, and these all take a huge toll on physical and mental health.
But we are being persuaded down a route that presents a distorted reality, particularly across social media.
Yes, technology has a lot to answer for—albeit being useful in some ways—but these filters they have on phone apps. These kids think, 'Oh, imagine if I looked like that every day?' Do you want to have bunny rabbit ears permanently? Do you want to have huge, big lips that you don't already have? A bigger butt? Well, I know it's freedom of choice, but if it's not natural, you're filling your body full of chemicals, and for what?
Feeling good can only really be achieved from the inside, can't it?
Yes, and at this present time in my life, I feel good. By that I mean in my skin, in my mind and in my body—all of them. I know what I look like. I mean, I see myself in the mirror every day, every morning when I wake up.
I use an astringent skin lotion called Sea Breeze. I won't be as churlish to say it has solved a number of problems in my life, but it's come closer than some other rather more expensive solutions!
Many people note you've always retained an impeccable sense of style…
I do like fashion. If that's an image failing then I openly admit to that one!
I'm in love with the wonderful dresses and gowns I'm lucky enough to wear to awards ceremonies and big bashes. I like to look nice—for myself—and I will make sure the outfit matches my look, my personality and how I feel on the day. You can't fake that stuff, but it is important to give the best version of yourself as often as you can. It's good for the soul.
Do you feel an even greater sense of freedom now that your children have grown up?
Freedom, but also sadness, as it's over! Anne and Ruby will always be so dear to us, but when they're grown up they have their own lives.
Still, adopting them and seeing them flourish was such an amazing feeling and that's why I wrote the book I did all those years ago, about the children who join new parents. [Her second children's book, Tell Me Again About the Night I was Born, was published in 1996.] Chris and I support both Anne and Ruby on their journeys through life and we will always be here for them.
You've said before that getting into acting was difficult for you because you weren't extroverted like so many others around you.
Yes, that's right. It seemed like there was a way to be and a way to go, and I didn't really fit that.
Even when I did get a break in an episode of Quincy and a part as an army nurse in a comedy called Operation Petticoat, I didn't last long, and it sent me into tears and depression. I thought that the recent contract I had just signed was going to be ripped up in front of me. Then, just a fortnight or so later came the read for Halloween.
I've grown in many ways since then and I seem to be able to strike lucky every few years. I'm very proud of the fact that I wasn't just a one-hit wonder and that I've continued to show I am worth my place. I try to be diligent in my research for every role that I am offered, and I am as professional as I can be.
---
Click here to subscribe to the free digital editions of South Jersey Magazine
To read the digital edition of South Jersey Magazine, click here.
Published and copyrighted in South Jersey Magazine, Volume 20, Issue 7 (October 2023)
For more info on South Jersey Magazine, click here.
To subscribe to South Jersey Magazine, click here.
To advertise in South Jersey Magazine, click here.