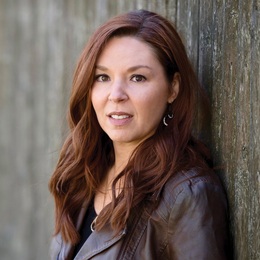 Cutting Words
Diana Rodriguez Wallach, author of the forthcoming YA horror novel Hatchet Girls, prepares to drop the ax.
Diana Rodriguez Wallach has a fascination with the supernatural,the nature of evil and murders of a historical nature. Naturally, when she began framing out the storyline for a new novel, she found inspiration in an historical figure with a rather sanguinary past: Lizzie Borden, the subject of a high-profile trial (and a ghoulishly memorable rhyme) involving the murders of her father and stepmother. While Borden was ultimately acquitted of the crime, the case remains unsolved.
"I was watching the Kristen Stewart movie Lizzie, and I had this random thought: I wonder if there have been any ax murders in Fall River since the 1800s," Wallach says. "How sensational of a story would it be if another couple was murdered there? As I started looking into it more, I learned all about Bridgewater Triangle, which was the site of the bloodiest battle per capita [King Philip's War in 1675-76] in American or British history. It was the perfect place for me to set a story."
Her imagination took over, and she filled in the rest by traveling from her home to Borden's hometown of Fall River, Massachusetts, where she did further research. The result: Hatchet Girls, a young adult novel due to hit shelves in October.
There's a lot going on in Hatchet Girls. Tell me about what you like most about this story.
I always try to write what scares me. My first horror novel was about demonic possession; I was raised Catholic, so that scares me. I do love historical murders—the ones that withstand the test of time—so it felt natural to delve more deeply into the subject, but also contemporize it. It was the most fun doing research and tying the story to a real place.
You spent time in Fall River and actually stayed overnight at the Lizzie Borden House. Why was that important?
I wanted to see if we would experience anything, and I also wanted to learn more about what happened. When I booked it, the last room available was the Bridget Sullivan room. It's considered the most haunted room [in the house]. The creepiest thing about the room was having these dolls look at me. It looks exactly like it did in the Lizzie Borden era. … I wasn't freaked out staying there; it's like staying in Murder Disney World.
Your novel references a place called the Bridgewater Triangle, which is a 200-square-mile swath of southern Massachusetts known as a hotspot for paranormal activity.
In researching Lizzie Borden, I learned about the town of Fall River and the satanic panic murders that happened there. I also googled Freetown-Fall River State Forest, which is only a couple of minutes away, and it spun me down a rabbit hole; it's high up there on the list of the most haunted places in America. I went there to walk the path that I go into in the story. … There was dead silence—not one squirrel. We were there for five hours, hiking more than five miles, during a time of the day when you should see some activity, and we saw nothing. It was the creepiest thing I've ever experienced.… There was more wildlife in my backyard than in that 5,000-acre forest; I think they sense something. There is a feeling of hauntedness in that place. It could have come from the bloodiness of the things that have happened there over time. There's a place there called Hockomock Swamp, which the Native Americans called "the place where the spirits dwell." I wondered: Do bad things happen in certain places because of their history, or do they happen because of the darkness of the land itself?
There's a message in the book, too, it seems.
I'm thinking of one character who gets fingered for a grisly crime—someone who doesn't come from the same privileged background, someone with the wrong family history and the wrong last name. It was definitely a conscious choice, especially after everything that's happened since George Floyd. I was a journalist by training, and the media has historically treated a white blond girl different than a brown boy. I wanted to make sure the characters had Hispanic heritage like my own. If I was going to finger a Latino boy for the crime, I had to think very carefully about how it was handled.
---
Click here to subscribe to the free digital editions of South Jersey Magazine
To read the digital edition of South Jersey Magazine, click here.
Published and copyrighted in South Jersey Magazine, Volume 20, Issue 7 (October 2023)
For more info on South Jersey Magazine, click here.
To subscribe to South Jersey Magazine, click here.
To advertise in South Jersey Magazine, click here.