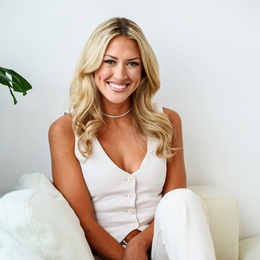 Well Covered
From the sidelines to the airwaves, Devan Kaney is always ready to talk sports.
When asked about some of the people who have influenced her and her career covering sports, Devan Kaney is matter of fact.
"Being a women in sports, I think the typical answer is 'I want to be Erin Andrews when I grow up.' But I don't. I want to be Devan Kaney when I grow up," she says.
And Kaney is doing a good job carving her own lane with a seemingly endless array of jobs, whether sideline reporting for the Philadelphia Wings, serving as on-air host for the Flyers, talking weekday mornings on 94 WIP or anchoring sports coverage for Fox 29. And that's just some of the things that keep the Radnor, Pa. native busy these days.
During a break from her hectic schedule, Kaney spoke with us about covering her favorite teams, connecting with the fans and more.

Enjoying the moment…
It sounds like such a cliché answer, but I am truly grateful each and every day. Especially with the recent seasons we've been gifted from the Phillies and the Eagles, it's just been amazing. I truly love it and it's never lost on my how lucky I am to be able to what I do.
A woman of many talents…
It was not an intentional thing. It's not like I set out on my career journey years ago when I got my master's degree in journalism and was like I'm going to have a million jobs in Philadelphia sports. I feel very grateful and lucky to cover the teams that I grew up watching and love and I feel like that also makes me good at my job. It's probably why I am able to get multiple jobs in the market, because I actually care. Philly has a really god BS radar, so they can tell when someone doesn't actually care.
Her life before sports…
I actually spent two years in the entertainment industry in Los Angeles. I was an assistant at a big talent agency, WME, and Lionsgate studios. I was the assistant to the chairman of motion pictures, which was an interesting experience. So I think if I didn't cover sports … probably something along those lines, maybe a producer or something else in entertainment.
The perfect escape…
[My family] goes down to Stone Harbor, it's always my favorite part of the summer. I love the Jersey Shore. It's very peaceful and beautiful. I love being in Stone Harbor and Avalon.
Life when she's off the clock…
I have a puppy that I got back in July so I love hanging out with him. When I walk him, I don't bring my phone, I disconnect. I'm also a big runner, I work out a lot—it helps with my mental as well as my physical health. I also love reading. I'm a big sci-fi, fantasy nerd. It's kind of a way for me to escape sports and the real world, to just curl up and read a good book.
A support system…
Joe DeCamara and Jon Ritchie, who I work with [at 94 WIP] has been very influential. Everyone on the morning show, they have really taken me under their wings and are so helpful and so supportive. And not just radio, but in all that I do. And I really appreciate that because they don't have to be as helpful to me as they are. Over the last year I've been working with them—and I've known Joe for the last six years—they've been so influential on my career. They brought me onto the biggest sports talk morning show in Philadelphia. For that, I am forever grateful.
On inspiring young women…
It's one of my favorite parts about what I do, helping and inspiring younger women who want to get into sports. Especially sports talk radio, women can be boxed in. I love sideline reporting, but it's kind of grown to where sideline reporting is a "woman's job," or women are just a host of a show where they're not actually voicing their opinions but quarterbacking and talking to the men who are voicing their opinions. Being on a sports talk radio show on the biggest sports station in the best sports city in the country is terrifying, but I also hope women look at that and hear me voicing my opinions and see they don't have to be a pretty face siting behind a desk. They can have opinions on sports and their knowledge can go a little bit deeper than that. I want to inspire them to know they can do everything that men are doing in the world of sports broadcasting.
---
Click here to subscribe to the free digital editions of South Jersey Magazine
To read the digital edition of South Jersey Magazine, click here.
Published and copyrighted in South Jersey Magazine, Volume 20, Issue 7 (October 2023)
For more info on South Jersey Magazine, click here.
To subscribe to South Jersey Magazine, click here.
To advertise in South Jersey Magazine, click here.