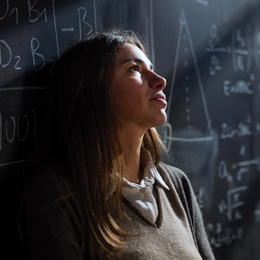 Falling Short
A nationwide teacher shortage is causing great concern, but locally steps are being taken to try and stay ahead of the issue.
There have been a lot of headlines made recently about the struggles school districts across the country are currently faced with as they grapple with a nationwide shortage of teachers. Closer to home, it's certainly a cause for great concern and so New Jersey has taken measures to address the growing problem. But is it enough? The answer to that pressing question depends on who you ask.
Joe Bollendorf began his career in education as a teacher decades ago before climbing the ranks to become the principal of Washington Township High School and eventually the superintendent for the township district. More recently, he was named the interim superintendent for the Moorestown Township Public School District and the longtime educator is keeping a close eye on this pressing issue.
"New Jersey is one of the more challenging states for kids going through college to get their certification for teaching. Now with what is going on, the state is going to have to look at ways to simplify that process to make it easier for kids," he says.
With this in mind, Bollendorf has become directly involved in the matter, working with Rowan College of South Jersey as a consultant to look at ways to create better pathways to reignite interest in the teaching ranks.
"The way we are doing that is by trying to build the capacity at the middle and high school levels by exposing kids to the teaching profession. We've gone into partnership with the New Jersey Education Association (NJEA) to create a satellite base for some of the work they are doing to provide all kinds of opportunities and information as it relates to the teaching profession that the schools in South Jersey can tap into," he says.
Next year, the NJEA plans to host a first-of-its-kind event where students can interact with teachers to learn more about the job in an attempt to create further interest in the line of work.
"Those of us in the profession have to do all that we can to grow the profession. If we are not doing something on the front end, then we are the ones left on the back end trying to figure out how to provide for our kids," says Bollendorf.
One effective approach may be through "grow your own" teaching preparation programs, which hold the potential to make a real positive impact according to Carol Birnbohm, superintendent for the Lenape Regional High School District (LRHSD).
"To this end, we are excited to announce our partnership with Rowan University to offer two courses for our high school students, which will count toward their teaching degree should they choose to pursue education as a major. The program will commence in 2024, providing aspiring educators with an early pathway to explore and prepare for a career in teaching," she says.
Reversing the tide certainly won't be easy, but Dr. Kwame Morton, acting superintendent of Cherry Hill Public Schools agrees that in order to attract high school graduates to education as a field of study, school officials need to devise numerous ways to make the profession more appealing.
"This problem stems from a decline in the number of students entering the collegiate ranks for education. Enhancing job satisfaction and wages is crucial for increasing the overall appeal of the education field," he says. "Additionally, factors such as staff wellness and morale are important for retaining teachers."
Reinforcing Morton's point, a Gallup Poll conducted last year uncovered that teaching was the top profession for burnout in the United States. And according to the National Education Association, 55% of educators plan to leave the profession much sooner than they originally planned for—a growing trend that was amplified by the difficulties brought on by COVID-19.
"The demands placed on teachers during the pandemic exacerbated the problem, leading many educators to reach their breaking point. As we move further away from this unprecedented time, deliberate actions must be taken to reverse the trend of educators leaving the field," says Morton.
But Sean M. Spiller, NJEA president, says the issue far predates COVID, citing that enrollment in teacher preparation programs in New Jersey have been on the decline for more than a decade. "The pandemic certainly heightened the stress of working in public schools, but the shortage was coming with or without that."
And now, Spiller adds, the damage form the shortage is starting to have a noticeable ripple effect. "Teachers are already spread thin, and when they have to handle larger classes and cover extra duties throughout the day, it harms the quality of education our students receive," he says.
Spiller echoes the sentiments of others in the belief that the biggest hurdle is making sure teaching is a profession that people believe they can turn into a career.
"That means competitive salaries, good benefits, a secure retirement and good working conditions. We need to make sure that all school employees are treated like the professionals and experts that they are. When you combine a high-demand, high-stress profession with low pay and lack of respect, it's a recipe for shortages," Spiller adds.
While the dwindling pipeline has created noteworthy staffing challenges, area school systems continue to take proactive steps. In Moorestown, the district started posting jobs as early as February of this year in hopes of attracting candidates before they graduated college and were potentially hired elsewhere.
"As a result, we are not staffed at 100%, but we believe we will be by the start of the school year," Bollendorf says.
Of the four high schools that comprise the LRHSD, Birnbohm says they've seen success by offering more competitive wages for experienced teachers while at the same time increasing starting salaries. The district has also participated in numerous job fairs hosted by colleges and community organizations.
"Our engagement goes beyond highlighting salaries; we emphasize the enriching learning environments, collaborative culture and the positive school cultures nurtured by our decidcated principals," she says.
So far, those efforts have paid off, with the district hiring many new staff members who were referred by current employees.
"This speaks to the satisfaction and enthusiasm of our professional staff, who take pride in their work and schools, and are eager to share these experiences with others. These word-of-mouth endorsements contribute significantly to our reputation as an outstanding place to work and receive an excellent education," says Birnbohm.
All in all, educators remain cautiously optimistic that the steps being taken at both the local and state levels will help reverse the trend. But there is still plenty of work yet to be done.
"Everyone in school leadership, we all have a vested interest to do all we can to promote teaching and attract more people to career in education," Bollendorf says. "Our very existence depends upon it."
---
Click here to subscribe to the free digital editions of South Jersey Magazine
To read the digital edition of South Jersey Magazine, click here.
Published and copyrighted in South Jersey Magazine, Volume 20, Issue 5 (August 2023)
For more info on South Jersey Magazine, click here.
To subscribe to South Jersey Magazine, click here.
To advertise in South Jersey Magazine, click here.