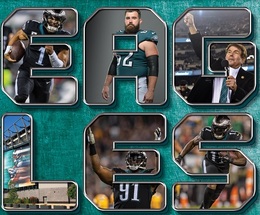 All Eyes on the Eagles
A preview of what is shaping up to be another memorable season
As the Philadelphia Eagles embark on another season, it's hard not to think back to last year when the team won a franchise record 14 games and found itself back in the Super Bowl for the second time in five years. Though the Birds fell short of the ultimate goal, many feel they are poised to make similar runs over the course of the next few years thanks to confidence instilled by quarterback Jalen Hurts who catapulted from the unknown to a top-tier MVP candidate.
To help get ready for this season, we spoke with coaches, players, Eagles insiders and more. Our season preview begins with a one-on-one conversation with the illustrious voice of the Eagles Merrill Reese. Now entering into his 47th year in the broadcast booth, Reese has seen a little bit of everything during his tenure and he shares some of his fondest memories with us.
We also had longtime Eagles reporter Les Bowen head to training camp to find out the mindset of the players and head coach Nick Sirianni as they are challenged with exceeding last season's remarkable success. What's more, we spoke with the media that covers the team along with fans across South Jersey to get their predictions.
Go Birds!
Taking Flight

As the Eagles embark on another highly anticipated season, the team is focused and ready to build upon last year's success.

By Les Bowen

You haven't heard much Super Bowl talk from the Philadelphia Eagles as they prepare for their 2024 season. Not much about Super Bowl LVII, which they lost to Kansas City, 38-35, seven months ago, or about Super Bowl LVIII next February, even though oddsmakers give them an excellent chance of returning to the NFL's championship game.

This year's training camp had a different feel than in 2018, the last time the team tried to follow up a Super Bowl appearance. Back then, the catchphrase, captured in a graphic plastered to a hallway wall in the NovaCare Complex, was then-coach Doug Pederson's declaration that appearing in and winning Super Bowls was going to become "the new normal."

This did not prove to be the case; the Eagles didn't return to the Super Bowl under Pederson, who was fired following a 4-11-1 season in 2020. The hallway graphic has long since disappeared.

This time around, there have been no bold proclamations. Of course, this time, the Eagles aren't coming off a Super Bowl victory, but they are following up one of the best seasons in franchise history, an intoxicating 14-3 campaign in which Jalen Hurts established himself among the top handful of NFL quarterbacks. Some puffing out of chests could have been expected, especially from Hurts, who has a new five-year, $255 million contract, or from head coach Nick Sirianni, whose 23-11 record is the best-ever by an Eagles coach through his first two seasons.

Instead, both men have talked about the importance of realizing that nothing carries over, that last season's accomplishments won't mean anything this year.

"We need to continue to challenge one another," Hurts said during one of the more grueling weeks of August preparation.

Back in the spring, when the offseason program began, Sirianni did show the team footage of the red-and-yellow confetti falling as the Chiefs celebrated their narrow victory, for his players to use as motivation. But then he moved on. Ever since, Sirianni has emphasized the day-to-day process that produces success, not the result. He tends to say something along these lines almost every time he meets with reporters.

"It makes the drive and the want-to to get back to the Super Bowl bigger. I'm hungrier to get back there; I got a taste of it," left tackle Jordan Mailata said, when asked how making it to the Super Bowl informed his approach to this season.

Sometimes when a team goes deep into the playoffs, the next season seems to arrive too soon, without enough time having passed for physical and emotional healing. Mailata said that if that feeling existed, it dissipated during spring OTAs, in which Sirianni ran the league's lightest schedule. Mailata said training camp felt no different from any other year.

That's encouraging. Eagles camp in 2018 definitely felt different, with Carson Wentz striving to return from knee surgery and Wentz uncomfortable in the aftermath of backup Nick Foles' historic Super Bowl performance. The personnel situation elsewhere was much less settled—injuries and free-agent defections made the offense much less potent.

In 2005, the only other time this century the Eagles have had to follow up a Super Bowl appearance, training camp was a total train wreck. The team's most dominant player, Terrell Owens, was sent home after telling offensive coordinator Brad Childress not to speak to him unless spoken to, and publicly quarreling with the quarterback, because Owens wanted his contract reworked.

Compared to those years, this training camp looked pretty boring, which is what you look for in a training camp, if you have a good team.

There is reason, though, for fans to be wary: Everyone thinks the Eagles' talent still ranks at or near the top of the NFC heap, as this season gets underway. Yet, the last NFC team to return to the Super Bowl the year after losing it was the 1974 Minnesota Vikings. (They lost again.) Overall, only three teams in 57 years have won the Super Bowl after losing it the year before, and only five teams have gotten back to the title game the year after a Super Bowl loss.

Overall, the last team to win a Super Bowl the year after losing it was the Patriots, who rebounded in 2018, the season after they lost to Foles and the Eagles. Before that, you have to go back to Miami winning Super Bowl VII.

This trend is, of course, something the analytically-inclined Eagles have studied. Sirianni told reporters that the biggest reason teams don't get back is a large dropoff in offensive production, the year after a Super Bowl—for winners and losers. In general, injury luck tends to run out, which is definitely something to beware for Eagles fans; their team had all 22 starters healthy for the Super Bowl. That is extraordinary.

Or, just plain old regular luck runs out. Cincinnati, which lost Super Bowl LVI to the Rams, actually had a better follow-up season (12-4 vs. 10-7), and might have been the Eagles' Super Bowl opponent last February except for a penalty on an out-of-bounds hit that set up Kansas City to run down the clock before kicking a game-winning field goal.

But there is no way, in mid-August, to project crippling injuries or terrible turns of fate. What we know is that the Eagles have one of the league's most challenging schedules, a year after sailing through one of its easiest slates, but as this was being typed, nothing ominous had happened. The Eagles lost some players to free agency, but general manager Howie Roseman seems to have done a more than adequate job of plugging holes. Their offensive and defensive lines are ranked at or near the top of the league.

And they have Hurts, who sets a standard of leadership and hard work that is the stuff of champions. In August, his fellow players ranked him No. 3 among the NFL's top 100 performers.

"It's an honor to be recognized by my peers," Hurts said when asked about the voting, in the same tone he might have used to tell us his dental checkup revealed no cavities.

"He's, like, straightforward," running back Kenneth Gainwell said. "He's all about his business. He does everything he has to do the right way." Gainwell offered that when the offense messes up a play, Hurts always makes sure it then gets repped correctly.

Hurts is the focal point, but the fact is, this team has extraordinary veteran leadership, exemplified by four all-time franchise greats who have played together for a decade—center Jason Kelce, right tackle Lane Johnson, defensive end Brandon Graham and defensive tackle Fletcher Cox. It's hard to think of another such confluence, in a team history that stretches back to 1933.

"When your leaders on your team really are motivated to connect with other guys and also help them develop, not only by showing them, but (by being) willing to open the door and talk them through it … when they really have that ability to and want to help the young guys, that's a big deal," Sirianni said early in training camp. "I think you see that with Jason and Fletch and BG and Lane … They're really committed to that.

"It's special. It's a special group of guys, and that's what we want. We want guys to connect. When you're truly in it to have the relationships, and you're truly in it to get better as a team, understanding that the best teams win, not the best groups of individuals, that makes for a special team, and that's why we have special leaders on this team."

Last season, Sirianni enjoyed not only great leadership in the locker room, but also a smooth-functioning coaches' room. His offensive and defensive coordinators, Shane Steichen and Jonathan Gannon, were the guys Sirianni chose when he was hired to replace Pederson following the 2020 season. Now, Steichen is the head coach in Indianapolis, and Gannon is the head coach in Arizona.

Sirianni has an offensive background, and he had a Steichen replacement ready on his staff, in former quarterbacks coach Brian Johnson. Given that, through Hurts' high school coaching father, Johnson has known Hurts pretty much all of Hurts' life, the offensive change ought not to be drastic. The most obvious hurdle to surmount is that Steichen called plays, and did so quite effectively last season. But Johnson was there by his side, as, of course, was Sirianni.

Barring late-breaking injury news, the biggest change among the offensive starters will be at right guard. Cam Jurgens, drafted in 2022 to replace Jason Kelce should Kelce finally retire someday, is expected to step in for Isaac Seumalo, who signed with the Pittsburgh Steelers. Top rusher Miles Sanders left for Carolina, but the Eagles field a deep stable there, including returnee Gainwell and Philly native D'Andre Swift, formerly of the Lions.

Defense is a different story. Sirianni brought in Sean Desai, a former Bears defensive coordinator who spent last season working for the Seahawks. Desai is keeping Gannon's basic scheme, with tweaks. Fans hope he is better able to adapt than Gannon, whose unit was helpless in the second half of the Super Bowl, allowing the Chiefs to erase a 10-point halftime deficit and score every time they got the ball.

Desai, unlike Johnson, must smooth out significant personnel changes. The two top linebackers, T.J. Edwards and Kyzir White, left in free agency, as did the two starting safeties, C.J. Gardner-Johnson and Marcus Epps. Perhaps the biggest loss was starting defensive tackle Javon Hargrave, who managed 11 sacks last season. Hargrave signed in San Francisco, a top NFC rival.

But the Eagles had 2022 top draft pick Jordan Davis waiting to step in for Hargrave, and they hedged their bet by drafting Davis's former Georgia Bulldogs partner, defensive tackle Jalen Carter, ninth overall in this year's first round. Later in the first, 30th overall, they added Georgia edge rusher Nolan Smith.

The Eagles added a third-round safety in Sydney Brown, who will compete for a starting berth with last year's promising rookie, Reed Blankenship, and a group that includes 2020 draftee K'Von Wallace, former Steeler Terrell Edmunds, and ex-Saint Justin Evans. As this was being written, Blankenship was the only member of the group who seemed to have a solid grip on a starting role.

Linebacker was probably the position that featured the most intrigue as training camp developed. Clearly, 2022 Georgia rookie Nakobe Dean is expected to lead the group, though he played just 34 defensive snaps last season. Well into camp, the Eagles cut 2020 third-round draftee Davion Taylor, and added a couple of veteran free agents—Myles Jack, who'd been cut by Pittsburgh, and Zach Cunningham, released by the Titans. They joined a previous vet signee, ex-Bear Nicholas Morrow, and Christian Elliss, who was a hard-hitting special teamer as an undrafted rookie last season.

The Eagles don't like to pay big money to linebackers, and they don't invest top draft capital there. But when you're, say, in the second half of the Super Bowl, and you're getting gashed for 6.26 yards a carry (19 Kansas City second-half carries, 119 yards), and you'd like to get your excellent offensive unit back on the field—at time like that, good linebackers can come in handy.

Right now, Desai and his linebackers are a long way from needing to figure out how to stop the run in the second half of the Super Bowl. To even get to that point, the Eagles will need to defy the history of Super Bowl runners-up.

Sirianni can't do anything about the tougher schedule, or the likelihood of tougher injury luck. But he can relentlessly work to overcome any sort of complacency. That was a huge theme of the Eagles' preparation. In one practice, Sirianni was seen giving an earful to Hurts, his diligent, uber-focused leader. Observers interpreted this not as any sort of rift between the men, but as Sirianni sending a message to the team: Everyone is accountable, there are no exceptions.

Hurts, the son of a demanding coach, was predictably unbothered by the semi-public correction.

"I can't get on another guy for acting a certain type of way toward something, and I'm not practicing what I'm preaching," Hurts said. "We're all here to learn and continue to grow."

That actually might be a sustainable "new normal."

Those who cover the Eagles share their outlook for the season.

"I'm looking for continued growth from the whole team but especially quarterback Jalen Hurts. This time a year ago most fans weren't at all sure Hurts was a front-line starter in the NFL. They were still lamenting the fact the Eagles didn't pursue Russell Wilson or DeShaun Watson. Hurts put all that talk to rest by leading the Eagles to the Super Bowl. He exceeded everyone's expectations. So what happens this year? Will Hurts continue to improve, will he plateau or will he regress? Eagles fans remember what happened with Carson Wentz and how his trajectory went from MVP to outcast with such stunning swiftness. Will Hurts indeed prove to be the real thing?

"I expect the offense to be explosive, dynamic, pick any word you choose. As good as they were last year, I think they will be equally good this year. Scoring points won't be an issue. They will probably have five new starters on defense and they are counting on a lot of young guys—Jordan Davis, Nakobe Dean, rookies Jalen Carter and Nolan Smith—to step right in and play well. It might take a while for the defense to get its footing but I think the offense will be good enough to keep the wins coming. It's a challenge coming back from a Super Bowl loss—only eight of the 56 losers made it back the next year—but this team is talented enough to do it."

—

RAY DIDINGER, NFL Hall of Fame Writer

"This club is talented. We need the young guys to step up, but as far as talent top to bottom, this is probably the best team in the NFL.

"This is a balanced team and I understand it's hard to get back to the Super Bowl, but they have all the talent to be a great team once again. And everybody's talking about how the Eagles have a hard schedule. Well, please believe all those teams have marked the Philadelphia Eagles on their calendar. All 17 opponents have circled the game and it's going to be their Super Bowl. But the Eagles want to get back to where they were and they want to keep that same mindset of one game at a time, one series at a time, one play at a time. And the next you thing you know, it will be one season at a time and they'll be back [in the big game]. So, yeah, I drank the Kool-Aid, but with this roster and coaches, that Kool-Aid tastes pretty good."

— BARRETT BROOKS, NBC Sports Philadelphia host

"There have been relatively few teams in sports—but certainly in the NFL—that make it to the championship round, lose, and then make it back the next year. I've never seen a team that seems as passionate and driven from coaches to players to management. I am expecting an Eagles explosion this season with Eagles fans holding on with both hands for an incredible ride.

"I think they take zero steps back. …

This team has talent, grit, a great coach and quarterback, and they will win more games than expected given what happened last season and the increased difficulty of the schedule."

— MICHAEL BARKANN, NBC Sports Philadelphia host

"Can Jalen Hurts continue to play at the level he did last year? He has the contract of a top player in the league, was the MVP runner-up and has arguably the best supporting cast in the NFL. He and that offense are so fun to watch and I want more of it especially to see how they play against this year's slate of opponents.

"I don't think [there will be] a step back in the sense that there is regression or players and coaches performing worse. If they have more losses this year, it's because of schedule and/or injuries. It's the most challenging schedule based on last year's standings and last year they took advantage of their easy slate as good teams should. Thirteen wins would be incredible to see again. And while the Eagles lost some players at times due to injuries, none ended seasons and everyone played in the Super Bowl. Will luck play a part?"

—

DIANNA RUSSINI, The Athletic NFL Insider

"I'm most looking forward to see what the new defensive coordinator does with a remade defense with half a dozen new starters. Here's hoping that he's a lot more aggressive than the last defense coordinator, although I don't expect that will be the case.

"I am also eager to see how the best offensive line in the NFL holds up for another season. Maybe Jason Kelce is immortal, I certainly hope so. There's going to be a new right guard, and that will present some challenges to the continuity. And how will Lane Johnson come back after his surgery?

"I don't expect them to win 14 games in the regular season, that's very difficult. But I do think they will be the best team in their division, and probably in the conference. Getting back to the Super Bowl is no easy task, but I would bet on them before any other team in the NFC."

—

GLEN MACNOW, 94 WIP host

"Jalen Hurts took such a big step last season I'm looking forward to see if he can grow more this season. It's important to back up his Super Bowl season and improve. But, the biggest question is can the Eagles be better in 2023? Yes, however I think it will be difficult to equal the 14 wins of last season. With a tougher schedule this year I think Eagles will not get to that number, but be a better team and still win the NFC East. Injuries could be a big factor whether or not they return to the Super Bowl."

—

HOWARD ESKIN, 94 WIP host

Some Eagles diehards share their thoughts for the season

"

I'm looking forward to seeing how Jalen Hurts comes back. Anybody that knows him knows when he gets knocked down he comes back stronger and I can't wait to see him take it all the way. And not only did the team maintain the excellence, I think they added some critical pieces in the draft that are going to be spectacular."

"

I think they will be in contention for the Super Bowl; however only making it to the playoffs."

"

We will be one of the very few teams in NFL history to go back to the Super Bowl the following year; yet this time, we are going to win it!"

"It's Super Bowl or bust! This is the best roster the team has ever put together. A great mix of youth and veteran talent on both sides of the ball."

"I'm looking forward to a great season with our veterans only getting better and strengthening the team, and the rookies learning and growing. I see a lot of potential in some of the newer guys. We had some amazing plays last year; so let's play some football!"

---

A Voice That Spans Generations

As the legendary Merrill Reese enters his 47th season as the play-by-play broadcaster for the Philadelphia Eagles, he is just as enthusiastic as the day he took the job.

By Matt Cosentino

For millions of football fans in the Delaware Valley, there's only ever been one "voice of the Philadelphia Eagles," and even those old enough to remember other radio play-by-play announcers have a special affinity for Merrill Reese. Kids still imitate his calls as they practice in the backyard and imagine scoring the game-winning touchdown for the Birds. Adults rely on his passionate recounting of the action whenever they're stuck in the car on a Sunday afternoon, or might even turn down the television volume and listen to the WIP broadcast while they're enjoying the game in their living room.

Reese was once a diehard Eagles supporter just like them, who first dreamed of playing for the team he idolized before realizing his destiny was not to end up on the gridiron, but high above the field in the broadcast booth. This will be his 47th season as the team's play-by-play man, a number that means little to him but ranks as the longest current tenure with one team in the entire National Football League.
Although Reese was set to celebrate his 81st birthday just eight days before this year's season opener, his energy level is more fitting for a man half or even a quarter of his age. He continues to pour his heart and soul into every game he broadcasts, and the word retirement isn't even in his vocabulary.

He spoke to South Jersey Magazine about his legendary career, how some of his trademark calls evolved and his hopes to witness another Super Bowl win for the Birds to go with their championship from the 2017 season.

Do you still get the same excitement heading into a new season as you did when you first started?
Absolutely. I love it and there's nothing I look forward to more.

You're entering your 47th season, which means you're the longest-tenured play-by-play man in the NFL. Is that a source of pride for you?
I honestly don't think about it, believe it or not. It's not something that ever enters my mind. Each season is exciting and I have no intention of stopping. I'll do this as long as I possibly can. The 47 doesn't mean a big deal to me, only in the fact that my memory bank is filled with more and more information and memories and great moments. But in terms of being the longest-tenured announcer in the NFL, it's talked about a lot by other people, but it doesn't mean anything to me.

Do you think 50 years will be any different if you get to that milestone?
You'd have to ask me then. It's a nice number, but each year is separate. I appreciate doing this job and there's nothing I would rather do in the world. It sounds like a coach saying, "I take each game one at a time," but I do take each day and each game separately. I don't think in terms of streaks or years, I just want to be the best every game that I broadcast.

The Eagles have certainly had some ups and downs during your tenure, but when they're in the position they're in now, does that just add to your excitement?
It does, when you realize that the team you're broadcasting is one of the best in the National Football League and has a realistic shot to end up as the champion. But you also realize that the NFL is a war of attrition and you have to be tremendously lucky to get there. You have to avoid injuries and get the right bounces and have everything break your way.

The Eagles do have two new coordinators this year and a very difficult schedule. Does that dampen your optimism at all?
I'm not one of these people who, when the schedule comes out in April, lines it up and starts putting W, W, L, W. I don't do that because I realize that every year is different and teams change. Most teams have almost a third of the roster turn over each year. There's draft choices, there's free agents, and things happen. So I don't look at a schedule and say it's tougher than last year or easier than last year. Who knew that by midseason last year—and the Eagles played them in the beginning of the season—that one of the toughest teams was going to be the Lions? Who knew that when the Eagles ended up playing Dallas down there in December that they were going to be without Jalen Hurts? There are so many things that affect the schedule, so I always say it's more important when you play a team than who you play.

Right, and like you said, injuries can always play a big part.
A major part. And sometimes, like in 2017, Nick Foles comes in and people are saying, "There goes the season," and he ends up being MVP of the Super Bowl.

I'd like to go back a little bit to your early days as a sports fan. I understand that radio was an important part of your childhood, so did you know as a kid that this is what you wanted to do?
Well, broadcasting—radio and television both. I did as a little boy listen to the radio a lot. I could sit there and listen to a Phillies doubleheader when I was still in my single digits. I always loved sports: I loved playing sports, I loved going to games. As a little boy, I also did some television commercials, because my mother—who was a kindergarten teacher—had a little bit of a show business flair, and she got my sister and I involved very early. A lot of television commercials were live in those days, so I would get called in to do a commercial.
That kind of gave me the background, but in those days my dream wasn't to be up in the booth; my dream was to be the Eagles quarterback or to hit the home run that decided the World Series or to make the foul shot that won an NCAA title. I grew up as a kid who loved sports more than anything else. But when you realize that at 5-8 and 140 pounds, you're not going to be quarterbacking the Eagles, you better find something else. I also remember as a kid going to Eagles games at Franklin Field and looking up to the broadcast booth and seeing Bill Campbell up there between plays. I would often take my binoculars and look at Bill Campbell and say, "That's where I want to be some day." So that was a dream from an early-enough age, and in fact, in my high school yearbook it says: "Wants to be a play-by-play sportscaster."

Did you start to cut your teeth as a broadcaster as a student at Temple?
Well, by my sophomore year I was named sports director of WRTI, which was the student station. We had a broadcast line at The Palestra, so over the student station I did all of the Temple games, St. Joe's games—all of the Big Five, no matter who was playing. I did Temple baseball, Temple football; we did everything.

You loved and had experience in all of the major sports. How did you come to focus on football and the Eagles?
I was one of many people to audition at WIP and I got the job as the summer replacement for Charlie Swift, who was the sports director of WIP and the voice of the Eagles. He would take a month's vacation every year in June … and ultimately they hired me to do the morning sports at WIP as his summer replacement.
The big disc jockey was Ken Garland; he was a big star in the city. He would do his show from another studio down the hall, I never saw him. But like everybody else, I grew up listening to Ken Garland and he was an amazing personality who was loved by millions of people. I went on the air at five after six on my first day and I was scared to death, because I knew Ken Garland was down the hall listening. With all that nervousness and energy, I delivered the sportscast, and then I read the card that was there. I had to say, "It's 10 after six, time for the start of the Ken Garland Show."
With that, I cut my microphone and I heard nothing. Three seconds later—it seemed like three hours—I could hear the faint sound of a microphone being opened, and on comes Ken Garland. His first line was, "Wow. If I was Charlie Swift, I would hurry home from vacation." And before I left the building that day, they signed me to do the pre- and postgame Eagles shows and the coach's show, who was Ed Khayat at the time.

You mentioned being nervous on your first day. Is it true that you still get nervous today before games?
Absolutely, every game day. I've studied and prepared all week and it's like going into a final exam in college, when your grade depends on it. Except, instead of a professor reading your blue blook, it's millions of people listening to you and you want to be at your best. You've memorized numbers and you've prepared notes, and you're really consumed with everything about that game. So I wake up very nervous on the day of a game, and I can feel the tension build as the morning goes on.
For a 1 o'clock game, I leave the house at 8:15, because I want to know if I get four flat tires, I can hitchhike my way to the game. I go down on the field at 11:30 and do something for the CBS Channel 3 pregame show. Then I go back up to the booth and do a segment for the WIP pregame show, and then about two minutes before 1, our producer Joe McPeak says, "Stand by, two minutes." I can feel the bass drum beating in the pit of my stomach, then he'll say, "30 seconds," and then he'll tap me on the shoulder and I'll come on with a couple of lines that I've jotted down, so I can open up strong and know what I want to say. As I deliver that, all of the nervousness goes away and I feel as if I'm floating for the next three-and-a-half hours.


You're obviously a fan of the team, but you also have a job to do and you're a professional. Is it important to you to be honest about things if the Eagles aren't playing well?
I'm a fan in the sense that I love the Eagles and I always have loved the Eagles. However, I'm a professional broadcaster and I'm there to tell the story of what is going on that day. If that means saying that the Eagles look flat or they're unprepared, [so be it]. My famous call from Dec. 19, 2010—that was the second Miracle at the Meadowlands where DeSean Jackson had the punt return to end it—at the end of the first half I said, "Giants 23, the Eagles are still back at their hotel."
I will be completely honest, but there are boundaries. I will never call for anyone's job, I will never criticize anyone in the front office and I will never say a coach should be fired. But I call the game as I see it, and if it's my favorite person on the field dropping a pass, I'll say it's a pass he should have caught. I tell Mike Quick, "If you dropped the ball, I would say you dropped the ball." And he always kids me and says, "Yeah, but I never dropped a pass."

I was going to ask you about Mike Quick. You were with Stan Walters for many years, but now I think Mike is the partner you've been with the longest.
I have. Stan was 14 years and Mike is going on 25. The chemistry began when Mike was a player and I would go over to his locker. Mike was always polite and always a guy you could go to, win or lose, and he would treat you with respect. We developed a familiarity and a friendship—not a social friendship, but we were very, very comfortable with each other. When Mike got the job doing Eagles color, we spent a lot of time together that summer out at training camp, standing on the sideline. I would quietly call a play and Mike would know when to come in.
When we first began I said to him, "Don't worry, just say something when you have something to say, but wait until I'm done my sentence and just tap me." He would tap me and I would tap him back, and he would know that was when to go. After about six or seven games, we didn't have to tap each other anymore. The comfort level grew. He's a tremendously dedicated analyst who prepares diligently and talks to players and talks to coaches. Mike and I have certainly developed a close friendship. The Mike and Merrill people hear on the air are the Mike and Merrill people would hear off the air. We really respect each other, we like each other, we go to each other's family celebrations, we play golf numerous times in the offseason, and we're just good friends.

The title of your autobiography is It's Gooooood! How did that become your signature call?
You have to go back in the Eagles record books in the media guide to find the year, but it was the year they played the Seattle Seahawks in Seattle. It was a game that went to the last seconds of overtime, and I believe it was Roger Ruzek who kicked the [game-winning] field goal. At that point, we had been through so many ups and downs over five quarters that when the ball went through the uprights, I just went, "It's long enough and it's gooooood." It was the exasperation and the finalization of a game that seemingly went on forever.
That was the first time I said that, and I don't say it all the time, but I use that extension of the word "good" when it's a significant field goal, like the great 61-yarder Jake Elliott kicked to beat the Giants in 2017. That really called for a call like that. There are various degrees of it too, and sometimes I am more emphatic. … If it's a game-winner, if it's especially long, if it comes at a critical juncture of the game, I give it a little extra. But it's nothing I really think about too much.

How about the way you tick off the yardage when a big play is happening?
It's my job as a radio broadcaster to paint a picture. I am grateful that a lot of people turn down the sound on the television to listen to Mike and me. However, I have to work with the feeling that everyone is sightless at the time they're listening to us, whether they're in the car or listening to us in the backyard while they're gardening. Some of the nicest emails I have received are from unsighted people who thank me for bringing the game to life in their eyes. I've been awarded the Louis Braille Award by the Associated Services for the Blind. I have to work with the feeling that I am painting a picture, and that's why I do that to the best of my ability. If you're a television play-by-play man, you are captioning the picture and the analyst comes on and adds to it. But in radio you are the painter of that picture.

Do you like the fact that fans often imitate your calls? Just like Harry Kalas, most Philadelphia fans have a Merrill Reese impression.
I think it's fun. They say imitation is the sincerest form of flattery, and I'm not sensitive to it.

I know you said earlier that the numbers don't mean much to you, but for many Eagles fans, you've been the voice of the team for their entire lives. Is that special to you to know that so many people have grown up listening to you?
Sure, absolutely. Someone said that I'm the soundtrack of their life. When you hear things like that, it makes you feel good knowing that you can add to someone's enjoyment of this beautiful sport. That means a lot to me and I'm appreciative. I think Eagles fans are the best in all of football and all of sports. At the end of Super Bowl LII, I did not write anything. Someone asked me during the week if I was going to write anything in case the Eagles won, because my words would live for eternity. But I said I wouldn't, because I wanted my real emotions to break loose.
Angelo Cataldi and the Morning Show had been telling me for years, "I just want the Eagles to win a Super Bowl for you, because you deserve to have a Super Bowl win after all the years you've been calling games." I said to him, "The truth of the matter is, I've had so many great thrills broadcasting these games: great players, great moments, great comebacks. They don't owe me anything, but the fans in this city—who have been with this team through thick and thin, have been with this team when the Eagles won two games, there are Eagles fans who have taken a second mortgage so they can buy season tickets, there are Eagles fans who spend their last dime on giving their kids Eagles jerseys for Christmas—they deserve it.
So when that last moment came, when I saw the ball hit the ground, I said, "It's incomplete, the game is over, the Philadelphia Eagles are Super Bowl champions!" And the next thing that came out of my mouth without a second of thought was, "Eagles fans everywhere, this is for you. Let the celebration begin!" That was my acknowledgement that these were the people who really deserved that Lombardi Trophy, not me. I was a part of it, I was a chronicler of it, but it was for the fans. Now, did I enjoy it also? Of course I did.

You almost got to call a second Super Bowl win last year, and hopefully you won't have to wait long for another.
I hope so too, but you never know. They're the best team in the NFC this year going in, but it's a war of attrition. You take a team that can potentially be 14-3, like they were last year, but if you get the three wrong injuries at the wrong time of the season, then they could be 9-8.
Having Nick Sirianni and Jalen Hurts in place for the foreseeable future does inspire confidence.
I think Nick is a bright young coach and Jalen is a tremendous quarterback. I felt that from the moment I saw him at Alabama and Oklahoma, and I was thrilled when they drafted him.

Is it too difficult of a question to ask you about your favorite players over the years?
You have to categorize it. If you were to ask me who is the greatest player I've ever been around, I would tell you that is unequivocally Reggie White. There were other great ones, like Dawk [Brian Dawkins], but Reggie White was the best of my 47 years. If you want to ask me who the most exciting player was, that would be Randall Cunningham. There was nobody who had the air of excitement that Randall Cunningham had—nobody.
If you asked me who were my favorite players as people, I have too many to name. There are so many great people I've met over the years and very few that I didn't like. For example, and I don't want to leave anybody out, but any day that I happen to see Brandon Graham in the facility and we chat for a few minutes, my day just got better. That's the kind of effect he has on people. He is the warmest person and he lifts your spirit just by being around him. Jason Kelce is an amazing guy too. There are so many.
I've been around three of the greatest running backs. My three favorite running backs chronologically were Wilbert Montgomery, Brian Westbrook and Shady McCoy. Ron Jaworski is a friend; he was a tremendous quarterback, the way he led the Eagles to Super Bowl XV. But the record books will tell us that the most accomplished quarterback the Eagles ever had was Donovan McNabb, because he owns all the records. He was a great guy and a great player. Nick Foles became a favorite player just on the basis of what he did in 2017 and in the Super Bowl, and he was another wonderful guy.
Who was a better player and a better person than Brian Dawkins? He was amazing. Bill Bergey was a great defensive player who deserves to be in the Hall of Fame. He was a linebacker who dominated games, and people used to chant his name. To this day, Bill Bergey is a great friend.
My favorite coach is Dick Vermeil. He's a good friend to this day and he's a great man. I love Dick Vermeil, and I thought Andy Reid was an excellent coach. He'll be in the Hall of Fame one day. I love Doug Pederson. I knew him as a player and I remain very close to him. He always had enough time to sit down with me, answer my questions and talk to me as a friend. Doug Pederson was absolutely wonderful. I can tell you that the one coach I had zero relationship with was Chip Kelly. He just didn't communicate; I don't think he communicated well with his players, so how was he going to communicate with a broadcaster? You could walk by him and say hi, and he wouldn't give you the time of day. There are those you like, those you don't, and those you continue to root for. I think Doug Pederson may win another Super Bowl, not necessarily this year, but some year in Jacksonville. I think he's a great coach.

Going from your Eagles family to your own family, I believe your son Nolan works in the movie industry, right?
He does. He's one of the leading visual effects editors in Hollywood. He's done Captain America, Bad Boys 3, Valkyrie, Creed III and he's now working on Bad Boys 4. He is quite a guy, and he would join me on the road about three times a year and keep our stats. He'll join me many nights when I'm at home in my easy chair watching the Phillies or the Sixers, and we'll just watch the game together on the phone.

And you have a daughter too?
Yes. Her name is Ida and she lives less than 10 minutes away from us with her husband and her kids: Ollie is going to be 5 in September and the baby, Audrey, is going to be 2 in October. They're wonderful kids.

I've also heard you talk about your wife, Cindy, many times, who has been your support system for so long.
For so long. Nobody could have a more loving and supportive wife, and she's accomplished in her own right with a doctorate in education. She walks around with flash cards to help me prepare for games. If we're playing the Giants, she'll yell out, "26," and I'll say, "Saquon Barkley." We do that all the time.
---
Click here to subscribe to the free digital editions of South Jersey Magazine
To read the digital edition of South Jersey Magazine, click here.
Published and copyrighted in South Jersey Magazine, Volume 20, Issue 5 (August 2023)
For more info on South Jersey Magazine, click here.
To subscribe to South Jersey Magazine, click here.
To advertise in South Jersey Magazine, click here.