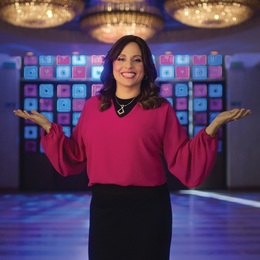 The Perfect Match
Jewish Matchmaking on Netflix is Changing Modern-Day Dating Rituals
So, how did a nice Jewish woman from Bala Cynwyd, Pennsylvania become the host of the global hit Jewish Matchmaking, a new reality dating show from Netflix that is helping us re-evaluate and recalibrate our dating and mating rituals?
Well, it appears that much like finding the right date or mate, Aleeza Ben Shalom, a matchmaker and dating coach for 16 years, explains that the series found her "in true matchmaking form."
"They contacted one of my matchmaker friends to see if she wanted to audition," Ben Shalom explains. "My friend told the producer that I have the right personality, am engaging and that I tend to speak off the cuff, and Netflix called me."
In the new series, Ben Shalom visits singles from around the U.S. and Israel, who are ready to settle down and get married. And no matter how picky they are, Ben Shalom is dedicated to finding the perfect person for each eligible individual and believes that her previous 200 successful matches and "Jewish values and wisdom" will greatly aid in the process.
We had the chance to speak with Ben Shalom about the excitement surrounding the show and the rewarding aspects of helping others find true love.
SJM: A tough job…
JM: Almost anything is easier than finding your person. You want to get a job? You can get a job. You need to find a house? You find a house. If it's not your favorite house you can always move. But finding a human being who you choose to say, "Sure, I'd love to live with you for the rest of my life," is not easy. It's about bringing two completely different worlds together and saying we're going to figure out how to make this work.
SJM: The rewarding feeling of making a match…
JM: I'm speechless; it's truly out of this world. There's no greater pleasure than bringing people together. When you know that somebody's world is about to expand exponentially because they have the right partner, there's no greater joy than seeing, knowing and feeling that.
I develop a very close relationship with the people that I work with and they send me updates and photos five or 10 years later. This is all about building these relationships that last a lifetime.
SJM: The universality of the show…
JM: I say it all the time, we have Jewish wisdom for the world. So, we have rooted in Judaism and Torah, and the deepest learning is that we have very smart, good wisdom to share about love, dating, marriage and the process. I take concepts that I think are high level and I break them down into what I would call plain language so that anybody can take part in this process.
The concept and the advice can be for anybody; it's really not exclusive to Jewish people. I love that we can take extremely deep concepts and make them bite-sized and appropriate.
SJM: Helping others break down barriers…
JM: Not getting in our own way involves recognizing where we're putting up roadblocks. It involves recognizing that what we've been doing hasn't been working and having an openness and willingness to try something in a different way and getting the right support along the way. Finding somebody whose advice and wisdom resonates with you and then following it is really smart. I think it's easier when you have a little bit more of a clear path and a guide.
SJM: How the show has changed her life…
JM: It helped me to level up and be even more conscious of the messages that I'm sharing. I come to this set completely unscripted, so I come to work and I don't know what is going to happen. I did prepare in terms of thinking, in general, what messages I want to deliver and how I will deliver them.
I shared the wisdom that was most important to me and I wanted those messages delivered because I knew that those things were heartfelt and deeply within people, and that's what I was trying to do.
SJM: A fondness for the Shore…
JM: My favorite thing about the Shore is the Boardwalk and listening to the waves. It's very grounding and I love walking and biking on the Boardwalk. I am a pacer so I love the movement and I love the ocean. It's really very calming for me.
---
Click here to subscribe to the free digital editions of South Jersey Magazine
To read the digital edition of South Jersey Magazine, click here.
Published and copyrighted in South Jersey Magazine, Volume 20, Issue 5 (August 2023)
For more info on South Jersey Magazine, click here.
To subscribe to South Jersey Magazine, click here.
To advertise in South Jersey Magazine, click here.