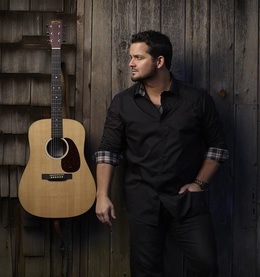 From New Jersey to Nashville
Medford native Kenny Curcio took a leap of faith when he made his way to Music City five years ago to launch his singer/songwriter career. With his summertime single "Jersey Shore" making serious waves since its early June release, things are looking bright for the country musician from the Northeast.
It's a mid-July evening, a comparatively balmy one after a stretch of scorching summer days. As a gentle breeze winds through the open field at the Valenzano Winery's pavilion, up-and-coming country musician Kenny Curcio and his writing partner Al Panaccio are laying down some hot licks and twangy covers they've made their own, betraying a vast songbook that can only come from a lifetime of multi-genre inspirations and a genuine love of music.
Curcio made his way to Nashville five years ago, and is currently back in his native Burlington County as he moves through the South Jersey circuit in support of his newest single, "Jersey Shore," an upbeat ballad doubling as a love letter to the fondly regarded seaside towns of Curcio's youth. This months-long tour will ping-pong Curcio between his longtime home and the one he adopted as he makes a name for himself in the country-music scene, having already shared the stage with some of its biggest names at the likes of the Barefoot Country Music Festival—twice.
These stripped-down, two-man performances give Curcio an opportunity to return to his roots, quite literally. The Medford native and Shawnee High School grad recently chatted with South Jersey Magazine about finding the silver linings in loss, the importance of personal connections, and why humility, authenticity and grit make for a winning combination if you want something badly enough.
South Jersey Magazine: So how does a Jersey boy find his way to country music?
Kenny Curcio: I grew up listening to classic rock and blues and some Motown. My dad was listening to the Rolling Stones, CCR, Lynyrd Skynyrd, things like that; in the '90s, I was listening to Sublime, Pearl Jam, Metallica, Stone Temple Pilots. And then in the 2000s, when I was getting close to entering high school, that's when I started listening to country. A good friend of mine, Matt Morris, introduced me to Toby Keith and Kenny Chesney … It kind of went from there. My influences are some country, but I still have rock roots, the blues roots in there. I just appreciate all kinds of music and I want to mesh it all together.
SJM: When did you start playing music, and how were you introduced to it?
KC: When I was eight years old, we had this old family organ. I didn't really know how to play but I loved kind of jumping on there and figuring things out. In [Medford Memorial] middle school, I had a music class and my teacher was a big influence—Miss Cecil. In class one day, we had this project where we had to create a song on the keyboard that went with like a 30- second clip of a movie. I just thought that was cool and took a liking to that. When I was 12, my mom and dad got me a guitar for Christmas. I remember telling my dad I wanted to play the drums, but back then they didn't have those mechanical drum sets that you could put the headphones on and play, so drums would have been too loud. My dad got sick in September of that year, and he ended up passing away March 7, a
few months after I got that guitar.
SJM: Do you still have that guitar from your parents?
KC: I'm so glad you asked that. So they got me a Yamaha guitar, and that's what I played through high school, and it's the guitar I brought to college. My first year in college, I was playing some local bars and coffee shops, and after a month or so of playing, I left that guitar in my car. The next day, somebody had broken into all these cars, there were smashed windshields everywhere. As I got closer to my car, I'm like, "Oh man, you gotta be kidding me"—you could see the pieces of wood on the ground, that guitar was in a million pieces. That was a really, really tough time. But it was also kind of like a turning point for me with music. Even though it was a devastating thing that happened, I think it lit something within me—like I'm gonna overcome this and make something good out of it. And I feel like that kind of sums up who I am as a person: I'm just gonna work hard, and if some challenges happen along the way, I'll find a way to overcome them and get through it and hope to motivate somebody else.
Not only did I lose my father physically, but that was the last gift that he gave me. That was something that meant a lot and was taken away from me by somebody I don't even know. But there's a metaphor in there—there's a sad story, but it's also like a redemption as well. And I feel like a lot of people can relate to that. For me, that's like music: I'm going to use this someday because music, for me, comes from a real place. I just try to be as real as I can and tell a real story that people connect with.
SJM: Now that you've lived in Nashville for a few years, is there anything you miss about South Jersey?
KC: I do miss my family and friends, and I miss the lakes I grew up around. I miss all the restaurants and being close to Philly—and cheesesteaks! I always love coming back and just reconnecting and getting some time to relax and playing some local venues. I have a song, "Hometown Heart," that I released in 2019, and that's kind of about me growing up in in South Jersey.
SJM: And Jersey gets a prominent role again in your new single, "Jersey Shore." How did that song come together?
KC: I wrote the song with Holdyn Barder and Al Panaccio. We were in the writing room and just hanging out, and we were talking about New Jersey and growing up. Holdyn has a song called "Stone Harbor," which is the Shore town where he and his family would spend a lot of time, so we started talking about that. I had this this hook I wanted to use, "Jersey Sure," which Al and I had talked about a couple weeks before, something like "I'm Jersey sure you're gonna like it." We talked about it, and then it developed into you the country girl coming up coming up to New Jersey. And I thought it' be cool to kind of bridge the gap between New Jersey and
Nashville, since country music is expanding and so many people like it up here, and I'm a Jersey guy that plays country music and living down in Nashville. So we kind of just took the idea ran with it, and threw in some Jersey details: The Stone Pony; "rolling the dice" is a reference to Atlantic City; walking the boards; the parkway; grabbing a pizza slice. Then for the music part of it, we wanted to make it upbeat, like an anthem. It took us probably an hour and a half to write the song, and then it took us another four hours to decide on how to spell the title. [laughs]
SJM: How often do you get to introduce people to your favorite Jersey spots, or find yourself telling other people about what life is really like in New Jersey?
KC: When I'm in Nashville and people find out I'm from New Jersey, they always ask, "What exit?" [laughs] But if we start talking about it, I get to tell them how cool Jersey is. I'm from South Jersey and my girlfriend lives up in North Jersey, by the Delaware Water Gap and the Poconos. It's so different out there and almost looks like a different state. It's so flat in South Jersey, but up there you have the mountains. North and South Jersey are completely different from the Jersey Shore. I get to tell people how awesome it was going to Wildwood and LBI and every place in between as a young kid.
SJM: I'd love to talk a little bit more about your "Jersey Shore" cowriters Holdyn and Al, and how you met them both.
KC: I met Al three years ago, when I was playing at a resort in Florida, near Tampa. He was there with his girlfriend and his family for a special occasion, and I was down there for a couple weeks playing shows. In between songs, I would say that I'm from New Jersey; Al came up to me later and said, "Hey, man, where in Jersey are you from?" I told him I'm from Medford, and I find out he lives in Marlton—we're from neighboring towns, and here we are meeting in Florida. And then with Holdyn, I met him about a year ago at a Writer's Rounds in Nashville at this place called The Dawg House on Music Row. I played my song "Hometown Heart," he played "Stone Harbor," and then we started talking and connected from there. You just never know where you're going to meet people and what their backgrounds are and what you have in common. It's pretty cool. I'm grateful to have met them and to have collaborated on this great song that a lot of people really love. That's the beauty of music: You chase after something, you have a cool idea but you don't know where it's gonna go, you pick up the guitar, and it just kind of takes on a life of its own.
SJM: How do the two sides of music—being in a recording studio creating a polished version of a song versus the rawness of live performance—satisfy your creative drive?
KC: Playing is great, I love it because live music stripped down—whether it's solo, whether it's a duo, or a full band—you really get to connect with the crowd and there's nothing like that. I love the songwriting and producing part of it, but feeding off the energy of a crowd when they sing your song back to you is an awesome feeling.
SJM: At your Valenzano show, you really made a point of talking with people and getting some face time with your fans. Why is that so important to you?
KC: The fans and the people who support me keep everything going. For me as an artist, I just want to show my appreciation for the people that like my music—if I didn't have them, I wouldn't be able to have a career. I love going out there and meeting everybody, or as many people as I can, and just thanking them for being there and letting them know how much it means to me that they are there.
SJM: So once this tour wraps up in September, what's next for you?
KC: The past few months, I've been recording, so moving into the fall and winter, I'll probably drop another single or two. And then going into next year, I will release an EP or album, depending on what songs will be on there and how many.
SJM: What advice do you have for those who are still trying to make their dreams come to fruition?
KC: If you if you have a passion and a dream, I'm always a fan of going after it. I would say that you have to have patience. It takes time to learn and to figure out who you are as an artist and to learn about the business, and there's always going to be ups and downs. You just can't ever give up. The right pieces will fall into place. Having a good attitude and being easy to work with will get you far, as well. It's never too late if you have a passion for something. Take that leap of faith and believe that something really good is gonna happen.