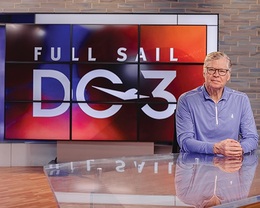 Asking the Right Questions
Iconic sports broadcaster Dan Patrick dishes on the art of interviewing.
Whether on TV, radio or in print, few have interviewed as many distinguished individuals as Dan Patrick. Now, the legendary sportscaster is taking his decades of experience and sharing his in-depth knowledge on the finer points of being a great interviewer as part of a new partnership with Full Sail University, where he helped establish the Dan Patrick School of Sportscasting in 2017.
The Art of Interviewing is a new six-week online course led by Patrick in which students will learn the tools of the trade to help them with research and preparation, develop high-quality interview questions, apply effective questioning techniques and execute meaningful interviews.
"This is for everybody. You can be 20, you can be 40, you can be 60, you can be 80. The Art of Interviewing is for everybody, and everybody can learn from it. It's just the ability to be curious and ask the right question at the right time," he says.
We spoke to Patrick about the idea behind the course, the interviewers who have had an influence on him and find out the one person he'd like to reconnect with for another one-on-one conversation.
When did you feel like you had mastered the art of interviewing?
I haven't mastered the art of interviewing. I am constantly tweaking, second guessing, analyzing. I could have done something better. Sometimes when I'll listen to an interview, it's what I didn't ask that stands out to me, not what I did ask. But to be able to have that perfect interview, that's the thing that keeps me going every single day.
Who are some of the great interviewers who influenced you?
Howard Stern is so good at having background information. And having that information is great when you're going in. I always view it as a competition. If I'm interviewing someone—in particular an athlete—they're used to competition. I have to compete with you to get an answer from you. I feel like when you have that information, you might have a nugget there, you might have something that you can throw your subject off a little bit there. Many athletes are interviewed regularly. Every game, before a game, after a game. So when you get the opportunity to talk to someone, what are you asking them? What is different?
Graham Norton, who is in London, whenever he has celebrities on, he somehow gets something out of them that's different than anybody else. To put your subject at ease, the person you're interviewing, you want them to be comfortable, because ultimately this has to do with letting your audience eavesdrop on your conversation. When you're interviewing, you don't want to sound like you're interrogating anybody, you want it to be natural, as if you're just talking and the audience gets to listen to this.
Is there anyone you haven't interviewed yet who is on your bucket list?
The last time I interviewed Michael Jordan was when he first retired from the Chicago Bulls. But to be able to have a full sit-down interview with Michael, you know, that is still something I would love to have. Just to talk to him as a businessperson, while also reminiscing on all the great performances he has had, that would be top on the list.
With all that you've accomplished, what have been some of the more rewarding aspects of your career?
Well, I think to prove that you can do it because I did not have a textbook. There was no map saying this is how you do it. And I almost gave up on getting into TV. I got turned down for the weekend job in Dayton, Ohio, and I think I was just turning 27, and that was ancient in the business to get into TV then. I thought I was just going to be on radio.
But I tell my students: right place, right time—you've got to be ready; you might only get one shot. And if you do, you got to make good on it because if not, the next person will. I tell my students all the time, you've got to stand out, what are you doing that's different? The rewarding part of this is to see them get jobs. It's the most rewarding thing I've ever done in my career, because of the impact that we're able to have on them. They're getting jobs, you're changing lives. I always say I can get you over the wall, you've got to be able to run once you get over the wall, it's up to you and that's just the start of your career.
Click here
to subscribe to the free digital editions of
South Jersey Magazine
To read the digital edition of South Jersey Magazine, click here.
Published and copyrighted in South Jersey Magazine, Volume 20, Issue 4 (July 2023)
For more info on South Jersey Magazine, click here.
To subscribe to South Jersey Magazine, click here.
To advertise in South Jersey Magazine, click here.