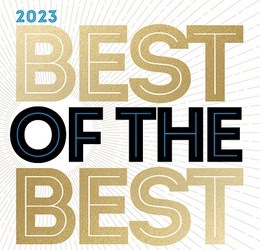 Best of the Best 2023
Our complete guide of the best of the best in South Jersey!
Do you have those people in your life who are constantly telling you & that you need to try this or try that? The opportunity to be those people is one of the reasons we love it when our Best of the Best issue rolls around, since it's our opportunity to celebrate all the new and longtime favorites we've returned to again and again. For our comprehensive list review below! To view our issue click the provided tabs! FOOD & DRINK, HEALTH & BEAUTY, LIFESTYLE, RETAIL
FOOD & DRINK
ICE CREAM at Leo's Ice Cream Company in Medford
Leo's is an institution that draws long lines of locals and residents of nearby towns that know and appreciate the quality ice cream being scooped into cones, sundaes, milkshakes and more. And with more than 75 flavors at its disposal, there's always something to satisfy you're cravings.
FLATBREADS at Basilico Pizza in Mount Laurel
Forget the run-of-the-mill flatbreads you're accustomed to, here they dedicate a whole section of the menu to inventive offerings that will please the palate. Think grilled chicken with tomatoes, arugula, shaved Parmesan, mozzarella and lemon-infused olive oil or the recent addition of chorizo, mushroom, fresh mozzarella and crushed red pepper.
MILKSHAKES at Cups and Cones in Marlton
No matter if we're going for the classic black and white or a signature flavor like peanut butter fudge, these thick hand-spun shakes deliver every single time. There's even vegan options available so everyone in the group can get a little taste of happiness.
COOKIES at Two Sweet Boutique in Deptford
The oversized cookies served up at this bakeshop are on another level. We love the Netflix and Chill that combines pretzels, M&Ms, chocolate chips and more into one salty-sweet bite, but other standouts include the Bananas Foster, Crème Brûlée and the highly addictive Peanut Butter and Jelly.
PIES at Sweet T's Bakeshop in Haddonfield
Anyone who's ever had the pleasure of sampling something from this beloved bakery knows they take their desserts seriously. And that extends to the nearly 20 different pies on the menu which range from familiar favorites like apple or pumpkin to the can't-miss Boston Crème.
DOUGHNUTS at Maggie Moose Bakery in Medford
Owner Candy Thibeau may not have any formal baking training, but she certainly knows how to make an unbelievable doughnut. Large, hefty and presented in a wide variety of flavors, there's good reason why so many have been buzzing about these tantalizing treasures.
DINER Westmont Diner in Haddon Township
A great spot for breakfast, lunch or dinner, this popular mainstay attracts patrons who are eager to belly up the counter or slide into a booth so they can munch on homemade classics like the banana and Nutella French toast, a monte cristo or the wonderful chicken croquettes. (856) 854-7900, WestmontDiner.com
WINGS at Cockadoodle Dan's in Palmyra
In a crowded field competing for chicken wing supremacy, Cockadoodle Dan's stands above the rest. Though the wings can be on the smaller side, they explode with flavor thanks to the 15 sauce options including favorites like the mango habanero and honey lemon pepper.
FRIED PICKLES at The Pourhouse in Westmont
Sliced credit card thin and resembling potato chips, these fried pickles are much more gratifying than the breaded spears so many places have on the menu. And with the accompanying sriracha-maple mustard for dipping, you're likely going to want two orders.
TOMATO PIES at Lillo's Tomato Pies in Hainesport
Inspired by Trenton's renowned tomato pies, the owners here recruited a good friend and former pizza maker at the famed Papa's to help them perfect their version. Since then, throngs of folks have been flocking in droves to bite into the audibly crunchy crust covered in cheese and crushed tomatoes.
CAKES at Desserts by Design in Audubon
Whenever the special occasion calls for cake, we head to Desserts by Design where the owners who grew up in the bakery business create Instagram-worthy specialty cakes made with the finest ingredients that taste even better than they look.
CALZONES at Pizza Crime in Haddonfield
Pizza Crime's Arnam Maitra was trained in the world of pizza making by famed Philadelphia chef Marc Vetri and he's taking what he's learned to also craft some seriously good calzones. These oversized pockets of dough come filled a variety of ways, but we're partial to the spinach with red onion, mozzarella and ricotta.
CHICKEN CUTLET SANDWICHES at Crumb in Bordentown, Haddonfield and Medford
The culinary minds at Crumb take chicken cutlets to new heights with offerings like the French Montana, made with applewood smoked ham and a homemade cheddar cheese sauce. But the real showstopper is The Closer featuring 24-month prosciutto di parma, peppery arugula, melted asiago cheese, extra virgin olive oil and a 30-year aged balsamic.
BEER TASTING ROOM Tonewood Brewing in Barrington
While we'll always have a soft spot for Tonewood's OG location in Oaklyn, the Barrington spot has become our go-to spot to order up pints of their tasty IPAs and crisp lagers. With ample indoor and outdoor seating, multiple bars and a warm and friendly staff, it's no wonder why so many others agree with us.
PITA SANDWICHES at Tabboulee in Cherry Hill
You know what's better than a warm, grilled pita? When you stuff it with shaved lamb, tzatziki, sautéed peppers and French fries. Or maybe chiken tikka, American cheese, onions and curry yogurt. If that's not enticing enough, you can even create your own from a list of ingredients and sauces.
BAGEL SANDWICHES at Moore Bagels in Marlton
This is the place to head when you're looking for something a little more elevated to get your day going. The Chief is a wonderful blend of turkey, avocado, chipotle mayo, lettuce and tomato while The Hottie kicks things up a notch with egg, cheese, pork roll, hot sauce and a jalapeño cream cheese.
MINI DESSERTS at Devour Desserts in Mantua
Devour specializes in bite-size delights that would satisfy any sweet tooth. We love the varieties of butter cake and the crème brulée parfait shooters, but really you can't go wrong with anything on the menu. That goes double for the lemonade cheesecake bites and peanut butter buckeyes.
STROMBOLI at Abbruzzi & Giunta's in Mount Laurel
Perfect for gameday, birthdays or really any day, the homemade strombolis at this Italian specialty deli are a real crowd pleaser. We love the spinach and ham, prosciutto and roasted peppers, and the broccoli and sausage, but don't overlook the eggplant parm or grilled veggie either.
TAP LIST at House of Brews in Washington Township
Craft beer fans flock to this watering hole for the impressive and wide-ranging lineup of more than 20 drafts that showcase the best from the region and beyond. Having a hard time choosing? You can also wet your whistle by ordering a sampler flight of any four beers of your choosing.
SMALL BITES at Milkweed Table + Market in Pitman
Milkweed serves up a delightful mix of brunch-friendly small plates. There are mini doughnuts piped with Nutella, dusted in powdered sugar and served with a brown sugar-graham cracker crumble. Or the toasted French toast muffin with housemade whipped maple butter. Not to mention the jalapeño and cheddar corn fritters or the can't-miss cheesesteak egg rolls.
CHEESESTEAKS at Brynn Bradley in Woodbury
The secret is out about this modest mom-and-pop shop on North Broad, thanks to rave reviews from customers and food critics alike. Even with loads of cheesesteak competition in the area, theirs manages to stand out with fresh ribeye that is shaved in house and placed on a seeded roll.
PREPARED FOODS at Boaggio's Bread in Mount Laurel
Those with hectic schedules know how difficult it can sometimes be to put dinner on the table, but this bakery and Italian market has it covered with a range of homemade options all based on family recipes from owners Rich and Donna Boaggio. (856) 642-9955, BoaggiosBread.com
QUESADILLAS at La Cita in Cherry Hill
Ordinary quesadillas can be found on just about any sports bar or pizzeria menu in South Jersey, but for an authentic taste of Mexico head to this colorful family restaurant on Route 70. We recommend the quesadilla sampler, which includes several varieties highlighting farm-fresh ingredients and succulent pulled chicken.
HOAGIES at Chick's Deli in Cherry Hill
A Cherry Hill staple for going on 70 years, Chick's does not rest on its past success but strives to blow away every customer who walks through the door seeking a hearty hoagie that does not skimp on the meat and uses the freshest roll.
COCKTAILS at Cinder Bar in Clarksboro and Williamstown
With two locations at opposite ends of Gloucester County, Cinder Bar's brand-new happy hour from 3-6 p.m. every weekday is the perfect opportunity to try one of its over 40 handcrafted cocktails, such as the limoncello martini, honey vanilla pear margarita or coconut mojito.
CHOCOLATE at Mecha Chocolate in Haddonfield
Sure, we might be the kind of people who get excited about grabbing a Snickers out of the vending machine, but when we want a true, life-changing chocolate experience, we head to this shop. Chocolatier Melissa Crandley blends her background in fine dining and as a pastry chef to create delectable treats that make perfect gifts for any occasion.
BUTCHER SHOP at Bringhurst Meats in Berlin
Bringhurst has been serving South Jersey customers since the days of the Great Depression, and whether they're picking up dry-aged steaks to throw on the grill for dinner, need a slow-roasted pig for their summer barbecue or require a full catering menu, the friendly and attentive staff will send them out happy.
WATER ICE at The Water Ice Factory in Magnolia
It's hard to miss this burst of color while driving by, and with 36 flavors of water ice and a variety of other frozen treats, you won't regret stopping in. Choose from staples like chocolate, vanilla and strawberry, or try flavors like sweet tea, margarita or tiger's blood if you're feeling adventurous.
GRILLED CHEESE at The Pop Shop in Collingswood
This pastel-colored, vintage-inspired diner has an extensive grilled cheese menu. Full of options that range from quirky and creative fillings like mozzarella sticks or lobster, to mouthwatering classics like American cheese on a soft pretzel, there are over 30 to choose from.
SALADS at Crust N' Fire in Maple Shade
Whether you like meat or prefer a vegetarian option, the salads at Crust N' Fire are packed with toppings from standard to inventive. Choose from the five grain protein salad, the famous buffalo chicken salad or one of the other 10 options ranging from savory to sweet. (856) 321-3485, CrustNFirePizza.com
NACHOS at El Mariachi San Lucas in Voorhees
Homemade tortilla chips are essential for delicious nachos, and this restaurant has it covered. On both the lunch and dinner menu, you can choose from chicken, pork, chorizo or vegetarian layered with refried beans, pico de gallo, sour cream, queso fresco and creamy avocado.
FRIES at Amato Bros. in Oaklyn
French fries make for the perfect side, and creative toppings and dips are even better. At Amato Bros., classic crinkle cut fries can be ordered plain, or topped with Old Bay, cheese and even shrimp. With 10 different options, you're sure to find a new favorite combination.
COFFEE at Roast Coffee Company in Medford
Roast coffee is both fresh and specialty, made from ethically sourced beans from sustainable farms. Focused on a community experience, this cozy location is family-owned, and serves unique blends such as a CBD-infused "remedy roast."
WRAPS at Nene Italian Market in Marlton
Nene's serves up all your classic wrap favorites such as buffalo chicken and grilled chicken Caesar but also features stellar additions like chicken cordon bleu as well as the short rib with peppers, onions, broccoli rabe, provolone and finishing touches of au jus.
MAC AND CHEESE at SweetWater Bar & Grill in Cinnaminson
Using a five-cheese blend, SweetWater's mac and cheese skillets come topped with buffalo chicken and blue cheese crumbles, steak and onions, homemade chili and jalapneños or mushrooms, peas, shaved asiago and breadcrumbs.
RAMEN at Rai Rai Ramen in Mount Laurel
For some real traditional Japanese ramen, Rai Rai Ramen offers a large selection of specialty and vegetarian options along with a variety of spice levels to add some extra flavor to your dish.
CUPCAKES at Cupcake Carnivale in Moorestown
You'll keep coming back just to sample all the fanciful flavors, ranging from a classic like the Chocolate Razzle Dazzle's marriage of chocolate and raspberry or the decadent Happy Hour's Guinness-infused cake, spicy peanut butter buttercream, pretzels and salted caramel. (609) 751-8484, CupcakeCarnivale.com
BARBECUE at Christine's House of Kingfish Barbecue in Shamong
With fall-off-the-bone ribs, tender brisket, juicy pulled pork and sides that could be main courses, there's no need to add barbecue sauce to any of the mouthwatering offerings here—but Christine's comes in half-gallons because it's just as good as everything else on the menu.
PANINIS at Rey Bagel Bistro in Marlton
From the Texas panini's flavorful grilled chicken slathered in tangy barbecue sauce and topped with Swiss cheese and bacon to the satisfying balance of the Pesto panini's pesto, tomato and mozzarella, one bite is enough to understand why Rey's is among our favorites.
HAPPY HOUR at Union House in Burlington
We'll always raise a glass to Union House's cocktail menu but its thrice-a-week happy hours are worthy of some fanfare, too, with buck-a-shuck oysters, elevated comfort food and signature drinks that include the whiskey-based Fire in the Tropics. (609) 531-6077, UnionHouseBurlington.com
INDIAN at Naan in Moorestown
The Moorestown Mall's former Chipotle location got one heckuva glow-up when this Indian bistro moved in. You've got to try the lamb vindaloo—the spicier, the better—paired with some out-of-this-world goat-cheese-stuffed naan.
KOREAN BARBECUE at Dolsot House in Cherry Hill
The family-style servings and ample vegetarian options ensure there's something for everyone here. But when you're dining somewhere that out-of-towners make special trips just to visit, everything on the photo-heavy menu is a winner, especially the Spicy Pork Bulgogi.
BREAKFAST at Amy's Omelette House in Burlington and Cherry Hill
Caramel apple pancakes. Berry Berry French toast. The Avocado Benedict. The Nutella Stacker. Chicken and waffles. Whether you like your breakfast sweet or savory, Amy's has tons to choose from, all served in deeply satisfying portions. (856) 488-9600, AmysToGo.com
SUSHI at Osaka in Collingswood
From the staples to more elaborate special rolls, every piece of sushi here is flavorful, fresh and Instagram-worthy. The Pink Lady Roll, made with shrimp tempura, eel, avocado and spicy tuna, and the lobster-based Flyer Roll especially are must-trys.
WINERY at William Heritage Winery in Haddonfield and Mullica Hill
If you're looking to sample some award-winning wines without making the trek to Napa, William Heritage Winery is the place for you. Don't forget to order one of their expertly curated cheese boards!
HEALTH & BEAUTY
KIDS' SALON at The Kids Spot in Mount Laurel
Whether it's your little one's first haircut or their monthly visit, parents feel at ease knowing their children are in good hands at this playful and inviting salon that also offers kid-friendly mani/pedis, facials and makeup application.
CUSTOM WORKOUTS at Smart Bodies in Marlton
At Smart Bodies, the expert trainers craft individual workouts that challenge you while steadily pushing you toward your fitness goals and the encouraging results will keep you coming back for more as you set new ones.
MANI PEDI at Taffeta Salon in Hammonton
Whether you're going to a special event or you're looking for some self-care, a mani-pedi both feels and looks amazing. This salon offers gel polish and acrylics in addition to regular paint nail polish, and upgradable luxe pedicures.
MAKEUP at The Beauty Bar & Lounge in Cherry Hill
It's no wonder that this business is the official makeup artist of the New Jersey American Beauty Pageant. Providing special event makeup services and classes, their artistry results in a glowing radiance. Whether you're going for a trending look or classic, each service is customized so every client looks their best.
HAIR COLORING at Wair Studio Salon in Marlton
Led by the North American Hairstylist of the Year-nominated, two-decade beauty-industry veteran Hope Doms, Wair's team is at the top of their game and equally obsessed with the latest innovations, greatest customer experience and all-natural products.
SKIN TREATMENTs at Beauty by Biba in Medford and Moorestown
With pre-treatment champagne, attentively individualized skincare, standard scalp massages, and extra-large, extra-fluffy beds offering lushly cocooned comfort, Beauty by Biba is the ultimate blissed-out escape for your self-care days.
WAXING SERVICES at Skintegrity in Haddonfield
Skintegrity's approach is informed by owner Kate Filiberto's education and experience in medical skincare and high-end spas, and its talented, passionate aestheticians believe in delivering excellent skincare with documented results and proven technique.
BARBERSHOP at The Main Event in Mullica Hill
Named for its location on Main Street, this custom barbershop caters to manes of all types and loves sending its loyal customers out the door with a fresh cut or shave they can be proud of, from grooms approaching the special day to those with big weekend plans. 856-223-9300, TMEBarberShop.com
EYEBROWS at Muskan Eyebrows in Cherry Hill
From threading to brow henna, Muskan Eyebrows provides exceptional services for all things eyebrows in a friendly and professional manner, leaving clients happy and satisfied until their next appointment. (609) 200-3135, Vagar.com/MuskanEyebrows
SALON at Martino Cartier in Washington Township
This full-service salon is home to some of South Jersey's top stylists and offers its devout clients everything from coloring, styling, cuts, makeup and waxing, all in a welcoming atmosphere that makes each visit a pleasurable one.
MASSAGE at Sugarstone Spa in Cherry Hill
At Sugarstone Spa, owner Lysa Danielle and her team bring the benefits of medical massage to oncology, lymphedema and post-surgical patients as well those just looking to unwind from everyday stressors. No matter the reason for your visit, you'll leave refreshed and rejuvenated.
SPINNING at Vicious Cycle in Medford
The spin class at any gym seems to be the liveliest area of the building, and that is especially true here, where friendly, supportive instructors push beginners and experts alike to make noticeable fitness gains in a fun atmosphere. (609) 953-7746, TheViciousCycle.com
HIIT TRAINING at Central HIIT in Marlton
HIIT—which stands for high intensity interval training—is perfect for the busy professional who is striving to find time for exercise between work and family responsibilities. Central HIIT incorporates strength, flexibility and agility exercises into efficient, 30-minute classes that help members reach all of their goals. (609) 975-9475, CentralHIIT.com
PILATES at Pilates Plus Restoration Studio in Marlton
Every workout here is diligently designed with the individual in mind, whether you're taking private, duo, trio or small-group classes in the high-energy studio, remotely or via video on your own time.
YOGA at Shine Power Yoga in Maple Shade and Medford
With over 50-plus weekly yoga classes to choose from, Shine Power Yoga offers the necessities for experienced yogi's or newbies. And with two locations (and a seasonal spot in Brigantine), you're never too far from being able to improve your strength, balance and flexibility.
LIFESTYLES
KIDS' COOKING CLASSES at Maria's Mom's Italian Bakery in Marlton
For several weeks during the summer, this bakery welcomes youngsters to come learn the finer points of baking. During two-day sessions, the junior bakers get hands-on experience creating their own culinary treats which they get to bring home for the family to savor.
MINI GOLF at Pleasant Valley Mini Golf in Voorhees
This highly enjoyable course is full of unique obstacles and well-manicured greens, so it's no wonder it's been one of South Jersey's destinations for mini golf for several decades. After the round, don't forget to grab some of the dynamite water ice served on the premises.
BOWLING ALLEY at The Big Event in Cherry Hill
With reasonable rates, 36 lanes and respectable food and drink offerings, this place is a perfect spot to roll a couple games with the kids, on date night or with a group of friends. And with a sports bar, arcade and billiards, there's plenty of reason to stick around after the 10th frame.
PAINTING STUDIO at Fahrenheit Ceramic Studio in Pitman
Find your inner artist at this cozy studio full of pottery just waiting to be given a splash of color and creativity. And while reservations are recommended, there's no hourly charge, meaning once you arrive you'll have all the time you need to create your masterpiece.
KIDS' PARTY VENUE at Fun City in Washington Township
Birthday boys and girls and their guests will love the trampoline courts, ninja course, foam pit, dodgeball arena, arcade games and more at the first New Jersey location of this chain that spans seven states. Their parents will appreciate the affordable price and the fact that they don't have to clean up afterwards.
ART CLASSES FOR ADULTS at The Turquoise Cup in Burlington
Whether you're booking a table for a personal event, painting your own pottery or taking a Paint N' Sip class, you'll have a blast letting your creativity flow in this friendly, funky art studio and cafe.
SPECIAL OCCASIONS VENUE at Lucien's Manor in Berlin
There's a reason why everyone's either attended at least one event or held their own wedding (including an awful lot of the South Jersey Magazine team) here: Inclusive packages, a scenic setting, tons of options and a friendly, dedicated staff.
KARAOKE at Songbird in Collingswood
Guests can enjoy their own karaoke party in their own private suite which includes snacks, decorations and the option to pre-order other food. A great spot to celebrate a friend's birthday, Songbird is also BYOB so you can really loosen up before your big performance.
PET RESORT at K9 Resorts Luxury Hotel in Cherry Hill
K9 Resorts Luxury Hotel is top rated and veterinarian recommended with premium accommodations. The staff is certified and devoted to providing pets with love and care. There will be no guilt involved when leaving a pet here, as it serves to make them feel like they are on a vacation of their own.
PERFORMING ARTS VENUE at Moorestown Theater Company
This venue not only provides theater training and audition opportunities for all ages, but it features critically acclaimed shows and cult favorites—often producing the family-friendly versions of popular shows. Shows featured a range from recent hits like Heathers: The Musical and The Prom, to Golden Age classics like The Music Man and Annie
RETAIL
WOMEN'S CLOTHING at Babette Boutique in Moorestown
With a large selection of brands, Babette Boutique's clothes range from simple to bold—and always stylish. There is something for any occasion, and the items are all curated to ensure the best in trends and in quality.
MEN'S CLOTHING at Lee Newman in Cherry Hill
Dapper gentleman regularly head over to this high-end clothier to get outfitted in the latest sartorial style from head to toe. It's a one-stop-shop for denim, dresswear or otherwise, and the array of shoes and accessories will keep your closet full and have you looking your best.
CHILDREN'S BOUTIQUE at A Little Whimsy in Haddonfield
Not only does this shop stock the cutest clothes for your little whippersnappers, but you'll also find a well-appointed selection of books, puzzles, games and toys that you won't come across in the big box stores.
BIKE SHOP at Mr. Bill's Bicycles in Palmyra
Few people have a passion for bikes like "Mr. Bill" Koltonuk and it's evident to anyone who has ever walked through his door. He shoots his customers straight, and with a personalized level of service and a vast selection from the industry's leading manufacturers, he can help you find the right wheels. (856) 829-0922, MrBillsBicycles.com
FAN APPAREL at Fan Treasures in Runnemede
Fans of the Eagles, Phillies, Sixers and Flyers —and even those who dare root for teams from outside of the area—will find all the latest jerseys, shirts, hats and other gear they need to rep their squad or favorite player with pride.
FINE JEWELRY at DeSimone Jewelers in Haddonfield
Whether on Jeweler's Row in Philadelphia, where this family business got its start in 1981, or in Downtown Haddonfield, where it set up shop about four years ago, DeSimone stands out by simplifying the buying experience, welcoming customers with open arms no matter how busy they get, and wowing them with stunning, one-of-a-kind pieces. (215) 625-0320, DeSimoneJewelers.com
NURSERY at Flagg's Garden Center in Moorestown
Now in its third generation of family ownership, this nursery has grown from humble beginnings as a roadside flower cart in the 1950s to a renowned garden center with one of the largest selections on the East Coast, specializing in unique species of plants that won't be find anywhere else in the area.
BRIDAL BOUTIQUE at Country Way Bridal in Haddonfield
Country Way's owners love what they do, and it shows in how often happy brides gush about finding their dream dress here. This one-stop bridal shop also has an impressive variety of bridesmaid, flower girl and accessory options, plus an in-house seamstress.
RECORD STORE at Inner Groove Records in Collingswood
Vinyl aficionados can find a wide variety of new and used records covering a range of genres, as well as turntables and accessories. It's all reasonably priced, too, making it all but impossible to leave here without scoring some new treasures.
BEAUTY SUPPLIES at Ethos Beauty Partners in Voorhees
Ethos strives to be the best, and it shows in how loyally local salons, makeup artists and other licensed pros have made this beauty-supply distributor their go-to destination for hair products, skincare, cosmetics and other tools of the trade for four generations.
FLOWER SHOP at Moorestown Flower Shoppe in Moorestown
From birthdays, anniversaries and just because, all your flower needs will be met at Moorestown Flower Shoppe providing fresh flowers and one of a kind arrangements.
COLLECTIBLES at Comics and Killers Collectibles in Hainesport
This store is a must-visit for fans of vintage, horror, superheroes, comics/books and so much more. Comics and Killers Collectibles are also frequent vendors at niche conventions for oddities and horror, so there are plenty of opportunities to find something special. (856) 393-3653
GIFT SHOP at Occasionette in Collingswood
From kitchenware to stationery, one-of-a-kind cards, jewelry, and baby toys—you're sure to find a memorable gift that perfectly encapsulates the personality of someone special (and you'll probably find something for yourself, too).
ACCESSORIES at Alicia DiMichele Boutique in Marlton
In addition to clothing and housewares, this boutique has an extensive supply of fashionable accessories including jewelry, hats/hair accessories, shoes, bags, keychains and sunglasses. With an assortment of charming colors and styles, you're sure to procure the perfect complement to any outfit.
STATIONERY at Paper Trail in Haddonfield
For endearing cards for any occasion, pens and notebooks, Paper Trail is sure to have a stylish design that fits your personality—or that of the intended recipient. Create a memorable impression with personalized invitations, or explore the creative projects made for kids like a doodle kit.
BEST OF THE BEST 2023 READERS' CHOICE
Antique Shop
Carnival of Collectables, Sicklerville, (856) 545-3187, CarnivalOfCollectables.com
Bridal Boutique
Bridal Garden, Marlton
Children's Boutique
Melange, Haddonfield
Cigar Shop
Belvedere Cigar Shop, Lawnside
Facial
Suede Salon and Spa, Marlton, (856) 985-0700
SuedeSalonSpa.com
Festival
May Fair, Collingswood, (856) 854-1720, Collingswood.com
Gym/Workout Center
Medford Fitness, Medford
Hair Coloring
Soffiato Via, Moorestown, (856) 581-9226, SoffiatoVia.com
Hair Styling
Rizzieri Salon, Moorestown and Wash. Twp.
Jewelry
Haddonfield Fine Jewelers, Haddonfield, (856) 427-4465, HaddonfieldJewelers.com
Manicure/Pedicure
Jacquie's Place Salon, Marlton
Massage
Living Tree Wellness, Haddonfield
Medical Spa
Vive Aesthetics and Wellness, Marlton
Men's Clothing
nineNORTH, Haddonfield
Pet Store
EarthWise Pet, Turnersville, 856-245-7229, EarthwisePet.com
Shopping Destination
The Shoppes at Medford Mill, Medford
Spa
Belliard's Salon & Spa, Cherry Hill
Women's Clothing
Tehen, Cherry Hill
Yoga
HOTFLO Studios, Voorhees , (856) 888-1766, HOTFLOStudios.com
Bakery
Sweetsboro, Swedesboro
Barbecue
Whole Hog Café in Cherry Hill and Medford, (609) 678-1808, WholeHogCafe.com
Brewery
King's Road Brewing, Haddonfield and Medford, (609) 451-5611, KingsRoadBrewing.com
Brunch
Wanda's BYOB, Haddonfield
Cakes
Nothing Bundt Cakes, Cherry Hill
Candy/Chocolates
The Candy Box, Pitman
Catering
Illiano Cucina Mediterrenea, Medford, (856) 985-2721, IllianoCucina.com
Coffee Shop
Harvest Coffee Roastery, Medford
Cooking Classes
Lil Sous Chefs Cooking School, Voorhees
Diner
Vincentown Diner, Southampton, (609) 267-3033, VincentownDiner.com
Gourmet Food Market
Rastelli's Market Fresh, Marlton
Hibachi
Akira, Moorestown
Ice Cream
Peewee's Ice Cream, Medford, (609) 257-3365, PeeweesIceCream.com
Pizza
Sal Vito Pizza, Voorhees
Specialty Sandwiches
Haddon Culinary, Collingswood, Haddonfield, (856) 559-0440, HaddonCulinary.com
Sushi
Yokohama, Maple Shade
Takeout Food
FoodieHall in Cherry Hill, (856) 565-4255, Foodiehall.com
Water Ice
Diane's Water Ice, Voorhees
Click here to subscribe to the free digital editions of South Jersey Magazine
To read the digital edition of South Jersey Magazine, click here.
Published and copyrighted in South Jersey Magazine, Volume 20, Issue 4 (July 2023)
For more info on South Jersey Magazine, click here.
To subscribe to South Jersey Magazine, click here.
To advertise in South Jersey Magazine, click here.