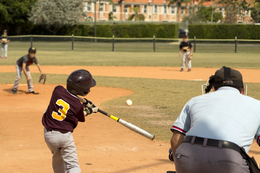 Out of Control
With poor fan behavior having a negative impact on youth sports, South Jersey volunteers are searching for solutions—and one even made international news with his bold idea.
It's a hazy morning in early June and Don Bozzuffi is dealing with a challenge unlike any he's ever faced in his 40-plus years as a youth sports volunteer. With smoke from a series of wildfires in Canada affecting the air quality all the way down in South Jersey, the president of Deptford Little League has made the call to postpone playoff games that night, which he knows will not sit well with some of the players' parents.
Then again, as Bozzuffi proved earlier this spring, he is not afraid to make a decision that he feels strongly about, even if it's going to ruffle a few feathers. With unruly fan behavior that has become commonplace at kids' games all over the United States and throughout the world affecting his league, Bozzuffi instituted a unique rule in which any spectator found to have violated the code of conduct by berating an umpire or using profanity would be banned from the athletic complex until stepping into the ump's shoes and officiating three games. Anyone who declined that assignment would not be allowed to attend games for a year.
Little did Bozzuffi know at the time that he would become international news and appear on the likes of CNN.
"Not at all," he says with a laugh. "I did it because of the problem we were having in-house of losing good umpires because of people's behavior. I sent out a mass email to all of the parents and I wrestled with putting it on Facebook. I even said to my wife, 'I don't know if I should put this up there; it's really just for our own people to know. I'll just put it on my [page] and keep it local.' The next thing I know, Channel 6 got a hold of it and that was it. It went crazy after that—it went global. I gave interviews in Australia and Canada, and the one in Australia covered the whole continent.
"I've now given over 40 interviews about it. It's opening up some eyes and we have a chance to make a difference, so I said, 'What the heck, I'll keep doing them.'"
The response has been overwhelming because bad fan behavior has become so widespread. It seems that not a week goes by without some video making the social media rounds, showing verbal arguments or even physical confrontations involving parents, coaches and umpires.
"It's absolutely getting out of hand," Bozzuffi says. "With that being said, it's getting out of hand with the kind of people who have the mentality to do this, which is only about 1-5%. The rest of the people are awesome, but like anything else, it just takes a couple of people to ruin it. With the kids, we're trying to teach camaraderie and sportsmanship, and these people are putting a monkey wrench in the gears. On top of that, we have dedicated volunteers who are resigning. So I said, 'That's enough of this. I'd rather get rid of these people than my volunteers.'"
With Bozzuffi's rule making worldwide news, those in similar situations in South Jersey also took notice. It was of particular interest to Carl Bittenbender, president of the Marlton Recreation Council (MRC), because unlike other area towns that have separate leadership teams for each league, his organization oversees 13 different sports in travel and recreation settings. He estimates that the MRC accepts 6,000 registrations per year, and even with some kids playing multiple sports, that still means quite a few parents or other relatives attending games.
"We all had the collective response that it was awesome," Bittenbender says of Bozzuffi's decision. "It's bad that it had to come to this, but it's good that they came up with a solution that works for their organization. … It's almost a little bit of a relief knowing that we're not the only ones dealing with this, but it's unfortunate that other organizations are too. It's not a Marlton problem, it's a sports problem, from the youth level to high schools and even up to the professional leagues where we see folks yelling at refs.
"Our organization was never intended to be that hyper-competitive environment. It's an inclusive environment where kids can come to develop in sports, develop life skills, have fun and be active."
Although he doesn't know exactly what to attribute the problem to, Bittenbender believes there has been added aggression coming out of the pandemic. He also sees parents acting up more at sports they know well and might have played at a competitive level, like soccer or basketball, compared to lacrosse or field hockey, which they did not grow up playing and might not understand all the rules. Either way, some of the reactions from fans are simply unacceptable.
"We currently have a handful of parents who are on one-year suspensions and banned from attending any sporting events," he says. "It's not common given the size of our program, but it's also not uncommon. The answer for me is that we shouldn't have anybody suspended right now, but unfortunately that's not the case. The last thing we want as an organization is to say, 'Your kids can no longer participate in youth sports.' We do have that option available to us, but we really try not to exercise that option and take out discipline on the kids when it's really their parents' bad behavior."
Most of the ire is directed at umpires or referees, who are receiving either little or no pay at all. Deptford Little League is completely volunteer—at most, they might receive a hot dog and soda from the concession stand after a game—and longtime ump Brian Kennedy says people are finally getting fed up with the treatment. He serves as the umpire in chief in Deptford and also in 21 other towns in Gloucester County that fall under District 15, meaning he oversees the officials, assists with training and helps solve any problems. He applauds Bozzuffi's rule, especially since he sometimes fears for umpires' safety.
"We lost seven umpires in the past two months," Kennedy says. "They've been doing it for years but they just don't feel like doing it anymore. One guy got threatened at his car … and the police ended up coming—over a baseball game. They didn't like his strike zone, so they wanted to beat him up. Thank God nobody has been killed over it, but people want to beat umpires up, which is insane."
Kennedy says he always tries to de-escalate touchy situations and curb behavior before it becomes violent, but he will call the police if necessary, like the time a fan—who happened to be on the board of that particular league—used profanity in front of the kids. Kennedy was also assaulted himself about 13 years ago when a spectator threw a bottle at him during a game in Glassboro.
Yet he continues to love the gig after 37 years of umpiring. "There have been a couple of times I thought about stopping, but I do it for the children—that's what keeps me going. I also do it because my son, Brian Jr., passed away in 2012 at 15, and he used to umpire 120 games a year for three years as a junior ump. It was one of my promises to him that I would keep our legacy going."
Dedication like that is important nowadays because umpire shortages have become a real problem, even at the travel level, where pay is significantly higher. The issue exists all over the area, says Bill Gore, who is the administrator for District 15 Little League and also an assistant coach for the Gloucester Catholic High School baseball team.
"There are games where you should have two umpires, and if you get one, you're lucky," Gore says. "That's not even counting Little League—you see it in high school. I don't even know how many high schools I've heard about that had to cancel JV games, and it's because people don't want to hear parents yell. It's really sad—as an administrator and even as a coach at the high school level, you just want these people to knock it off."
Poor behavior is not limited to parents, either. Steve Stark—his name has been changed to protect his anonymity—served as an assistant baseball coach for his son this spring in a division for 6-, 7- and 8-year-olds in Camden County, and he was disappointed in the overly competitive actions exhibited by other coaches.
"I think it started when we hit the playoffs," he says. "I noticed that on the whole, there was a bigger concern with winning and losing than teaching the kids how to play and develop an appreciation and love for the game."
It got so bad that not only were coaches complaining about ball and strike calls, but they were even questioning some of the kids for violation of the rules. Stark, who played baseball himself at a high level, couldn't believe his ears.
"I certainly don't think that during a time when there's a lot of chaos in everybody's life, this should be an area where there's more, with adults arguing and everything," he says. "This should be a time for the kids to look forward to being outside, running around, being with other kids their age, making friendships and maybe finding a sport to stick with—not for adults to argue. That's not what we're here to do, and that's never what we should be here to do."
Bittenbender, who has a son and a daughter who play multiple sports in the MRC, also did not get involved with these issues in mind. "There are a lot of other more important things we want to focus on, like making sure fields are maintained, making sure the organization is healthy and financially sound so all of these sports can continue, growing the sports and providing coaches with additional training. It stinks when we have to spend time on somebody's behavior issues when there are so many other things we can do to grow the sports and provide a welcoming atmosphere to all of the athletes."
On the bright side, Gore and Kennedy both say that instances of poor behavior are down since Bozzuffi implemented his rule, and some parents are even going out of their way to thank umpires. Deptford Little League has not yet had to force a spectator into umpiring for acting out, so perhaps the edict is working as intended.
"I don't know if this is the answer, but the answer is to do something," Bozzuffi says. "We all have to be proactive and initiate something because we have to put a stop to this. Maybe if enough towns across the country do something, we'll find out that a guy in Oklahoma came up with an idea and hasn't had a problem in two years. Great, let's all do that. The only way to find out what's going to work and what's not is to try it.
"For too long, nobody has done anything and we just went by the Little League International rule that if a fan is unruly, they're suspended for that game and the next game. That's a temporary fix, because they come back next week and sometimes they come back with a vengeance. That doesn't work, so we've got to really put our foot down. … The township backed me and made it so I could do this, so I went out and did it. Knock on wood, so far it's worked like a charm."
Click here to subscribe to the free digital editions of South Jersey Magazine
To read the digital edition of South Jersey Magazine, click here.
Published and copyrighted in South Jersey Magazine, Volume 20, Issue 4 (July 2023)
For more info on South Jersey Magazine, click here.
To subscribe to South Jersey Magazine, click here.
To advertise in South Jersey Magazine, click here.