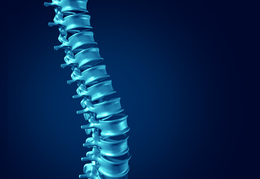 Getting Your Life Back
Treating the whole patient with intensely individualized care while embracing modern medicine's techniques and technology are some of the ways today's orthopedic practitioners are taking care of their South Jersey neighbors. 
No matter your age or athleticism, everybody has expectations and goals for their standard of mobility, activity and pain levels. But it's not until one's everyday quality of life becomes compromised that they start considering medical or surgical intervention.
That's when orthopedic professionals step in, whether they're surgeons, physicians, radiologists or other practitioners trained in identifying and correcting issues impacting the musculoskeletal system, which includes the bones, cartilage, ligaments, tendons and connective tissues that work together in supporting the body's weight, maintaining one's posture and making movement possible.
Fortunately, South Jersey boasts orthopedic experts of all kinds who aren't just providing world-class care right in our own backyard: They're also delivering compassionate, individualized treatments that assess the whole patient, inside and out, to help them return to the lives they love.
"Every patient is different," affirms Eddie S. Wu, DO, FAOAO, MPT, a board-certified orthopedic surgeon on staff at Inspira Health. "Our goal as orthopedic physicians/surgeons is to decrease pain and improve quality of life. Whether that's a high-performing athlete or a grandparent who wants to enjoy their grandkids, everyone wants to live their life to the fullest, without pain."
While interior images aren't always necessary to diagnose an issue, Dr. Andrew Gargiulo, a musculoskeletal radiologist at Larchmont Imaging, notes that the industry standard tends to be MRI images, since X-rays and CT scans aren't as informationally comprehensive and ultrasounds can be more time-intensive.
"A lot of the time, an orthopedic surgeon will order the MRI or something of that nature just to confirm what they think: If they do a good physical diagnosis or exam, they can sort of figure out what the issue is without necessarily needing the imaging," he explains. "That being said, a lot of times, things are not clear so that's what we provide. … An MRI, it gives you the whole picture: If a patient comes in with knee pain, it's going to show you literally everything."
He adds that since individuals in his role aren't always able to get face time with a patient, knowing their medical and personal history makes getting to the root of the problem much easier.
"If I'm reading an MRI and I see somebody who has, for example, a torn ACL, but it's a 65-year-old guy and the ligament doesn't look like it's been torn recently, that might not even be the reason why he's got that pain," Dr. Gargiulo continues. "Maybe he had an acute injury of the cartridge and that's why his knee's swollen. … that's why history and looking at the whole picture, rather than pigeonholing patients, is always important in finding the real reason why the patient is here. I think that's the biggest thing with radiology, is that you have to be very methodical in the sense of going through your checklist of the things you need to look at."
That painstakingly personalized treatment plan includes establishing not only goals but also expectations, as well as getting to know what kind of lifestyle they're eager to reclaim.
"It is critical to get to know each patient as a distinct person," says Scott D. Schoifet, MD, Virtua Health's medical director of musculoskeletal services. "I want to know about their symptoms, of course, but I also want to know about their lifestyle, interests and future plans. This allows me to make a more thorough assessment and a more individualized care plan. While there are common concerns and considerations, no two people are the same."
The fact that every patient is different is why Robert P. Falconiero DO, FAOAO, a board-certified orthopedic surgeon at Premier Orthopedic Associates, keenly understands the importance of "individualizing the treatment based on a lot of factors."
"Some people come in and they want to avoid surgery altogether no matter what the cost, while others will come in and say, 'Whatever it takes, if I need surgery, let's do it tomorrow,'" he says. "We have to make a balance between those two so that we can get the best outcome that meets their main goal."
No matter the treatment, though, Dr. Schoifet notes that "patient care is about the mind as well as the body," while Dr. Falconiero adds that both a patient's mental state, and especially their dedication to rehabilitation afterward, are what truly determine a successful outcome.
"You can do the fanciest surgery, you can use technology and all the newest techniques, but if they don't do their rehab, they're probably not going to get the best result," says Dr. Falconiero. "It's just such a big part of what we do. Trying to keep them engaged is very important, especially when you're dealing with patients that have an injury and become depressed."
And while orthopedic experts are always embracing the latest and greatest tools, technology and techniques to help every patient reclaim their activities of daily life, they're also casting an optimistic eye on the future. From always-improved-upon approaches to improved recovery times, the orthopedic patients of today and tomorrow have the benefit of innovation in their corner.
"The implants (or prostheses) we use for knee- and hip-replacement surgery are much improved from past generations and maintain their function far longer," says Dr. Schoifet. "We have also improved our surgical techniques. … There was a time when knee replacement surgery led to five to seven nights in a hospital followed by inpatient rehabilitation. These days, more than half of my patients return home the same day as their surgery."
"As a total joint surgeon, what I am most excited about it is how quickly we are able to have patients recover and return home from the hospital," agrees Dr. Wu. "In fact, many of our surgeries are now performed in ambulatory surgical centers on an outpatient basis so that patients are able to return home and recover in the comfort of their own home. The use of technology in orthopedics is also always exciting, including the use of robotics in surgery, and wearable devices to help monitor your rehabilitation remotely."
Here to Help
Regardless of the musculoskeletal treatment you need, a variety of experts serving South Jersey have the training, expertise and teams to get you on the road to recovery:
Inspira Health | (800) INSPIRA | InspiraHealthNetwork.org
Jefferson Outpatient Imaging | (215) 503-4900 | JeffersonHealth.org/JOI
Larchmont Imaging | (609) 261-4500 | LarchmontImaging.com
Premier Orthopedic Associates | (856) 690 1616 | POASNJ.com
SJRA | (888) 909-7572 | SJRA.com
Virtua Health | (888) VIRTUA-3 | Virtua.org