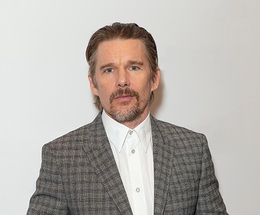 Last Man Standing
Whether starring in a film, penning a novel or directing a documentary about one of Hollywood's most iconic couples, Ethan Hawke continues to shine.
Ethan Hawke is a sucker for a good love story.
When he first heard about the idea of taking on the story of Paul Newman and Joanne Woodward, he initially hesitated. The couple's daughter, Claire Olivia Newman, wanted Hawke to make a documentary that would transcend their iconic status and take a deep look at their respective careers—and, of course, their made-for-Hollywood romance.
"The list of actors who make documentaries is not that long, so I think I came to mind," Hawke says modestly. He discovered that Newman had recorded countless hours of interviews with directors, writers, fellow actors, friends and even his first wife in an attempt to write a memoir. Legend has it that Newman later burned the tapes, and what remained were "thousands of pages" of written transcripts of the interviews.
Hawke then took the surviving material, added fresh content and clips from many of the couple's classic movies, and asked his friends—George Clooney, Billy Crudup, Oscar Isaac, Laura Linney, Sam Rockwell and Mark Ruffalo, among others—to act out the transcripts on camera. The result: The Last Movie Stars, now available on HBO Max.
The film follows the duo from when they were two promising young actors in a class with Marlon Brando, Marilyn Monroe and James Dean, all the way through the creation of the Newman's Own Foundation, which has donated nearly $600 million "to nourish and transform the lives of children who face adversity" through the sale of a raft of consumer packaged goods.
Besides his work as a director, the Texas-born Hawke is a bestselling novelist and a multi-award-winning actor. He's probably best known for roles in films such as Dead Poets Society, Reality Bites, Training Day, The Purge, Richard Linklater's Before trilogy and, most recently, The Black Phone. His surname lives on through one of his daughters, Maya Hawke, currently starring in the Netflix smash, Stranger Things.
We spoke with Hawke about the importance of heroes, how fatherhood has changed him and why everyone has a soft spot for a timeless love story.
Q&A
You took on this massive project [The Last Movie Stars], but you mentioned that there were times when you second-guessed yourself.
True. This is an extremely big story, so I thought I would make it really small by telling a delicate little love story in 90 minutes. It was demanding for me to cover the entire 50-year marriage, but what makes their lives so remarkable is seeing it in its totality.
How many Paul Newman and Joanne Woodward movies did you watch in order to make this documentary?
I had to watch them all, which was a lot of work and a great deal of fun. It was like learning the last 50 years of cinematic history. When you think about Paul's career, he worked with many masters of Old Hollywood, like Robert Weiss and [Alfred] Hitchcock. By the end of his life, he was working with Pixar. In between, he made movies with some of the best minds in our industry—John Huston, Sidney Lumet, Martin Scorsese, Sydney Pollack, Marty Ritt and Robert Altman. When you tell Paul and Joanne's stories, you're actually talking about how cinema has evolved over the years.
Do you think that you carried out Newman's wish to dispel the myth that they were this glamorous perfect couple?
It felt like a great responsibility and there were times when it was kind of terrifying to be responsible for their story. I knew that I had an uphill road to climb. I have so much respect for them. I wanted to make something that they would like and admire.
How unusual do you think their 50-year bond was?
It's just so rare. A lot of us dream of a lifelong love affair. People talk about it like it's rare in acting, but it's rare in any profession or any field. I think that they have remarkable careers, but what is truly revelatory about them is that they not only accomplished so much, but that they did it together.
How did you get George Clooney and the other actors to help you tell this love story?
I can't think of a person I reached out to who didn't want to do it. It's not hard to talk people into talking about Paul Newman and Joanne Woodward. We're all the generation that grew up watching them and loving them. I think revisiting that for my generation was extremely enjoyable.
There were many times I was disappointed I didn't have [the audio tapes]. But then I became grateful I didn't have them because it was a wonderful opportunity as actors to make this documentary about actors. It seemed to start to make sense to me that it was a real addition to the movie to have George Clooney playing Paul and Laura Linney playing Joanne and all these wonderful people, because it makes the movie bigger. It's not just the story of Paul and Joanne; it's the story of the last 50 years of film. So, by using contemporary actors it became more relevant to us today. What I thought was a negative actually turned into a positive.
One of the lines that really struck me was Paul saying that "the promise of anything and everything being possible" was such a gift to him from Joanne. How did that strike you?
I remember when I read that because it was so beautiful. I remember when Clooney read it, he felt the same way about it. I decided to use that as the end of episode one because I found it so moving that he would feel that way about her so passionately and with all-encompassing love. It moves me so much.
Why do you want your documentary to reach a wide audience?
I believe it's hard to find heroes. I can only speak for myself, what I get out of it is it's like a compass showing you that it can be done. These are two people that were born with a lot and did a lot with it. They gave a lot back, they took care of each other, they took care of their friends, and they worked hard for their community and for others and it's really inspiring.
You didn't gloss over any parts of Paul Newman's life for the documentary. Was this a deliberate choice?
Absolutely. The people who I admire the most are the ones who overcome their problems and work with them to come out the other side. As artists, we have to show who we are even when it comes to the unpleasant parts.
How do their children feel about the movie?
I don't know. One of the things that's hard about the documentary is they're smart enough to know that if you just make a puff piece it won't be interesting. They don't want anybody to say a negative word about their mom or dad at all. I have to keep telling them that if you don't have shadows, you don't have light. We need to see them in their totality for it to be interesting.
I know that you are extremely close with your own children: Maya and Levon (with Uma Thurman, his ex-wife), and the younger ones Clementine and Indiana (with current wife Ryan Shawhughes). Tell me about how you spend time with them.
We have a great time together playing music or doing nothing much at all. All of us had a few jam sessions during COVID isolation that we all really enjoyed. I am wild about all of them and an extremely proud dad. It's a lot of fun when we get goofy and hang out with one another. I am constantly learning a lot from all of my kids.
How has fatherhood changed you?
When I was younger, I feel like I was always hyper-focused on my career and there really wasn't anything else that I cared more about than acting, performing, and later on writing and directing. If I got a bad review, it was totally wrapped around my self-worth. When I became a dad, all of that changed for the better. There is so much more to be proud of and to care about each and every day. And I know what a gift that is.
You and Maya starred in the Showtime historical drama, The Good Lord Bird. At the time Maya said, "My dad is my greatest teacher and my greatest adviser, and it's an honor to get to work alongside him." What was it like working with her?
It was a little mind-blowing to me. I have always been a storyteller and to have my 24-year-old actress daughter wanting to tell these stories with me is heavenly. She is a gifted young woman. She is a musician and was in Season Three [and Season Four] of Stranger Things, as well as [Quentin] Tarantino's Once Upon a Time in Hollywood.
From a young age, I always felt like Maya was an artist, and to watch her come into her own like this is so exciting. I am proud of who she is professionally, but also personally. She is such an honorable human being. I want to always keep making her as proud as she makes me.
You have written several bestselling novels that have a large fan base. Do you plan to continue your writing career?
I hope so. There is nothing in the works right now, but it is definitely something that I enjoyed, and I believe it used a different creative muscle. Someday, I hope to get back to it.
What's coming up for you?
My more recent movies were The Northman and The Black Phone. Next, I'm going to do Strange Way of Life, a movie with Pedro Almodóvar. I've always loved his films and I am looking forward to heading to Spain to work with this true master.
Click here to subscribe to the free digital editions of South Jersey Magazine
To read the digital edition of South Jersey Magazine, click here.
Published and copyrighted in South Jersey Magazine, Volume 20, Issue 2 (May 2023)
For more info on South Jersey Magazine, click here.
To subscribe to South Jersey Magazine, click here.
To advertise in South Jersey Magazine, click here.