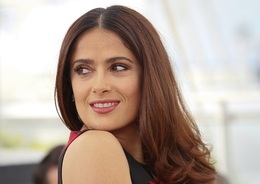 All the Right Moves
In more than two decades in Hollywood, Salma Hayek has forged a successful career on her own terms, and her latest role in Magic Mike's Last Dance proves that she's now slowing down anytime soon.
Salma Hayek has always been a fighter. In her early 20s, she gave up a career as a top TV soap opera actress in her native Mexico in order to move to L.A. and pursue her dream of becoming a Hollywood star. Despite her limited English, a thick accent, and a lack of roles for Latinas, Hayek persevered against all odds and eventually made her mark with roles in From Dusk Till Dawn, 54 and Wild Wild West.
Dissatisfied, however, with the kinds of projects she was being offered, Hayek took it upon herself to produce Frida, the film that earned her a best actress Oscar nomination in 2003. Later she would serve as executive producer of the highly successful Ugly Betty TV series while working on TV's 30 Rock and playing an evil Mexican cartel boss in Oliver Stone's Savages.
Hayek has enjoyed over two decades in Hollywood. The 56-year-old won't actually name names but she's more than aware of the dark spots in her portfolio, which she considers an educational experience. "There have been some not so good [moments] in my career, looking back. It happens. And I have no regrets. Because sometimes I think you actually learn from those periods in your life. You have to make mistakes to build success."
Open and friendly, the star chats animatedly about film work, politics and her marriage to French fashion magnate Francois-Henri Pinault, plus her latest film, Magic Mike's Last Dance, alongside Channing Tatum. She, her husband and 15-year-old daughter Valentina currently live in London.
Q&A
Magic Mike's Last Dance brings you back to a movie role that demands a physical aspect. Were you glad of that?
Yes, Channing almost dropped me in the scenes where there is a lot of acrobatic dance moves. There's a supposition that the older you get the less you want to do physically, but for me it's the opposite—rather than want to be fit and physical, for me it's a need. It's sanity!
I mean, with the fact that there's somebody who has got ahold of you, and they are spinning you around, they're moving you from side to side, up and down and at first it was difficult to know where my hands and legs were supposed to be, but like most things you get into it after a while and it becomes second nature again, which I love.
It must be reassuring to know you can still do what you always could in the past.
Yes, certainly, even though on a few occasions I was nearly dropped in the making of the film. And obviously I had to get myself in good shape for filming, but I knew what to expect. It was difficult at times, but also very fun.
The fact that I was dancing for them in the last movie and now they are dancing for me, is a good thing, I think. It was a really good movie to make, and I hope that people like it as much as I enjoyed doing it. Of course, when you're working with 12 male strippers, it's a fun surrounding!
And working with Steven Soderbergh must have been nice.
Oh, amazing. He's a man who likes to make sure that everything on set is just as it should be. He's directing and speaking to the actors, making sure everyone is in top form, but then he is constantly checking the lighting, the marks, the auditions, the sound. He's someone who really has everything covered and gets the best out of each person.
[Also], the chemistry with Channing was very special, one of the best I've had.
Do you ever feel like just taking it easy and not pushing yourself as hard as you appear to be doing?
[Laughs] There are many times, especially after I've finished working on a film, that I tell myself I'm going to take a year off and spend more time on my ranch, but that's not my nature. I know I would get bored very fast if I didn't have a film project to look forward to.
You've long been considered one of the most beautiful women in Hollywood. Do you still feel the pressure of that kind of image?
It is hard for women not to pay attention to our appearance because society is constantly judging us by our beauty. It is even more true in the film business where there is so much emphasis on looking as young and beautiful as possible. It's an impossible standard for women to live up to. Men should be able to look at us and see us as individuals and love us for who we are and not just for our appearance, as we should them as well, of course.
That's why the Magic Mike movies are so clever. They are a celebration of our bodies and sex culture, without an exploitation of it. It really is a brilliant set of movies.
You've worked with so many incredible actors and have said that Channing is someone who takes his co-stars to an incredible level. Who else ranks in that category?
Well, I would say my friendship with Antonio [Banderas] is right up there. Naturally we are from a very similar cultural background so working with him always ranks as one of the best experiences of them all—you've got to think that both of us have been in this industry for so long and to still be as close as we've ever been, is simply incredible.
Antonio is what you would definitely call a workaholic—he literally never seems to have a day off and he has also been something of a good luck charm for my own career, as well. Since he helped give me my start in the film industry in the movie Desperado—which I don't want to give away the year that was made, embarrassingly—I've been able to go with him with anything and he's helped me.
I was able to show what I could do, and it's gone from there, really. But we will be working together again in the future, and I don't see this friendship ever falling apart, which I am so very happy about.
It's nice to forge friendships and trus­ted relationships when we are living in a world that is so unstable and uncertain right now, wouldn't you say?
Well, Lebanon has experienced terrible turmoil over the years and naturally I am very concerned with what is going on in the Middle East anyway, let alone the situation with people's health.
The situation with so many refugees entering Europe means the depth of the problem is really coming to light, but it's a situation that has been ongoing for several years and unfortunately it's only getting worse. That's why I have been trying to urge leaders in the West to give more help and allow these refugees to have a safe place to live. I'm of course trying to use my name as a celebrity to help in whatever way I can, but it's also important for everyone to help.
You've always had a very strong social and moral conscience, right?
My father made sure that my brother and I received a good education and that we grew up with strong values. I have always been very concerned about social and political issues because I believe it's my duty as a citizen of the world to be as aware as I can be and do my part to help where I can.
That is why I wanted to make The Prophet [the animated film she produced based on the work of Lebanese philosopher and poet Kahlil Gibran] and try to make people aware of his teachings and philosophy because there is a beauty to that kind of message that can bring people together.
Do you want your daughter Valentina to be a very political aware and socially conscious young woman?
Of course! She and I are very close, and she is very curious about her mother's work and wants to be part of everything. Valentina has also inherited my sense of independence! She doesn't like it if I tell her what to do too much and she gets very angry when I tell her that she has to go to sleep when she sees me with her father or with other people in the house and she wonders why she can't stay up and have fun with us! A typical teenager!
How has raising Valentina changed your world?
It has been the most beautiful and satisfying time of my life. I'd always wanted to be a mother and at one point I was very worried that maybe I wouldn't meet the right man and that I wouldn't have children.
It was a huge concern for me and then suddenly I had Valentina and we've been able to have a wonderful life as a family. I am so caught up in Valentina's life and so anxious to nurture her and help her grow up as a happy and confident woman that I have to pull back sometimes and not always want to be with her. But I'm so proud of her. We have such a good time together wherever we go.
Is it important to you to be outspoken about women being given a greater role in film and in society as a whole?
Society is changing but it's not changing fast enough. I have always had a strong sense of wanting to make my way in the world. I had many strong female role models in my life and I have always felt that women do not get the credit we deserve for taking charge in most cases of our families and raising children even though we are now working, sometimes as single mothers, and still being responsible for looking after the house, cooking, and making sure our children are loved and cared for and get to school on time in the morning.
Women play an enormous role in society and we should be telling more stories that reflect women's lives and perspectives in our films. I also want my daughter to be proud of what I am able to accomplish and set a good example for her.
You appear to have a very successful and beautiful marriage. Any secrets to share?
What I find most reassuring is that my husband respects and enjoys the fact that I am independent and have my own projects and interests. We rarely talk about business and our work, and that means that our time together is all about family and enjoying everything that comes with being together.
You have said that meeting him was like meeting your prince. But was it at all a challenge to become the partner of such a wealthy and powerful man?
We have been able to enjoy a good marriage where we love each other and enjoy our life together. That has nothing to do with money or the privileges that come with that. I'm very lucky to have met him and to have a beautiful daughter whom I love so deeply. I still work, I still enjoy making films, and even though I have a privileged life, that's not what makes you happy. Our happiness comes from the love we have for each other and enjoying our time together as a family. That's something money can't buy.
You have said the site of your wedding, Venice, is your favorite location in the world.
I travel to Italy every year with my husband, and I always love going to the Venice Film Festival. I once shot a movie with Mike Figgis in Venice. Italy is a very beautiful country, and the people are so passionate. I'm very Latin in my thinking and that's why I love Italians and their culture so much.
And you have a lot of house pets?
Of course! [Laughs]. At one point we had nine dogs. I have a home for abandoned dogs. And then horses, an alpaca, parrots, rabbits and chickens. My ranch in Los Angeles is very special to me. To appreciate life is to give life, that is what I say.
You've always had a strong sense of ambition, haven't you, when it comes to forging a career for yourself against the odds?
I've always been interested in making great films. I came to Hollywood with a dream of being part of great films. When I couldn't find the kind of work I wanted to do, I started producing my own movies. I was raised to be very independent and not wait for things to happen. I didn't want to keep complaining about not finding good work, so I decided to do things like Frida and Ugly Betty.
You are very active on social media. How fun is it for you?
You know, I go through phases where I am completely into it and then I go to visit somewhere, and I completely forget about it. But I do try to have fun with it even though I am not that good at it. I still can't remember each time how to repost things.
I 'boomerang' [Instagram trick] pictures without my head or without my hair showing and I don't know how I manage to do that! So, I'm not the best at it, but I do like having the communication and the connection with the general public, the people. I do like this side of it.
I found out that the biggest fanbase for my stories are between the ages of 18 and 35 and it makes me feel young. I can talk about it with my kids and stuff, and they do make fun of me because they don't think that it's cool, but I think that it's as cool as I am going to get for the moment, and it keeps me feeling young!
Click here to subscribe to the free digital editions of South Jersey Magazine
To read the digital edition of South Jersey Magazine, click here.
Published and copyrighted in South Jersey Magazine, Volume 20, Issue 2 (May 2023)
For more info on South Jersey Magazine, click here.
To subscribe to South Jersey Magazine, click here.
To advertise in South Jersey Magazine, click here.