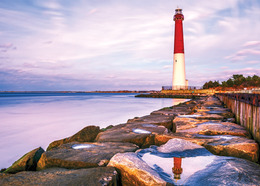 Best of the Shore 2023
From Cape May to LBI, South Jersey shores provide families with such an array of food for all to enjoy!
The temperatures are warming up, the days are getting longer and school's almost out, which can only mean one thing: Shore season is back! And while everyone has their own traditions, preferences and must - visits, we at South Jersey Magazine have our own tradition of bringing you the best of what our local slice of coastal heaven has to offer, from the top of LBI to the tip of Cape May. Read on to check out our - and many of your- favorite oceanside places to eat, drink, stay and play.
AVALON
ICE CREAM at Sundae Best
Nothing signifies summer in Avalon more than stopping by this mainstay for a cone piled high with homemade delights like cinnamon crumb, key lime or toasted almond and honey.
BREAKFAST at Fishin' Pier Grille
Early risers don't mind lining up at this popular spot for the chance to chow down on three-egg omelets stuffed with sausage and broccoli rabe, light and fluffy pancakes, French toast and all your other breakfast must-haves.
TAKEOUT SEAFOOD at Son of a Sailor
After opening its doors last year, this place has gained quite the following. Whether you're grabbing some salmon and swordfish to fire up on the grill at home or are looking for a mix of fried, broiled and grilled dinners, this spot has what floats your boat.
SANDWICHES at Concord Café
Here you'll find familiar favorites like a chicken sandwich with prosciutto, roasted peppers and provolone and thinly sliced roast pork as well as other standouts like the soft shell crab BLT and the beer-battered haddock with mango salsa.
APPETIZERS at The Whitebrier
Start you meal off in style or order a bunch to pick at with your crew; either way you'll be more than satisfied munching stellar options that range from finger foods like cheesesteak egg rolls to more refined choices like the blackened scallops over a black bean and corn salad.
LUNCH at Shorebreak Pizza Grille
When midday cravings start to hit, head over to Shorebreak where you'll find an all-encompassing menu full of hearty salads, fish tacos, cheesesteaks, burgers, hoagies, quesadillas, brick-oven pizzas and much more.
For Dinner
Café Loren
After more than four decades, Avalon's first fine dining restaurant remains one of the best on the island, if not all of South Jersey. The vibrant dishes showcasing the best in coastal cuisine always impress and the service is as polished as the plates coming out of the kitchen.
Il Posto
A restaurant tha demands repeat visits, the menu at Il Posto reads like a modern tribute to Old World classics. We're partial to the namesake papparadelle with short rib ragu and mascarpone cream as well as the veal piccata, but really you can't go wrong with a lineup like this.
The Diving Horse
With a focus on fresh seafood and locally sourced meats, the talented culinary team here showcase some serious skill as they liven up the menu with innovative and elevated creations that rotate often, meaning there's always something to please your palate.
By the Bar
With happy hour every day from 4 to 6 p.m., live music every night and Quizzo on Fridays, the Rock n' Chair has lots of ways to distract you from the sunburn you obtained on the beach. For signature cocktails and amazing views, The Windrift is the place to be. And for too many summers to count, The Princeton has been the preferred hangout for young and old alike. Why would that change now?
Stay
The Icona Windrift
This beachfront property boasts well-kept rooms, pre-paid beach tags, a sizable outdoor pool, an on-site fitness center, nightly entertainment and a sundeck with luxury cabana rentals among its many amenities.
MARGATE/VENTNOR
SEAFOOD at Oceancrat Seafood Boil
Chef Steven Lin loves combining unique flavors from the sea in innovative dishes, and his seafood boils allow guests to enjoy favorites like shrimp, crab legs and mussels along with corn on the cob and Cajun fries in one enticing bucket.
SWEET TREATS at Ventnor No. 7311
Whether you're munching on a pastry with your morning coffee before hitting the beach or ordering a specialty cake, pie or a dozen cookies for your weekend guests, this spot founded by close friends Cookie Till and Kim Richmond has you covered.
FISH SANDWICHES at Water Dog Smoke House
Customers who care about high quality love Water Dog's commitment to never adding preservatives, nitrates or artificial colors to its fish, but what really keeps them coming back are the tasty flavors in offerings such as the lobster roll or smoked salmon.
BRUNCH at Velo Café
If your vacation includes a night of cocktails, a great way to bounce back the next day is by splurging on brunch, and few spots along the Jersey coast can rival Velo Café. Its menu items range from traditional—homemade waffles or omelets—to unique, like pancake breakfast tacos.
SUSHI at Yama
Equally welcoming to the seasoned sushi lovers and the first-timers looking to break out of their comfort zone, Yama offers all of the traditional favorites and a few out-of-the-box selections in a relaxing atmosphere.
For Dinner
Saltwater
Most restaurant owners would be thrilled to be known for one signature dish. David and Lori Salvo are fortunate enough to wow the summer crowds with their handmade gnocchi, available in both appetizers and entrees, along with a variety of square pizza pies that have quickly become considered among the best at the Shore.
Red Room Café
Romantic date nights are a staple for treks down the Shore, and this Ventnor mainstay is the ideal location. Its cozy setting pairs with a menu full of Italian favorites, steaks, veal chops and, of course, seafood.
Tomatoes
A fixture along the bay in Margate, regulars flock to Tomatoes from near and far for its vibrant bar scene and eclectic menu featuring everything from pad thai to crab pasta and a renowned list of sushi rolls.
Pulia
Just like its sister eateries in New York, London and the Netherlands, the Ventnor location is known for serving authentic Italian food inspired by the Puglia region of southeastern Italy, otherwise known as the heel of the boot.
By the Bar
It takes a lot to get us off the beach on a sunny day, but Ventura's Greenhouse is just too tempting to pass up. Say hello to Lucy the Elephant on your way to grab a specialty cocktail on the rooftop deck. Steve & Cookie's By the Bay, one of the finest restaurants in Margate, is also famous for its happy hour, where menu favorites can be enjoyed in smaller plates at discounted prices alongside its extensive beer and wine list. When the sun goes down, the vibe at Maynard's Café is always a lively one, whether on the patio or inside.
Stay
Carisbrooke Inn
With a style heavily influenced by Europe as well as the Victorian age, the Carisbrooke Inn is an elegant option for folks who many want to enjoy the Atlantic City nightlife without staying at a casino.
LONG BEACH ISLAND
Sandwiches at Spice It Up
A sandwich is a sandwich is a sandwich, right? Not at Spice It Up. This Beach Haven deli offers a sprawling lineup of imaginative hoagies, specialty sandwiches and sourdough "daninis," SIU's take on the panini. Example: "The Porto," a brioche roll loaded with port wine London broil, caramelized onions, and crumbles of blue cheese.
Breakfast at LBI Table
The breakfast menu includes all the staples and standbys—omelets, waffles, pancakes, avocado toast, and more—as well as some truly inspired daily specials. If you've ever had a craving for the likes of Boston cream pie pancakes or Cinnamon Toast Crunch waffle sliders, make a beeline for LBI Table.
Wraps at The Local Market & Kitchen
This superb Ship Bottom spot has it all: inventive coffee-based drinks, an assortment of fine wines and a nifty food menu. The sushiritto wrap (sushi meets burrito) and buffalo chicken wrap will satisfy any carnivore, while those who prefer their wraps plant-based will find the black-bean-burger-and-quinoa power wrap a delight.
Ice Cream at Harvey Cedars Ice Cream Parlour
There's an exhaustive number of reasons to smile at this institution; ice cream flavors range from classic (chocolate, vanilla, butter pecan) to exotic (cold brew caramel latte, sweet and salty caramel pretzel, peanut butter pie). It also offers take-home pints and quarts, so make sure you have room in the freezer.
Baked Goods at the Big Apple Bakery
Located in Manahawkin, right across the bay, this European-style bakery has become a destination for challah bread, chocolate babkas and Irish soda bread, among other niche specialties. It's probably best known for its homemade pies: we suggest the half banana cream, half chocolate cream.
Pizza at Bird and Betty's
While we're huge fans of enjoying a slice or two on the boards, this Beach Haven hotspot takes an upmarket approach to its pizza game. You can't miss with the classic margherita and pepperoni versions, though the menu has enough iterations—clam, fig, goat cheese and roasted corn—to tempt more adventurous palates.
Shared Plates at Parker's Garage
Parker's Garage bills itself as a "throwback" to Beach Haven's golden age, celebrating the simplicity and beauty of life along Barnegat Bay. Naturally, it's known for its rich seafood menu, much of which is perfect for sharing: crab cakes, clam pots, curry mussels, kettle shrimp, oysters Rockefeller, and more.
Stay
Hotel LBI
This grand 102-room hotel provides an elegant homebase for island adventures, made better by fine dining, an indoor pool and hot tub, and a spacious rooftop for enjoying cocktails at sunset.
For Dinner
YellowFin
A perennial favorite in Surf City, aptly named YellowFin specializes in fruits of the sea. Whether you prefer baked clams and sushi or seared tuna and scallops, YellowFin delivers a consistent experience that's big on style, creativity and flavor.
Terrace Tavern
At Terrace Tavern in Beach Haven, the seafood-heavy menu abounds with can't-miss dishes, the signature drinks are cold, and the collegial atmosphere makes guests want to linger. We have our eyes on the mustard-slathered sandwich known as the "Grilled Jersey Cuban," made with pulled pork, pork roll, pickles and gruyere.
The Gables
Known for its first-class service and menu of "glorious" seasonal food made from locally sourced ingredients, The Gables provides an experience best described as "elevated." Enjoy the likes of seared scallops with mushroom risotto, bone-in filet mignon and roasted Atlantic halibut, surrounded by natural light and lush greenery.
Stefano's
Stefano's serves up some of the finest Italian cuisine on the island, along with staples of the veal, poultry and seafood sort. It's also highly regarded for its award-winning clam chowders (Manhattan and New England), which is saying something considering LBI's reputation as a chowder hub.
By the Bar
No matter which poison you prefer, during happy hour or anytime, The Arlington does it right with house made cocktails including the barrel-aged Manhattans on tap. Walk one block from the beach to get to Daddy O, home to one of the nicest rooftop bars in all of LBI. If you prefer your hard seltzers or margaritas with a side of entertainment, Nardi's Tavern is the place to be. And whether indoors or out, Tuckers Tavern offers plenty of seats and a ridiculously extensive list of libations to calm a stormy sea.
OCEAN CITY
Doughnuts at Nauti Donuts
Whether you like your doughnuts simple, like dusted with cinnamon sugar, or loaded with fancy-pants toppings like M&M's, Fruity Pebbles and pork roll (yes, you read that right), Nauti has a doughnut to suit every taste.
Italian Favorites at Capo Strada
As its name implies, new-to-the-scene Capo Strada serves up some truly inspired "street food" of Italian provenance. Think appetizers like arancini and stuffed long hots, classic pasta dishes and a proper muffuletta sandwich. Did we mention the lineup of rosa and bianca pizzas?
Baked Goods at Dot's Pastry Shop
An OC staple since the 1940s, family-owned Dot's rises and shines daily to turn out a parade of outstanding baked goods: bagels, breads, cakes, cookies, croissants, Danish pastries, muffins and more. We're partial to their sticky buns, lovingly loaded with raisins and walnuts.
Ice Cream at Churn House Ice Cream & Cereal Bar
Do you love ice cream? Are you a big fan of breakfast cereal? Churn House enables you to enjoy both at the same time. Choose an ice cream flavor, marry it with Apple Jacks, Froot Loops or your favorite cereal brand, and further customize your creation by adding bananas, coconut, or other toppings.
Breakfast at Yianni's Café
From pancakes and waffles, to omelets and Benedicts, to fruit smoothies and other healthful options, Yianni's does it all with style and a smile. It also offers a number of creative breakfast dishes found only at Yianni's … well, only at Yianni's OC location and its sister in Brigantine.
Bagel Sandwiches at Dead End Bakehouse
Dead End Bakehouse specializes in all kinds of small-batch baked goods, but its bagel sandwiches steal the show. Whether you prefer savory or sweet (or both), meaty or plant-based, the menu has some killer options.
Pizza at Bennie's Bread
Each Bennie's wood-fired Neapolitan pizzas is a thing of beauty: crispy, chewy, and slightly smoky, its crust perfectly blistered from its time cooking in a brick oven. Try the "California," made with marinara, goat cheese, olives and roasted peppers, capped with arugula.
Cookies at Crazy Susan's Cookie Co.
You'd be crazy not to check out this joint. Crazy Susan's peddles dozens of delicious cookie varieties—far too many to mention here. We're big fans of the coconut-rich "Mounds" and "Almond Joy" varieties, but there's at least one cookie here to satisfy any sweet tooth.
Stay
Scarborough Inn
An immaculately kept Victorian in OC's Historic District, this adults-only B&B is known for its style, sophistication and restaurant-quality breakfast.
For Dinner
Buona Vita
As a fine-dining destination in nearby Somers Point, Buona Vita provides an experience that lingers in the memory. Enjoy "the good life" by way of delicious handcrafted Italian cuisine made with locally sourced ingredients, with an attentive staff and a charming atmosphere to match. Pro tip: Save room for the cannoli.
Cousin's Restaurant
Dining out at Cousin's is like spending time with a beloved family member; you'll always feel right at home. Old-school service, collegiality among the staff and a lineup of delicious Mediterranean favorites (with a South Jersey twist) make any meal here one to remember.
Island Grill Restaurant
Menu options range from the casual (fish and chips, fried coconut shrimp) to the upmarket (cedar-plank salmon, surf and turf). If you're the kind of person who likes to know their seafood is just-caught fresh, rest assured; Island Grill has its own fish market.
By the Bar
Josie Kelly's Public House's is a fine place to meet old friends (or make new ones) over a freshly poured pint of Guinness. Charlie's Bar & Restaurant is the perfect place to catch an afternoon Phillies game and enjoy a seemingly endless array of draft and bottled beers, wines, shooters and house cocktails pair well with the assortment of wings, burgers, and crab cakes, among other favorites. Come nighttime, performances from local bards add to the festive bar scene.
SEA ISLE CITY
FRENCH FRIES at Drifters
There's nothing ordinary about the fries at Drifters. Whether they're tossed with truffle oil, covered with brown gravy and melted mozzarella, or coated with garlic butter and dusted with Parmesan, these fresh-cut specialties fire on all cylinders.
ICE CREAM at Marita's Homemade Ice Cream
With nearly 50 flavors, there are endless combinations you can have scooped into a cone, sundae, milkshake or soda float. The best part? Aside from the usual suspects, you'll also find plenty of inventive options like brookie dough, banana cream pie and cinnamon bun.
HOAGIES at Giovanni's Deli
This Italian market makes some seriously mouthwatering hoagies all made with the love and care they deserve. We love the capocollo with tangy sharp provolone and roasted red peppers, but one should not overlook the tantalizing turkey with Jersey tomatoes, basil and fresh mozzarella.
BAR BITES at Henri's Bar at Braca Café
For mouthwatering shareables to pair with an extensive wine menu, try this buzzing hotspot. Whether you're in the mood for Key West shrimp guacamole, lobster mac and cheese or peppered sashimi tuna, you're sure to find an unforgettable small plate.
PIZZA at Fratelli's Wood Fire Pizza
The dough takes three days to ferment but only three minutes to cook once its slide into the blazing 650-degree wood-fired oven. The result are perfectly blistered Neapolitan pies topped with everything from spicy chicken and crushed tomatoes to prosciutto, arugula and truffle oil.
PASTRIES at Shorebreak Café
Walk just a block from the Sea Isle beach to this quaint café for made-from-scratch bakery goods. Coffee and ice cream are served alongside delicacies like lemon currant scones, sour cream cake and stuffed fluffernutter cookies with peanut butter and marshmallow fluff.
For Dinner
Beachwood at the Dunes
Diners flock to Townsends Inlet to enjoy modern American cuisine with craft cocktails. The unique menu includes everything from roasted chicken and filet mignon to lobster tacos for and seared salmon for seafood lovers. There's even good comfort food, like the cheesy potato latkes.
La Fontana Coast
This traditional BYOB specializes in fine Italian dishes, like grilled artichokes with red onion and lemon pesto or the battered eggplant garnished with ricotta, spinach and walnuts. And of course, one should indulge in one of the homemade pasta options.
Andrea Trattoria
Homemade gnocchi is an essential part of an authentic Italian menu—and with another location in Cape May, this restaurant is experienced in Italian cuisine for a beach setting. The veal parm is divine, but we also suggest another classic, the Dover sole.
A Modo Mio
A bright, casual, spot for a combination of traditional and modern Italian cuisine, this menu features a famous short rib ragu as well as its eponymous dish with jumbo lump crab meat, spinach, mozzarella and cognac rosé.
Anthony's
Diners rave about the fresh fish and it's easy to see why when you dive into an order of clams casino or the jumbo shrimp packed with crab imperial. You'll also find plenty of other worthy headliners including the "best veal chop" in all of SIC.
By The Bar
With six different bars each bringing their own vibe, Kix is the place to party at any time of the day. While you're catching some live entertainment and chugging down some ice cold brews at The Ocean Drive, you're bound to run into everyone from your college roommate to Jason Kelce of the Philadelphia Eagles. Nearby, Dead Dog Saloon is a cozy, two-story tavern with seasonal ales and alternating drafts. The Oar House Pub offers waterfront views, specialty drinks and live music on the weekends.
Stay
The Ludlam Hotel
Stay walking distance from Sea Isle's beach and central to all of the city's attractions with complimentary beach tags. This comfortable hotel has all of the amenities you need for an ideal beach trip, like free Wi-Fi and maid service—some rooms even offer a private balcony to enjoy a stunning view.
CAPE MAY
Shared Plates at The Lookout
You might not want to share any of the tasty fare at this octangular establishment where the panoramic views are hard to beat. But when you're in the mood for lobster mac and cheese, locally caught seafood and orange blossom cheesecake, a companion means more options.
Breakfast at George's Place
Everyone from locals to Guy Fieri has fallen in love with this eatery. You could spend the whole summer on the breakfast page alone, because how can you possibly be expected to try just the tiramisu waffle or the limoncello French toast?
Doughnuts at RSK Doughnuts
Whether you get the classic minis served plain, powdered or cinnamon-sugar'd or you go for a boatful (yes) of the decadent "Fancies," you'll be happy these made-fresh-in-front-of-you goodies come in multiples because you can't have just one.
Salads at Blue Pig Tavern
Nestled inside the historic Congress Hall hotel, this cozy dining spot is dedicated to using farm-fresh ingredients. Its crisp, green salads are all decked out with thoughtfully paired flourishes like Buffalo mozzarella and toasted pine nuts or crispy bacon and roasted tomatoes.
Tacos at Key West Tacos
This tropically decorated, beachside restaurant promises to transport you to another southernmost point: Key West. The menu is as vibrant as the decor, and every already-generously packed taco can be personalized with toppings like slow-cooked pork, shrimp or pineapple-mango pico de gallo.
Gourmet Pizza at Lucky Bones Backwater Grille
Each brick-oven pie begins with just the basics: dough, fresh tomatoes, mozzarella, basil and olive oil. Any toppings are just as simple but masterfully combined, like the Harvest Pie's addition of goat cheese, oven-roasted butternut squash and drizzle of nutmeg cream.
Stay
The Grand Hotel: With its off-season renovations all wrapped up, this resort overlooking the ocean offers even more than some incredible views and colorful sunsets: Here, you'll find an on-site bar and restaurant, an arcade, indoor and outdoor pools, and invitingly appointed rooms.
For Dinner
Jardin
For fine dining, locavore-friendly freshness and international inspiration, look no further than The Hugh B&B's on-site restaurant. With a menu matching the best of the season's bounty, the world-class, wildly lauded cuisine here is both playful and painstakingly curated, guaranteeing a wholly unique epicurean experience.
Grana
This "smart-casual" BYOB's seasonally evolving menu makes the relative newcomer feel like an established local legend. Whether you're here for an à la carte dinner or the chef's tasting, you'll enjoy a multi-course meal from the surf, turf and its executive chef's lifelong dreams.
Younger Brother
This beachfront boutique restaurant elevates contemporary American cuisine with imaginative, mouth-watering twists. Diners already praising The Y.B.'s brand-new lunchtime fare—but don't worry, the fan-favorite Coconut Crusted Halibut is still on the entree menu.
Tisha's Fine Dining
Deciding to sit inside for the ambiance or outside for the covered patio isn't the most difficult choice you'll face: It's narrowing down your dining options. Do you start with the meaty lobster bisque or succulent PEI mussels? Pesto shrimp and gnocchi for dinner, or seafood risotto? And what about dessert!?
Primal
This cozy restaurant abutting the beach might have an incredible view of the ocean, but its focus is on steak just as much as it is on seafood. Regulars and newcomers alike rave about the perfectly seasoned, melt-in-your mouth steaks, but the halibut has plenty of fans, too.
By the Bar
If you're looking to end your day in style, The Brown Room's historic lounge offers classic cocktails and a chic vibe complete with inviting couches, fireplaces and live music. If live music is your thing but you prefer a more informal setting, head to Harry's Ocean Bar & Grille, the only rooftop bar in town and home of the ever-popular Harry's Famous Orange Crush. Speaking of iconic drinks, the lively, longtime local favorite Rusty Nail—previously named one of the country's Top 10 Beach Bars by Travel & Leisure—is where you can pick up a rum bucket or three. And if you want to sip your locally brewed beer right where the magic happens, a visit to the Cape May Brewery tasting room is a must.
STONE HARBOR
Seafood at Donna's Place
Stop by this popular market on the weekends for your seafood fix. After enjoying a raw bar of shrimp, lobster, oysters and clams, or fried deviled crab cakes, customers can also check out the on-site bakery.
Lunch at Alex's Market
Diners can choose options from a variety of cultures, such as a Mexi Bowl with pulled pork and chipotle flavors or a "Pho-ritto" with Vietnamese style chicken. If you're looking for a meatless option, try one of the salads piled with unique toppings such as the couscous salad with cheese-stuffed peppers.
Salads at Green Cuisine Café
A healthy option on the beach doesn't have to leave you hungry for more, as this cafe's salads are overflowing with locally sourced produce. The menu features a balance between favorites like cobb, Greek or chef to more inventive offerings that prove there's endless ways to craft a quality salad.
Specialty Pizza at Stone Harbor Pizza Pub
Every quality pizza here starts with hand-stretched dough that is then outfitted with an array of toppings. Think a five-cheese blend with spinach, ricotta and roasted red peppers or the Italian Stallion with spicy salami and capicola, pepperoni and fiery Calabrian chilis.
Fresh Bread at Bread and Cheese Cupboard
For a treat to accompany your beachside walk in the morning, baked goods are one of the most delicious options. Aside from their frosted pastries, loaded quiches, and espresso bar, you can choose from 18 different types of fresh bread ranging from savory to sweet.
Sandwiches at Yvette's Cafe
The only thing better than gourmet sandwiches is a plethora of customization options including a variety of breads, meats, cheeses and other toppings. Over 24 unique sandwiches are listed on the menu, such as a brie sandwich with Asian pears, organic strawberries and poppy seed dressing on a baguette.
Stay
The Reeds at Shelter Haven
Conveniently located, this award-winning resort's amenities include a rooftop lounge, spa, live entertainment, a fitness center and daily beach service. The hotel also includes a plunge pool and hot tub, so you can swim at the Shore without going into the ocean.
For Dinner
Jay's on Third
Enjoy an upscale, multi-course meal from seasonally changing menus with locally sourced ingredients. Recent highlights have included crab fritters with cucumbers, avocado and lime with a togarishi butter sauce, a fragrant saffron risotto as well as arctic char grilled to perfection.
Spiaggetta
For a banquet-style feast check out this elegant BYOB location. Expect housemade marinara sauce and fresh mozzarella along with standout pasta dishes like the gnocchi garnished with walnuts and poached pears.
Ristorante Luciano
A refined Italian restaurant in the heart of Stone Harbor, this spot's menu is filled with flavorful dishes like the rigatoni with imported tuna and porcini mushrooms. Save room for dessert with options like German chocolate cake and limoncello gelato.
By The Bar
Fred's Tavern is the locals hangout of choice and the perfect place to grab a pint while listening to some live music. For a bar with a Caribbean menu close by, The Watering Hull has a vast selection of tropical drinks and a worthy craft beer selection to help wet your whistle. Buckets Margarita Bar and Cantina is a vibrant taqueria with a waterfront view, also featuring live music. For more stunning, picturesque views of the bay, Water Star Grille has some of the best vantage points you'll find down the Shore.
WILDWOOD
Breakfast at Sunz Up Cafe
This cafe serves classic breakfast favorites like avocado toast and huevos rancheros, as well as specialties such as gingerbread pancakes, and grilled ham and brie, sandwiched between two slices of French toast. There are several vegetarian options and customizable choices, ensuring everyone at your table is satisfied before hitting the Boardwalk.
Barbecue at Wildwoods BBQ
Two Australian natives bringing the best in American barbecue to the Jersey Shore might sound like a work of fiction, but anyone who has sampled the brisket sandwich, pulled pork or St. Louis-style pork ribs knows this place is very much the truth.
Seafood at Hooked Up Seafood
You've heard of farm-to-table, but this dockside restaurant specializes in a boat-to-table experience with fresh and locally sourced seafood. Whether you choose one of the fish specials that rotate daily, or signature fish tacos with homemade pineapple salsa, you'll savor every bite as you watch the sun set over the water.
Sandwiches at The Surfing Pig
Whether you're coming in for breakfast, brunch, lunch, dinner or just cocktails, this spot is sure to satisfy any craving. With its vast selection of seafood and beloved barbecue options, you can enjoy heavenly handhelds such as brisket cheesesteak or the restaurant's popular homemade crab cake sandwich.
Appetizers at Poppi's Brick Oven Pizza & Kitchen
This brick oven pizza destination specializes in gourmet Italian small plates and salads to compliment the main course, or to eat on their own. Opt for the creamy burrata with roasted red peppers or the crispy rice balls with homemade marinara sauce. Seafood lovers can dive into a plate of clams, calamari or a bowl of mussels with gorgonzola.
Lunch at The Inlet
This North Wildwood hangout has all the basics covered from chicken sandwiches and burgers to wraps and salads. And the share plates include stellar offerings like stuffed long hots, seasme-crusted tuna, nachos piled high with pork carnitas and all the fixings.
For Dinner
Trio
Bringing a "global flair" to local, fresh ingredients, whether you're dining on monkfish in mussel saffron broth or the French-inspired filet tournedos, this North Wildwood spot is a perfect place for approachable fine dining.
Santorini
With stylish decor straight from the island of the same name, this Mediterranean BYOB restaurant promises "the best of the season" year-round. Authentic Greek dishes like homemade tzatziki and spanakopita filled with spinach, egg and feta, are made with fresh ingredients from local farmers' markets.
Swine Bar
Located just upstairs from the Surfing Pig, this open-air dining location is revamping its menu for the 2023 season and we can't wait to see what they'll cook up next. Expect more stunning seafood and choice cuts of beef artfully prepared using the finest ingredients.
Beach Creek Oyster Bar and Grill
Seafood is best consumed in view of the ocean, surrounded by tropical plants, on candle-lit tables. The extensive menu of seafood is not only accompanied by the atmosphere, but by a lengthy cocktail list, with an enticing selection of dessert cocktails.
By the Bar
Stop by Dogtooth Bar & Grill for a craft beer with live music to find out why it is the go-to place for both locals and tourists. If you're on the other side of Wildwood, North End American Grill offers nightly specials and a drink list as buoyant as the atmosphere. For a more laid-back experience, Owen's Pub has seasonal cocktail menus and 16 craft beers on tap. Enjoy a variety of fruit flavored cocktails—or perhaps a bucket-sized drin—and live music in the sand on Diamond Beach at Star Beach Bar.
Stay
The Shore House Hotel
Stay at a beach retreat that promises an experience that feels like home with a heated pool, an on-site concierge, complimentary beach gear and an ocean terrace. The hotel displays an aesthetic inspired by nature, combining retro and contemporary beach design and is also dog friendly.
Click HERE to read your picks for best of shore with our Readers Choice and HERE for What's New!
Click here to subscribe to the free digital editions of South Jersey Magazine
To read the digital edition of South Jersey Magazine, click here.
Published and copyrighted in South Jersey Magazine, Volume 20, Issue 2 (May 2023)
For more info on South Jersey Magazine, click here.
To subscribe to South Jersey Magazine, click here.
To advertise in South Jersey Magazine, click here.