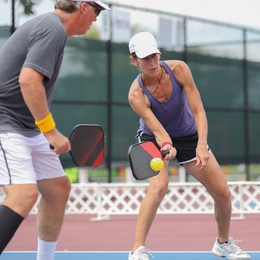 Having a Ball
Pickleball is the fastest-growing sport in America. Known for its relatively low barrier for entry and social atmosphere, pickleball is a way for all ages to stay active, yet the sport is not without its controversy. 
Well past being a fad or phase, South Jersey is in its pickleball era. The signs are all around us. Township tennis courts are either deserted or transformed with new painted lines. People are gathered with chairs, music and protein bars to get them through hours of play. And then there's the sound—an almost constant 'pop' of the ball hitting the paddles. Like it or not, pickleball has taken the area, and the country, by storm, sparking joy in many and contempt in others.
The Pickleball Community
In the world of sports, pickleball is still in its infancy. Created in 1965 on Bainbridge Island, Washington, pickleball was thrown together on a whim as a way to entertain the whole family. They used things from a variety of sports: a badminton net, ping pong paddles and a Wiffle ball. And as for the funny name—it's a reference to the leftover crew team members who would row for fun in a "pickle boat" during competitions. Since pickleball combined a bunch of random aspects of other sports, the founding families found it fitting.
It wasn't until 1984 that the official United States Amateur Pickleball Association was formed and the first rule book published. As of 2003, there were 150 known pickleball courts in North America, according to USA Pickleball. Twenty years later, the United States is estimated to have more than 10,000 courts, 219 of which are in New Jersey, according to PickleHeads.com.
Pickleball was greatly impacted by the pandemic—in a good way. The Sports & Fitness Industry Association estimates the number of people playing grew by 159 percent since 2019. One of the main pulls of pickleball's appeal is its relatively low barrier to entry. Players don't need to be seasoned athletes to pick up the paddle. The courts are smaller than a traditional tennis court, meaning players have less ground to cover during a game, and players also stand pretty close to the net, so a powerful swing isn't always needed.
"In tennis, it's all about the powerful overhead serve. In pickleball, it's an underhand serve, so a woman in her 60s can easily play against a man in his 30s or 40s because it's not about power. Pickleball is all about placement, finesse and strategy, so it levels the playing field between genders and most of the time in age, too," says Kim Dunne, a pickleball instructor at Cherry Hill Health & Racquet Club.
Nicholas Puschak of Longport agrees. "Pickleball is the rare sport that can be played by almost anyone—from someone who's never played a sport in their life, to an amazing athlete," he says.
Most pickleball players say it only takes one time and you're hooked on the game.
Dean Tridente grew up in Ocean City and resides there currently. He says pickleball was a popular physical education class in high school. "We would even do teacher vs. student pickleball tournaments a few nights throughout the year," Tridente says. Since graduating in 2003, pickleball was no more than a high school memory until the summer of 2019 when he was driving past 18th Street and saw a friend walking with a paddle in his hand. "I rolled down the window and asked him what he was doing. When he said, 'I'm playing pickleball,' I said, 'That's a real thing?' He invited me to play, handed me a paddle and I was instantly hooked."
It's a similar story for Marlton's Kristen Clemmer. She first played down the Shore after buying her dad paddles for Father's Day. "We just thought we'd try it because we saw other people playing," she recalls. "We went out as a family and just absolutely loved it."
Four years later Clemmer's a pro/5.0+ tournament player who has earned more than 30 medals. Not only was she able to turn her passion for the game into a full-time instructing career, she also met her husband playing pickleball. Their shared love for the game made the perfect wedding theme, too, as guests were invited to wear their finest "pickleball formal" attire and spent the reception playing the game.
The pickleball community says there have been misconceptions about the sport. One of the biggest being that players skew a bit older.
"The stigma that this is a sport just for retirees is completely false," says Tridente. "I have a buddy who wears a health tracker and in three hours of pickleball he burned 3,100 calories. You're definitely moving a lot more than people think. Anyone who thinks it's an older person's sport should go on YouTube and watch some professional pickleball games."
For anyone who doubts pickleball's entertainment value, ESPN recently hosted its inaugural Pickleball Slam where tennis legends Andre Agassi, John McEnroe, Andy Roddick and Michael Chang squared off against each other. According to a report from Yahoo Sports, the Sunday afternoon event averaged 669,000 viewers, and was a top 10 program in the key 18-49 demos. Not to mention the other big-name athletes who are invested in Major League Pickleball—Tom Brady, LeBron James, Kevin Durant, Patrick Mahomes and Naomi Osaka, to name a few. It's safe to assume the sport will be gaining even more steam in the years to come.
A Place to Play
For years, pickleball players have felt like the black sheep of the sports world, taking a back seat to tennis. Denise Donald of Cherry Hill, who has been playing pickleball since 2011, says she'd travel to tennis courts with a roll of masking tape to map out the lines.
Cherry Hill was one of the first towns to embrace it, says Donald. "They found out we were using the courts at Carusi [Middle School] and reached out to me. I thought they were going to tell us to stop, but they actually told us they were going to add the pickleball lines for us. I was so amazed and asked them if they could do the courts at Kilmer Elementary too. And they agreed," she says.
Then, in 2016, with the funds from a recreation grant, Cherry Hill turned basketball courts at Lion's Den Park into the first exclusive pickleball courts in South Jersey. Donald says then-Mayor Chuck Cahn was enthusiastic about the sport, and six more courts were added to DeCou Park.
Donald explains that the pickleball community in South Jersey was bolstered by these signs of support. The most popular way to organize games was through the website Meetup.com, where Donald manages the South Jersey Pickleball group. She says there are about 1,800 active members, although there are a total of 5,500 in the group itself. Having courts to use meant more meetups, and that's when the issues started.
A top complaint from communities regarding pickleball is the noise. "You don't want to live next to a large pickleball ball facility," says Puschak. "The paddles are a hard plastic material, so when the plastic ball hits the plastic paddle, it's a decent sound in terms of volume. And if there's multiple courts with multiple games going on, it's going to be loud."
Neighbors near the Lion's Den pickleball courts took issue with the noise level and the constant stream of traffic due to large groups meeting up to play. Donald says she sympathized with the residents. "Some of these houses were very close to the courts, and games would be going on from 8 a.m. to 8 p.m., so it was just this constant noise," she says.
Dunne was also a regular player at Lion's Den. "This isn't going to be a popular opinion with other pickleball players, but I do feel really bad for people who live next to a pickleball court. Not only is the game loud with the use of a plastic ball and paddle, but pickleball is very social. We yell, we holler, we play music. It's one thing if you buy a house next to an existing pickleball court, but these people had been living there and the courts were added. I don't find that fair." Cherry Hill ended up leaving only one net up at the court and prohibits the use of temporary nets.
Other towns in South Jersey have fielded their share of pickleball complaints as well. Evesham Township had installed courts abutting its Brush Hollow development. Those residents also approached council with complaints about noise and an abundance of cars on the streets. The township conceded to removing two of the four nets from the courts to curtail large gatherings.
Also in Marlton's Kings Grant development, which is part of an open space association (OSA) and known for its array of private amenities, pickleball lines were painted on several of the community's tennis courts. Again, residents showed up to use them, until complaints came in and the Kings Grant board decided to formally cease pickleball play in the community.
Richard Mlcoch, a 38-year resident of Kings Grant, heard that the OSA was forming a pickleball committee to explore alternative options in the community. "Kings Grant is a very active community," he says. "My wife and I have played pickleball for about 10 years, and I wouldn't say we're avid players, but we play here and there and enjoy it. So I've been curious how we could bring this popular activity back to Kings Grant but not at the expense of our neighbor's enjoyment."
Mlcoch joined the committee and started researching solutions that weren't cost prohibitive, including an idea of transforming existing basketball courts and installing a sound reduction barrier called Acoustiblok. In his research on Acoustiblok, he learned it's used in Ocean City, since those courts are so close to homes. Mlcoch spoke with an administrator in Ocean City who told him complaints have gone down drastically since installing the barrier. The pickleball committee submitted its findings in a report, and unfortunately, its solutions were shot down by the KGOSA board, says Mlcoch. "We were told that the sound barriers were not a guarantee of sound reduction and that the courts were still too close to homes."
Although it seems like a losing battle for pickleball, it was a town noise ordinance that worked in Haddonfield Tennis Club's favor. The private club launched a pickleball pilot program and it drew quick interest and nearly immediate backlash from the residents nearby, says Brian Wolfson, president.
Wolfson says he did a fair amount of due diligence in researching and pricing out sound reducing windscreens to add to the courts.
"We had every intention to buy them, but we didn't, only because just by complete coincidence, Haddonfield passed a noise ordinance," he says. "The ordinance takes away the subjective opinion of noise, for instance if a neighbor doesn't like the music you're playing, and puts in an objective measurement in decibels. We bought a sound meter to do our own testing and we regularly found we were never above the threshold in the ordinance (65 decibels)."
Wolfson says the club plans to remain as respectful as possible and is limiting the number of pickleball players in its pilot program, which is now in its second year.
"We're trying to be sensitive to the sound regardless of our crossing the line in law," he says. "So these are some good neighbor things that we're doing that frankly, we don't have to do, but that we're doing because this is a hot issue."
The controversy has sparked economic opportunities for indoor courts. "Some developers are turning abandoned malls into pickleball courts because they have high ceilings, and you could do the same in empty factories," Dunne says.
Cherry Hill Health & Racquet Club, which has been making use of tennis courts and allows non-club members to play for a fee, will be resurfacing three of its back tennis courts and turning them into 10 dedicated pickleball courts, continues Dunne.
Tridente is a partner in a new indoor pickleball facility in Egg Harbor Township, the first of its kind in South Jersey. "There aren't many options for indoor pickleball in the winter. We'd have to use indoor tennis courts and tape out the pickleball lines and use temporary nets, not to mention we could only use the courts when the tennis players weren't using them," he says. This new facility features eight individually fenced courts, players lounge and cafe.
Other announcements have since been made for indoor courts coming to Blackwood and Ventnor.
The Future of Pickleball
While it's been a grassroots community effort to spread the word and encourage newbies to try the game, pickleball could one day be a sport as common and popular as its cousin tennis.
"Most kids are learning pickleball in gym glass, and schools should take note that it's a very inexpensive sport. I wouldn't be surprised at all if high schools started jumping on the bandwagon and offering it as an organized sport in the future," Dunne says.
Clemmer, the pro player, expects the same. "I know colleges are putting in club teams, so I do think eventually it'll be a sport at schools, and there's even talk about it being in the Olympics," she says.
Until then, the pickleball veterans want people to know how truly life-changing the sport can be.
"I also know people who have lost a husband or wife and have come to pickleball and it's saved them because it's given them something to work on and have for themselves, and they meet so many people in the process and make new friends," says Clemmer.
Donald says, "For me, pickleball came at the right time because I was a caregiver for my mother. After she passed away, pickleball was my daily activity. My husband and I don't have kids, our parents are gone, no family close by, but the pickleball community is our family."
Click here to subscribe to the free digital editions of South Jersey Magazine
To read the digital edition of South Jersey Magazine, click here.
Published and copyrighted in South Jersey Magazine, Volume 20, Issue 1 (April 2023)
For more info on South Jersey Magazine, click here.
To subscribe to South Jersey Magazine, click here.
To advertise in South Jersey Magazine, click here.