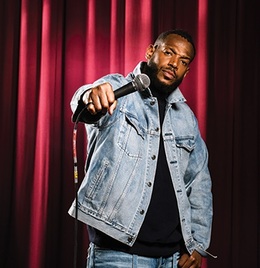 Better Than Ever
As Marlon Wayans gets ready to roll through the area on his latest stand-up tour, he reflects on his journey and why he feels he has so much more still to give.
For a little more than 30 years, Marlon Wayans has been making folks laugh out loud. Whether he's on screen, on stage or behind the scenes, he has enjoyed tremendous longevity in what can be a sometimes unforgiving entertainment world. Yet, despite his track record of success, he shows no signs of slowing down. If anything, he may just be ramping up.
"I feel like I've been reinvigorated," Wayans, now 50, says. "I'm better than I used to be. … [And] I'm ready for what's coming next. I've been a star for a long time, I'm looking forward to having that run of superstardom."
And Wayans certainly has been busy. In March, his latest HBO comedy special, God Loves Me, debuted. And he's also appearing in Ben Affleck's upcoming Nike-inspired movie Air, and is in the midst of a stand-up tour that will see him perform at Philadelphia's Rivers Casino on April 29.
South Jersey Magazine had the chance to speak with Wayans just days before embarking on the tour to discuss his career, carrying on the legacy of his comedic family and why he's never going to let someone else outwork him.
Q&A
You're getting ready to head out on tour in a couple days. What can fans expect to see at these upcoming shows?
Umm, the unexpected; I don't know what I'm doing (laughs).
Honestly, I like to go into a show and I have a structure, but I like leaving freedom to play. I have to leave some freedom for the unknown. If something happens, I just have fun with it and not feel lost because it broke my structure. I allow myself to think and speak truthful. Sometimes I want to speak about something current, sometimes I want to talk about something that hurt me—because I feel like my pain is healing for other people because it's a chance for them to escape themselves and their problems, and reflect on how I'm feeling and how I'm finding smiles in my pain. I hope it inspires them to do the same.
It's therapeutic. I do therapy, too, but the beauty of this is I don't get charged by a therapist, I charge people and I'm my own therapist.
And you recently debuted a new comedy special, congratulations on that. What do you enjoy about performing after all these years?
That I still love it. I think the time on stage really starts working your comedic instincts and you really start getting the science of comedy down. My audience grew with me. When I first started I was 19 years old, straight out of college—not even finishing college—and was thrust in front of the world, me and my brother [Shawn].
Most artists get 20 years to develop, we had to get seasoned in front of the world. And it's sink or swim, and we went through a lot. I'm finally at a place where I can do drama, I can do comedy—I can do broad comedy, I can do physical comedy, I can do subtle comedy, I can do romantic comedy, I can do stand-up comedy, I can do characters, monologues; I can do so much. And I can write and produce; now it's all coming together and I think it's at the right time.
I'm sure you've been asked this a million times before, but coming from such a talented family, was there any pressure to keep the family legacy going?
Absolutely. Over the years, we've done so much and I'm looking forward to going back and reinventing some of the things that we did, some of the classics and bring them back. I feel the world needs our type of humor, so we are going to try and do more of it as big as we can.
While you certainly didn't have to look far for inspiration, who were the folks outside of your family that influenced you?
Eddie Murphy. Richard Pryor. Jim Carrey. Robin Williams. I love versatile actors that can do it all—make you laugh and cry in the same scene. That's the superpower, to be able to hit those different gears. It's an art and you have to learn that and it takes time. I'm 30 years in and I understand the game from a different perspective. It's like a Rubik's Cube, now I got all six sides and I just look forward to mixing it up and doing it over and over again.
Was it always important for you to find a creative outlet in different ways? Do you feel that it makes you a more well-rounded entertainer?
I had no choice if I wanted to work. Some people are given a career and some people are given opportunities, I had to create mine. If I waited, I'm waiting in a long line of talented people and I'm not really growing because I'm waiting on other people to get out of my way. There are only so many roles and you have talented guys out there with similar skill sets and sometimes Hollywood gives them those opportunities.
You can't be mad at Hollywood, that's who they are banking their money on. And Hollywood is a bank. So you have to create your own lane so that you can grow as well. Stay active. And then one day, Hollywood says, "OK, you're the guy we are going to bet on."
You've achieved success both on the big and small screen. Do you prefer one over the other?
I love it all. Right now I really love stand-up comedy. I came into stand-up late [in my career], and I've spent so much time on stage in the last 10 years just trying to work my craft and get better.
You're widely recognized as a comedian, but you've had several notable dramatic roles as well in films like Requiem for a Dream, On the Rocks, Respect, and soon in Air. Do you enjoy stepping out of your comfort zone and tackling these more serious roles?
I just want to be one of those guys that wherever I go, you're going to follow because you trust that I'm going to give you something excellent. It doesn't matter if it's drama or comedy, I put the same amount of energy and the same amount of care and excellence into doing each thing equally as well. I want to showcase all my talents and work hard. I'm always trying to impress and I'm always staying hungry. It's rare to find guys with the skill set that I've acquired over the years through practicing, learning, hard work, discipline and doing that every day without being asked.
Over time it breeds results. Like the Michael Jordans and LeBron James of the world, that's who I want to be with my art. I want to be the funniest comedian, actor; whatever it is, I want to be the best I can be regardless. My only competition is myself. So in this lifetime, I'm going to bust my ass to be the best artist I can be. Let the chips fall where they may.
When I'm gone, let everyone discuss who's the greatest. That's talk for them. The greatest to me is the journey and that God gave me the ability to do what I love, which is to make people laugh, make them cry, make them feel and make them think.
Back to comedy for a second, the world has changed a lot since you first got into the business. Is being a comedian harder these days in this cancel culture era?
I don't pay attention to it. For me, I know that people like to smile. I think cancel culture only exists because of social media. Once we get off social media, there's no such thing as cancel culture. It's fabricated. Social media is trying to take away our right to have differences of opinion. We're not computers, we're not AI, we're not all supposed to think alike. There is no such thing as appropriateness in comedy. I think it's OK to take some chances.
This is what I do for a living, so I'm not going to let someone come in and tell me how to do it. And I'm successful, I've been making people laugh for many years. Anyone that tries cancel me, well they weren't my audience in the first place.