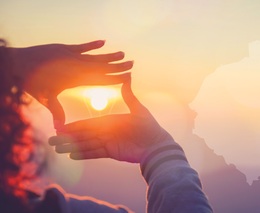 Focused on the Future
As our area continuously reinvents itself and finds new ways to grow, we asked local residents and prominent public figures for their thoughts on what will help us climb to new heights.
Like any well-established area, there's a lot of civic pride that runs through the South Jersey region. And while we would all consider this a wonderful place to live, work and play; there's also undoubtedly some things every individual would like to see be improved upon for our communities to continue to grow and thrive.
So in order to get a better picture of how locals feel about this area, South Jersey Magazine reached out to politicians, educational leaders, health care executives, business-minded experts as well as residents. We asked everyone a series of questions and for their candid responses in order to get an accurate perception of the highs and the lows. We found the responses to be thoughtful reflections to the survey and we are appreciative of everyone who took the time to provide us with their thoughts.
Some of the responses have been edited for length and clarity, but the following answers give a clear picture of some of the things people deem to be the most important in helping South Jersey continue to flourish well into the future.
Fill in the blank. South Jersey could use more ___________.
"Equity in the resources that are given between [the northern and southern parts of] the state that look at factors other than population as the first criteria. The severity of the social determinants of health and challenges for transportation in less populated areas is not recognized." – Amy Mansue, president and CEO, Inspira Health
"Public transportation options, especially light rail, that reaches areas where there are few public transit options and/or have the ability to boost economic activity in the region." – Christina Renna, president and CEO, Chamber of Commerce Southern New Jersey
"More family and local businesses." -- Joseph Chirichella, president and CEO, Deborah Heart and Lung Center
Fill in the blank. South Jersey could use less _____________.
"Willingness to compare itself to Philadelphia and New York City. We live in a special area that is highly differentiated from any other community, with our own top-notch services in many fields, including health care." – Kristen Vogl, interim COO, Jefferson Health - NJ
On a scale of 1-10, how would you rate South Jersey's dining scene?
"I love South Jersey's dining scene and rate it a 10. There is no need to go over the bridge to enjoy a delicious steak, fresh seafood, Italian food, Mexican food or Indian cuisine. We are lucky to have the flavors of the world in our backyard!" – Voorhees Mayor Michael Mignogna
"I would currently rate it a 9, but would quickly jump to a 10 with the addition of more BYOB restaurants." – Cinnaminson Mayor Ernest McGill
What do you enjoy most about the town/neighborhood that you live in?
"I like the quiet, country feel of my town." – Dr. Robert Tull, principal, Eastern Regional High School
"I love that we are tightknit community and we really around each other when someone needs help." – Ernest McGill
How do you see the South Jersey area evolving over the next decade and what would you like to see take place?
"While living across the bridge from Philadelphia and down the turnpike from New York has its advantages, it sometimes seems like we are living in the shadow of big cities. In the decade ahead, I believe South Jersey will emerge as a hub for innovation, opportunity, and—of course—the highest quality health care. There is already a lot to be proud of and so much potential for growth." – Dennis W. Pullin, president and CEO, Virtua Health
"There are a great deal of dense housing complexes being built in my area and I hope that will increase the demand for and attract more restaurants and fun activities. There are also a huge number of warehouses going up. Malls are being torn down and replaced with warehouses, which so far hasn't visibly increased truck traffic, but it seems that it will. The warehouses also trouble me because it signals that we're becoming more disconnected and isolated. For many shopping is a source of social engagement and an opportunity to experience our region's diversity. But people are cutting themselves off and retreating into their insular worlds." – Kyle Ruffin, president K. Ruffin & Associates and founding member of Impact100 South Jersey
"The evolution of South Jersey is going to be one that is based on smart development, rebuilding of our current highway system and making enhancements in our overall transportation infrastructure. The future of our region is bright, and I expect Camden County to play an outsized role in the economic growth that is expected in South Jersey over the next 10 years." – Louis Cappelli Jr., commissioner director, Camden County
"We have nothing but opportunity in front of us with all of us working together on a unified vision." – Amy Mansue
What do you see as the biggest issue currently facing our local communities?
"Cooperative alliances within government." – Marlene Z. Asselta, president, Southern New Jersey Development Council
"It's critical that we recognize the mental and physical toll that COVID-19 had on our communities. I don't need to remind anyone that the last few years have been tough. Many of us lost loved ones. Children lost time in the classroom. Health care workers worked day and night, and small businesses struggled with the global supply chain. We must break the stigma surrounding mental health and start talking about it like it's a health issue and not a personal failing. That's why I am more committed than ever to ensuring mental health services are accessible, including to those who are in the grip of addiction. I introduced a bipartisan bill in Congress to expand access to life-saving medications and fight the opioid epidemic. We can only move forward if we work together." – Congressman Donald Norcross
"The opioid crisis." – Jessica Kartalija, news anchor, CBS 3 Philadelphia
"The recent increase in crime, especially drug-related activity and the need to renew our support our local law enforcement officers charged with protecting our residents. Also, controlling the commercial growth in our region and balancing our need for the tax revenue with maintaining our community's charm." – Harrison Township Mayor Lou Manzo
"We're losing the feeling of living in the Garden State as we become more surrounded by housing and retail shopping centers. Growing up in Mount Laurel, I loved the farm stands, apple orchards, corn fields and cow pastures. So much of that has been replaced with homes and stores. I'm nostalgic for those days, but then again, I forgot to close the door behind me when I moved here." – Kyle Ruffin
"Affordability is always at the top of my mind. I think living in New Jersey can be tough from that perspective and every day that I go to work I am constantly thinking of ways we can either try to freeze spending or figure out ways to bring costs down. On top of that, like many of us, I am concerned about climate change and what kind of impact that is going to have on our community moving forward. Let's face it, for anyone over the age of 30, they know we've never had tornadoes in our region and this kind of severe flooding until the last 10 years and it's worrisome to think about our children and grandchildren having to deal with worsening conditions. Also, we are losing way too many people to the opioid crisis. We will continue to work with our public health professionals to provide, treatment, education and tools to intervene in this ongoing public health crisis." – Louis Cappelli Jr.
What has changed the most about South Jersey since the pandemic?
"There has been increased attention given to mental health and well-being." – Dr. Robert Tull
"The pandemic will go down as one of our country's greatest disruptors. We saw this with the Great Depression, World War II and the Vietnam War, and now with the pandemic, where it reset people's thinking, whether regarding how often we go to the office, how we work online, or how we deliver education. Inevitably, it will create a pivot point in how we think and how we operate. Even so, I think we'll see South Jersey rally because the pandemic forced us to think differently." – Dr. Ali A. Houshmand, president, Rowan University
"More people are outdoors and interested in the parks and open spaces [South Jersey] has to offer." -- @sj_wildlife_tours
What do you feel is the best aspect of living in this area?
"This is home for me—it's where I was born and raised and it's where I chose to raise my children. We're close to just about everything, and there's great opportunity and a great sense of community everywhere you go. It never ceases to amaze me how our community always comes together to lend a hand to those who need it most. We saw it during the pandemic, and I continue to see it now. That's why I couldn't be happier to call South Jersey home." – Donald Norcross
"The Garden State is a phenomenal place to live for many reasons. In addition to the excellent health care available on this side of the bridge, our easy access to Philadelphia, New York, and the Jersey Shore makes it a prime location for all. Discovering the various neighborhoods and communities has been enjoyable over the past five or so years." – Dennis W. Pullin
"That every county is unique in South Jersey, which means visiting different parts of the region offers new and interesting opportunities for family fun, entertainment, beautiful parks and open space areas, tourism attractions and local farmer's markets—just to name a few. Leave the county you live in and explore other parts of South Jersey—you won't regret it!" – Christina Renna
"Variety! There's no other place I can think of that offers the Pine Barrens, the Jersey Shore, wine country and suburban downtowns all moments away from a major city." – Mike Snyder, managing director, Visit South Jersey
What do you see as some of the negatives of living in this area?
"Lack of sidewalks and bike paths force the use of a car to get around within the community. There has been some progress in the area, but there needs to be more for folks to be able to safely and more easily get around, especially for our kids." – Joe Bollendorf, interim superintendent, Moorestown Public Schools
"Speaking really frankly, there is still a misconception of all that South Jersey is and what we represent. Our visitors are frequently taken aback by the rural nature of some of our landscape, as well as the beauty of the Pine Barrens and the urban feel of our historic downtowns. The evolution of New Jersey wine from fruit wine to fine wine continues to surprise as well." – Mike Snyder
"Overcrowded and traffic." --@beverly_bo1
"The drawbacks are that relatively low cost of land with ample water and sewer capacity makes it ripe for increasing development. Government planning is reactive vs. proactive when it comes to public transport and highway planning. I anticipate traffic and congestion will become an increasing negative." – Joseph Chirichella
What's your biggest concern with regard to education?
"Students have no practical experience and no ability to add value to a prospective employer. All courses should require 'on site' learning." – Marlene Z. Asselta
"My biggest concern continues to be the safety of our students, teachers and staff in our schools. Voorhees was one of the first towns in South Jersey to put a police office in every school all day, every day." –Michael Mignogna
"Within South Jersey, we have students coming in who are highly prepared and focused on their futures. But we also have students who are under-prepared and don't have the economic means or the same support systems in place that makes pursuing their college dreams a reality and a given. We have students who may be academically prepared but are financially unable to take advantage of all that higher education has to offer. As one of several educational institutions in South Jersey, we need to make it a priority to help these students pursue their goals. There's a feeling, especially among people who are economically disadvantaged, that perhaps college isn't worth their time and money. We need to show them that a college education not only impacts their lives, but also their entire families and our communities. The data is clear. This is an investment. It's not an issue of cost, but an investment in one's future." – Dr. Ali. A. Houshmand
"Currently, it is the crisis we are facing in recruiting and retaining teachers." – Joe Bollendorf
"My concern is not so much curriculum and the quality of the education, it's access. We must revamp our rules for access to public education. Parents should have the option to send their children to the school of their choice." –Lou Manzo
"The field of education has taken a hit, and a lack of teachers in many of our schools negatively affects students. The pandemic had a huge impact on our children. My daughter missed her middle school years in-person with her peers, which is an important time to help to build the foundation for a successful high school experience. Fortunately, things are bouncing back now." – Kristen Vog
Click here to subscribe to the free digital editions of South Jersey Magazine
To read the digital edition of South Jersey Magazine, click here.
Published and copyrighted in South Jersey Magazine, Volume 19, Issue 12 (March 2023)
For more info on South Jersey Magazine, click here.
To subscribe to South Jersey Magazine, click here.
To advertise in South Jersey Magazine, click here.