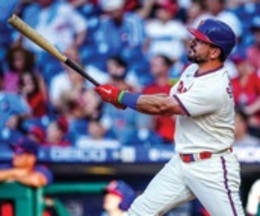 A Big Hit
Kyle Schwarber instantly became a fan favorite last year thanks to his majestic home runs and infectious personality. Now, he's ready to help the Phillies handle a little unfinished business.
The past 12 months or so have been quite eventful for Kyle Schwarber to say the least. The two-time All-Star and former World Series champion joined the Philadelphia Phillies as a highly touted free agent last March after signing a four-year, $79 million contract. He barely had time to celebrate becoming a multi-millionaire because as the ink was drying on the contract, his wife Paige was going into labor. The next day, the couple welcomed their first child, a son named Kade.
"Luckily, I didn't take a sip or anything, so I could drive her to the [hospital]," Schwarber quipped during his introductory press conference.
With barely any time to acclimate himself to fatherhood, a new team and a new city, Schwarber did what he's done throughout his career: He put his head down and played high-level baseball. The 30-year-old slugging outfielder quickly became a fan favorite in his first year in red pinstripes, mashing balls to the deepest parts of Citizens Bank Park and eventually going on to lead the National League in home runs with 46.
His efforts are a big reason why the Phillies were able to capture the final playoff spot and his play in the postseason certainly contributed to the team's improbable run to the World Series. Though the team fell short of the ultimate goal, the rollercoaster ride for Schwarber has continued into this year as he became a member of the United States team in the World Baseball Classic, joining fellow Phillies J.T. Realmuto and his newest teammate Trea Turner.
Unsurprisingly, Schwarber shined on the international stage, hitting two home runs in five games, including one in the championship tilt against Japan.
It's been quite the year, but now Schwarber is poised to help the Phillies get back to the World Series and finish what they started.
"I'm excited about the overall journey that's about to happen," Schwarber says. "Obviously, I'm excited about the additions that we made and what happened last year. But there's also the fact that we didn't finish the job and we aren't satisfied with that. There were things to be proud of, but we also fell short of the goal. It's going to be on us to weather this whole storm and see where it takes us."
During a break in his spring training schedule, we had the chance to talk with Schwarber about last season's magical ride, what he's looking forward to most this year, how fatherhood has changed him and the unique bond he shares with his teammates.
You really became a fan favorite in your first year with the Phillies and you got to witness how much they rallied around the team during the playoffs. What was the experience like for you?
That's what it's all about, right? Being in the playoffs in front of 45,000 strong, packed and screaming, and on the opposing team the whole time. That's what you live for.
A lot of our younger guys—and some of our older guys—that was their first taste of the postseason. To be in that atmosphere, it was special. That is something guys are going to remember for a long time.
When you are hitting those mammoth home runs that really get the crowd going, are you ever amazed by some of the shots you hit? Certainly the one you hit in San Diego in the NLCS got Bryce Harper's attention in what has now become a viral meme.
[Laughs]. Everyone wants to always ask about how far you hit them, but the biggest thing is getting a run or two on the board. To be honest, I would be just as excited if the ball landed in the first row as I would the second deck, like it did in San Diego. Runs are at a premium in the postseason especially, so if you can put a run on the board with a swing of the bat, that's always a good thing. It's something you look forward to doing, but you also know you're not up there trying to do it. You're trying to stay within yourself and your approach.
You took home the National League crown for home runs last year. What does that accomplishment mean to you?
It was definitely cool. I think I'll have a little more appreciation whenever I'm done [playing]. My main goal is trying to win and I want to win another World Series. I want to win more than one. That's my goal as a player, to go out there and do the "winning" things. I think the personal accomplishments kind of come along with that. If you're winning, good things happen. It's not going to happen every day, but I guarantee you can help the team win in the clubhouse, on the base paths, playing defense or in the batter's box. Those are things I try to do every single day and if I can do that, the personal things will come along.
But it's definitely a cool thing and I think once I get toward the end [of my career], I can kind of reflect on everything and it will be a feather in the cap.
It truly seems like the team really enjoys being around one another: the way you celebrate in the dugout after a big hit or in the clubhouse after a series-clinching win. I'd imagine you've been on some teams that didn't have that level of camaraderie, so how does that help you get through the grind of the season?
Every good team out there has a bond with each other. For us, our bond is pretty strong. To go through a season like we did last year, to go all the way to the end and not finish it, and to see how guys grinded all year and how guys hurt [afterward]; the whole journey makes us all closer. And walking into spring training [this year], everyone is ready to go. The excitement is up.
We're not saying it's a lock for us to go back to the World Series, no. It's way harder than that. You have to take it a step at a time. But the excitement and the focus is there. Everyone took their offseason very seriously and everyone is ready to rock and roll.
Dancing on my Own certainly took on a life of its own last year with the team and the fan base. I know there's been talk of retiring the song, so is Garrett Stubbs still in charge of the clubhouse playlist this year?
Stubby's in charge of it. We are excited to put together a new playlist.
You are entering into another season, the first full one, under manager Rob Thomson. What has he meant to the ball club and to you personally?
He's just a presence that is very steady and he's a great communicator. I think his baseball résumé speaks for itself. For as much baseball as he's been around, he's seen winning and losing. He's able to stay a consistent leader every single day and he runs the ship. I think the best compliment that could be thrown out there is that if anyone ever said anything to Topper, we would all be right out in front of him. I think that's how strongly our guys feel about him. The way he is as a person, as a leader and as a manger, we know that he has our back and we have his.
Tell me a little bit about your Neighborhood Heroes foundation that supports local first responders. What inspired the cause and what does it mean for you to be able to give back in this way?
Growing up, my dad was a policeman and my mom was a dispatcher for 911 calls and then she went on to be a nurse. I would go to school and my dad would pick me up and he would take me back to the police department and he would finish his day there. And that's where I kind of got my first clubhouse feel, being in the police department and seeing how all the men and women in there are kind of a family.
Also being around firemen and obviously the military side. My sister was in the military and I have other family members that were in the military as well. My one sister, Lindsey was in the National Guard and now she's actually a police officer where my dad worked at. So public service and national service, it kind of runs in the family. It's probably something I would have done if baseball didn't work out.
Now that I have a platform, I am able to shine a light on some things and try to impact lives and impact communities. That's what we want to do on a daily basis and that's where it kind of stemmed from and we've had a lot of success with it.
Back to baseball, you led off last year and did a tremendous job. But you have a new teammate now in Trea Turner who is poised to take over that spot in the lineup. Did you guys have a discussion or have to arm wrestle or anything like that to see who relinquishes being a leadoff hitter?
[Laughs] This is more about the team than it is about me or him. It was funny, I sent him a text and I said, "Are you ready to lead off?"
Obviously, this all comes down to Topper and what he sees as the best fit for the team at the end of the day. For us, we are creatures of habit, we like to be in there and learn our spot, so wherever Topper wants to put us in the lineup, we'll learn it and go from there.
The day after you signed a deal with the Phillies, you and your wife welcomed your first child. So, how has fatherhood been treating you? And how much did you enjoy the extra family time once the season concluded?
It was a shocking time there, agreeing to the deal and then her water breaks an hour later. The beginning of the year was crazy. Signing. Baby. Go to Philly for a physical. Then down to Clearwater. Paige and my son were back home in Ohio and then having to get them to Philly [for the season].
And then I had to figure out life with a child. But experiencing what it's like to be a dad and seeing how my wife is as a mother, it's just one the most satisfying things there really is. Those O-fer days go by a lot easier now. Being able to come back home and be a dad, especially in the offseason when you get that downtime and you can spend more time seeing him grow and doing all these new things, that's what it's about.
They actually got to meet me down in Arizona for the [World Baseball] Classic, so [I was] excited to get to see them. My son's been walking all over the place now.
The Phillies are certainly seen as World Series contenders, so how beneficial was it to go through that experience last year and have some of the younger guys on the team get a taste for the postseason? Will that only help you handle the increased expectations this season?
The playoffs are addicting, that brand of baseball is just different. Don't get me wrong, regular season games are very important, because regular season wins are getting us to the postseason. Whenever you step into postseason play and you have 45,000 fans packed, screaming and yelling every game, it just kind of gives you that extra tick. And for those young guys to get that experience in their first year, I think that's the most beneficial thing to have.
We always draw back on experiences, if it's good, bad, ugly, whatever it is. For those young guys to go through that and see how loud Philadelphia is and how loud the opposing stadiums were, and the style of baseball where you have to take advantage of the little things. Those things are going to matter in the game. It could be one pitch, it could be one error, it could be one extra [base], that could mean the difference between winning and losing that game. To have that experience at such a young age, it's so valuable because now you're going into a regular season where you're playing some of the most pressure-packed games of the year and you can go back to that and kind of relax yourself right away.
As someone who has hit a lot of big home runs himself, how much do you enjoy watching moments like Bryce's storied home run in Game 5 of the NLCS or when Rhys hit the big one in the Atlanta Braves series?
I think you saw it on everyone's face [when Bryce hit the home run]. We were all yelling for the ball to go. It's not like it's choreographed. This is spur of the moment, us just [having] honest [reactions].
Really when we are not at the plate and we are in the dugout, obviously we are teammates and we're cheering on, but also the fan comes out of us. Those are the cool moments you get to see. When Rhys has the bat spike and you see everyone going nuts, pumping their fists and jumping up and down. And you see Bryce hits his home run where everyone's reactions are just in awe. That's just us being us. And it shows you how locked in and important those games are, because you know he was one swing from putting us into the World Series, and he got us there.
Being a veteran and someone who has won at the highest level, is your drive and motivation the same as when you first entered into the league?
The core concepts are still there. For me, it's all about winning. I was fortunate enough in my high school and college careers, I got to see a lot of winning. I've only missed the playoffs one time. It's just the best brand of baseball and that's why I wanted to come to Philadelphia because I knew this was a team that could do it over and over and over again. Now you see our ownership out there putting out a statement saying that they want to be known as perennial winners and one of the best teams in the sport. That's how they want to be remembered.
Don't get me wrong, there's personal things that you want to critique from year to year, because you're never a complete product in this game. But the goal is the same, to win every single year. For me, I want to get the best out of everyone and I want everyone to try and get the best out of me. That's how it should be. We go on this long six-month season and not everything is going to be peaches and roses and all goodie-goodie. There's going to be challenges throughout the course of the year. For everyone to pick each other up and be accountable to each other, that's what you look forward to most.
And like I said, it goes back to the winning part. Trying to get the postseason every single year and see where it takes you. Because all you have to do is make it and we can see where it takes us. That's going to be the goal. We want to go out there and win the division, but if not, we just have to find a way there.
Click here to subscribe to the free digital editions of South Jersey Magazine
To read the digital edition of South Jersey Magazine, click here.
Published and copyrighted in South Jersey Magazine, Volume 19, Issue 12 (March 2023)
For more info on South Jersey Magazine, click here.
To subscribe to South Jersey Magazine, click here.
To advertise in South Jersey Magazine, click here.