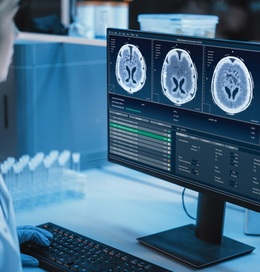 Fighting the Good Fight
Significant strides continue to be made in cancer treatment, including exciting new developments right here in South Jersey.
As can be expected of any person who has dedicated his or her life to battling cancer, Dr. Catherine Kim seems to light up when recounting the success stories. Take Deb Harris, for example, a Voorhees resident who underwent the most advanced form of radiation treatment for a brain tumor back in 2017, and has lived her best life since becoming cancer free. Had she not been able to receive proton therapy, who knows if Harris would have been well enough to create lasting memories such as visiting Europe or getting the ultimate thrill of going skydiving.
"They can still continue to live their lives, and that's what we want for our patients," Dr. Kim says. "It's one thing to cure you of your cancer but then you have all of the long-term side effects from your treatment. How your life is impacted from our treatment is the other main issue. We want our patients to be able to live life, not just in quantity but in quality as well."
That is one of the major benefits of proton therapy, which has become more widely available in recent years and will soon be offered right here in South Jersey thanks to the creation of the Penn Medicine/Virtua Health Proton Therapy Center, the first of its kind in this part of the state. The $45 million, 8,600-square-foot facility on the Virtua Voorhees Hospital campus is scheduled to open in April.
Originally approved by the FDA in 1988, proton therapy was at first available at just two centers in the United States, Dr. Kim says, but that number has risen to the low 40s. Similar to traditional radiation, it destroys cancer cells by preventing them from dividing and growing, but is able to deposit its dose at the intended target without damaging healthy tissue near the tumor.
"One of the biggest benefits with proton therapy is that it has the potential to really minimize dose to critical structures, and what that means is the patient experiences fewer side effects," says Dr. Kim, the medical director of Penn Medicine/Virtua Health Radiation Oncology. "Fewer side effects means less difficulty getting through treatment, so patients—especially those getting chemotherapy and radiation together—are in much better shape. They are less likely to develop severe toxicities and they can improve their quality of life overall, during treatment and after treatment for years to come.
"We've made huge advances in the world of oncology. Patients are living longer and as a result, our focus has not only been improving survival but maintaining, preserving and improving their quality of life for years to come. … Proton therapy is an additional tool in our toolbox. It's exciting technology, and we're just so happy to be part of this and to be able to offer this to our patients."
While Dr. Kim explains that proton therapy is not appropriate for all cancers, it can be helpful in treating complex diseases related to the central nervous system, the head and neck and the base of the skull along with lung, breast, colorectal and pancreatic cancer. Patients at the new center will benefit from an experienced staff and leading-edge facility, and will also receive the full complement of services from the Virtua Cancer Program, which is supportive on the journey from diagnosis to treatment and survivorship.
Clinical trials are also part of the cancer program and certain candidates may be eligible to receive the latest drugs or therapies if they are approved and consent to the treatment.
"That's sort of the heart and soul of radiation oncology," Dr. Kim says. "We rely on clinical trials to better our treatment and see how we can improve survival as well as improve the quality of life in our patients, which overall improves our patient outcomes."
Clinical trials are also a significant part of the practice at Regional Cancer Care Associates (RCCA), based locally in Moorestown, which is constantly looking to contribute to the improvement of cancer care. Dr. James W. Lee of RCCA explains that patients can receive "potentially new and active agents" in an office setting rather than traveling to a large university cancer center and dealing with multiple doctors and staff.
"Patients benefit from getting access to new and potentially active drugs that are not otherwise approved for use," he says. "Some patients may get dramatic responses to these new therapies, for example when the first targeted agent, Gleevec, for CML (chronic myeloid leukemia) put patients into remission. But even when experimental agents don't help the patient, their participation helps future patients by learning much more about the drug being studied."
Clinical trials have certainly played an important role in recent breakthroughs in cancer treatment.
"All cancer therapies must be developed and proven effective through clinical trials," Dr. Lee says. "But the recent explosion in new therapies, especially immunotherapies that use our own immune system to fight cancer, and targeted therapies that specifically block the genes and enzymes that promote cancer, have all been developed through clinical trials."
Click here to subscribe to the free digital editions of South Jersey Magazine
To read the digital edition of South Jersey Magazine, click here.
Published and copyrighted in South Jersey Magazine, Volume 19, Issue 12 (March 2023)
For more info on South Jersey Magazine, click here.
To subscribe to South Jersey Magazine, click here.
To advertise in South Jersey Magazine, click here.