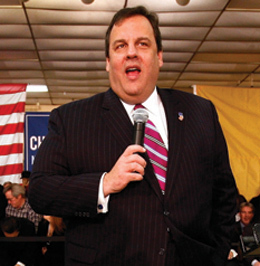 Southern Exposure
Go Figure
$300,000: Amount Gov. Chris Christie is spending to court business owners—in Illinois. Christie sought meetings with companies like Kraft in an effort to drum up interest in relocating to the Garden State.
200: Estimated number of black and turkey vultures that roost in Wenonah, Gloucester County, from November to April, because their previous roost in Deptford was displaced by development. The sixth annual East Coast Vulture Festival will take place in their honor on March 5.
72 hours: The required hold on New Jersey marriages. An exception dating back to the 1900s waives that delay if the man has engaged in "bastardy, rape, fornication" or "having had carnal knowledge of an unmarried female"—in which case they may marry immediately! A Bergen County senator is seeking to strike that language and similar content from New Jersey's law books.
$271 million: Amount the federal government asked New Jersey to return following the cancellation of the Access to the Region's Core tunnel construction project. New Jersey declined.
70,000: Single-game Phillies tickets sold on the first day they were available, a franchise record. Fifteen of the 81 regular season home games were sold out by the end of the day.
FIVE HUNDRED FIFTY THOUSAND: Number of illegal immigrants in New Jersey, according to an analysis of 2010 Census data; that's 6 percent of the state's population. We have the fifth-highest illegal population in the nation, and the third-largest proportion of illegal immigrants in the workforce.
"We'll win 100 games. I really plan on going after [the record for wins in a season]…. But that requires everybody doing their job."
—South Jersey resident Jimmy Rollins on his high hopes for the Phillies 2011 season
"There'sawarondrugsandthegovernment is losing badly, but every now and then they get one of our soldiers."
—Edward "NJ Weedman" Forchion, on the arrest of his brother and two others in Burlington County for marijuana possession
$100,000: Bar tab recently rung up by Woodbury native and Minnesota Vikings lineman Bryant McKinnie, who purchased 15 magnums of Champagne at a Hollywood nightclub.
40,000: Number of copies of his album Mission Bell that Cherry Hill-bred singer-songwriter Amos Lee sold to hit No. 1 on the Billboard 200 chart. Lee set the new record for the lowest-selling No. 1 album ever.
TEN: Fatalities along Route 130 in Burlington County, earning it the title of the most dangerous road in New Jersey from the Tri-State Transportation Campaign.
Top 10 Christie-isms of the Month
Love him or hate him, Gov. Chris Christie has brought New Jersey politics into the national media spotlight in just over a year in office. Not only is he "manly" enough for conservative pundit Ann Coulter—who called him "the only Republican who could win" against President Obama—the governor also has a 52 percent job approval rating in Jersey, according to a Quinnipiac University poll. Here, a few of Christie's choice words.
1. On a rumored presidential bid: "I'm not stupid. I see the opportunity. I see it. That's not a reason to be president of the United States. You have to believe in your heart and in your soul and your mind that you are ready. And I don't feel that right now."
2. On bipartisanship: "Being called disgusting by [Democratic Assembly Majority Leader] Joe Cryan is high praise—high praise. If anybody should know disgusting, it's Joe Cryan.
3. On compromise: "Listen, you guys want to pass an income tax increase, you can. That's fine; I'm going to veto it. And if you want to close down the government ... I'm not moving any cot into this office to sleep in here. ... I'm getting in those black SUVs with the troopers. I'm going to the governor's residence, gonna go upstairs, gonna open a beer, gonna order a pizza and I'm gonna watch the Mets. And when you decide to re-open the government, give me a call."
4. On Social Security: "When we say we're cutting spending, when we say everything's on the table … we should be specific. Here's the truth that nobody's talking about. You're gonna have to raise the retirement age for Social Security. Whoa, I just said it, and I'm still standing here. I did not vaporize."
5. On his confrontational personality: "It might get me in a little bit of trouble, but I'm happy to live with the upside."
6. On his Republican colleagues in Washington: "It's put-up or shut-up time. If people who I campaigned for don't stand up and do the right thing, the next time they will see me in their district is with my arm around their primary opponent."
7. On President Obama allegedly cribbing from his "It's Time To Do the Big Things" speech: "I didn't know whether to feel good or bad. I guess, I guess that imitation is the sincerest form of flattery, so I'll take it that way."
8. On MTV's Jersey Shore cast: "Take them back [New York], we don't want them…. Remember, Snooki is from Poughkeepsie and The Situation is from Staten Island. That's not New Jersey."
9. On his weight loss goals: "I'm not going to put any numbers on it because you just set yourself up for failure. I'm motivated by the fact that the job is pretty stressful at times and I have four kids, so I need to be around for them."
10. On taking his life: "What do I have to do short of suicide to convince people I'm not running for president? Apparently I actually have to commit suicide."
15 Minutes: JVR
James van Riemsdyk—known as JVR in the locker room—is a South Jersey resident and left wing standout for the Philadelphia Flyers. We find out what makes this up-and-coming hockey star tick.
My favorite thing about South Jersey: Everything is pretty close. There are a lot of restaurants around and it's kind of low key.
On my iPod: John Mayer, a lot of hip-hop and stuff like that, Jack Johnson, Counting Crows.
My typical day off: Sleep until 11 a.m. or noon and then hang out on my couch the rest of the day.
Probable star of my biopic: Chad Michael Murray.
Secret to success: Perseverance. I'd say, you're going to come into a lot of obstacles and you have to just fight through them.
Guilty pleasure: For food, I'd say lava cake with ice cream from Morton's, and music, I'd say Taylor Swift.
Favorite restaurant: Little Tuna in Haddonfield.
Best advice I ever got: When I left home, my uncle told me, "If it were easy everyone and their mother would do it."
I never leave home without: [My] lucky coin.
I would like to have dinner with: Candice Swanepoel, the Victoria's Secret model.
Daily reading material: ESPN the Magazine.
Little-known talent: Video games, Xbox.
Proudest moment: Making the team.
When I get up in the morning I look forward to: Seeing the guys at the rink.
I hope to be remembered for: Not only being a great hockey player, but also being a good person off the ice and giving back to the community.
Clown Posse
Barrington's George Edwards—better known to patients and staff at Cooper University Hospital and St. Christopher's as Dr. Bumper T. Clown—is the type of 85-year-old man who, as a blanket rule, answers the phone: "Hello, is this the person to whom I am speaking?"
So it's fitting that he and his brigade of 25 Bumper "T" Caring Clowns spend time each week entertaining the sick and their caregivers alike. The congenitally cheerful Edwards has been at this for 35 years, but a decade ago he and his fellow South Jersey clowns incorporated as a nonprofit, rolling up their sleeves for some serious funny business. "Our goal is, through humor, to release stress," he says. "Also, we're there as much for the staff as for the patients. The staff all have very stressful jobs."
While Edwards has no medical background, there are nurses, physicians and even a med student among his crew. New clowns go through a rigorous interview and training process. And clown-patient confidentiality is always observed.
"We do a lot of listening. There's many a time I've spent an hour and a half with a patient, and generally it's a patient that has just been diagnosed with a terminal illness. And the family and friends go into a state of denial and they won't let the patient talk about it," Edwards says. Those losses are hard, but when he remembers the patients he's befriended, "I know I'm doing the right thing," he says. "That's why I put my makeup on and schlep off to the hospital, because I know I'm going to make a difference that day. It may not be with everybody but I will make a difference."
BumperTCaringClowns.org
Big shoes to fill. Think you have what it takes to clown for a good cause? Yet another local clown brigade, Kapo's Gang, comes out in full costume and makeup for charity events across South Jersey. And, they'll teach you (and your kids) the fine art of clowning for free. The crew consists of both professional working clowns and enthusiastic amateurs. Meetings are the first Tuesday of the month, 7:30-9:30 p.m. at St. Michael's Lutheran Church, Chapel Avenue and Kings Highway, Mount Laurel, KaposGang.com.
Home Grown
Who says baby gear has to be pink and blue? Certainly not Burlington County's Ninotchka Johnson. Her Top Notch by Design line includes handmade stuffed giraffes in wild retro prints and onesies with skull-and-crossbones neckties stitched on the front. For moms, she makes totes, clutches, camera bags and straps, and cheeky "stache bags," wristlets with handlebar mustaches that make for instant (if less than convincing) disguises. Buy it at Jersey Made, Mount Holly, or order online at TopNotchByDesign.com.
Street Level
Cherry Hill
A local attorney was sentenced in a Pennsylvania court to 75 hours community service and six months' probation for punching the opposing counsel in court last summer.
Deptford
Four Liberian scammers arrested in Deptford told marks that they had $17 million in smuggled "dyed cash"—phony bills coated in ink—and "blood diamonds."
Woodbury Heights
The Gateway football coach resigned after going 1-9 for the season—and forfeiting a game due to insufficient player turnout.
Moorestown
A 5-foot-tall fiberglass replica of the RCA dog, Nipper, which had been installed on Main Street for five years, was stolen, but discovered a week later behind a local nursing home. It was the third Nipper-napping since 2005.
Marlton
A man who accused police of using excessive force when arresting him actually beat himself up while in custody, police said.
How to … Save $10,000 a Year
We asked two local pros—Rick Clifford, vice president at DVFG Financial Advisors in Mount Laurel, and Wanda Hardy, founder of CreditWorthy, Inc., a nonprofit that teaches financial management skills—to help us figure out some (relatively) painless savings strategies. "Saving should be a line item in your budget," not an afterthought, Hardy urges. Here are some good places to start.
Give up HBO. "Stop paying for premium channels that you don't use. Drop them, go basic and save big," Hardy suggests. "Instead, you can sign up for services like Netflix, which offers streaming content for as little as $7." Savings: $700
Kick your coffee habit. Substitute home-brewed coffee for your $500 a year in Starbucks—or, worse, $1,000 a year in daily $4 lattes. Savings: $400
Reconsider your vices. Ending a pack-a-day habit could save you upwards of $2,000 a year, while cutting out just two glasses of wine from your weekly nights out (or restricting your drinking to happy hour), could cut another $1,000. If you tend toward unlucky weekends in Atlantic City, calling off even one $500 poker night will be a blessing for your wallet. Savings: $2,500
Refinance your mortgage. "Depending on your mortgage rate, on a 30-year mortgage if you lower your rate by 1. 5 percent to 2 percent, you could reduce your monthly mortgage payment by approximately 10 percent," Hardy explains. To balance out closing costs, though, you'll need to stay in your home awhile. Savings: $2,000
Dine out for less. "If you like to eat out a lot, look for meals with deals," Hardy says. Numerous websites and coupon services offer savings of 50 percent or more. Savings (based on one meal a week): $1,000
Carpool. Not only can you cut your driving time in half but, on a 25-mile roundtrip commute, you'll save $350 in gas alone. If you take toll roads, you could save another $500 a year. Savings: $850
Start that 401(k): "If there's an employer match make sure you're doing that," Clifford urges. A 20 percent match on $5,000 in annual contributions is the equivalent of $1,000 in found money. Savings: $1,000
Audit your insurance. "Reviewing your current coverage is an excellent idea to find savings," Clifford says. You could find savings by bundling home and auto insurance, or by dropping unnecessary coverage. Savings: $500
Brown-bag it. While it's OK to treat yourself occasionally, replacing an $8 lunch—a sandwich, chips and a drink—with a $3 bag lunch can pay off in the long term, Hardy says. Savings: $1,250
Melting Pot
The 2010 Census revealed dramatic changes in the ethnic and racial composition of our population. Here's the breakdown.
4: The number of U.S. states, including New Jersey, that are on the path to becoming majority-minority when it comes to race.
Burlington County
Hispanic population: +64%
Black population: +16%
White population: -5%
Camden County
Hispanic population: +49%
Black population: +9%
White population: -14%
Gloucester County
Hispanic population: +108%
Black population: +26%
White population: -1%
Names to Know
Matt Hoffman, a standout defensive end on Rowan University's football team and a Burlington Township native, was awarded the Philadelphia Sports Writers Association's Special Achievement award. Hoffman donated bone marrow to a man with non-Hodgkin's lymphoma, saving his life.
Cherry Hill West sophomore Eliana Roth and Voorhees resident Alyssa Fox will represent the United States with their team, Skyliners Synchronized Skating, at the 2011 Junior World Challenge Cup in Neuchâtel, Switzerland in March.
Voorhees residents Judy Nadell and John Langan donated $1 million to five Catholic Partnership Schools in Camden and Pennsauken, with the objective of boosting students' interest in reading.
Pennsauken residents Jim and Lynn Cummings have been selected as 2011 Justice for ALL honorees by the Catholic Charities, Diocese of Camden, Inc. for their parish and community ministry. Neighbors Empowering Pennsauken, which they helped found, has transformed and organized their community to cooperate for a better future. They also helped launch Build Jake's Place, an organization to build universally accessible playgrounds in South Jersey.
An award-winning music critic and author of The New York Times bestseller 1000 Recordings to Hear Before You Die, Haddonfield's Tom Moon has moved from the critic's desk to the studio. He's released his first album with his Moon Hotel Lounge Project, entitled Into the Ojalá.
The Alzheimer's Association, Delaware Valley Chapter honored nursing assistant and medication aide Kathleen Punch with the Martin Luther King Award for her exceptional care of patients with memory disorders, especially Alzheimer's disease.
The New Jersey Society of Municipal Engineers awarded Christopher Noll, president of Environmental Resolutions Inc., with their 2010 Honor Award for his role in the design and construction of the new Samost Playground at Fort Medford, the first park in Burlington County to be universally accessible to children with special needs.
Cherry Hill's Reverend Emmanuel Pratsinakis was presented with a 2011 Camden County Freedom Medal, honoring the legacy of Dr. Martin Luther King Jr. for his work as a community leader and activist and a participant in the Cherry Hill Religious Leaders Coalition.
Do you know a local person who is doing great things and should be on our radar? Let us know by e-mailing samantha@southjersey.com.
Published (and copyrighted) in South Jersey Magazine, Volume 7, Issue 12 (March, 2011).
For more info on South Jersey Magazine, click here.
To subscribe to South Jersey Magazine, click here.
To advertise in South Jersey Magazine, click here.