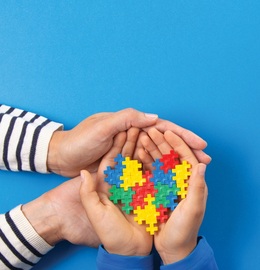 Building a Community All Year Long
While World Autism Month brings increased awareness each April, advocates and allies are dedicated to creating a more supportive, understanding and inclusive world for their loved ones every single day.
April might mark the beginning of World Autism Month but for those whose lives have been touched by autism spectrum disorder (ASD), awareness and advocacy efforts aren't limited to just one month a year.
Those ongoing efforts range from focused education that helps break down stubbornly lingering misconceptions and stigmas to community-wide events that bring neighbors together regardless of their neurotypes and abilities.
"We're constantly doing things to celebrate the individual," says Michael Telep, director of marketing at Devereux Advanced Behavioral Health New Jersey. "We cover the entire state of New Jersey with so many programs, so we're having small celebrations throughout the state all the time—we don't have just one big event."
The scope of those events range from the small-scale to grand efforts: from township proclamations that declare a municipality's dedication to supporting its residents, neighbors and visitors with autism to educational outreach; from working with local minor-league baseball teams that host inclusive events connecting players with individuals on the spectrum to coordinating with other organizations to bring the Annual Autism Beach Bash to Belmar every year.
Perhaps most importantly, though, is getting the word out that people with autism and their support networks have not only access to but an awareness of all the options available to provide them with the extra support and individually tailored assistance they—and their families—need.
"We're often a destination for people who have lost hope, for families all over the country whose loved ones can't be served anywhere else," explains Dr. Karen Lindgren, chief clinical officer at Bancroft, a nonprofit whose mission is supporting those with a range of developmental disabilities and neurological needs. "It's critical for us to involve our families and support them in identifying what is it they want their loved ones to be able to do. … Everybody has different priorities, and incorporating the family into those goals and their dreams for their loved ones is really critical."
But even with those year-round efforts, the extra attention that an annual awareness campaign like World Autism Month organically generates does help chip away at the barriers to treatment, support, resources and services that might stand in someone's way.
Dr. Lindgren notes that the nonprofit has partnered with the likes of Cooper University Health Care, Autism New Jersey and the state Department of Health to host an April 14 "whole-person, integrated healthcare conference," which is intended to overcome a hurdle that carries long-term consequences.
"People with autism have barriers to access and have the need for integrated treatment that really looks at the whole person and not just one sliver," she says. "The conference is bringing together professionals and physicians and healthcare providers to understand how we can start to recognize and break down these barriers to good health care. There's barriers in the sensory, the understanding of healthcare professionals of the unique needs of people with autism, communication and advocacy for service, which cause people with autism to have less access or less high-quality healthcare."
For Devereux, working with the autism community means supporting individuals from youth to adulthood, from those who are high-functioning and determinedly independent to those who require 24/7 assistance, from those in their residential services to those who just need a daytime program. In other words, the nonprofit has to meet a range of clients where they are, and not only identify their needs for today but also their and their caretakers' hopes for tomorrow.
That's why its children and adult services cover such a wide swath of needs that meet individuals where they are. The three-pronged approach to treating adults with autism includes the residential programs that roughly 280 individuals call home, day programs for "those who need something to do rather than just sit at home alone" and are organized by individuals' abilities, and a supportive occupational program for those interested in job coaching, skill training and securing employment. For children and youths, services at Devereux include psychological assessments, the interventional approach of ABA (or applied behavior analysis) therapy and in-home programs.
And while community outreach is an effective element in combating persistent misconceptions, it's proactively supporting people with autism and helping them thrive on their terms that makes for the most unignorable victories against the odds.
"Coalition groups and people that have someone near and dear to them with autism know a lot about the abilities of these individuals, and we see some amazing success stories where individuals are given the behavioral support plan they need, and they're able to progress," says Telep. "The biggest misconception is that people with autism are who they are: Everyone is trying to grow every day, and they are, too. I think the hardest thing for most people to get over is thinking that just because someone has a disability or has autism, that their current functioning level is what it is—and that's just not true!"
No matter how much good an organization both wants and is positioned to do, though, Dr. Lindgren says that it's impossible for just one entity to make the impact it envisions alone, which is why community partnerships are crucial components in Bancroft's mission.
"One organization cannot meet the needs of everyone with autism, but we can form partnerships with so, together, we can form a web of services," she observes.
Telep agrees that partnerships are hugely beneficial to everyone.
"We have a lot of great organizations and community partners in New Jersey that throw phenomenal events," he says.
And while he adds that no singular effort is a game-changer unto itself, the cumulative effect is what matters.
"It's bigger than and beyond any one event," Telep continues. "There isn't going to be just one walk or one awareness initiative or one beach bash where suddenly everyone is treated the same and feels included: I think it's all those moving parts put together that, hopefully, helps change people's minds and their beliefs about autism. When we change people's perceptions and they desire to be better, then people do better and society gets better, as well."
"Every person we touch, it does have an impact," affirms Dr. Lindgren. "You can help alter the perception of individuals to help them be more accepting and welcoming … There's always more to do, but every effort is valuable."
Because while awareness is certainly an important first step, nurturing the advent of a more inclusive, compassionate world is the goal.
"What you really want to do is create an environment where everybody is accepted and diversity is welcomed and not seen as a challenge," she continues. "We work with museums, we work with other healthcare systems, we do also work with law enforcement and EMS workers because we want people to understand how neurodiversity represents and to best still serve that person so they have a fantastic outcome."
Click here to subscribe to the free digital editions of South Jersey Magazine
To read the digital edition of South Jersey Magazine, click here.
Published and copyrighted in South Jersey Magazine, Volume 19, Issue 12 (March 2023)
For more info on South Jersey Magazine, click here.
To subscribe to South Jersey Magazine, click here.
To advertise in South Jersey Magazine, click here.