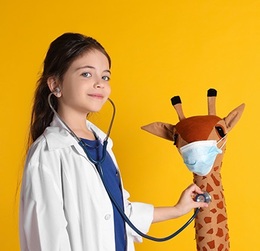 Top Physicians for Children 2023
Our leading Top Physicians for Children in South Jersey
Parents would do anything for their kids to make sure that they go on to have lives full of health and happiness. But, there's only so much a mother or father can do and so when it comes to prioritizing their children's health, it's important for them to have trusted pediatric providers they can depend on to play an integral role in their little one's growth and development.
Our annual list of the Top Physicians for Children, as chosen by their peers and our readers, is a roundup of some of the foremost pediatric medical minds in our area who are recognized for offering highly compassionate and personalized levels of care. As a result, parents across South Jersey can rest assured that no matter if it's a routine checkup or a more serious need, their children are in good hands
---

---

---

---

---

---

---

---

---

---

---

---

General Pediatrics

Dr. Jeffrey D. Blackman | Marlton

Dr. Laurie Bruner | Stratford

Dr. Penny M. Chong | Camden

Dr. Edgar Collazo | Sewell

Dr. Daniel Costa | Blackwood

Dr. John T. DelGiorno | Blackwood

Gibbsboro | (856) 783-2802

Dr. John D. Giardino Jr. | Moorestown

Dr. Bruce Gooberman | Cherry Hill

Dr. Anne Gordon | Moorestown

Dr. Esther Harris | Cherry Hill

Dr. Tanya L. Kadrmas-Iannuzzi

Dr. Karen Kaighn | Serving South Jersey

Dr. Leonard F. Kaplan | Cherry Hill

Dr. Richard King | Mount Laurel

Dr. Christina Litrenta Lampone

Dr. Anthony Marchese | Cherry Hill

Serving South Jersey | (856) 753-7374

Serving South Jersey | (856) 753-7374

Dr. Anthony F. Napoli | Gibbsboro

Dr. Howard N. Orel | Marlton

Dr. Stephanie B. Rickey | Gibbsboro

Dr. Mark G. Schlitt | Haddon Heights

Dr. Stephanie N. Schlitt | Haddon Heights

Dr. Mary Stailey-Sims | Woolwich

Dr. Jill Stavalone | Marlton

Dr. Bruce Taubman | Cherry Hill

Dr. John B. Tedeschi | Cherry Hill

Dr. Reynaldo Velasco | Cherry Hill

Dr. Howard S. Waxman | Marlton

Dr. Jason Weber | Serving South Jersey

Dr. Marius Wechsler | Mount Laurel

Dr. Heidi Weinroth | Moorestown

Dr. Theresa Welsh | Haddonfield

---

---

---

---

---

---

---
Methodology
Earlier this year, we sent out correspondence to the leading pediatric professionals in South Jersey in search of nominations for our annual Top Physicians for Children list. In addition, we also tasked our readers with going online and recommending the pediatric professionals they've had positive experiences with. The results were tallied and after applying a minimum number of votes to be considered for the list, the leading vote-getters in each specialty were then vetted using public sources of information to verify peer recognition, professional achievements, experience, honorable accolades and more.
We go to great lengths and take time and energy to ensure a fair voting process, but we acknowledge these surveys and Internet research are not an entirely objective metric. We are aware that this is just a mere sample of the good physicians in the region and thus there are many professionals who do not appear on the list. Furthermore, South Jersey Magazine does not solely endorse the services of any particular doctor who was selected. Lastly, any paid advertisements in this publication were not exchanged for inclusion on the list.