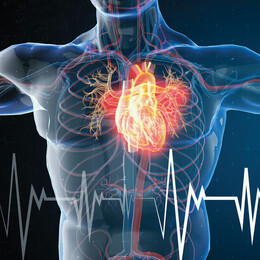 Prioritizing Heart Health
Patient-focused cardiovascular care expands
According to the Centers for Disease Control and Prevention, cardiovascular disease has held steady as the leading cause of death in both men and women in the United States since 1950. It's held this sobering title for multiple reasons, including high-risk factors like high blood pressure, high cholesterol, smoking, obesity, diabetes and excessive alcohol use, all of which are common across the nation.
Cardiologists across South Jersey have dedicated their professional careers to decreasing the number of patients who are diagnosed with and succumb to heart-related conditions. South Jersey Magazine spoke with some of the physicians in the area to discuss the new technology and techniques being utilized in cardiological medicine.
Every year, roughly 805,000 Americans have a heart attack, or one person every 40 seconds, and 20.6% of these cardiac emergencies are fatal. Since the majority of heart attacks, also known as myocardial infarctions, are the result of Coronary Artery Disease (CAD), these fatalities make up a large portion of the cardiovascular disease deaths that the United States suffers each year.
Since 2021, cardiologist Ashfaque Ali Unwala, M.D., and the team at Inspira Health Center Woodbury have adopted a new approach to treating and preventing heart attacks.
It began in 1997, when the hospital, formerly Underwood Memorial, performed catheterizations to diagnose heart attacks and then transferred patients to nearby hospitals to receive stents. In 2009, Inspira began doing emergency catheterizations and stents on patients actively having ST-elevation myocardial infarctions (STEMI) found on electrocardiograms.
Now, since 2021, physicians at Inspira and throughout New Jersey have been able to perform elective Percutaneous Coronary Intervention (PCI) on patients who show signs of blockages but aren't necessarily in the middle of a cardiac emergency just yet.
"If we're not convinced that the patient definitely has a blockage—their symptoms may not be convincing, their electrocardiogram may not be convincing—then we will do a stress test. And if the stress test is positive, then we will suggest that they get a catheterization," Unwala explains.
Elective PCIs not only have the ability to prevent life-threatening myocardial infarctions but also, Unwala says, provide patients with other safety, comfortability and convenience benefits.
"Now they can have that done at the same time, so it's just one procedure for them. Aside from that, it also has added to the safety. … Initially we were only allowed to do [stents on] patients who were having a heart attack as determined by an electrocardiogram. So if they were not having a heart attack, then we would not be able to do their stenting," Unwala says, recalling times when patients left the hospital only to return hours later suffering from heart attacks that could have been prevented.
"If we see a narrowing in a vessel, we can go ahead and fix it with a stent at the same time and not expose the patient to not only the additional procedure but additional chest pain. That has made a tremendous difference."
Much like the patients undergoing elective PCIs at Inspira, Virtua Health patients feel a new sense of comfortability because of the hospital's latest cardiological advancements.
The multidisciplinary team at Virtua Health's Structural Heart Clinic is utilizing advancements like Transcutaneous Aortic Valve Replacements (TAVR) to provide its patients with higher-quality care.
TAVR is a minimally invasive procedure performed through a catheter to replace aortic valves that are narrowed and not opening properly. This problem results in a heart murmur and is commonly brought to the surface because of complaints of chest pain, dizziness, shortness of breath and lightheadedness.
Vincent Spagnuolo, MD, the Medical Director of Clinical Cardiology at Virtua Health, says that TAVR is a much safer and simpler procedure than its alternative, open-heart bypass surgery.
"Most people [who undergo] the Transcutaneous Aortic Valve Replacement go home the next day. And recently, very select patients, if they meet certain criteria can go home the same day, which is amazing considering that in the past they would have had a five- to seven-day hospitalization and then possibly go to rehab."
Like elective PCI, it prevents potential and more severe heart problems, in this case, congestive heart failure, and also gives patients peace of mind and a sense of familiarity during a daunting time.
"Many of our patients prefer to get their care right here in our communities, and now we have the expertise to do that," Spagnuolo says. The clinic is also working with advancements in medicine to treat congestive heart failure and diagnostic CAT scans, but Spagnuolo speaks for all physicians by emphasizing the importance of preventative care above all else.
"Despite all these advancements, there's no better medicine than regular exercise, a healthy diet and not smoking."