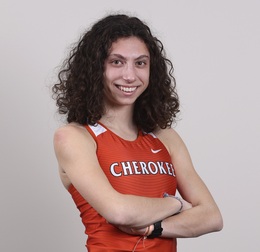 Head of the Class
As the high school winter sports season winds down, we recognize some of the student-athletes who helped make it a memorable one.
Jessica Leonard, Eastern girls bowling
Leonard placed in the top 10 at the sectional championships this season to earn her second straight trip to states and led the Vikings to a second-place finish in the process. During the regular season, she posted a high game of 265 and a high series of 665 as Eastern went 15-0-1.
SJM: Last year was a breakthrough season for you individually and you followed it up with another strong one. Are you happy with how you have performed?
JL: Yes, but I don't want to give too much credit to myself because some days I'm the one pushing the team up and sometimes it's them pushing me up. But I'm pretty happy with how it went.
SJM: Your team went undefeated during the regular season and took second at sectionals. The program is always one of the best in the area, but did you expect to do this well as a team?
JL: At the beginning of the season, I didn't know how to feel about it because the senior we graduated from last year, Maddie [Feldschneider], was a big loss. She was one of our better bowlers.
SJM: But it seemed like you were ready to lead the team after reaching states last year. Did that experience give you confidence?
JL: States as a team was definitely a fun experience, but as an individual it was a pressure I had never experienced before. It was a lot. There were so many people, but usually that stuff doesn't bother me because that's how it is at our matches. But so many eyes are on you and I let it get the best of me. I did much better for the team championships than individuals.
SJM: Do you think it prepared you for this year?
JL: Definitely. [My goal at states was] to keep myself more calm and relaxed, not get in my head, and just have fun.
SJM: How did you first get interested in the sport?
JL: My whole family bowls. I got thrown into it when I was 5 and I kept progressing from there. I went from using house balls and house shoes to getting my own stuff. My parents don't bowl much anymore but I have three older brothers who are all bowlers and they all came through Eastern.
SJM: What is it like being the youngest with three older brothers?
JL: It's a gift and a curse. It teaches me a lot but it also teaches me not to do a lot.
SJM: Do you play any other sports?
JL: I play softball. That's more of my main sport and it's what I want to play in college. But I'm definitely getting more recognition for bowling now.
SJM: What do you love about bowling?
JL: The people it's introduced me to. I've made some very good friends through Eastern bowling and bowling in general. Coach [Eric] Datis has known me since I was a kid and as a joke he tried getting me to bowl my eighth grade year, without even being in high school, because he was so eager for me to bowl for him.
SJM: You had a high game of 265 this season. What's the best you've ever had?
JL: Over Christmas break, I was breaking in a new ball and I threw a 277. That was just practice, but I have pictures so if anyone asks, I can prove it [laughs].
SJM: Were you getting close to a perfect game that day?
JL: No, because of the way I started off. If I remember right, I started off with two 9 spares and then the rest were all strikes. Then in the very last frame I had a 7 or something. So I was close, but not really close.
SJM: Do you feel like you're capable of rolling a perfect game someday?
JL: If I can center my focus and not crack under pressure, definitely. [My family members] have gotten close, but not yet.
SJM: What else do you like to do for fun?
JL: I like to work on softball, but if not I'm usually at the gym or at home listening to music. Music is actually a big part of my life. My parents raised me on stuff that would be unheard of today, like classic rock and all of that stuff. The Who and Van Halen are my top two [bands]. I've seen The Who twice in concert and if they come back to Philly again, I definitely recommend them. For newer artists, I saw Coldplay for my birthday last year and that was a good concert too.
SJM: What do your friends say when you talk about these older bands?
JL: My best friend who I've known since second grade, his mom is a huge Def Leppard fan, so he's the only one I can talk to about it. Otherwise, I don't usually bring it up around my other friends because they don't understand.
SJM: You mentioned wanting to play softball in college. Do you know what type of school you're interested in?
JL: Yeah, I made a list. I don't want to go to the biggest D-I school but I still want to aim for D-I. My top three are the University of Missouri, the University of Connecticut and UNC. They're spread out around the country but still kind of close to home. I have family in St. Charles and that's about two hours from Columbia, which is where the University of Missouri is. So if anything were to happen, they would be right there. I plan on doing college tours all this summer, whenever I don't have softball.
SJM: What do you like about growing up in South Jersey?
JL: I live in Gibbsboro and it's small and quiet. There's not much going on, but at the same time there could also be many things going on at once and you can find out about it minutes.
Maya Hemo, Cherry Hill East girls wrestling
After becoming the first female wrestler in school history to win a state championship last year, Hemo followed it up with a terrific senior season. She captured her second consecutive region title and was preparing to defend her state crown as of press time.
SJM: Your state title last year was such a big moment for you and the school. Did you see it coming?
MH: I personally didn't see it coming or think I could accomplish it, but my coach [Steve Ascola] did. We call him "Magic Man" because he predicts everything. He says, "This is going to happen, that is going to happen," and then it happens.
SJM: When did you start to get confidence in yourself?
MH: Not until it came time for [the state final]. In my first match, I was down [6-1] or something like that because I made a silly mistake, and I was upset with myself.
SJM: Can you put into words the emotions you were feeling at the moment when you won the state title?
MH: I didn't even believe it. When they called the pin, it didn't even register. There's a photo of me and I look shocked. My coach loves to send it and make fun of me. It was surreal.
SJM: Did you have certain goals in mind for this season? Were you focused on repeating or just trying to enjoy your time left in wrestling?
MH: Both. We have a girls team now, so I'm trying to build them up and help them as much as I can while I'm still here, because it's the first year for all of them. And obviously I want to try to [win] again.
SJM: States are in Atlantic City this year, right?
MH: The finals are there. The rest of the tournament is still in Phillipsburg.
SJM: The boys tournament in Atlantic City is such a big deal. Do you think it's important to have the girls' finals there too?
MH: I think it's a really big step. My freshman year, I remember the whole states was in AC with the guys. I was injured so I couldn't compete it, I didn't even get the opportunity [to qualify]. But I went and watched.
SJM: Do you feel like the sport is catching on with more girls?
MH: Yeah, we actually have a team this year so it's not just me.
SJM: Do you think you played a part in that, because people saw your success?
MH: I hope so. None of my friends wanted to do it but I got a few others to try.
SJM: Did you start wrestling as a freshman because of your older brother's influence?
MH: Yes, and also I just got off soccer and needed something to do, so I gave it a shot. I met a friend who knew the head coach and she introduced me to him.
SJM: Did you love it right away?
MH: Not really. The first year I was just there; I didn't love it or hate it. It was just an activity to do after school. I would definitely say it's [a passion now]. After my sophomore year, the COVID year, my coach said, "You can definitely be something in this sport." He started pushing me to go to the gym and get stronger, to go to outside clubs and get better.
SJM: It's one of the toughest sports at the high school level. Do you like that it's such a challenge and you get out of it what you are willing to put in?
MH: That's my favorite part. That's why I fell in love with it in the first place. It's a grind and what you put in, you get out.
SJM: Do you study the other top wrestlers in your weight class or just try to focus on yourself?
MH: I'm a very in-my-head type of person and I've never had a great sense of confidence, so I just take it one day at a time. I'm not going to get too ahead of myself or get caught up in the past, because it's not going to do you any good on the mat.
SJM: Do you know what you're doing next year?
MH: I'm hoping and planning on going to The Citadel. Since middle school, I wanted to go into the military after high school, but then I was on the fence about whether I wanted to go. So I can go to a military [college instead] and it has a major that I'm interested in, which not a lot of other colleges offer. It's called intelligence and security studies—[it entails] analysis and national defense and all of that.
SJM: Do you see yourself working for the government in the intelligence community in the future?
MH: I'm not sure. I'm still figuring that part out. One step at a time. I'll see what comes my way, what offers I get, and what opens itself up.
SJM: What else do you like to do for fun?
MH: I like going to the gym and I love eating. I also like playing with my dog and spending time with her. I have a golden retriever and her name is Lola. We got her in 2016 and she'll be 7 in March. Hers is the only birthday I remembered for the longest time—my sister was not very pleased about that.
SJM: So your parents are both from Israel and you just recently visited. What's it like to learn more about the country and the culture?
MH: It was weird because I think the last time we had gone was seven years ago, so seeing family again and being in [my dad's] childhood house now that I'm grown and seeing how small it actually is was weird. I don't get to see that side of the family a lot so it feels like we're missing out sometimes, but it was also really nice to see them again and get to experience part of our culture.
SJM: What do you like about growing up in South Jersey?
MH: It's very diverse here and I like that.
SJM: How do you get fired up for a big match?
MH: On the bus, I'll listen to music. Once I get there, I weigh in, eat, go get warmed up and I have a stretching routine that I always do. Then I work with my partner and when the match comes, I always tell myself a mantra that I adopted last year just because I used to get so nervous, and it helps settle me down. I tell myself this mantra over and over again: "I'm beautiful, I'm strong, I'm capable and I'm not afraid." I just repeat that phrase over and over and then I focus on my breathing, and it helps calm my mind down, calm my nerves and get me in the zone.
Henry McFadden, Haddonfield boys swimming
Heading into the home stretch of his stellar career at Haddonfield, McFadden already had two individual state titles and a litany of school records on his resume, with more sure to follow. Earlier this year, while competing at an event in Tennessee, the Stanford commit swam the sixth-fastest 200-meter time in U.S. history for 17-18-year-olds, a list topped by Michael Phelps. He is a member of the U.S. Junior National Team.
SJM: Has it sunk in that your high school career is just about finished?
HM: No, not yet. It's going to be sad.
SJM: I know you have your club team and the events you participate in around the country, but do you still enjoy competing for the high school team?
HM: I love being part of the high school team. I've made so many friends there and it's so exciting to be part of a team like that.
SJM: Do you have any particular goals for this year's state championships?
HM: I'm going to stick with the 2 free and the 5 free and try to break state records. I'm going to leave it all out there.
SJM: What did it mean to you to win your first two state titles last year?
HM: It was super cool. I remember when I was a scrawny sixth-grader and I never could have dreamed of doing that. Just to be up there as a junior, let alone at all, was great.
SJM: Do you even know how many school records you have?
HM: We counted them and I think it's six. I think my [200] free really stands out because that was a special swim for me. That was a U.S. Nationals cut and I had really wanted to make that meet, because that's the meet where I made the National Junior Team and I was able to go to Hawaii and break a few records. That was the first swim in that progression, so it really means a lot to me. That was at states last year.
SJM: Breaking records at a school like Haddonfield is impressive, and you've also been part of a great club program at Jersey Wahoos. What's it like to be part of that tradition?
HM: It has definitely pushed me. Everyone at Wahoos is so committed and spending every day there pushes me to be my best. I started there in fourth grade and I've spent a lot of early mornings and weekends [in the pool]. In fourth grade I was just doing it on the side and I played baseball; swimming wasn't my main focus. Sixth grade is when I started to rise up through the program.
SJM: How did swimming emerge as your No. 1 sport?
HM: I don't know, I just liked it more than anything else. It's almost kind of peaceful in the water, you're by yourself and there's nothing else.
SJM: Is the 200 free your favorite event?
HM: Yeah, I think so, but the 50 free is always fun too. I won't go much further than the 500. The mile is not my cup of tea.
SJM: You've gained a lot of national recognition and your 200 free time is on a list with Michael Phelps at the same age. Did you think all of this success was possible?
HM: I think my coaches thought it was possible but I'm not sure I thought it was possible. I remember my freshman year, my coach said to me, "Henry, you're going to make the National Junior Team by the time you're out of high school." I was like, "No, those kids are way faster than me." Then I made it junior year and it was like, "Whoa." They really saw it in me and helped me get there.
SJM: To be on a list with Michael Phelps …
HM: Yeah, it's pretty cool.
SJM: Stanford's reputation speaks for itself. What made you commit there?
HM: I'm super excited to go out there. The program they've got and the guys they have are fantastic and I'll get a top-notch education. What more could you ask for? My class coming in has someone who's faster than me in some of my [main] events, which is going to be awesome to train with.
SJM: Are you nervous about going to school across the country?
HM: I think my mom's more nervous than me. But I'm definitely going to miss home.
SJM: Do you know what you want to study?
HM: Not really. I'm going to take classes and figure out what I like. I'm interested in economics but I've never taken an economics class, so I'm going to take some and find out if I like it.
SJM: What is your ultimate goal with swimming?
HM: To see how far it takes me and to enjoy it. My philosophy is, if I'm not enjoying it, I'm not going to be successful. In some of the periods when I'm the most miserable in training, that's also when I'm performing the worst at meets. As long as I'm enjoying it and making the most of it, we'll see what happens.
SJM: Do you allow yourself to think about the Olympics?
HM: My coaches make me. Recently they sat me down and said, "It's actually a realistic thing." I was like, "Really?" I still see myself as a scrawny sixth-grader who showed up to practice and tried his hardest. It's kind of incredible that I might be able to get there.
SJM: Do you watch the Olympics?
HM: Definitely.
SJM: Have you always lived in South Jersey?
HM: I moved here in fourth grade from Philly. [I love] the freedom I had growing up to ride my bike around town, ride my bike to the pool. I spent so much time at the pool during the summer and that's something I'll always remember about being a kid in Haddonfield.
SJM: What else do you like to do for fun?
HM: Hang out with my friends. I love going to school events like the football and basketball games, those are always a lot of fun. There's not much time.
Nia Scott, Shawnee girls basketball
A four-year varsity standout with more than 1,000 points and 700 rebounds in her career, this senior forward led the Renegades to a memorable season that included the Olympic Conference Patriot Division championship and the No. 1 seed in the South Jersey Group 4 playoffs. She will continue her career at Bryant University.
SJM: Has it sunk in that your career at Shawnee is almost over?
NS: It has a little bit, with all of the tournaments that we've been doing and just talking as a team. … It's definitely hitting and we're just giving it our all and going all in.
SJM: What did it mean to you to score your 1,000th point this season? Was that on senior night?
NS: Yes it was. We played Seneca and it was great. I think it was perfect because my whole family got to be there and I had a lot of friends there. Also, we got to celebrate our seniors, who have all been there for four years, and I think that just brought us all closer together. It was a great time.
SJM: What has it been like to be part of the Shawnee-Cherokee rivalry?
NS: It's been [intense] since I've been here. It's been our biggest matchup the whole time and it wouldn't be the end of my career if we didn't play them one more time in the playoffs. I definitely expect to see that matchup again and we'll be ready for it.
SJM: Have you always been a post player?
NS: Yes. I was always taller than everybody growing up and I think my dad just knew that he had to put me in basketball—you can't waste that height [laughs]. I've always been a post player and have worked on my post moves, but we've been working on spreading my game out and trying to get outside more. I'll probably be more of a stretch four when I go to college.
SJM: Isn't it crazy in basketball now, that even the power forwards and centers have to be able to shoot 3s?
NS: Yes, you have to be able to shoot and dribble, but I like it. I've always been the type of player who likes a fast-paced game and likes to be all over the court. I think I'm aware of everything that's happening on the court at all times, so I like that new side of it where I can step out a little bit or maybe dribble the ball up the court sometimes and get a fast-break layup. I think it adds more to my game personally and I think it helps our team as a whole.
SJM: You seem like such a nice person off the court, but do you have to have a nasty streak when you're battling under the boards?
NS: [Laughs] A little bit. I'm a little tough when I'm out there and off the court I try to be a little nicer.
SJM: Do you play any other sports besides basketball?
NS: I used to play soccer but once I got to high school I wanted to put my focus on one sport. I knew this is what I loved to do. I played volleyball my freshman year just to try something new, and it was fun, but it just made me realize that basketball is my main sport and I stuck with that. It got me to where I am today.
SJM: What did you like about the program and the school that made you commit to Bryant?
NS: It was everything. I personally like a smaller school and it was the perfect size. It had my major that I want to do, and they're building a lot of new facilities so I like that by the time I get there, they'll have a lot of new things for me to try. All of the girls were so sweet, the coaches were amazing, and they really made me feel like part of the team before I even knew any of them. I felt so welcomed there and it felt like my new home.
SJM: So your family will be putting some miles on the car to see you play, but is it important to you to have that support?
NS: Oh yeah, definitely. I have a whole fan club just with my family—there's like 20 of them who come to every game. All of my aunts, uncles and cousins are at every game. Basketball is our sport.
SJM: What is the major that you're looking to pursue?
NS: I want to stay with sports, because that's always been my thing, so I'm looking to go into exercise science. I've also been thinking about communications, and they have both there. I think in my freshman year I'll just test everything out, but I definitely want to stay in the sports realm. It's been such a big part of my life that I can't leave behind. After these next four years, I know I'm going to miss it.
SJM: Aside from family, what are you going to miss the most about home when you leave for college?
NS: Honestly, this basketball team has been such a big part of my life. Even outside of basketball, I see them in school every day and seeing them in the hallways always puts a smile on my face. I'm going to miss my coaches too. It's going to be a hard change going from being so close to home and having those girls there every day into a new setting. Obviously, I'll miss my family very much, but I think I'll miss my Shawnee family too.
SJM: Chrissy McGovern, your coach at Shawnee, was a great player too. Is she fun to play for?
NS: She is. She cares a lot about the girls on the team and you can tell in her coaching how much she cares. It's so much bigger than basketball for her, which I love. If you're a family, you're going to be a great team, and I think we've proven that. It's been amazing playing for her for four years because of how much she cares for the players, and I think she'll continue to do that.
SJM: Who is the funniest girl on the team?
NS: If you know Abby Catalano, you know she is the firecracker on the team. She plays lacrosse and she's going to Hofstra. She is amazing—we'll be down on ourselves, but then she'll make all of us laugh. She's always running up and down the court, giving it her all. Oh my gosh, she is something else. Every team needs that and we love her.
SJM: Do you watch a lot of basketball?
NS: Yes, I watch a lot of women's college basketball. I like that type of game, and obviously, I'm going to be doing that for the next four years so I need to study. I watch a little bit of the NBA—I just stick with the Sixers, because that's my team. But definitely a lot of college basketball and I love March Madness. It's my favorite and every year we do brackets, women's and men's.
SJM: What else do you do for fun?
NS: I really like the outdoors. I love going to the beach and being in the open. A lot of my friends are my basketball teammates and we hang out all the time. We usually go for a drive down the Shore when we have the time or just hang out at the house and relax. I definitely love spending time with my friends and also my family. We have a dog at home who I love to cuddle with while I'm watching TV.
Ty Smith, Lenape wrestling
Smith, a senior three-sport star for the Indians who also plays football and lacrosse, has been a key contributor on the mat since his freshman year. He was a district runner-up as a junior and captured the 175-pound district title this season.
SJM: The wrestling postseason is one of the best times of the year. How did you feel going into it this season?
TS: So excited. This year, I really felt like I locked in and focused on my craft because this is my last year wrestling, potentially forever. So I wanted to make this the best year of all.
SJM: How long have you been wrestling?
TS: I've been wrestling since fifth grade. I don't want it to be over but it's coming soon.
SJM: You had a nice run last year in the postseason. Were you happy with it?
TS: Yeah, I took second at districts but unfortunately I became really sick closer to regions and was unable to participate at regions.
SJM: Did you come into this postseason with any certain goals?
TS: I don't have any certain goals but I definitely want to place at regions and do the best that I can. It's definitely a tough weight class and it's not going to be easy. Other kids in my weight class don't want to lose just like me, so they're going to come after me and I have to do the same back.
SJM: Do you pay attention to the competition or just focus on yourself?
TS: I try to focus on myself a lot and see what I can improve on and do better to help me go further—not so much on who I'm wrestling.
SJM: The state championships in Atlantic City have to be one of the best sporting events around.
TS: I've been there but I've never wrestled there myself. It's a really cool place to wrestle and I hope to wrestle there very soon.
SJM: How did you get into the sport?
TS: I've always wrestled with my brothers for as long as I can remember, but in fifth grade I had a friend in my class who wrestled and my cousins were also really good wrestlers, so I decided to try it out to see if I liked it. Ever since then, I've always wrestled.
SJM: It's pretty rare to see a three-sport athlete nowadays, since most specialize in one or maybe two sports. Why did you choose to stick with all three?
TS: Everyone else picked one sport but I never could because I love competing and I love all types of sports. If I could play more sports in high school, I probably would. I always wanted to focus on a sport, but I could never cut one out of my life.
SJM: What are you doing next year?
TS: I'm going to college and I'm going to play club lacrosse at a bigger school down south. It was hard deciding what I wanted to do, but I wanted to go to a bigger school and live the college experience.
SJM: What else do you like to do for fun?
TS: I like to snowboard. I picked it up a few years ago and I really enjoy it. I also like riding around in my Jeep with the doors off and the top down. That's really nice.
SJM: Have you always lived in this area?
TS: I've lived in Mount Laurel my whole life. My favorite thing about Mount Laurel is that I can easily go to the beach, Pennsylvania or Philadelphia. I really like Lenape and I'm glad I got to go there because there are so many experiences and opportunities for me to become the best person I can be.
SJM: Do you know what kind of career you'd like to pursue?
TS: In college I want to study something to do with business so that I can have a wide variety [of options] when I get out. I thought about going into the FBI but I'm not exactly sure.
Kelsey Niglio, Cherokee girls track
Niglio is a star distance runner with a long list of accomplishments no matter what the season, from cross country to indoor track to outdoor track. This winter, she placed second at sectionals and third at states in the 800 meters to qualify for the Meet of Champions, and she also was part of the 4x400 relay that placed fifth in the state.
SJM: Were you happy with your performance at sectionals this year, taking second?
KN: Yeah, I was pretty happy. I was hoping to win it, that was my plan going into it, but it just didn't all come together in the end. That could be from racing the day before, and I was struggling mentally before the race with my confidence and everything, but I ran a pretty good time.
SJM: How does running during the indoor season compare to the outdoor season?
KN: It's different. There's definitely a lot more laps than outdoor and the team is smaller, but I really like indoor. I like traveling to The Bubble [in Toms River] and The Armory and Ocean Breeze [in New York]. It's a lot of fun and good for team bonding. Track is my favorite, so anything that has to do with an 800, I love.
SJM: So track is your favorite over cross country?
KN: Yeah, I think so. I like the team bonding more for cross country, just because it's such a small group, but track is definitely my love.
SJM: How did you get interested in running?
KN: My dad is a teacher and when I was in kindergarten I went to one of his school's track meets. I was like, "Wow, I really like this." I wanted him to sign me up and he did for our rec team in Marlton. I've stuck with it since kindergarten and I still love it.
SJM: And now your sister is into it and is also a big part of the team. What's it like having her with you?
KN: It's great running with Megan. Our relationship, since we're basically spending all day together between running and being at home, has been great. Our relationship has really grown and she's also helped our team a lot as well. She's run on a lot of big relays, like the Oregon Relays, Penn [Relays] and nationals. In cross country too she's been a key person for us. It's been great running with her and I wouldn't trade it for anything.
SJM: Last year was such a memorable one, especially for the relays that included you, Megan, Nikki Clifford and Kerry O'Day. What stands out the most when you look back?
KN: It's really hard to pick one thing. All of cross country season, going undefeated and winning everything as a team, was great. One thing that stands out is indoor nationals [in New York], which was really fun. We did a lot of traveling with me, Nikki, Kerry and Megan. A lot of my favorite memories were made there and we ran really fast in all of our relays, so that was exciting.
SJM: Will you be competing at nationals this year?
KN: Yes. This year, the New Balance Indoor Nationals are in Boston and we qualified for the 4x8. So me, Megan, Kerry and our new freshman Maddie [Meder] are going to run there, which we're really excited about.
SJM: It's nice that it's in Boston, since you'll be attending Boston University and continuing your running career. What led to that decision?
KN: It was a really big and long decision, but when I went there for my official visit I could envision myself being there. I love the coach and being with my teammates the whole time pushed me to make the decision. I also liked the campus and the track is known as one of the fastest tracks, so I'm excited to race there. It's a very good academic school to set me up for life after running, and I'm excited when I have free time to be right in the city and have plenty of things to do. It hit all of my boxes. A lot of runners from South Jersey are going to school in that area, so I'll see them again.
SJM: Will you compete in every season in college?
KN: Yes, I'm going to do all three.
SJM: Cherokee has set the standard when it comes to track and cross country. What has it meant to wear that uniform for four years?
KN: It's been great. Our team culture ever since I stepped foot in that school and that program has been great, and that's from coach [Mark] Jarvis. He's brought a culture and a lot of laughter too. Sometimes we'll do Snap Chat filters or TikToks—aside from all of the hard training, we still have a lot of fun.
SJM: What are your goals for the outdoor season?
KN: For myself individually, I would like to possibly get 2:10 or under in the 800—that would be really exciting. Hopefully I can run more miles because I don't do that event as much, but I've been loving it more and more when I do it. For the relays, I'm hoping to qualify for outdoor nationals again in the 4x8 and even the DMR [distance medley relay], because we have a good group and I'm excited to see what we can do.
SJM: Do you look more at time than place when setting your goals?
KN: Yeah, but it would also be nice to win Meet of Champs for the 4x8.
SJM: Do you like the relays more than your individual races?
KN: I like racing with a good group of people, it's really fun. I enjoy running for myself sometimes, but running in a relay is a different mindset. I have such a good group of girls to run with so it's a lot of fun.
SJM: What are you going to study in college?
KN: Right now, I'm thinking about doing something with nutrition and maybe becoming a nutritionist for a college team, so I can stay involved in the sport even when I'm not competing. That's the plan right now, we'll see if it changes.
SJM: What else do you do for fun?
KN: Between school and running, it's kind of hard to pursue my hobbies, but some things I like to do are bake and cook, using recipes I see online. I also like to spend time with my friends and family. They bring me a lot of happiness and I really love hanging out with them.
David Gheysens, Moorestown boys basketball
A 6-foot-4 senior guard/forward, Gheysens emerged as an integral piece of the team as a junior and this season became the leading scorer for the Quakers along with providing defense and rebounding. He helped lead Moorestown to the Olympic Conference Patriot Division championship and the Burlington County Tournament title.
SJM: Winning the county tournament was a great accomplishment for the team this year. What did it mean to you, having grown up here and knowing all the great competition in the area?
DG: It was a really good feeling. I've known a lot of these kids ever since I started playing travel basketball and after playing all of these years, to get the last win was kind of like putting our staple [on the program] before leaving. It's something that makes you feel special.
SJM: Did you feel coming into the year that this team had potential?
DG: I love this team. I thought we just had to click and work as a team. Obviously, there are going to be bumpy roads that we come across, but I saw the potential. Everybody on the team has talent and we have a lot of depth. The sky is the limit for us—we just have to work together and we can get through anything.
SJM: Have you played with a lot of these guys for a long time?
DG: I've probably played with more than half of the team ever since I was in travel, starting in fourth grade. Me, John Cwik, Josh Byrd and a lot of these guys are really close. It's cool that we have a bond on and off the court.
SJM: Who's the guy on the team who can make everyone laugh during a tough practice?
DG: I would probably say Wade Krisanda. He doesn't play very much but he's always at practice working hard and he's always trying to contribute to the team the best that he can. He's always making guys laugh and he's a really big part of our team.
SJM: Are you happy with your performance this season?
DG: I'm definitely happy. As long as we keep winning games, I'll be happy. I think I'm doing everything I can to help us win.
SJM: Has basketball always been your No. 1 sport?
DG: I would say it was baseball until around third grade, and then I switched over and basketball became my No. 1. I started playing more, taking it seriously, and I fell in love with it. I don't play baseball anymore, it's all basketball, all year long.
SJM: Do you know what you're doing next year?
DG: I'm not sure yet. I'm considering taking an offer from a [smaller] school or going to a bigger school and trying to walk on or reach out to the coach there.
SJM: Do you follow the game closely?
DG: I definitely like to watch college basketball a lot. I watch the NBA, but I'm more of a college basketball guy. I love to watch Villanova play and I fee like it's better basketball and fun to watch those guys compete. March Madness is my favorite time of the year.
SJM: Have you always been an outside shooter?
DG: I love shooting but I would say in all of the years of travel I was always the big man, ever since fourth grade. Then in my last year of travel in eighth grade I started to develop a jump shot, and it took off from there.
SJM: What do you like to do when you're taking a break from basketball?
DG: I like going out golfing with friends or hanging out with friends and spending time with family. Those are the most fun things I do outside of basketball.
SJM: Do you have a favorite golf course in South Jersey?
DG: Probably Laurel Creek in Moorestown. It's a nice course and I always find myself playing my best there.
SJM: What's it like growing up with your dad as the CEO of Wawa? Your friends must be jealous.
DG: It's a lot of fun but it comes with two sides. Some kids will be rude about it but most people are really nice and respectful and say, "I love Wawa." The Lenape student section was chanting "Wawa" the entire game, but honestly it fires me up, so I'm not complaining. I actually kind of like to hear that stuff.
SJM: Do you visit Wawa a lot yourself?
DG: I would say I typically go once a day or once every other day for a quesadilla, that's my go-to.
SJM: What do you like about growing up in South Jersey?
DG: I really love Moorestown. I was in Washington Township up until third grade and then I moved here, and I loved it the second we got here. It's a great town, great people, and I was able to make friends really quick through the school system and sports. Everything clicked and it felt like home.
Chris Racobaldo, Washington Township boys basketball
Racobaldo, a senior forward who is a force inside and can also step out and knock down a 3-pointer, led the Minutemen in scoring and rebounding this season as they went 19-9, a 13-game improvement from 2022. They also captured the Tri-County Conference Royal Division title in their first year in the league.
SJM: It's been a nice bounce-back season for the program. Are you pleased with what you've been able to accomplish?
CR: Yeah, definitely. I was telling everyone that I thought we could be a 20-win team and we were one off. I knew we all grew [as players] and we've been playing together for so long. Half of the seniors have been playing together since 12U or 10U.
SJM: What do you like about being in the Tri-County Conference compared to the Olympic?
CR: I actually liked the Olympic better because the competition was better, but the Tri-County still has good teams.
SJM: Who's the new rival?
CR: Definitely Williamstown. I know all of them and I've been out with them. We talk trash but that's just basketball.
SJM: Your game has evolved over the years. How did you try to expand your game this year?
CR: I think I tried to use my size as an advantage a lot more this year. I knew I was bigger and stronger than everyone, so that helped me.
SJM: I know you have two older brothers and one of them, Rich, was featured in South Jersey Magazine for baseball. What kind of influence did they have on you?
CR: Rich always had a huge influence on me. I looked up to him for basketball and he's still in contact with me before every game. He gets in the gym with me during the offseason and he's helped me a lot. He watches all of our games on the network we stream the games on.
SJM: Do you know what you're doing next year?
CR: I know I want to play basketball in college, I just don't know where yet. I've been looking at a couple of JUCO schools like RCGC but I don't know yet. My ultimate goal is to go D-I, but I think I have to play it slow and start out at a local college.
SJM: You used to be a big baseball player too. What made you shift all of your focus to basketball?
CR: My junior basketball season I was playing really good, and then I when I shifted over the baseball [that year], I realized if I wanted to get even better then I had to put everything into basketball and not focus on anything else.
SJM: Do you miss baseball at all?
CR: Not really. It's way too slow.
SJM: What else do you like to do for fun?
CR: Play video games and I like to work out. I play Fortnite and [Call of Duty].
SJM: Did you watch the NBA dunk contest?
CR: No, but I saw some clips of Mac McClung doing some crazy stuff.
SJM: Who's the guy on your team who can make everyone laugh?
CR: I would probably say Gavin [Attanasi] or Owen [Friel]. Gavin is always messing around and makes all of us laugh.
SJM: What do you like about your coach, Matt Kiser?
CR: He's a great coach. He always knows what to say in pregame and postgame to get our heads right.
SJM: Do you have any favorite players you like to watch?
CR: Kyrie Irving. I think his game is insane. … I don't have a favorite basketball team. Whatever player I like, I just watch that team.
SJM: What do you like about growing up in Washington Township?
CR: The people, and I think it's relaxing here. There's not much to do but it's an easy area to grow up in.
Click here to subscribe to the free digital editions of South Jersey Magazine
To read the digital edition of South Jersey Magazine, click here.
Published and copyrighted in South Jersey Magazine, Volume 20 , Issue 11 (Feb. 2023)
For more info on South Jersey Magazine, click here.
To subscribe to South Jersey Magazine, click here.
To advertise in South Jersey Magazine, click here.